Spring is bouncing into summer and hundreds of young artists around the North Bay are finishing class projects and creating exhibits, performances and other artful events for family and friends with Youth in Arts.
Recent posts have highlighted Spring projects by K-Dub Williams' students at Marina Middle School and Angela Baker's students at Harding Elementary, in addition to the amazing work created by Suzanne Joyal's kindergarteners at Loma Verde as part of the Walker Rezaian Creative HeArts program. Youth in Arts also produced a special "Passport Art Event" at Harding, and Nydia Gonzalez and Shawna Alapa'i concluding performing arts residencies at Ocean View Elementary in Albany and Sonoma Mountain Elementary.
In late May, Arts Unite Us "collaborative residency" projects at Harding and at Tam High School in Mill Valley wrapped up with terrific performances by all the students. Collaborative residencies bring together special education and general education students for shared arts experiences. At Harding, students wrote, directed and performed an original play "Lydia and the Land of Gee-Jo" around themes of Pollution, Bullying, Self Acceptance, New Beauty Standards and Taking Care of Each Other.  At Tam High , the original pilot site for the collaborative residency program, students from the Special Day Class and advanced Conservatory Theatre Ensemble worked with Mentor Artists Suraya Keating and Melissa Briggs to write and perform their original play, "By my Side," which opened the school's popular One Acts Festival.
Tommy Shepherd's students at Wade Thomas put an exclamation mark on their rap and beatboxing residency with a performance of their original rap for their peers at school, and Kaitlin McGaw's kindergarteners at Bahia Vista will soon perform a vocal music and hip hop show for their fourth grade buddies.
At Laurel Dell in San Rafael, Djenane Saint-Juste has been teaching students Caribbean dance around the theme of Kanaval (Carnivale), using costume pieces the students created this Fall with visual artist Gabby Gamboa. The students will perform in a grand parade with family and friends at the school's big Fiesta del Sol event this weekend. And at Mary Silveira, Mentor Artist Julia James finished a successful year with a big art show featuring work by all her K-4 students in the program.
Youth in Arts award-winning `Til Dawn a cappella ensemble performed their annual Spring Concert at San
Domenico Hall of the Arts this past weekend–a big congratulations to all the performers for a wonderful show and a special shout out to our graduating seniors. We will miss you!
Also at San Domenico, Youth in Arts workshopped a new performance of "Goodnight Gorilla" on May 23 with music by Dee Spencer performed by a terrific band of Bay Area music educators and musicians who are working with us to develop the work into an educational performance piece for youth jazz bands.
You can see it's been a very busy Spring, full of fabulous art and fabulous young artists. Watch this blog for more detailed reports on many of these projects in the weeks ahead and get ready to celebrate summer with Youth in Arts! Come see `Til Dawn at Youth in Arts night with the Pacifics, visit our Everything Under the Sun YIA Gallery exhibit, sign up for a unique summer camp program, check out the Mountain Play and benefit Youth in Arts with your ticket purchase, or join us for our gala Summer Solstice celebration at Studio 333 on June 21. We'd love to see you in person and share our work with you. Happy summer!
On Sat. May 25th, the Marin City Recreation Department & The Hood Games present another day of skateboarding, youth performances, music, art-making & community love. The 12 noon – 4 p.m. event is all about keeping our youth safe, active & creative. Local co-sponsors include: Youth In Arts, Prooflab Skateshop, Triumph Skateshop, Marin City Health & Wellness Center, Marin City Health & Human Services, CA4Health, Venture Trucks & Big Thanks to S-One Skate Helmets! – Let's Roll!!!
Youth In Arts art instructor K-Dub & his  middle school Willow Creek Academy in Sausalito students mix & create fun cultural masks. After researching traditional masks from around the world, students were instructed to create masks that includes their own "Flava".
Mentor Artist K-Dub Williams has designed a year-long project with the teachers of Willow Creek Academy which will culminate in PSA's by "Elder Avatars" (unique masks created by each teacher). The first Professional Development Workshop explored answering the question "How can we use what we create to inspire Youth and Community?"
We began with theater exercises designed to engage the whole body in the creative process. Teachers were asked to think of a word that represented the superpower their own personal superhero might possess: Listening, Strength, Caring, Inspiration.
When people were warmed up, we moved on to visual arts and began to brainstorm on our "Elder Avatar". How do we design our masks to visually represent the characteristics of our personal character? First, we worked in paper. We practiced patterns, symmetry, cutting, and attaching pieces securely.
Next time, we move into cardboard and plaster.
Youth in Arts and Arts Education International collaborated for an innovative new take on pen-palling. 27 eighth-graders at Willow Creek Academy in Sausalito are participated in a "snapback"hat exchange" with 27 students of Arts Education International in Makeni,Sierra Leone, West Africa. YIA art teacher K-Dub's students designed and painted their own trucker hats to send to Sierra Leone, in exchange for a hat designed and painted by their pen-pal abroad. The hats are accompanied by digital story-telling projects that feature the voice and picture of each student displaying their design and describing what it means to them. Beautiful shared experience for all, Give thanks for Sarah Geller of Arts Education International for making it all possible.
Enjoy the slide-show of the amazing project.-peace.

"Coming together is a beginning; keeping together is progress; working together is success."
– Henry Ford
Today was the last middle school visual arts PD in SMCSD.
Building a community of learners takes time and dedication.
The visual arts program in SMCSD has built strong collaborators, reflective minds, and thoughtful educators.
Today the teachers were asked to reflect on 4 questions. Using watercolor paper and many different materials, teachers were asked to respond to the questions. The art work was then placed in an envelope that was addressed to the specific artist, and the envelope will be mailed at the beginning of the 2011-2012 school year.
Each teacher approached the reflection differently:
Some worked with paint.
Some responded with words.
Some stood to do their work.
Then everyone was asked to pull one word out from their reflection book that was then painted on paper.
These words will be added to the MLK studio word wall.
THANK YOU SMCSD teachers for all of your amazing work and support!
Please click below to read the May SMCSD Arts Newsletter
There was a steady "hum" emanating from the MLK art studio this past Wednesday afternoon.
Students had all gone home, and all of the SMCSD Middle School teachers had gathered for their monthly Visual Arts Profressional Development session.
"Art is therapy for the mind." Said one teacher.
"I immediately felt like an artist when I put this apron on and got to work." Said another teacher.
Mr. KDub has been working on an identity project with his students, asking them to wonder "Who Am I?"  The project began with tracing the different artists' forms on wood panels.
"How does how you carry yourself show the world who you are?"
The artists are then filling their sillhouettes with elements that define who they are. The forms will then be cut out from the wood panels, and installed against the fence on the periphery of the MLK garden.
Stunning.
So the teachers were asked to experience the same process.
Thursday, January 20th was the second annual ART WALK in the Sausalito Marin City School District.
The event took place in the Bayside School Multi-Purpose room, which was transformed into a gallery space for the night.
From 5pm until 7pm students, teachers, parents, community members, administrators, and specialists gathered together as a unified community to celebrate the young artists and musicians in the district.
As people looked at the art work and listened to the music, they were asked to reflect on some important questions:
What is art?
Every student in the district was represented, as Ms. Brooke & Mr. KDub installed art work on large foam panels that became temporary walls for the evening.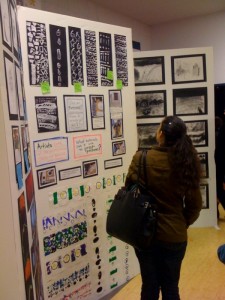 Colorful work also covered tables……and people were invited to look and look again at books, self-portraits, landscapes, bumper stickers, value studies, observational drawings, and more……
Allen Biggs led the MLK middle school students in a mighty steel pan drum session. And Mr. Gomez performed with the incredible musicians of Bayside Elementary and Willow Creek Academy.
The evening ended with an awards ceremony. The visual arts specialists thought of one word that described each one of their classes, and then connected that word to an artist.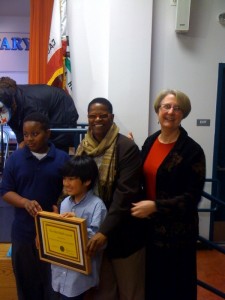 Thank you to everyone who came out!
B R A V O!