Mentor Artist, Tracy Eastman shares her experience working with middle school students at the Canal Alliance's University Prep program —
     This past fall I had the privilege of teaching a mural-making project with middle school students at the Canal Alliance.  Our group was made up of four to six 7th-graders with little art experience, who explored an introduction to color theory, acrylic paint properties, and painting techniques.  The students and I first discussed the project of making a mural: how to portray ideas through images, who our audience would be, and observing the environment where the painting would be displayed.  The students put ideas and images together that reflected a healthy environment and community.  We used a projector to assist the budding young artists with determining composition and rendering certain aspects of the painting.  Although challenging at times, the students worked independently as well as a whole group, learning about teamwork.
     This would have been a big challenge for any group of student artists, but I would like to commend these particular students for taking on such a bold project with little to no prior knowledge of art.  I could definitely see a colorful transformation in each and every student, as they built confidence and learned to express themselves visually.  The final mural turned out beautifully!
Students started this three day intro to the mural project by discussing a visual essay about journaling. We looked at multiple ways artists use journals, including writers and poets. Below right is an image of one of Walt Whitman's journals, from 1855.
Artists on the Mural Team started by using collage, watercolors, and colored pencils. Personal thoughts and voices immediately started flowing from the students, who were thrilled to make the covers entirely of their own design.
While working I asked students to describe for me their thinking process:
"This is going to be dark and myseterious and the back is going to be light and colorful." Elena
While looking for collage images: "I'm finding things I find interesting, like the car lights. I like how on one side [of the highway] they're all red and on the other side they're all white." Sonia
"I like making it all colorful and different and random. That's how I always work, with random drawings, and by scribbling." Rosvin
At the end of each session students gather for a reflection and critique in which we discuss what we NOTICE, THINK, and WONDER. In preparation for the mural we talked about color, composition, texture, layering, and more.
On days two and three students were encouraged to use acrylic paints to layer on top of their watercolor paintings or collages they had already created.
Students were extremely proud of their journal covers and wanted to share with everyone their thoughts and ideas. During the third class the kids interviewed each other—even coming up with their own questions. Videos to come! Here's a transcript of one of the interviews.
Sonia: So, why did you join Youth in Arts?
Kathleen: Because I always love art but I don't have a lot of art supplies at home and my mom doesn't like the mess so I came here and it's really fun. I get to hang out with my friends while doing art.
Sonia: What are you painting right now?
Kathleen: I am making the back cover of my art journal right now, using collage and painting.
Sonia: And why are you painting what you're painting?
Kathleen: Because I like having different themes on all my pages. This one is like Hawaii and this one is mainly animals and arctic things, and then here is like the sunset and African animals.
Sonia: Are you excited about painting the mural?
Kathleen: Yes, because I want to be on TV and I want to be famous, because this could be the beginning of my stardom. And we get a plaque with our names on them and so I can say I made that to my grandchildren and it's still there.
For more blog posts on the Davidson Mural Project, click here and here.
To get involved in the project Email Mentor Artist, Brooke Toczylowski, at brooke@youthinarts.org. We are looking for volunteers to help organize, paint, provide snacks, prep boards, and more.
Youth in Arts thanks Jerry Tallman of MinuteMan Press for donating the paper utilized in the journal process here and at many other sites.

In their new research workbooks students developed critical thinking skills used by both Artists and Historians. They described the visual elements they noticed in a photograph, analyzed images by making educated hypotheses with supportive evidence, compared and contrasted photographs, and made connections between an arts process and a historical concept.
EVIDENCE – What do you SEE? What do you NOTICE? In one column students were asked to create a list of observations while looking at this historical photo.
"a building"     "it's in black and white"    "the sillouette of a man"
"an ice cream shop"    "American flags"   "a horse and carriage"
"a crowd of people"
In the next column they were asked to answer the question, What do you THINK? This was their HYPOTHESIS about the photo. The students defined hypothesis from their knowledge of science class – "an educated guess," meaning they had to provide evidence for their theories.
At least someone in all 10 classes guessed the 4th of July, which is what this photo represents, from the year 1898! Next, students got to see the contemporary photo of the same location taken just a few weeks ago. They compared and contrasted the two photos, describing what has changed and what has stayed the same.
" The clothes people are wearing has changed. In the new photo there's someone wearing jeans."
"There are cars and stop-lights in modern times and in 1898 you traveled with a horse and carriage."
" I think there's something the same about the architecture of the building – the window on the edge is popping out."
Then students started to make personal connections and someone yelled out, "Wait, that's 4th Street and C Street!" "Oh yeah- That's Sabor of Spain!" "I've been there!" Ah Ha, the moment of discovery! Students begin to use clues from the knowledge they have outside of school.
Next students created a layered artwork using historical and contemporary photos of San Rafael. They traced contour lines of either the past or the present and overlapped it on the image they didn't trace.
This action created a conversation or visual relationship between the two time periods, allowing students to see what had changed and what had stayed the same, but also thinking about the layers of history. These layers of history are similar to the layers of of a painting.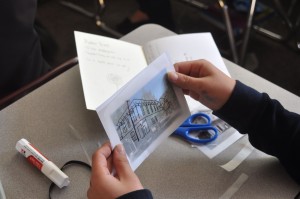 Often things are covered up and you have to look closely to see what's changed, and to see the truth.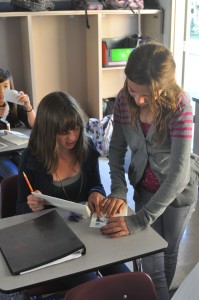 Students reflected on their arts-process and discussed how it made connections to what they were studying in history.
Historical Thinking Lesson Plan, PDF created by Brooke Toczylowski.