By YIA staff
San Domenico School senior Will Noyce hasn't graduated yet – and he's already a professional filmmaker with a prestigious prize.
Noyce, 17, is one of eight finalists for the National YoungArts Cinematic Arts finalists with the National YoungArts Foundation. Noyce won with his poetic 10-minute film, "The Redwood Grove." You can watch the film here. This month he will take an all-expenses paid trip to the National YoungArts Foundation in Miami, where he will take master classes, mingle with other young filmmakers and compete for cash prizes.
"It's really important and super cool for people to see that you can be awarded for the arts as well as academics and sports," Noyce said. The film is about a man who lives alone with his dog and is seeking closure after the loss of his wife. The film was shown at the Mill Valley Film Festival this year and was a semi-finalist at the Newark IFF Youth Festival. It also won first place in the student filmmakers' showcase at the Lark Theater.
Noyce started making films as a nine-year-old after getting hooked on filmmaking at a summer camp. His current film stars his high school film/video production teacher, Jared Spires. He directed "The Redwood Grove" with August Mesarchik, who also wrote the score; the screenplay was written by Aiden Kwasneski.
When he's not making music with his band or at school, he might be found at Youth In Arts, where he is a member of the a cappella ensemble, ' Til Dawn. He also works twice a week at Where The Buffalo Roam, a production company in Oakland.
"I think it's becoming more acceptable to be an artist. It's important to know you do not have to stick to what the educational system is telling you," he said. "Arts are an amazing way to find out who you are and what you enjoy."
'Til Dawn alumni Matt Herrero is one of the featured performers at Youth In Arts' spectacular Sing Out! event on Thursday — and he's busy polishing several original songs.
Herrero, 23, a multi-instrumentalist composer, creator and performer who spent four years with Youth In Arts' wonderful 'Til Dawn a cappella troupe, now performs professionally. He credits 'Til Dawn with helping to get it all started.
"It was the most musically rigorous group I'd ever been a part of," he said. "It gave me a family outside of high school that I bonded to way more than with anyone else. They taught me how to make music with people."
Herrero, who attended Marin Academy and graduated from Stanford University last year, is a storyteller who is amazing on the acoustic guitar. He said a friend described his music "as if Justin Timberlake wrote campfire songs."
Joining Herrero on stage will be fellow alum Lilan Kane. She'll be playing with her guitarist, James Harman.
Kane, 33, is looking forward to singing jazz and R & B influenced pop tunes.  Kane, a graduate of Novato High and the Berklee College of Music in Boston, credits 'Til Dawn with helping to set her on the path to performing.
"The community that it gave me … came at a time in my life that really saved me," she said.
Being in the troupe also made her want to teach. Many of her former students, she said, are now 'Til Dawn members.
'Til Dawn made up of local high school students in Marin County. They are led by renowned director Austin Willacy. Both current `Til Dawn high school troupe members and alum called "Still Dawn" will perform Thursday.
The show starts at 8 p.m. at the Osher Marin JCC in San Rafael. Tables are $250; Adults are $35 and youth are $25. Tickets can be purchased here.
We had a lovely Spring Annual Show at Carol Franc Buck Hall of the Arts at San Domenico School.
We had a send off to our Seniors: Siena Starbird who will attend CalArts, Rose Myers who will attend Cal State San Marcos and Will Salaverry who will attend Yale.
Thank you to Curtis Myers for the beautiful photographs. See gallery below. Thank you `Til Dawn Alum Harrison Moye for tech wizardy and to Cecily Stock and San Domenico staff for their support.
Here is a playlist of some of the songs.
Announcing the new members of `Til Dawn.
Aidan Bergman, Sir Francis Drake High School
Aidan sang before he could talk and has never stopped. Over the years he has played piano and sung in community talent shows, school and camp musicals and graduation ceremonies. He was a soloist in the ROCK gospel choir at Drake and also loves to play baseball. Aidan has played and sung music as long as he can remember and hopes to continue through high school and into his adult life.
Lara Burgert, Redwood High School
Lara has been singing for as long as she can remember. She loves to sing, dance, act, and perform on stage. Before doing musicals with Performing Arts Academy of Marin, she was a part of the Marin Girls Chorus. Lara has always wanted to be in an a cappella group, and is so excited to be in `Til Dawn.
Maycie Cooper, San Domenico
Maycie has been involved with music for over 8 years, and finds way to incorporate it into her life as much as possible. She sees it as a way to express herself and also to connect with others. Since living in California, she's participated in every singing program her school has to offer, including annually acting in musicals since she started attending San Domenico. She loves the social side of singing and plans to keep music in her life forever.
Paul Makuh, Sir Francis Drake High School
Paul has been singing under the direction of Susie Martone from fifth grade through eighth grade and would love to keep it going into High School. He has made new friends through singing and feels that it would be great to keep singing in his life.
Zaria Willis, Marin School of the Arts
Bio coming soon
Isadora Zucker, Sir Francis Drake High School
Isadora Belle Zucker, a student at Sir Francis Drake High School, is a multifaceted performer active in music, theater, and dance, all of which she's been studying since early childhood. Outside of the arts, Izzy enjoys mountain biking, swimming, her cat Hollywood, and spending summers traveling with her musical family, better known as the Zucker Family Band.
Students at the Short School in San Rafael experimented with paint, paper and various materials as part of a grant from the Kennedy Center. Using a lesson plan titled "Motivated to Create … HARMONY," Mentor Artist Cathy Bowman helped students translate jazz into paint.
The purpose of the lesson was to give students the experience of drawing on the inspiration of sounds as a foundation for their art. Working individually and in pairs, they listened to excerpts from "West Side Story" by composer and conductor Leonard Bernstein. Key vocabulary artists reviewed included "harmony," "tone" and "abstract."  Using tempera paint, paper and canvas they listened, and painted what they heard. We considered how sound affects our feelings. Students were given an array of materials to use, including toothbrushes, corks, rollers, plastic packing material and forks. They practiced making marks, covering marks and making more marks. Working together was a good lesson in collaboration and respect … Is it ok to cover another artists' marks?
Working in pairs allowed students to create multiple layers of color.
In the final session artists were given an 18 by 24 inch canvas. They tore up their smaller works on paper and reassembled the pieces into a collage on the canvas. They applied more paint and color while listening to music. Working outside for the final painting freed the young artists to move in ways that can't happen in a carpeted classroom. 
The last artist to work on the painting added a tiny touch of black, noting that she was thinking about her favorite fruit – blackberries. Can you find her mark?
This VSA program is provided in 2017-2018 under a contract with the John F. Kennedy Center for the Performing Arts. This program is also supported by the Buck Family Foundation and Marin Charitable.
Mentor Artist Hannah Dworkin reports on her music residency at Marindale preschool.
It was such a joy to work with Carla Echevarria's  language delayed preschool class at Marindale in San Rafael. This year was especially engaging because Carla invited several students from Santa Margarita, a nearby "mainstream" preschool, to join us weekly.  Carla and the teachers from Santa Margarita have been looking for a way to integrate the two schools, and our residency became an important step toward reaching this goal.
The presence of the Santa Margarita students greatly motivated Carla's students to move beyond their comfort zone and engage in activities that were new to them. We noticed that they were more fully engaged in the music and the movement and were more apt to accept new songs and dances into their repertoire.
Carla's students also made great strides in their musicianship, more than they had in the past.  They were able to follow melodies in accuracy I had not seen before, and they often begin singing our songs before the class even begins!
We also used a lot of puppets this year, and the kids loved them!!! The level of engagement and calm throughout the class was evident immediately once they saw my "magic puppets" emerge from their bags.  Some song that worked well with puppets were: "Three Little Monkeys" with an alligator puppet and three monkey puppets, "Buzz Buzz" with Bee finger puppets for each child, and "We are the dinosaurs" with various dinosaur puppets.
Thank you to the Buck Family Fund of the Marin Community Foundation for supporting this program.
 Joni DeGabriele reports on the Musical Moments program she led at Lynwood Elementary
I had the privilege of working with the special day class at Lynwood school,  TK through Second Grade, for sixteen workshops. We sang, we danced, and we learned ways to be kind to each other and communicate our feelings. We gave ourselves positive self-talk with the songs,  "Never Give UP" and  "Try, Try Again!".  The children met Spunky the Monkey who helped them learn how to take calming breaths when they are feeling Mad, Scared, Excited, Silly and ever Happy!  They met the Kimochis, Eldon the Eagle and Zwinkle!  The children worked on matching pitch, playing a steady beat, and moving to a steady beat.  I learned so much from my students and staff at Lynwood and hope to return next year!
Thank you to the Buck Family Fund of the Marin Community Foundation for supporting this program.
Mentor Artist Hannah Dworkin writes about her work in Glenwood Elementary's Special Day Classroom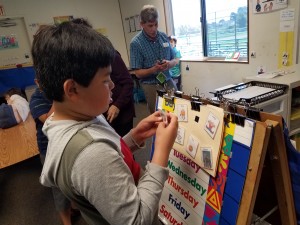 We had a wonderful 10th year together in Rockne Beeman's upper elementary special day class, and this year we had an extra special outcome with one of our students.  This student, who I will call Leah, has minimal language skills and does not read, but she responds incredibly well to rhythm.  Through a series of scaffolded rhythm based activities, Leah was able to identify, name and perform rhythmic phrases. She and her classmates also really loved our new song choice board pictured below.
The steps that lead to her breakthrough are as follows: aurel exercises with rhythmic phrases familiar to the students; visuals that integrate music notation, pictures that represent the previous familiar words and the words written out; move to color coded visuals with only the music notation.
The familiar words I use are "Pepperoni" for 4 sixteenth notes, "pizza" for two eighth notes, "pie" for one quarter note, and "cheese" for one half note.
This year we were also visited by students from mainstream classes through a reverse integration model.  It is amazing to see the increased engagement of the students in the special day class when their peers from other classes join them.  This year we noted that they participated with greater depth, were more willing to incorporate dances and displayed fewer behaviors when these children joined our music and dance sessions.
Thank you to the Buck Family Fund of the Marin Community Foundation for supporting this program.
Julia Chigamba and the Chinyakare Ensemble put on an incredibly lively performance at Marin Primary & Middle School's International Day.  They performed three traditional Zimbabwean dances for the student audience of about 200. First, was a welcome dance called Mauya in the Shona language.

The next piece celebrated the vital source of water with the artists vigorously dancing with full jugs on their heads. Students gasped and cheered as Julia Chigamba and Casey Daliyo moved quickly around the stage with the water precariously perched on their heads.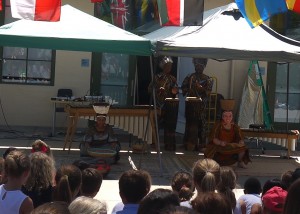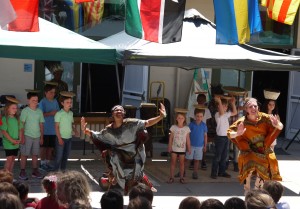 Lastly, was a dance rejoicing for the harvest performed with baskets containing various seeds and beans. Student volunteers were invited up on stage to participate in the harvest dance.  They practiced balancing the baskets on their heads, and shaking the beans and seeds around which added a wonderful sound element.
All of the Chinyakare's dances were accompanied by beautiful music expertly played by Ronnie Daliyo and Augusten Basa, on Zimbabwean instruments such as the mbira, ngoma, marimbas, and chipendani. The troupe answered a few questions from the engaged student audience, before receiving their well deserved standing ovation!
Youth in Arts Mentor Artist Katie Issel Pitre reports on her experience at Harding Elementary School in El Cerrito
I'm happy to report a job well done by all my students and their teachers at Harding Elementary School.  We have just finished a huge endeavor–10 classes performing original songs in one evening!!!  We pulled it off with the help of amazing PTA support and parent volunteers, help from former students at the theater at El Cerrito High, from Principal Takimoto of Harding Elementary School…and of course from students and teachers!
Through Youth in Arts 'Arts Unite Us' program, I was able to work with Harding students for 24 weeks leading up to our big performance. 'Arts Unite Us' aims to bring children of all abilities together through shared creative arts experiences.
The first half of the year, we developed our ensemble, learning about music, rhythm, working together, and rhythm notation and instruments.  The second half of the year we selected a favorite song, used its melody to create original lyrics, and then went through the editing and revision process to create our own song.  For most students this was their first exposure to song writing!  We utilized the support of composer Aaron Pike, who created beautiful piano tracks to accompany our original songs.  We rehearsed in our classrooms to prepare for our show.  Here are two examples of what our in-classroom rehearsals sounded like:
Teacher Helen's Kindergarten class rehearsal of "Mrs. Wishy Washy"
Mrs. Silkworth's 3rd Grade class rehearsal of  "America walk with the rest of the world"
After our performance I visited once more for an in-school sharing session, giving students one last chance to see and appreciate each others work.  We reflected on our work and created songs that summarized our experience in music class.  Here is one of my favorite songs created on our reflection day from Mrs. Tamura's 2nd Grade class:
I thank Youth In Arts of the opportunity they gave me to grow and develop as an artist and an educator, to work with this special school and make sweet music with these intelligent students  A big nod to you all.
With respect,
Ms. Katie
April is Autism Awareness Month.  Youth in Arts is the only arts education provider to special day and severely handicapped classrooms in Marin. We also provide arts programming at Oak Hill School which is focused on students with autism from 5-22 years old.
Check out this CD C'mon Everybody! which was produced with support from FirstFive Marin as part of a special workshop for families with children on the autistic spectrum.
C'mon Everybody! features original music composed by Youth in Arts Mentor Artist Miguel Martinez and featuring performances by additional YIA Mentor Artists Nydia Gonzalez and Hannah Dworkin. Songs encouraging response to direction, social behavior and language acquisition. It is fun and accessible for developmentally typical PreK children, as well as children with cognitive or developmental delays.
Come into our YIA shop on 917 C Street to buy the CD, or you can get a free download of a couple of the songs here Good Morning My Love, and  King of the Beat.
Thank you to the Buck Family Fund of the MCF for supporting our programs reaching children of all abilities.
Older Entries »