It was a wonderful celebration of souls and sound when nearly 50 current and former`Til Dawn members took to the stage for the SING OUT! concert, raising over $5,000 for the group's scholarship program, through ticket, raffle, food and beverage sales. The goal was to reach $2,020 at the event to celebrate the New Year, and the event far exceeded expectations!
The award-winning teen a cappella group performed at Osher Marin JCC in San Rafael on Dec. 29. More than 150 people attended the event to celebrate the current ensemble as well as `Still Dawn, comprised of former members.
Headliners Stevie Greenwell and Erin Honeywell started off the evening. The two sisters are both `Til Dawn alumni, and Stevie taught last spring in Youth in Arts' Arts Unite Us program.
Stevie Greenwell performs with the Thrive Choir and the Jazz Mafia Choral Syndicate. She is the founder and director of the Thrive Community Choir and the artistic director of the Diablo Women's Chorale, and on the faculties of Stanford Jazz Camp and Own the Mic.
Erin Honeywell is an award-winning Bay Area vocalist and songwriter. She plans to release a full album collaboration with her soul band OTIS, as well as more of her original music. She also teaches private voice and chorus at San Domenico school and co-founded Own the Mic, a camp for middle and high school students.
"The SING OUT! offers such a wonderfully unique experience," shares Development Associate, Morgan Schauffler who organized the event. "You get to marvel at the talent of our current 'Til Dawn-ers, and hear them harmonize with former group members, many of whom have gone on to become professional musicians. This year's headliners brought such beautiful honesty and soul to the concert. What a great night!"
The SING OUT! is more than just a scholarship fundraiser – It truly is a family event. Past and present members came from across the country to attend, and most had family members in tow.
Renowned musician Austin Willacy is the longtime director of the group. He performs as a solo artist as well as with his own a cappella group,  The House Jacks.
Thank you to our food and beverage sponsors: Trader Joe's San Rafael and Iron Springs Pub & Brewery , as well as our raffle prize donors: Bananas At Large, Salon Ciera, Johnny's Doughnuts, and State Room Brewery.
Finally, thank you to our wonderful volunteer photographer Garrett Low!
Julia Chigamba and the Chinyakare Ensemble, a family of musicians, dancers and teachers committed to preserving and sharing traditional Zimbabwean culture and promoting community building and education through art, put on an incredible performance at Dance Palace Community & Cultural Center. Sharing an electrifying display of the traditional dance, music, and culture of Zimbabwe and Southern Africa, ensemble members Kanukai Chigamba, Julia Chigamba, and Augusten Basa performed three traditional dances for students from across West Marin. The first dance was a welcome dance called Mauya in the Shona language.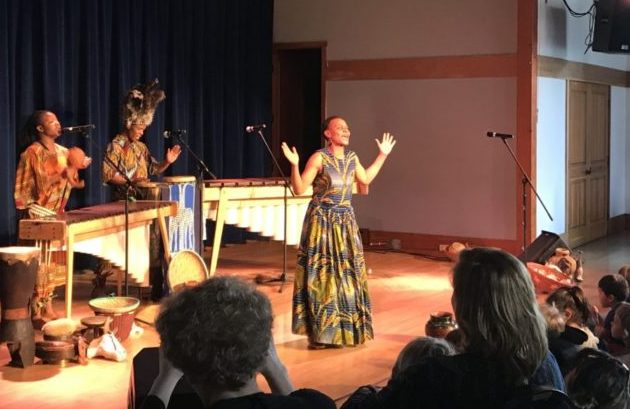 Next, Julia wowed audience members with a dance that is a celebration of the vital source of water. Students gasped and cheered as Julia danced with a full ceramic jug of water balanced on her head. Occasionally, the water would jump over the edges of the container – "the water is excited and wants to dance too!" Julia shares with students after the conclusion fo the song.
In a performance meant to rejoice in harvest, Julia and Kanukai performed with baskets containing various seeds and beans. As many of the dances are about weaving a colorful story of everyday life while teaching important life lessons such as goal-setting, perseverance, and thankfulness, students were encouraged to think about the celebratory and community aspects of music and dance for cultures around the world.
The Chinyakare Ensemble then encouraged everyone in the room to stand up and learn the narrative movements of a warrior's dance while Augusten and Kanukai played marimbas and sang. When asked what the dance was about, one young students raised her hand and shared "I think it's a dance about planting and growing things, and telling the story of our every day lives". Together, we celebrated while Julia encouraged students to engage with items that the ensemble had brought with them from Zimbabwe, including mbiras and other instruments, as well as sculptures and wearable accessories. Students handled everything with care and respect, and we left the shared space of the performance feeling the joy of new connections being made!
Youth in Arts extends a special thank you to the California Arts Council, who's support makes this program possible. 
Looking for fun holiday plans this weekend? Youth in Arts' award-winning teen a cappella group `Til Dawn performs its annual SING OUT!, a fabulous concert fundraiser for the troupe's scholarship fund. `Til Dawn is the Bay Area's longest-running, year-round teen a cappella ensemble.
Sunday's concert features alumni headliners and sisters Stevie Greenwell and Erin Honeywell. Still Dawn, a chorus of more than 40 `Til Dawn alums, will also perform. When the singers take the stage at 7 p.m. at the Osher Marin JCC in San Rafael, it's a beautiful blend of fabulous voices. The ensemble sings a mix of rock, pop, blues, jazz and contemporary hits.
Renowned director Austin Willacy said the event celebrates the community of more than 100 present and past members. "SING OUT! is an important event because it's all about celebration and reconnection," Willacy said. "Our extended musical family is convening at the same time that biological families and chosen families are doing the same."
When he's not directing, Willacy performs as a solo artist and with his own a cappella group, The House Jacks.
SING OUT! headliner Greenwell performs with the Thrive Choir and the Jazz Mafia Choral Syndicate. She is the founder and director of the Thrive Community Choir and the artistic director of the Diablo Women's Chorale, and on the faculties of Stanford Jazz Camp and Own the Mic.
Honeywell is an award-winning Bay Area vocalist and songwriter who performs all over the world. She will soon release a full album collaboration with her soul band OTIS, as well as more of her original music. She also teaches private voice and chorus at San Domenico school and co-founded Own the Mic , a camp for middle and high school students.
"This is a unique and accessible way to experience the inspiration that happens when youth create art in our community – a perfect event during the holiday season," said Youth in Arts' Executive Director Kristen Jacobson.
SING OUT! tickets are $25 for youth; $35 for general admission, and $250 for VIP tables (seats 4 and includes champagne) and can be purchased here.
Youth in Arts Mentor Artist and vocal musician Stevie Greenwell taught multiple classes for Arts Unite Us this Spring.  She says of her experience: "As I reflect back on my time with both Vallecito and Grant Grover, I can't help but smile. Working with these students has been a balance of thoughtful preparation, on-the-spot creative solutions, writing personalized and interactive songs, instrument creation, and true presence… It taught me how to slow down my pace, speak thoughtfully, and honor and acknowledge all the small components of engagement. Each time a student made eye contact, responded with their choice, shared their voice, played their instrument; it mattered. Every time a student stood in front of the class or lead a rhythm; it mattered. Every time a student responded and reacted to the sound of their name in a song; it mattered. And all these parts came together to create a lively and joyful classroom each week." 
In order to make her lessons accessible for each of her students, Stevie found herself creating songs specifically for those classrooms. She adds, "My Favorite song that came out of these sessions, I wrote on my way to Vallecito one morning. I was asking myself questions around how I could meet students where they are and inspire the next step. I was thinking about how much hearing their own names mattered and how much the lyrics of a song can reinforce thought. It is a simple song with sweet words that now often gets stuck in my head and always makes me smile and reminds me of how strong these students are. The lyrics are:
(Name subbed for each student) "Andrew is wonderful, Andrew is kind, Andrew is strong and has a great mind, but most of all Andrew, we like you just the way you are, yes most of all Andrew we like you just the way you are." 
During her time at Grant Grover with junior college students, they worked on various skills that are needed to make music together in addition to singing. Stevie explains, "My favorite activities that came out of these sessions was having students learn conducting gestures and take turns conducting the class. They would guide the class on when to start playing their instruments, lead dynamics and volume levels, show tempo changes, and then strongly cut off sections of the class or the whole class together." At the end of the residency, Grant Grover students shared a heartfelt thank-you to Stevie for all they had learned together. 
Stevie says of her experience: :The biggest gift I continue to receive is how I feel when I leave the classroom. No matter how I entered, what was happening in the classroom for the students, or any other outside factors, I could feel the room transform. I left filled with such joy, inspiration, and delight. It is a testament and reminder of the magic that happens when we come together, connect, and create." 
Youth in Arts' award-winning a cappella group, 'Til Dawn, sang to an enthusiastic crowd on the opening day of the Marin County Fair this summer. The group is the longest running year-round teen ensemble in the Bay Area. It was the last public performance for the group's outgoing seniors (Kathryn Hasson, Angel Gregorian, Maud Utstein and Will Noyce) as well as 'Til Dawn member Lara Burgert, who is moving. The ensemble is directed by singer-songwriter Austin Willacy, who performs as a solo artist and also with his own a cappella band, The House Jacks.
Four collaborative works created during Youth in Arts' residencies this spring took home top ribbons. The mixed media work, inspired by artist Jasper Johns, was created during a 10-week Arts Unite Us program with Youth in Arts Mentor Artist Cathy Bowman.
Student projects from San Ramon Elementary School and Willow Creek Academy won blue ribbons in their age division. Novato High School and Sinaloa Middle School classes each won second place in their age divisions. The San Ramon piece also won the Anne Davis award for best of class (collage) in the 9-12 year-old group.
"Each class created richly layered works that were different from each other," Bowman said. "It was a privilege to work with such dedicated artists."
Bowman also won the Charles M. Schulz award for a pig cartoon and a blue ribbon for a second cartoon.
The prize-winning student art will be on display at Youth In Arts as part of "Outside the Lines: Collaborative Art in Special Day Classrooms." The exhibit opens July 31.
Through the California Department of Education's Student Support and Academic Enrichment (SSAE) grant that the Marin County Office of Education received, Youth in Arts was in multiple Special Day Classes this spring.
Youth in Arts Mentor Artist Shahrzad Khorsandi worked with 2nd grade students at Cornell Elementary School in Albany for the 3rd year in a row through Youth in Arts' Artists in Schools program, introducing students to Persian culture through the music and dance of regions across Iran.
We began with a discussion on the geography of the Middle East and Iran, introducing students to each area with a sample of different folk dances from the various regions of the country.  The first class ended with everyone learning how to do the two-handed Persian snap (always a favorite and a challenge both for the students and teachers), which we could use throughout the residency to cheer for our peers.
Throughout the eight-week residency, each of the 4 classes learned a dance specific to a region of Iran. In the process, we learned about rhythm and patterns of movement, linking our sessions to and shape-making and understanding lines through our bodies. We then turned these shapes and lines into spatial patterns on the dance floor. Each class also worked in small groups to create their own movement patterns that they would do in a section of the choreography. This process gave the kids the opportunity to do problem solving and work on social skills, and allowed for the development of their own creative expression.
The residency ended in a culminating student performance with costumes/accessories. The parents were invited and all four classes got a chance to see each other perform, with almost 200 family members and supporters of all ages participating as audience members. During the culminating student performance, Shahrzad shares: "We worked for weeks on traditional dance moves from across Persia. Today you will see mix of some of those traditional moves and also some contemporary moves that the students created all on their own. This mix of old and new is part of the show today. In traditional Persian dance all the females would be in long skirts, in today's show everybody dresses in any way they want and everyone is celebrated. They learned to dance in groups and to collaborate."
Shahrzad describes working with kids as a job that is rewarding and fulfilling. She remembers one particularly special moment at the end of this residency when a student who had been crying and frustrated the day before the performance because he thought the performance was going to be a "failure", ran to her after the show and hugged her, smiling, saying, "We did a great job!" Later, as Shahrzad was reading the colorful Thank-you notes/drawings from the kids, she saw the drawing from that same student and cried. Below is the drawing.
College, rock bands and travel are on the minds of four 'Til Dawn seniors who are leaving the group this summer.
The four graduating seniors are Kathryn Hasson, Maud Utstein, Will Noyce and Angel Gregorian. Also departing is sophomore Lara Burgert, who is moving with her family to the East Coast – coincidentally to the same town where one of the newest 'Til Dawn members just came from. 'Til Dawn is part of Youth in Arts' I AM mentorship program and the longest-running, year-round teen a cappella ensemble in the Bay Area. It's directed by Austin Willacy, who performs as a solo artist and also with his own a cappella group, The House Jacks.
"It's been a really good experience with people I have come to love so much," Hasson said. "It's taught me obviously so much about music but also so much about collaboration as an artist. Art is about connection, and that is what Youth in Arts is doing."
Hasson served as the Youth in Arts' student board member this year and attended Marin Academy. She departs this summer for Vassar College in New York and plans to join an a cappella choir there.
Noyce, a senior at San Domenico School, is headed to Santa Monica College to study film production and work for a production company. Gregorian, who attends the Marin School of the Arts, is attending Loyola University New Orleans.
One of the things she appreciated about 'Til Dawn, she said, was a chance to deeply discuss complex events and consider multiple perspectives.
"It was always ok to be curious and talk about world issues," she said.
Utstein, who graduated from Tamalpais High School, is attending a rock band camp this summer and then attending The College of Wooster in Ohio.
She and other 'Til Dawn members stressed how important access to the arts is for all learners.
"For a lot of kids, it can be the thing that helps them get through the hard parts of life,'' Utstein said.
Noyce, who was part of 'TIl Dawn for four years, agreed.
"What 'Til Dawn fosters is the idea that you can have your own path," Noyce said. "Often times, artists don't do as well in the school system. I think 'Till Dawn shows there are other paths."
Youth in Arts' Mentor Artist Eddie Madril taught counter narratives to a group of Marin County teachers by sharing his experience as a member of the Native American community.
Madril is part of the Pascua Yaqui tribe of southern Arizona and northern Sonora Mexico and represents his culture as a dancer, singer, teacher, playwright and filmmaker. During his presentation, teachers experienced history differently and learned how to make a corn husk figure (not a doll). Madrid talked about how important it is to understand multiple perspectives, including how tribes historically cared for and respected the land where they lived and did not consider it something that could be bought and sold. He also explained that if there is only one student in a class who is Native, for example, that student should not be singled out or made to represent all Native American people. Teachers ended the day with a hoop dance.
"It's critical for teachers to be able to hear counter-narratives to expand their teaching to reach all learners," said Youth in Arts' Executive Director Miko Lee. "It's through these culturally responsive teaching practices that our students can learn about the world that we live in with a more balanced perspective."
Madril has taught American Indian music at San Francisco State University and was a three-year recipient of the California Arts Council Artist-In-Residence grant. As a dancer and educator, he has performed throughout the western United States, including the San Francisco Ethnic Dance Festival and World Arts West's arts education program People Like Me. He works with students to encourage the appreciation of and respect for American Indian dance, music, culture, history, art and sign language.
To review the hands-outs and suggested readings, go here.
Youth in Arts worked with the Marin County Office of Education to provide professional development courses like these. We are proud to announce a generous grant from the California Arts Council to provide for Eddie Madrill's Assembly Performance and Workshops for Title 1 schools whose teachers attended the counter narrative training. Thanks also to Marin Community Foundation for supporting our work.
'Til Dawn, Youth in Arts' award-wining a cappella group, dazzled their audience with a wide range of songs at its annual concert at the Carol Franc Buck Hall of the Arts at San Domenico School in San Anselmo. The group is the longest, year-round teen a cappella ensemble in the Bay Area.
Each of the members, mostly from Marin County high schools, performed at least one solo. The repertoire included Big Band music, Motown hits, modern pop tunes and more. 'Til Dawn is part of Youth in Arts' Intensive Arts Mentorship program (I AM).
"One of the amazing things about a cappella music is it's universally relatable to human beings because we all have voices; because it's all coming from a human voice, any number of genres that people might not otherwise listen to are accessible," said 'Til Dawn Director Austin Willacy.
Willacy has been the director for 22 years and also records and performs with his own a cappella band, The House Jacks, and as a solo artist.
"Programs like these are vital for creating a space for young artists to thrive," said Youth in Arts' Executive Director Miko Lee. "These talented young singers practiced for months and their hard work paid off. The audience was thrilled."
If you missed the concert, you're in luck. 'Til Dawn performs at the Marin County Fair in San Rafael on July 3 from 3:30 to 4 p.m.
And check out some videos here:
'Til Dawn Annual Concert 2019.
Thank you to San Domenico School for the generous gift of the hall for the concert and to the Marin Community Foundation.
Capoeira Angola with Daniel Mattar
Youth in Arts kicked off an exciting semester of school-wide events at Olive Elementary School with two amazing days of dance and culture through our assembly and workshop program. Capoeira Mentor Artist Daniel Mattar and his International Capoeira Angola Foundation (ICAF) troupe spent a day with Olive Elementary School's 3rd, 4th, and 5th grade students in early March, and Shahrzad Khorsandi and the Shahrzad Dance Ensemble led a fun and informative day of programming in April. In sharing the art of Capoeira with the students at Olive, Daniel and two additional Capoeira artists began by playing music on their hand-made Berimbaus made of gourds and one string, and a Pandeiros (tambourine) while engaging students in call and response songs in Portuguese. After their demonstration, they brought several kids up on stage to practice Capoeira while practicing their call and response songs.
Following the performance and demonstration, each 3rd-5th grade class participated in an interactive workshop led by Daniel and ICAF. We began with mastering the key movements and control necessary to take part in capoeira safely. Some of the movements that we learned were: Ginga, Aú, Balança, Macaco, and Negativa. We then put our new knowledge to use with team exercises and some games of capoeira with a partner!
Persian Dance with Shahrzad Khorsandi
During the second assembly with the Shahrzad Dance Ensemble, director Shahrzad Khorsandi and three members of the ensemble performed a special series of dances for the Persian New Year that had been choreographed and designed by Shahrzad over the last several years. Norouz ("New Day"), the Persian New Year, represents new beginnings, rebirth, and renewal. Shahrzad Dance Company's Norouz program for 2019, Symbols of Love, brought into focus the true meaning behind this celebrated event and gave students the opportunity to learn about the music, traditions, and cultural relevance of the Iranian holiday today. Throughout the performance, dancers portrayed dynamic characteristics associated with the symbols of: Sabzeh ("Sprout") which is symbolic for rebirth, Seeb ("Apple") which is a symbol of health, Samanu ("Wheat Pudding") which is a symbol of sweetness, Sekkeh ("Coins") which is a symbol of wealth and prosperity, and Norouz ("New Day").
Following the performance, participating classrooms returned for a hands-on workshop with Shahrzad. During the workshop, Sharhzad began by showing a map of the middle east in order to find Iran and talk about the geography of Iran/Persia and how this geography has affected the music and dances of each region. We then started with movements from Luristan in West Iran, followed by movements from Azerbaijan in Northwest Iran. During a brief break we learned the Beshkan, a one-handed Persian snap that creates a sound similar to snapping your fingers but much louder! After the break, we engaged in dance from the Bandar region near the Persian Gulf in Southern Iran and a Persian urban/social dance from Tehran, the capital, using contemporary Persian pop music. The students took turns coming out in the middle of the circle, 2 or 3 at a time, and practiced what  they had learned throughout the day.
Youth in Arts is grateful for the collaboration of Principal Olynik, Olive Elementary's exemplary 3rd-5th grade teachers, and the PTA for making these programs possible!
Older Entries »