As schools scramble to find virtual ways to reach their students, Madera Elementary School stands out as a model for continuing to provide its students access to innovative arts programs.
Youth in Arts teaching artists had just started an 11-week music program at the El Cerrito elementary school when the coronavirus pandemic forced Madera to close temporarily.
That didn't discourage Madera leaders. The Madera Elementary Foundation, comprised of school families, met with Youth in Arts staff and teachers via Zoom to work out the details of how to create a virtual program. Thanks to those efforts, music programs in nearly 20 classrooms resumed after Spring Break. Instead of being together in a classroom, students tune in online.
"Madera has really gone the extra mile to ensure their students continue to receive the arts they deserve," said Youth in Arts Visual Arts Director Suzanne Joyal. "We're not giving up and neither are they."
Youth in Arts has three teaching artists at Madera. They are: Brian Dyer, who teaches vocal and beginning percussion in kindergarten and first grade; Aaron Kierbel, who teaches percussion and drum in second grade; and Antwan Davis, who teaches body percussion and rhythm in third through sixth grades.
Youth in Arts Program Director Kelsey Rieger, who coordinated the move to digital teaching, said she hopes more schools will follow Madera's lead.
"This is really the way of the future," Kelsey said. "When schools partner with us, we find innovative ways to provide meaningful programs. It's more important than ever than students have healthy and creative ways to express themselves."
Youth in Arts has another Madera connection as well. Youth in Arts Mentor Artist Cathy Bowman attended the school in second and third grade.
"Madera was a great place to go to school," Cathy said. "It's nice to know that hasn't changed."
Want to learn more about #YIACre8tes? Read about these free online arts activities and Executive Director Kristen Jacobson on Partnership Resources Group's website.
The San Rafael-based consulting firm provides fundraising services to organizations in Northern California. During the coronavirus quarantine, it has been highlighting nonprofits doing good work by featuring them on its heroes page.
This week, Youth in Arts was named as one of those heroes.
Kristen explained that as a mom of two boys, she knew immediately that Youth in Arts needed to step up to the challenge facing parents who found themselves suddenly homeschooling while trying to work.
"I understand how important arts education is to my children and to this community," Kristen told Partnership Resources Group. "STEM really needs the A for STEAM (science, technology, engineering, arts and math)."
Youth in Arts has been providing free arts activities live streamed weekdays at 11:08 a.m. on Facebook and Instagram. Activities have included a shape chain dance, making paper playgrounds, painting with flowers and building towers with cardboard scraps.
Vanessa Coleman, a teacher at Rancho Elementary School in Novato and the mother of two boys, appreciates the Youth in Arts lessons.
"We have been using Youth in Arts as fun brain breaks and just some different types of instruction," she said. "The live stream is videoed so they an be accessed live, or later at a time convenient for us. They are short and sweet ­– just perfect."
Kristen said Youth in Arts is reaching as many schools as it can through distance learning. The arts education nonprofit currently has partnerships with about eight school districts, using teaching artists to provide programs designed to reach all learners and build creativity, confidence and compassion.
Kristen said the silver lining of live stream videos is that Youth in Arts is connecting with more families in a new way.
"Whether they join us live or later, we are getting 800 to 1,100 views on our videos every day," Kristen told Partnership Resources Group. "We need things like this now more than ever."
To read the full interview with Partnership Resources Group, click here.
Although a cappella is technically defined as singing without instrumental accompaniment, many a cappella singers use their voices to create instrumental textures when they rehearse and perform to create a multilayered musical experience for themselves and their audiences. 
Once everyone in a group learns their part, individually, the next level of work begins, that of weaving these individual parts together into an evolving blended, balanced, dynamic tapestry of sound.  Though each member of an a cappella group can learn and practice their parts on their own, the aforementioned weaving has to be done together.  
That's the challenge that's faced `Til Dawn, Youth in Arts' award-winning a cappella group. Though the 15-member ensemble typically meets twice a week to practice, they last rehearsed together in person on March 11. 
When the shelter in place order resulting from the coronavirus pandemic was issued, the members of `Til Dawn, like everyone else in the Bay Area, have been stranded at home, forcing the cancellation of all of their spring shows, auditions for new members and the cancellation of their annual spring concert.
Suffice it to say, there's simply no way to do a lot of what the group had been doing.
"There is no way to rehearse that allows us to sing together, real-time, and hear each other," said longtime Director Austin Willacy. "Variations in wifi access and speed create lags that make it impossible to sing together through Zoom.  Truth be told, though we're a singing group, we spend as much of our time listening as we do singing.  Learning to listen to each other while singing, to navigate our individual voice's proper place as we're performing, is the most important part of what we do at rehearsal.  It's an ongoing dance of stepping forward and stepping back," he said.
When they first met online, because of time lags, Willacy was only able to work with one singer at a time – which was very inefficient as it left the other members of the group waiting for their turn.  At in-person rehearsals, although individual support is available as needed, the group typically learns new music by voice part; the sopranos all learn the soprano part together, etc.
Recognizing how draining that amount of waiting while glued to a screen could be, Willacy quickly adjusted, shortening rehearsal time by 30 minutes and splitting the group into four songwriting groups based on their self-assessed comfort/experience with songwriting. The check-ins, which are a longstanding attuning process at the beginning of rehearsal, have continued to allow the group to stay connected with each other as much as possible. The music-focused time in `Til Dawn rehearsals is now evenly split between rehearsal and review of existing repertoire and songwriting.  
The members of `Til Dawn have been nimble and creative in finding ways to use technology to support their songwriting. One member sang her melody to a friend over the phone (he recorded a track with instruments and sent it back). Another downloaded free beats from a website. Several members play the ukulele, saxophone, guitar and other instruments and have been using those while composing. 
Willacy said exploring songwriting has been an unexpected benefit for `Til Dawn members confined to home.
"I've been deeply struck by the level of songwriting talent in this group," he said  "I've also been inspired by the level of creativity, trust, and willingness to try on something new."
For the Youth in Arts' COVID relief fund, `Til Dawn has prepared a special video and song. To make it possible, Willacy laid down a basic piano part to a click track and received an iPhone-recorded guide vocal. After combining them, he sent an MP3 to the group members so they could listen to it in earbuds while recording their respective parts. They recorded themselves (singing mostly on their phones) and sent their audio files back to Willacy, who painstakingly edited them all together, then providing that recording to the song's lead vocalist, Anna McShea, who was able to perform and record her own vocal in Ableton, a music recording app.
The teens also furnished video of themselves singing along to the track to Youth in Arts Program Director Kelsey Rieger, who is compiling the individual video into a video of the whole group. Watch this wonderful performance here!
Willacy, a renowned performer who travels worldwide as a solo artist and with the pioneering a cappella group, The House Jacks, said he's been able to stay in the creative flow despite the quarantine. He's written or co-written at least four songs and mixed and edited several more.
"I'm really lucky to have a studio at home," he said. "It's a huge privilege that feels even bigger right now.  Being creative helps me stay present."
How do you open a show when your art gallery is closed temporarily? By hosting a virtual celebration for your community with a drawing lesson, story time and fabulous self portraits.
Youth in Arts joined families, friends and staff at Laurel Dell Elementary School to celebrate Imagining Friendship, our annual show that honors Walker Rezaian. The online exhibit featured a  slideshow of more than 90 self portraits and emotions studies by kindergarten and first grade students
The Walker Rezaian Creative HeArts program was at Laurel Dell and Short schools last Fall. The visual arts residency builds fine motor, literacy and social emotional skills through art making. It also helps children learn how to make and keep friends while practicing sharing and empathy.
Friday's celebration began with a bilingual drawing lesson with Youth in Arts Mentor Artist Cathy Bowman. Joining us were kindergarten teachers Alejandra Vazquez and David Peterson, and first grade teacher Vanessa Nunez. Together we explored what it's like to make and then draw different expressions. How does your face look when it is happy? What about angry?
Principal Pepe Gonzalez delivered a sweet and funny message with help from his young sons and talked about the importance of creating visual art, music and dance while sheltering in place.
"If we weren't creative, we'd be pretty bored right now because we're usually in our pajamas," he said.
Gonzalez, who heads both Laurel Dell and Short schools, praised Youth in Arts for making sure "creativity stays alive" while students are forced to stay home. He noted that Youth in Arts Visual Arts Director Suzanne Joyal assembled art kits for every student at both Laurel Dell and Short schools.
Our thanks also go to author Susan Katz, who read her book "All Year Round" in English and Spanish. It was fun to know the Principal Gonzalez had her as a teacher when he was in school!
We wrapped up the evening with a slide show of the self portraits accompanied by music from 'Til Dawn,  Youth in Arts' award-winning a cappella troupe.
Suzanne encouraged viewers to check out the cool coloring pages made from the students' self portraits. The portraits will be viewable online until May 31. They can be printed out, colored and put in your window to share with your neighbors, and you can find them here:
Emotions Sketches Coloring Pages 1st Grade
Portraits Coloring Pages 1st Grade
Portraits Coloring Pages Kindergarten [Rm 3]
Portraits Coloring Pages Kindergarten [Rm 4]
Suzanne also thanked the Rezaian family for making this wonderful program possible.
"You can say thank  you to them in your own way by being a good friend to those around you and creating something every day," she said.
A special thanks to Tracey Wirth Designs for turning the portraits into coloring pages; to our translators: Alejandra Vazquez, Vanessa Nunez and Peter Massik; and to Principal Gonzalez and the staff at Laurel Dell for making this program such a success.
It was a wonderful celebration of souls and sound when nearly 50 current and former`Til Dawn members took to the stage for the SING OUT! concert, raising over $5,000 for the group's scholarship program, through ticket, raffle, food and beverage sales. The goal was to reach $2,020 at the event to celebrate the New Year, and the event far exceeded expectations!
The award-winning teen a cappella group performed at Osher Marin JCC in San Rafael on Dec. 29. More than 150 people attended the event to celebrate the current ensemble as well as `Still Dawn, comprised of former members.
Headliners Stevie Greenwell and Erin Honeywell started off the evening. The two sisters are both `Til Dawn alumni, and Stevie taught last spring in Youth in Arts' Arts Unite Us program.
Stevie Greenwell performs with the Thrive Choir and the Jazz Mafia Choral Syndicate. She is the founder and director of the Thrive Community Choir and the artistic director of the Diablo Women's Chorale, and on the faculties of Stanford Jazz Camp and Own the Mic.
Erin Honeywell is an award-winning Bay Area vocalist and songwriter. She plans to release a full album collaboration with her soul band OTIS, as well as more of her original music. She also teaches private voice and chorus at San Domenico school and co-founded Own the Mic, a camp for middle and high school students.
"The SING OUT! offers such a wonderfully unique experience," shares Development Associate, Morgan Schauffler who organized the event. "You get to marvel at the talent of our current 'Til Dawn-ers, and hear them harmonize with former group members, many of whom have gone on to become professional musicians. This year's headliners brought such beautiful honesty and soul to the concert. What a great night!"
The SING OUT! is more than just a scholarship fundraiser – It truly is a family event. Past and present members came from across the country to attend, and most had family members in tow.
Renowned musician Austin Willacy is the longtime director of the group. He performs as a solo artist as well as with his own a cappella group,  The House Jacks.
Thank you to our food and beverage sponsors: Trader Joe's San Rafael and Iron Springs Pub & Brewery , as well as our raffle prize donors: Bananas At Large, Salon Ciera, Johnny's Doughnuts, and State Room Brewery.
Finally, thank you to our wonderful volunteer photographer Garrett Low!
Julia Chigamba and the Chinyakare Ensemble, a family of musicians, dancers and teachers committed to preserving and sharing traditional Zimbabwean culture and promoting community building and education through art, put on an incredible performance at Dance Palace Community & Cultural Center. Sharing an electrifying display of the traditional dance, music, and culture of Zimbabwe and Southern Africa, ensemble members Kanukai Chigamba, Julia Chigamba, and Augusten Basa performed three traditional dances for students from across West Marin. The first dance was a welcome dance called Mauya in the Shona language.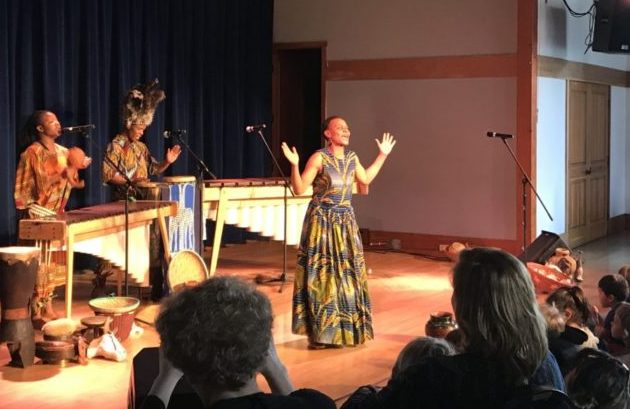 Next, Julia wowed audience members with a dance that is a celebration of the vital source of water. Students gasped and cheered as Julia danced with a full ceramic jug of water balanced on her head. Occasionally, the water would jump over the edges of the container – "the water is excited and wants to dance too!" Julia shares with students after the conclusion fo the song.
In a performance meant to rejoice in harvest, Julia and Kanukai performed with baskets containing various seeds and beans. As many of the dances are about weaving a colorful story of everyday life while teaching important life lessons such as goal-setting, perseverance, and thankfulness, students were encouraged to think about the celebratory and community aspects of music and dance for cultures around the world.
The Chinyakare Ensemble then encouraged everyone in the room to stand up and learn the narrative movements of a warrior's dance while Augusten and Kanukai played marimbas and sang. When asked what the dance was about, one young students raised her hand and shared "I think it's a dance about planting and growing things, and telling the story of our every day lives". Together, we celebrated while Julia encouraged students to engage with items that the ensemble had brought with them from Zimbabwe, including mbiras and other instruments, as well as sculptures and wearable accessories. Students handled everything with care and respect, and we left the shared space of the performance feeling the joy of new connections being made!
Youth in Arts extends a special thank you to the California Arts Council, who's support makes this program possible. 
Looking for fun holiday plans this weekend? Youth in Arts' award-winning teen a cappella group `Til Dawn performs its annual SING OUT!, a fabulous concert fundraiser for the troupe's scholarship fund. `Til Dawn is the Bay Area's longest-running, year-round teen a cappella ensemble.
Sunday's concert features alumni headliners and sisters Stevie Greenwell and Erin Honeywell. Still Dawn, a chorus of more than 40 `Til Dawn alums, will also perform. When the singers take the stage at 7 p.m. at the Osher Marin JCC in San Rafael, it's a beautiful blend of fabulous voices. The ensemble sings a mix of rock, pop, blues, jazz and contemporary hits.
Renowned director Austin Willacy said the event celebrates the community of more than 100 present and past members. "SING OUT! is an important event because it's all about celebration and reconnection," Willacy said. "Our extended musical family is convening at the same time that biological families and chosen families are doing the same."
When he's not directing, Willacy performs as a solo artist and with his own a cappella group, The House Jacks.
SING OUT! headliner Greenwell performs with the Thrive Choir and the Jazz Mafia Choral Syndicate. She is the founder and director of the Thrive Community Choir and the artistic director of the Diablo Women's Chorale, and on the faculties of Stanford Jazz Camp and Own the Mic.
Honeywell is an award-winning Bay Area vocalist and songwriter who performs all over the world. She will soon release a full album collaboration with her soul band OTIS, as well as more of her original music. She also teaches private voice and chorus at San Domenico school and co-founded Own the Mic , a camp for middle and high school students.
"This is a unique and accessible way to experience the inspiration that happens when youth create art in our community – a perfect event during the holiday season," said Youth in Arts' Executive Director Kristen Jacobson.
SING OUT! tickets are $25 for youth; $35 for general admission, and $250 for VIP tables (seats 4 and includes champagne) and can be purchased here.
Youth in Arts Mentor Artist and vocal musician Stevie Greenwell taught multiple classes for Arts Unite Us this Spring.  She says of her experience: "As I reflect back on my time with both Vallecito and Grant Grover, I can't help but smile. Working with these students has been a balance of thoughtful preparation, on-the-spot creative solutions, writing personalized and interactive songs, instrument creation, and true presence… It taught me how to slow down my pace, speak thoughtfully, and honor and acknowledge all the small components of engagement. Each time a student made eye contact, responded with their choice, shared their voice, played their instrument; it mattered. Every time a student stood in front of the class or lead a rhythm; it mattered. Every time a student responded and reacted to the sound of their name in a song; it mattered. And all these parts came together to create a lively and joyful classroom each week." 
In order to make her lessons accessible for each of her students, Stevie found herself creating songs specifically for those classrooms. She adds, "My Favorite song that came out of these sessions, I wrote on my way to Vallecito one morning. I was asking myself questions around how I could meet students where they are and inspire the next step. I was thinking about how much hearing their own names mattered and how much the lyrics of a song can reinforce thought. It is a simple song with sweet words that now often gets stuck in my head and always makes me smile and reminds me of how strong these students are. The lyrics are:
(Name subbed for each student) "Andrew is wonderful, Andrew is kind, Andrew is strong and has a great mind, but most of all Andrew, we like you just the way you are, yes most of all Andrew we like you just the way you are." 
During her time at Grant Grover with junior college students, they worked on various skills that are needed to make music together in addition to singing. Stevie explains, "My favorite activities that came out of these sessions was having students learn conducting gestures and take turns conducting the class. They would guide the class on when to start playing their instruments, lead dynamics and volume levels, show tempo changes, and then strongly cut off sections of the class or the whole class together." At the end of the residency, Grant Grover students shared a heartfelt thank-you to Stevie for all they had learned together. 
Stevie says of her experience: :The biggest gift I continue to receive is how I feel when I leave the classroom. No matter how I entered, what was happening in the classroom for the students, or any other outside factors, I could feel the room transform. I left filled with such joy, inspiration, and delight. It is a testament and reminder of the magic that happens when we come together, connect, and create." 
Youth in Arts' award-winning a cappella group, 'Til Dawn, sang to an enthusiastic crowd on the opening day of the Marin County Fair this summer. The group is the longest running year-round teen ensemble in the Bay Area. It was the last public performance for the group's outgoing seniors (Kathryn Hasson, Angel Gregorian, Maud Utstein and Will Noyce) as well as 'Til Dawn member Lara Burgert, who is moving. The ensemble is directed by singer-songwriter Austin Willacy, who performs as a solo artist and also with his own a cappella band, The House Jacks.
Four collaborative works created during Youth in Arts' residencies this spring took home top ribbons. The mixed media work, inspired by artist Jasper Johns, was created during a 10-week Arts Unite Us program with Youth in Arts Mentor Artist Cathy Bowman.
Student projects from San Ramon Elementary School and Willow Creek Academy won blue ribbons in their age division. Novato High School and Sinaloa Middle School classes each won second place in their age divisions. The San Ramon piece also won the Anne Davis award for best of class (collage) in the 9-12 year-old group.
"Each class created richly layered works that were different from each other," Bowman said. "It was a privilege to work with such dedicated artists."
Bowman also won the Charles M. Schulz award for a pig cartoon and a blue ribbon for a second cartoon.
The prize-winning student art will be on display at Youth In Arts as part of "Outside the Lines: Collaborative Art in Special Day Classrooms." The exhibit opens July 31.
Through the California Department of Education's Student Support and Academic Enrichment (SSAE) grant that the Marin County Office of Education received, Youth in Arts was in multiple Special Day Classes this spring.
Youth in Arts Mentor Artist Shahrzad Khorsandi worked with 2nd grade students at Cornell Elementary School in Albany for the 3rd year in a row through Youth in Arts' Artists in Schools program, introducing students to Persian culture through the music and dance of regions across Iran.
We began with a discussion on the geography of the Middle East and Iran, introducing students to each area with a sample of different folk dances from the various regions of the country.  The first class ended with everyone learning how to do the two-handed Persian snap (always a favorite and a challenge both for the students and teachers), which we could use throughout the residency to cheer for our peers.
Throughout the eight-week residency, each of the 4 classes learned a dance specific to a region of Iran. In the process, we learned about rhythm and patterns of movement, linking our sessions to and shape-making and understanding lines through our bodies. We then turned these shapes and lines into spatial patterns on the dance floor. Each class also worked in small groups to create their own movement patterns that they would do in a section of the choreography. This process gave the kids the opportunity to do problem solving and work on social skills, and allowed for the development of their own creative expression.
The residency ended in a culminating student performance with costumes/accessories. The parents were invited and all four classes got a chance to see each other perform, with almost 200 family members and supporters of all ages participating as audience members. During the culminating student performance, Shahrzad shares: "We worked for weeks on traditional dance moves from across Persia. Today you will see mix of some of those traditional moves and also some contemporary moves that the students created all on their own. This mix of old and new is part of the show today. In traditional Persian dance all the females would be in long skirts, in today's show everybody dresses in any way they want and everyone is celebrated. They learned to dance in groups and to collaborate."
Shahrzad describes working with kids as a job that is rewarding and fulfilling. She remembers one particularly special moment at the end of this residency when a student who had been crying and frustrated the day before the performance because he thought the performance was going to be a "failure", ran to her after the show and hugged her, smiling, saying, "We did a great job!" Later, as Shahrzad was reading the colorful Thank-you notes/drawings from the kids, she saw the drawing from that same student and cried. Below is the drawing.
Older Entries »