Advisory Class By Mentor Artist Jill Hoefgen
The goals of this Canal Alliance University Prep advisory class were to understand various forms of media and its effects on the individual, the community, and the world; to use images to create a visual message; to inspire students to observe the world through the camera lens and to express their unique perspectives through photography. Together, the students motivated each other to photograph shadows, buildings, signs, people, flowers, food, and even discarded objects. I enjoyed observing the tentative students emerging as thoughtful and enthusiastic photographers. Through practice, they began to discover how they could use light, lines, and angles to create interesting and unique compositions.

Back in the classroom, the students compiled their photos into hand-made accordion books. Each creation was a distinct and condensed collection of the work they had accomplished over the many weeks of photography.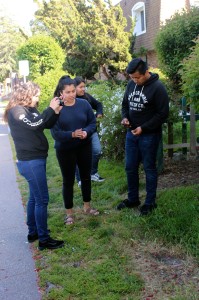 I witnessed many of the students embracing photography, creating something of their own, and expressing how they see the world. I was heartened by the energy and the relative openness as the students shared this experience with each other. I hope these emerging photographers can embrace this visual medium and continue to share their viewpoints through pictures. Ultimately, I hope each of the participating students discovers their own voice and identifies ways they can contribute meaningfully to the wide world of media.
by Mentor Artist Katie Issel Pitre
Greetings and welcome to an update
on the exciting partnership between Davidson Middle School in San Rafael and Youth in Arts!
As part of the new Strategic Vision of Youth in Arts to create model arts education programs K-8th grade, Mentor Artists Sophie Cooper and Katie Issel Pitre have been teaching New Media and Theatre Arts to 180 Davidson middle school students daily.
Beginning in late August Sophie and Katie have been working with 10 classes, grades 6th – 8th to provide arts enrichment for a student population that until this year had not received any elective classes. This year, Principal Bob Marcucci wanted to change this, partnering with Youth in Arts these students are half way through the first year of this pilot program and are getting in the swing of art making.
The project that the students have been working on has been cumulative – we've been building skills, teamwork, discussing and activating themes through play writing, college making, reflecting on values, watching many films – critiquing them and learning more about the way to use film to send a message.
In Ms Cooper's New Media class students worked towards a photography project taking portraits of hands and also of eyes.  In Ms. Katie's Theatre Arts class students composed collaborative poetry using the anaphora "With these hands we can…" and " People think that I… But if they really knew me…"
Pairing these two projects we used the photography from Ms. Cooper's class, and recorded the audio from Ms. Katie's classes and created two differently themed collections of films.  One collection pairs the photography of hands with the poetry "With these hands we can…".  The other collection of films pairs photography of the eyes and the poetry "People think that I… but if they really knew me…".
The final for their first semester was a film screening of both of these film collections.  Students observed all of the films, and then reflected on the process, the messages, considered what was missing and then brainstormed about what they want to make their next films about.  Some topics that were mentioned were making films about their lives, about kids who choose to be sober, about their friendships, about their immigrations stories, and more.
For students who have never had an arts residency like this Sophie and I are proud of what they were able to accomplish.  Their artistry has increased, as has their teamwork, self confidence, perspectives, and
Fir
Since Youth in Arts completed our new strategic plan this spring, we wanted to properly introduce our Mentor Artists to our more in-depth model, and to each other.  Our artists work directly in the classrooms, so they rarely have a chance to interact.  We hosted an "all artist meeting" in August, and it was wonderful to see them talk to, listen to, and learn from one another.  Our icebreaker activity was a worksheet that asked the artists to identify a problem in the world today, and how they would use their art form to solve it (using words and/or pictures).  The prompt was WITH MY ART I CAN…
Here is Mentor Artist Sophie Cooper's thoughtful response and accompanying artwork:

"A problem I see in the world today is xenophobia.  With my art I can…help people see the world through someone else's eyes.  A film can draw you into an experience of understanding that is registered through many senses simultaneously – sight, sound, emotions.  This allows people to get a sense of how another person experiences the world.  So often the fear of the unknown occurs by observing another's experience and not being able to see beyond our own subjective viewpoint."
Sophie Cooper's teaches New Media, Media Literacy, Digital Storytelling, and Visual Art.  She has been working with Youth in Arts since 2010.
BIO: Sophie's undergraduate studies were interrupted in 1999 when she joined her brother working as a volunteer for a small organization in Kosovo called Balkan Sunflowers. Arriving only 3 months after Kosovo's one million refugees returned to their destroyed homes, she began organizing cultural activities with the community's youth.  In 2001, together with a network of artists from Kosovo, she participated in the formation of the Crossing Bridges Collective to organize and annual trans-Balkan music and arts festival. Inspired to document these vibrant cultural events, Sophie began working as a video artist and then went on to refine her skills at the Film Academy of Prague, Czech Republic (FAMU). She then received a dynamic degree at the University of California at Berkeley combining both visual arts and critical social theory. Sophie's work as an artist has developed hand and hand with her work as a community organizer. She has found that her favorite form of activism is that of visually celebrating the beauty of nature and the beauty of culture.
Mentor Artist Sophie Cooper writes about working with students at Harding Elementary in El Cerrito
From climate change to wildlife protection and the eternal quandary of the cuteness of cats, students at Harding Elementary share their ideas with their classmates as they present these visual stories as short "films."  Developed over the course of an 8-week workshop, students learn the basics of visual storytelling, collect images from the internet and learn to compile the images into short films using highly-accessible computer software. The process walks students through the basics of film editing, introduces them to the workflow of the editing interface and empowers them with the primary tools of animating and adding text. Yet, beyond the technical skills, students lean to look critically at how the prevalence of  images around us are inserting meaning into our lives on a daily basis.  They learn to break down the story behind an images (such as an advertisement) and choose whether or not they agree with this story. Most importantly, the project got the students thinking about what are the stories they would like to be contributing to the conversation and empowered them with the tools to bring those stories to life.
One of the teachers from Harding wrote to me after the workshop and told me that she had overheard some of the students saying that they were going to try this again on their own over the summer. She wrote: "Perhaps you have inspired a new generation?"
Thank you to Harding 5th Grade teachers Karen Fisher and Kimberly Souza for outstanding collaboration!
Check out a few of our newest program offerings–available to book for your school or community site now!
Visual Storytelling with Sophie Cooper (Artist Residency)
Twenty-first century art skills are on tap as students learn how media producers communicate through images, while also becoming creators of their own visual stories. Students de-code familiar visual media and develop a vocabulary for visual communication, and then create their own work on the theme of personal and cultural identity using found images. Looking to help students make more substantive use of your computer lab? This residency with Mentor Artist Sophie Cooper could be for you.
The Amazing Science Whiz Show (Assembly Performance)
Benny Bendini's Magic Circus explores explores laws of physics, earth science, green environmental education and color perception. Students discover curious and amazing scientific phenomena from air pressure and centrifugal force to color perception and optical illusions, plus learn about famous scientists like Archimedes, Isaac Newton and Albert Einstein. Guaranteed to be a fun-filled learning experience with plenty of enthusiastic audience participation.
The Alphabet Rockers (Assembly Performances)
In two new shows, the Alphabet Rockers engage young audiences with contemporary choreography, catchy melodies and beatboxing. Performances are age appropriate and aligned to Common Core Standards in math, literacy, and science.
This bullying prevention "hip hop theater" assembly explores how teasing and being left out makes people feel, and how friends can stand up for themselves and each other.
Alphabet Rockers mix fun with food in their hip hop music and theater show about nutrition. Students brainstorm food choices to help the Alphabet Rockers stay strong and in rockstar shape!
Looking for something else? Check out all our program offerings here and use the checkbox filters on the left of the page to find just the program you want.
For the Willow Creek Voices pilot program, we worked with select 5th and 6th graders in the realm of digital photography. After getting our feet wet learning how to use the camera and hands-on practice with the visual elements that go into composing your photo, we were ready to dive in the class project…visual adaptations from student generated poetry!
In the Adobe Youth Voices Curriculum, we found two great poems to model from… George Ella Lyon's "I am From" poem and Lisa Storm Frank's "I Am" poem. What's so great about these poems (which youth all over the nation have made iterations of), is that structure of the poem asks the writer to dig into sensory-based experiences and unique sweet spots to express who they are. Students plunged right in, and some even took creative liberalities with the poem structure, to include how they see the world, from their perspective.
In both the 5th and 6th grade classes, students were shown both poems and asked to select the template that spoke to them and write their own "I Am" and "I Am From" poem. After writing the poem, students selected one line from the poem and were tasked with taking a photo that would visually describe their poetic line. Students were reminded to think not only of content, but also how framing, angle, composition and color would enhance their meanings. After students took the photos, we set back to the computer lab to learn the basics of Adobe Photoshop Elements and use tools and techniques that would stylistically clean up and enhance their message.
Statement: "This picture is to represent the line, "I am from a place that is empty inside". I chose this line from my poem because I think that it is very strong statement. To depict my words, I chose to create a glow around the person in my photo – to call attention to the person in a world that is confusing and overwhelming, and it give a feeling a light to my photo…as if that person can bring light to the world. I took this picture by a baseball diamond because it gives the feeling that this place should be full of people playing. So the contrast of a single person brings out loneliness. When I was working in photoshop, I darkened the shadows to add a sad feeling and it helps me get the message out – that in this picture the world is being swallowed by the darkness. I think that we all should pay attention to the darkness that is taking over our world. Pollution is a darkness that consumes the light and we should work on stopping this before our world disappears." – 6th grade student
Many students took advantage of the ability to crop and re-frame the image once in the photoshop editor….some used the clone stamp to get rid of unwanted elements in their frame (the backpack that was distracting, the bright color on the student shirt that distracted attention from the focal point, the bright spot in the frame that needed to be dulled down). The magic wand was a tool used often, to add subtle color and levels enhancements to specific parts of the image.
Overall, students explored the process of artistic creation – from creative writing to surfacing content to capturing an image via a camera to bringing it all together in the photoshop platform. There were some students who decided upon viewing the image they took, the line from the poem needed to be revised, to match what the photo was saying…so they rewrote their poems. In this way,  active listening, to the artistic process and to the relationship between content, form and meaning was encouraged in the workshop.
When adding the text to the photo, students chose between adding the text outside of the photo or in the frame and then made decisions on how to present the text, so it fit with the image.
Although we were all doing the same basic assignment, each student took a different path and approach.  After this process students reported that they now take in color in different ways, saw in terms of framing, and were in awe of all the exciting tools photoshop offered to digitally design their image. Throughout, our intent was to use the tools in the digital design world to navigate our way in the terrain of visual language and artistic expression, and from there to share our creations with the world.
For the 2012 spring quarter, a handful of  7th graders from Willow Creek Academy were selected to participate in a pilot program, Willow Creek Voices. While 5th and 6th graders in this program explored digital photography, the 7th graders embarked upon filmmaking!
Filmmaking opens up so many rich possibilities…from expressing your inner creativity, to dancing the fine balance between teamwork and individual contributions.  And then there is all the craft that goes into making a video…from the technical side — how to operate a camera, how to edit it,  and the creative content side — what content to show, how to frame it, what angle, how close or far should the camera be.  Making a video also allows us the opportunity to get up close and personal with something we care about in the world, and do something about it! While some people may think 7th graders don't care about social issues and the culture around them past the latest fad, it's not true. The videos created in this workshop certainly stand up to this stereotype.
Throughout the workshop, we drew from process, techniques and tools detailed in the Adobe Youth Voices Create with Purpose Video Curriculum. To set the filmmaking stage and create a film common language [Media literacy], we watched several PSA's and short videos, to tease out the important elements of a successful video, and to witness how Story, Audience, Message and Style  (SAMS), each play a pivotal role in making a video successful.
Students then got into groups and brainstormed social issues they cared about and what they wanted to contribute to the conversation. From there, students selected one topic and pitched their ideas. Building from our media literacy and  critical explorations, students used the SAMS structure in relation to their own videos, coming up with a clear Story, Target Audience, Message and Style for their PSA. Students went through the process of  Inspiration/Media Literacy,  Brainstorming/Pitching, Pre Production (SAMS structure, script, storyboard, story arc), Production (filming) and Post Production (editing, using Adobe Premiere Elements).
Throughout the process, students crafted the video and made choices based in intention and creating with purpose, while leaving room for the artistic muse to provide inspiration along the way. Team work, as well as leadership and playing to our strengths was encouraged at every turn. For example, some students students took the lead finding copyright free music, while others assembled the rough cut, both working in tandem and with the final project in mind.
Making a video was eye opening at every turn. Perhaps the greatest impression left on the students is that each of us has the ability and opportunity to make a difference, to make a change. And with these videos, this is exactly what these youth hope to do!
Since March we've been working with 5th and 6th graders at Willow Creek Academy and following the Adobe Youth Voices Digital Design curriculum. In this workshop, students have been exploring various key concepts fundamental to digital design and also getting their feet wet learning how to take photos with digital cameras and edit them in  Adobe Photoshop Elements.
To set the stage, we started with media literacy, viewing a variety of visual examples to develop a common language and see, in full vibrancy,  how subject to camera distances (close up, medium shot, long shot), composition, framing, and color play pivotal roles in photography. We leaped from critical analysis to hands on practice with our first exercise — creative portrait.
While taking the portraits, students were encouraged to explore the difference between the close up and long shot, to look what it's in the frame, what's left out and connect how technical choices pair with creative meanings.
After taking photos, we reconvened and had a "crit",  to see as a group how the different technical and creative  choices we made did and did not work in relation to our intended meaning.
Throughout the process we highlighted the importance of intentional choices…of course leaving room to pay attention to what is in the frame when the photo snaps and to be present to see where the artistic process wants to take you!
Stay tuned for more news about our final projects…Visual interpretations from an "I Am" poem we wrote, plus advanced editing in Adobe photoshop!