How can you draw your friend on a Zoom call? How can you explore identity with a can opener and a spoon? Despite the challenges brought forth from necessary distance learning approaches, Oak Hill School students found ways to do just that through our Arts Unite Us program.
Youth in Arts Mentor Artist Cathy Bowman had just started her 10-week residency with educator Danya Lebell's class when the pandemic forced the school to close abruptly. Using what students had on hand at home, Cathy changed the curriculum to focus on self portraits and identity, working with both students and paraprofessionals.  
For the first online class, we took turns making different faces and posing for each other. We quickly found out that it was a challenge to work on Zoom, as staring at the tiny green dot of the camera isn't the same as looking into someone's eyes. For artists experiencing disabilities, eye contact is especially crucial for interpersonal engagement. Despite these challenges, the activity was a perfect fit for students as they begin exploring job opportunities. Learning to read facial expressions is key!
The following week we explored drawing profiles while making different expressions. A week later we practiced blind contour drawing. We hid our paper and drawing hand in a grocery bag and drew each other without lifting our pencils or peeking inside our bags. The faces didn't look like we expected, but we made some interesting line drawings.
For our final class, we used kitchen utensils and other objects. Students and paraprofessionals made four different portraits, each time rearranging the items in a different way. It was amazing to see how many expressions a can opener could make.
"I  wanted students to use art to explore thinking outside the box," Cathy said. "Given the complex challenges of our world, staying flexible and confident in our choices is more important than ever."
Students at Oak Hill students explored themselves by making different lines.
Working with Mentor Artist Cathy Bowman, they used black and white pastels on a beautiful brown paper. We looked at thick lines and thin lines, curvy lines and bumpy lines. Some artists worked precisely and methodically and made only straight lines; others used only curves and made spontaneous marks everywhere.
When we finished, we laid the work on a table and talked about connections.
At the next session, we looked at the portraits and then made different portraits using water soluble Lyra graphic crayons and white pastels. Students made more lines and shapes, then activated the pencil lines by tracing them with a paintbrush dipped in water. It was fun to look at the two portraits together.
"This is another example of how we scaffold," Cathy said. "It builds confidence in artists when they can practice a familiar subject with new materials."
Cathy is at Oak Hill as part of Youth in Arts' Arts Unite Us program, which supports students experiencing disabilities.
Art making can happen many ways. Whenever possible, Youth in Arts visual art teachers like to work in small groups to give young artists more time and attention. Sometimes the rest of the class is doing academic work, on worksheets or an iPad. Occasionally we run an informal art center, where students can freely explore materials they will be using later in class with their Youth in Arts teaching artist.
Mentor Artist Cathy Bowman worked recently with several students at Oak Hill School in San Anselmo through our Arts Unite Us program, which supports students experiencing disabilities. As she started with a few students, teacher Nicole Albert asked if the rest of the class could make some collaborative art. Nicole covered the table with white butcher paper, and Cathy set out some of the pastels she would be using for her lesson a few minutes later.
Students were encouraged to explore making all kinds of marks, and each picture told a story. Some students got to practice their fine motor skills by cutting out cats, human-like figures and other shapes they had drawn.
After a quick hand wash, students visited Cathy at a different table. They made textured quilts on mat boards, pressing different colored shapes and textures onto a sheet of sticky shelf paper. They used the pastels to trace around each shape, practicing hand-eye coordination. Finally they applied magic gold foil they left a shiny imprint on their art when they pulled it off. All the pressing, rubbing, scratching and lifting helps strengthen the hand muscles that are needed for writing, cutting and other duties. And using pastels twice made the artists more confident. Scaffolding lessons is built into our lessons so students can build on skills learned from week to week. Even an art center can be linked to a lesson so that it supports the lesson being taught that day.
You can see art created by these very talented students this summer at our annual "Outside the Lines" art exhibit at the Youth in Arts Gallery.
April is Autism Awareness Month.  Youth in Arts is the only arts education provider to special day and severely handicapped classrooms in Marin. We also provide arts programming at Oak Hill School which is focused on students with autism from 5-22 years old.
Check out this CD C'mon Everybody! which was produced with support from FirstFive Marin as part of a special workshop for families with children on the autistic spectrum.
C'mon Everybody! features original music composed by Youth in Arts Mentor Artist Miguel Martinez and featuring performances by additional YIA Mentor Artists Nydia Gonzalez and Hannah Dworkin. Songs encouraging response to direction, social behavior and language acquisition. It is fun and accessible for developmentally typical PreK children, as well as children with cognitive or developmental delays.
Come into our YIA shop on 917 C Street to buy the CD, or you can get a free download of a couple of the songs here Good Morning My Love, and  King of the Beat.
Thank you to the Buck Family Fund of the MCF for supporting our programs reaching children of all abilities.
Youth in Arts is currently hosting "Rising Stars," the 24th Annual Marin County High School Art Show at our gallery at 917 Street in downtown San Rafael. The opening reception for artists and their families on Sunday, March 8, attracted over one hundred young artists and gallery visitors.
Check out photos from the March 8 opening reception here! 
Speaking to the assembled crowd of teens and their families, Youth in Arts Executive Director Miko Lee expressed her gratitude to all the exhibiting students.  "Thank you for sharing your beautiful work with us," Lee said. "You inspire us all with your creativity."
Lee presented students with awards and honorable mentions selected by a panel of local arts professionals, Kay Carlson, Jay Daniels and Katie Rice Jones, from among over 150 student works selected by Marin art teachers at 16 schools to represent their programs.
The Best of Show award went to Ben Lyons, a student at Marin Academy in San Rafael, for his work "Industrial Revolution," a high-concept ceramic tea set. Two other Marin Academy students also received major awards: Melanie Blue for Best Drawing and Seiichiro Nakai for Best Decorative Arts. Other major award-winners were Jenna Tooley of San Marin High School (Best Painting); Sophia Schwartz-Cutler of Marin School of the Arts (Best Sculpture); Abby Tarantino of Marin Catholic (Best Photo); Hagen Wehde from Redwood High School (Best Altered Image); and Cali Hetfield from The Marin School (Best Mixed Media).
Thirty additional students received Merit Awards, Honorable Mentions or Juror or Sponsor Awards. A full-list of winners is included below
The exhibit will be open to the public through March 27, with regular hours Monday-Friday from 10 am to 4 pm. "Rising Stars" is sponsored by Perry's Art Supplies & Framing in San Anselmo, the San Anselmo Arts Commission, Marin Open Studios, Uchiwa Ramen and Il Davide Restaurant in San Rafael.
Best of Show – Industrial Revolution – Ben Lyons – Marin Academy
Best Painting – Introspection – Jenna Tooley – San Marin HS
Best Drawing – Self Portrait – Melanie Blue – Marin Academy
Best Decorative Arts – Tee Time – Seiichiro Nakai – Marin Academy
Best Sculpture – Treasurer – Sophia Schwartz-Cutler – Marin School of the Arts
Best Photo – Best Friends – Abby Tarantino – Marin Catholic
Best Altered Image – Untitled – Hagen Wehde – Redwood HS
Best Mixed Media – Untitled – Cali Hetfield – The Marin School
Merit Awards
Reflective Objects – Raissa Boysen – Marin School of the Arts
Awe – Tara Henry – Marin Catholic
Birds in a Tree – TeamWorks Art Mentoring Program (Treyvonn, Mario, Adam, Angela, Javier, Oliver, Alyssa) – Loma Alta School
Flying Buttresses – Gabriel Hamilton – Sir Francis Drake HS
Chained For Five Rupees – Leigh Pomerantz – Marin Academy
Geometry in Color – Kasha LaRoche – Sir Francis Drake HS
Hobo Botanical Garden – Emily Villavicencio – San Rafael HS
Pour – Max Sigerman – The Branson School
Raven Inkwood – Yezi Li – San Marin HS
Self Portrait – Ciara Post – Marin Academy
Toadstool – Olivia Harvell – San Domenico School
Untitled – Tara Sola – San Domenico School
Untitled – Holly Parkin – Tamalpais HS
Honorable Mentions
Children of the Moon – Alia Anderson May – Marin Catholic
Distortion – Dominic DiPaola – San Andreas HS
Drakes Beach – Andres Gomez – Tomales HS
Husky – Caeli Gallagher – San Rafael HS
Jean Jacket – Anna Taylor – Sir Francis Drake HS
Learning Equals Education – TeamWorks Art Mentoring Program
Light at the End of the Tunnel – Zoe Carrell
Mel Goes Bananas – Kate Claman – Marin Academy
Porcelain Head – John Iwaszewicz – Oak Hill School
Painting Silver Lining – Blake Patterson – The Branson School
Self-Portrait – Willow Jones – The Marin School
Untitled – Merryta Liu – San Domenico School
Untitled – Angela Chen – San Domenico School
Young Sanity – Alondra Vazquez – Terra Linda HS
Black Cat Prizes
Digital Art – Makai: Towards the Sea – Jana Viets – Marin Catholic
Manipulated photography – Untitled – Hagen Wehde – Redwood HS
Unmanipulated Photography – Untitled – Olivia Runnfeldt – Redwood HS
Perry's Awards
Untitled – Anna-Sofie Whalen – Tamalpais HS
Wings to Fly – TeamWorks Art Mentoring Program – Loma Alta
Exhibiting Students
Loma Alta School/TeamWorks Art Mentoring: Teacher Katya McCulloch
Treyvonn, Mario, Adam, Angela, Javier, Oliver, Alyssa
Marin Academy: Teacher Anne Maurice, Katharine Boyd & Jenny Rosenberg
Seiichiro Nakai, Melanie Blue, Ben Lyons, Kate Claman, Ciara Post, Leigh Pomerantz, Rebecca Strull, Erika Page, Luke Raddue, Anjali Bodony, Lindsay Levine
Marin Catholic: Teachers Laurie Reemsnyder & Mark Jaeger
Abby Tarantino, Jana Viets, Alia Anderson May, Tara Henry, Juliette Hvistendahl, Meghan Rooney, Jack Burnham, Kristen Rolstad, Dino Kalfos
Marin School of the Arts: Teachers Sabrina Kalleen & Mary Grehan
Sophia Schwartz-Cutler, Raissa Boysen, Ciel Pierlot, Jensen Neff, Emely Lemus
Oak Hill School: Teachers Michelle Barbera & Sophie Cooper
John Iwaszewicz, Hannah Sherwood, Ben Willbrand, Ryan Heller, Harrison Mahler, Megan Busby, Luke Meng, Matthew Seiberling, Braden O'Connell, Strider Barker, Katie Tysinger
Redwood High School: Teachers Susanne Maxwell & Karen Meadows
Hagen Wehde, Olivia Runnfeldt, Kenzie Johnson, Megan Wilford, Ryan Stiles, Haley Turner, Bridget Wait
San Andreas High School: Teacher Gray Douglas
Dominic DiPaola, Patrick Cook, Meryl Fe Klein, Altimont Bolton, Samantha McEvoy
San Domenico School: Teachers Logan Wood, Jill Hoefgen & Carina Ybarra
Merryta Liu, Angela Chen, Tara Sola, Olivia Harvell, Erika Johnson, Bella Gosman, Kathryn Volovski, Ellen Zhu, Vicky Lin, Camille Ayanruoh, Mia Ma, Moment Li
San Marin High School: Teachers Mariah Fisher & Denise Mozzetti
Jenna Tooley, Yezi Li, Olivia Lamont, Liam Gavin, Lauren Frank, Yezi Li
San Rafael High School: Teachers Johanna Herrera & Trenton Smith
Zoe Carrell, Caeli Gallagher, Emily Villavicencio, Roxana Velasquez, Daylor Giron, Kailey Brown, Marissa Mullins, Duriel Meisner, Sonia Sondheim, Kien Lam, Brenda Arellano, Julia Jackson-Clark
Sir Francis Drake High School: Teachers Martha Cederstrom & Beth Cederstrom
Anna Taylor, Gabriel Hamilton, Kasha LaRoche, Ashmoore, Sarah McAmis, Michael Kest, Matt Richman, Annika Williams
Tamalpais High School: Teachers Zach Gilmour, Lisa Ouse Hicks & Mary Krawczyk
Holly Parkin, Scarlett Costello, Anna-Sofie Whalen, Natanya Glatt, Ryan Turner, Jordan Sherman, Anna Baldwin, Hannah Saltonstall, Jessica Hudson, Izzy Parlamis, Nicole Cochary, Genevieve Tremblay
Terra Linda High School: Teachers Katy Bernheim, Elizabeth Galbreath & Allison Oropallo
Alondra Vazquez, Cielo de la Rosa, Marcus Perkins, Daniel Swanson, Brisia Reales, Annabelle Vinokur, Tifani Sosa, Majken Hanson, Taren Bouwman, Jasmin Salgado, Chris Perani
The Branson School: Teachers Eric Oldmixon & Allyson Seal
Blake Patterson, Max Sigerman, Zoe Moynihan, Grace Roberts Burbank, Frankie Gerraty, Sam Reinertsen, Megan Gillfillan, Bix Hirigoyen, Sophie Rosenbaum-Jones, Jack Verhille, Hunt Wyman
The Marin School: Teacher Alison Murray
Cali Hetfield, Willow Jones, KC Seligman, Moiya Morgan, Jeffrey Kolthoff, Michelle Chan, Crash DesRosiers, Tess Hecht, Cali Hetfield, Jacob Weber
Tomales High School: Teacher Rachel Somerville
Andres Gomez, Clara Wright, Mario Passantino, Abrielle Spaletta, Ashley Weir, Litia Bowater
by Mentor Artist Gabrielle Gamboa
The young artists I have been working with at Oak Hill, a school for students with Autism and other learning differences, have been learning weaving and printmaking techniques with our last few sessions of the year.
Each student had a small personal loom. I brought a selection of richly textures yarn for students to chose from to weave bold patterns. We finished the weavings off with tassels we made, and mounted the weavings on sticks gathered on a walk. Weaving was just one option for the older group of students. Some chose to finish previous art projects.
The next group of projects involved printmaking. First we rolled ink on sheets of acrylic to make monotypes. We drew on some of our paper with oil pastel before printing for a layered result. Next, we made simple block prints, drawing on foam scratch sheets to make printing plates. We printed on top of some of our monotypes for more texture. The final project for the younger students was to combine both types of printing into a monoprint. They had developed strong printmaking skills by this time, and made bold color choices! The older students branched out even more for their final project, silkscreen printing. They made abstract designs using tape stencils, and made runs of colorful prints on beautiful Japanese printmaking paper.
I had a great semester at Oak Hill, and I am going to miss these dynamic young artists very much!
In this project, The Buckeyes, a 6-8th grade class at Oak Hill School, made figurative sculptures. These students have autism and related developmental differences, so the key to a successful project is breaking everything down into small steps.
Session 1: Our young artists modeled human figures out of pipe cleaners, and then covered the wire with aluminum foil. They then posed the figures and attached them to small cardboard boxes.
Session 2&3: The artists covered their figures in two layers of paper mache, letting each layer dry completely before adding another.
Session 4: We practiced mixing several different color combinations to make skin tones. The artists then chose their favorite mix, and painted their figure with that all-over color.
Session 5: The artists "dressed" their figures by tearing decorative and crepe papers, and then gluing the pieces on.
The artists used a variety of skills and new techniques, working their fine motor skills.This fun project resulted in very expressive, unique sculptures!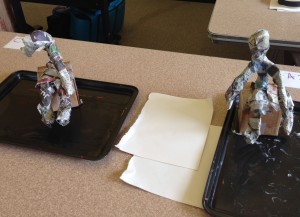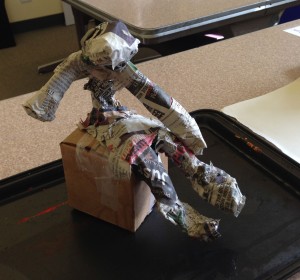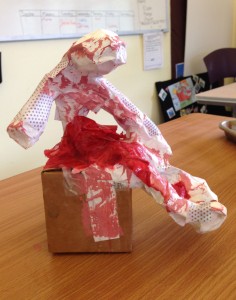 I have recently started working with two classes at Oak Hill School in San Anselmo, a wonderful program for children with autism and other developmental differences.
The first project with the Buckeye Class of middle-school boys was a sculptural project we called a Sun Column. We used fine motor skills create a vibrant, wild layered assemblage of paper and found materials that had been painted with texture rollers and stamps dipped in gold ink. It was then adorned with texture rubbings and drawings, fringe-cut paper, cut and glued ribbons, and twisted gold pipe cleaners. This project helped me assess each artist's needs and abilities, but most of all, it was fun.
We are now sculpting figures.The first step was making an armature out of pipe cleaners, and covering that with a foil skin. The next step will be paper mache.
The first project with Oak Hill Prep was a collaborative group project to exhibit at their school art show. I gessoed a wood puzzle and gave each student several random puzzle pieces. After discussing and looking at line art patterns, we each drew our own patterns on these pieces. Next, we traded pieces back and both adding our own touches so that most pieces became the creation of multiple artists. We also stamped (and one artist even added his fingerprints) to the pieces. Finally, the artists reassembled the puzzle, and we were able to see our collaborative drawing for the first time, with surprising results. I then glued the puzzle permanently together.
We have now begun looking at the work of M.C. Esher. We discussed how his tessellation images fit together like puzzle pieces, and we colored some of his tessellation designs using complementary colors schemes. Very soon we will be making our very own tessellation designs!
Students at Oak Hill worked with mentor artist Julia James. Students explored color, textures, papers, brushwork and a combination of art materials. They gained confidence and learned to joyfully express themselves, building on skills and personal discovery.
Oak Hill School serves students aged 5-22 with autism and related developmental differences, and their program is guided by the principle that relationships are central to building skills in relating, communicating and thinking. Students experience a comprehensive academic program with integrated speech, psychological and occupational therapies, as well as visual and performing arts provided by Youth in Arts Mentor Artists.
Julia's personal goal was to enhance confidence and expression. She wanted to create an environment where students could feel listened to and individually known. When she began the residency, students could only sit for a few minutes at a time. By the end, most enjoyed their art-making experiences for 20 minutes and more!
Recently we hosted our first free gallery tour of "Regeneration – Teaching Recycled Art" with a group of students from Oak Hill School.  Six students from Oak Hill ages 13-19, all on the Autism Spectrum, enjoyed the sights, sounds and textures of our gallery and workshop.
We started in the gallery, observing the artwork that has been made by everyday "garbage" or items that would be trashed or recycled after use, such as material, plastic bags, old toys, sticks and paper scraps.  Then, Musician Nydia Gonzalez helped the youngsters explore the sounds that we could make re-using materials such as food containers and boxes by turning them into drums and guitars!  Finally, students worked with visual artist Suzanne Joyal and created 3-D sculptural art using scraps of foam core and matt board, connecting them, gluing them and covering them with vibrant colors.
The "Regeneration" show will be up until January 25th, so please stop by to check it out, or make an appointment for a free group tour for students. yia@youthinarts.org