At Cascade Canyon, the theme of the 2018-2019 school year was "iterations." Mentor artist Tracy Eastman worked with 7th and 8th graders over the course of eight weeks through our Artists in Schools residency program to build on this theme with project-based work in self-portraiture. Tracy shares: "We discussed how the students are at an age where self-identity is often being formed, reflected upon, and sometimes questioned. This was the notion that lead to having the students create self-portraits for our culminating art project."
The project began with an exploration of color theory and painting techniques in order to provide a strong platform for understanding the artistic process. Each student mixed and created their own palette using only the primary colors, plus brown and white. They each created color tiles by combining complimentary colors and documenting the iterations of hues that were achieved. The students kept the color tiles for personal reference to assist them when creating hues for their portraits. The process of the self-portrait paintings began with each student being assigned a school iPad, with which they took a series of self-portrait photos to choose from.
Tracy then guided students through the process of applying an electronic grid over their photos using their iPads, which were then replicated manually by drawing the grid directly onto their canvases. Using the grid as a guide for shapes and proportions, the students sketched their portraits from their photo references.
They then used their knowledge of color theory and painting techniques to create skin tones and other hues to complete their self-portraits. Tracy remarks, "Each layer of paint changed the appearance of the paintings, creating various iterations throughout the process. While many students tried to create paintings that looked much like their photos, there were also some who decided to improvise and re-imagine aspects of their paintings to make them more personal."
The portraits were hung and displayed in the school's community room for the culminating event, showing each student's self reflection and self expression. Great job Cascade Canyon!
Katya McCulloch, TeamWorks Art Mentoring co-founder, and Louis Murillo TeamWorks teaching artist, instruct at the Loma Alta School (Marin County Office of Education's Juvenile Court classroom). They shared more about the inspiration behind, and process of creating their group artwork on display as part of our RISING STARS exhibition, on view at the YIA Gallery through March 29th.
"Holiday Banquet," a mixed media work featuring images of food painted on paper plates, mounted on a hand embroidered tablecloth, began as a project about recycled materials. Katya, Louis, and their students discussed how food vendors at places like the Marin County Fair, have to discard food once it's opened, and so much of it is wasted. The work is also a comment on the fact that juvenile hall probation restricts students from going to the Marin County Fair. So, in a sense they were depicting food they wouldn't typically be able to have.
The work started around the winter holidays, so the teaching artists and their students were talking about memories of family and their favorite foods. They discussed how, "during the holidays some teens were locked up while others were home enjoying good food," Katya said. "This is when we try to come up with a group project that will keep them focused and not think negatively," Louis shared.
Once each students had settled on their individual subject, they then focused on the formal qualities of painting such as shadow, highlight, contrast, and perspective to make their work more 3-dementional. The artists, aged 13 to 18, worked in the round at a table of 8 students. Once they were finished they left the painted plates out on the table to dry, and realized it looked a lot like a banquet…hence the title.
Katya and Louis work with Loma Alta's students once per week 12 months of the year. They don't have any real breaks in the juvenile hall system. "The continuity…the ongoing nature of the art is the most impactful for the students," Katya shared. Having more school breaks would, "delay the the process of building trust."
"Exhibits are very important for building pride," Katya noted. Loma Alta student's work is displayed multiple times per year – as part of RISING STARS at Youth in Arts, as well as at the Marin County Fair, San Rafael Library, Pickleweed Community Center, Marin Center, and Civic Grand Jury Chambers.
Through art making Katya has seen, "a quantum leap in students willingness to work together…putting personal issues and posturing aside" to focus on the art. "The unity in these projects is huge, as it's tremendous to helping the kids communicate amongst others with more respect," Louis added.
TeamWorks has been providing "on-going arts engagement for at-risk youth ages 11-18 in Juvenile Justice and in Alternative Education high schools in Marin County" for 20 years.
By Cathy Bowman and Suzanne Joyal, visual arts specialists
Second graders at Laurel Dell Elementary School in San Rafael spent three lovely mornings making trees from around the world. The classes had lively discussions about what their trees needed to thrive and where they might live. We talked about the differences to be found in trees around the world, as well as all of those things that make trees the same.
First, we used magnifying glasses to analyse branches: how many kinds of brown do you see? Are they smooth or rough? what happens where smaller branches grow out? What kinds of patterns do you see in the bark? We made very careful drawings of very imaginative trees from every continent on the planet (yes, even Antarctica!)
We then revisited our skills at making browns from primary colors- this was very challenging: it took a lot of practice. Students have learned to mix carefully, to be respectful of their neighbors, to share their ideas, and to ask for help from their peers when needed.
We spent one classtime painting landscapes. Where will your tree stand? In a city, near a park, in the forest? (The tree from Antarctica will stand with glaciers and penguins). We learned about horizon lines and sunsets, painting watercolor wet-into-wet techniques, and the value of adding lots of details.
On our final day, we glued our trees to the landscapes, spreading glue all the way to the edges so they would lie flat. Leaves were made from texture rubbings, and practiced cutting skills and mixing colors. Those who finished early helped others at the gluing station. It was a great exercise in following directions and reflecting on why we make the artistic choices we do.
One student talked about making a tree that was near her friend's house. Another student enjoyed breaking a pastel (and the satisfying snap it made) so he could use it on its side. The class ended with a discussion reflecting on similarities and differences. Then it was time to clean up and eat lunch!
Second Graders at Laurel Dell Elementary School discovered that making brown is a challenge! Each student traced their own hand, and then those of three friends, onto their paper. They then practiced mixing red, yellow, blue, and white to make as many shades of browns and tans as possible. We counted more than 100 different shades and tones!
Students practiced Collaboration (with keeping the shared colors clean for their friends and also teaching each other how to make certain colors); Persistence as they failed many times before they learned the process and trick: If you need to use red, yellow, and blue to make brown, and what you have looks very green, what's missing? (the answer is red). Students were also able to experiment with making any color imaginable, and rose to the challenge.
We noticed that while we all are slightly different shades of brown and tan, and we can make them all.
Thank you for your continued support: Laurel Dell PTA teachers, parents and students and the California Arts Council
First Graders were able to practice lots of vocabulary with this painting project, including their shapes, colors, and counting. Tracing is a surprisingly challenging task for some first graders, and is a valuable writing tool as they have to use both hands, hold an object steady, and work their writing hand all the way around it. I feel that this is a safe and entertaining way for them to practice what can be a frustrating skill.
In terms of sharing colors, working with one set of paints for an entire table again gives students a safe way to practice making choices, listening to peers, and problem solving: what happens when your friend mixes the colors? How do you solve the problem?
Mentor Artist, Tracy Eastman shares her experience working with middle school students at the Canal Alliance's University Prep program —
     This past fall I had the privilege of teaching a mural-making project with middle school students at the Canal Alliance.  Our group was made up of four to six 7th-graders with little art experience, who explored an introduction to color theory, acrylic paint properties, and painting techniques.  The students and I first discussed the project of making a mural: how to portray ideas through images, who our audience would be, and observing the environment where the painting would be displayed.  The students put ideas and images together that reflected a healthy environment and community.  We used a projector to assist the budding young artists with determining composition and rendering certain aspects of the painting.  Although challenging at times, the students worked independently as well as a whole group, learning about teamwork.
     This would have been a big challenge for any group of student artists, but I would like to commend these particular students for taking on such a bold project with little to no prior knowledge of art.  I could definitely see a colorful transformation in each and every student, as they built confidence and learned to express themselves visually.  The final mural turned out beautifully!
The 27th annual RISING STARS show opened with a lively Awards Reception for participating artists at the Youth in Arts Gallery in downtown San Rafael on February 4th.  330 students, parents, and teachers visited the gallery throughout the afternoon.  Executive Director, Miko Lee and Student Board Member, Rose Myers presented forty prizes to students from 17 of Marin County's public, private, and alternative high schools full list of winners here.  The show was blindly adjudicated by our panel of professional artists: painter, Kay Carlson; ceramicist, Melissa Woodbury; and photographer, Joy Phoenix.  Additional awards were granted to students selected by Perry's Art Supplies & Framing, RileyStreet Art Supply, Alejandra Tamayo, and Youth in Arts.
The exhibition, which runs through March 28th, highlights paintings, drawings, photography, ceramics, sculptures, digital and mixed media work from up to 12 teacher-nominated students from each school.  Over 130 students submitted 2D and 3D artwork for this years RISING STARS, and the varied works have come together in a beautiful presentation that draws well-deserved attention to the talented visual arts students throughout Marin County.  Though our staff and judges are always thoroughly impressed by level of student ability, the quality of artwork in this year's show is particularly astounding. We were also moved by the eloquence and thoughtfulness of the artist statements produced by this years participants.  Thank you student artists!
RISING STARS will be on view at YIA Gallery, 917 C Street in San Rafael, through March 28th, 2018; 11am–4pm. We are also open for the 2nd Fridays Art Walk Downtown: Friday, February 9, 5-8 p.m; Friday, March 9, 5-8 p.m.
Thank You to Our Sponsors!
• Il Davide Restaurant
• RileyStreet Art Supply
• Marin Open Studios
• Perry's Art Supplies & Framing
and Allan Daly for photography
Teens, please join us for a visual arts workshop, How to Pursue Art as a Passion & Profession, on February 20th.
Third graders at Laurel Dell have added some color to their Hero project as they designed logos for their creations.  How does a single picture tell a story? How do you show lightning hands, or super speed, or controlling fire? Students were able to experiment with tracing paper and carbon paper (new to them!) as they refined their logos. Several students decided their super hero would protect us all from fires.
Students culminated their Super Hero project by turning their super heroes into comic book illustrations. In the process students learned a little bit about Pop Art (Roy Lichtenstein) and the offset printing process (Ben Day dots reproduced by printing on bubble wrap).
Every step of this process encouraged students to imagine their creations in a more in-depth, concrete way. They have named their heroes, given them jobs and homes and friends, and are poised to create some wonderful stories with their heroes.
Thank you to the California Arts Council for their generous support of this project. 
Two Rock Union Elementary School in Petaluma, organized their inaugural art showcase on November 7th.  The event, hosted from 5:00–7:00pm, gave parents a chance to see their student's artwork from the nine week visual art residency with Youth in Arts Mentor Artist, Julia James.  Examples of projects from the seven K–6th grade classrooms we're on view, thanks to the hard work of PTA President Brandy Campbell, Julia James, and a number of helpful volunteers.  Students' work highlighted their understanding of observational drawing, patterns in nature, bookmaking, color theory, printmaking and so on.  What a great event, and what beautiful artwork.  Thank you Two Rock!
YIA Mentor Artist Ernesto Olmos shares his experience with students at University Prep at the Canal Alliance–
We had a very successful visual art program at Canal Alliance.  The students learned about several different art techniques. They learned basic concepts of drawing including: point, line, and composition.  They learned how to draw comics as well.  The students also used hard pastel crayons and oil pastels, to create wonderful landscapes.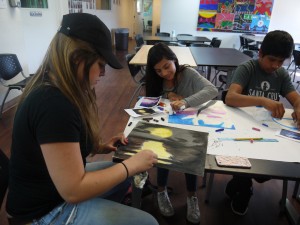 For the painting section of the residency, the students had the opportunity to experiment.  They created ancient prehistoric cave art using natural pigments made from soil, carbon, limestone and hard pastels.
For the last part of the residency, the students learned contemporary acrylic techniques. I shared how to use the acrylic medium to create different textures.  The students used pictures of animals and landscapes for reference.  They created wonderful, imaginative artwork.
I loved working with these talented youth.  It was a pleasure to share my art techniques with them.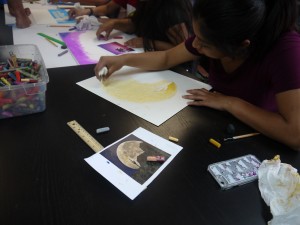 Older Entries »