'Til Dawn alumni Matt Herrero is one of the featured performers at Youth In Arts' spectacular Sing Out! event on Thursday — and he's busy polishing several original songs.
Herrero, 23, a multi-instrumentalist composer, creator and performer who spent four years with Youth In Arts' wonderful 'Til Dawn a cappella troupe, now performs professionally. He credits 'Til Dawn with helping to get it all started.
"It was the most musically rigorous group I'd ever been a part of," he said. "It gave me a family outside of high school that I bonded to way more than with anyone else. They taught me how to make music with people."
Herrero, who attended Marin Academy and graduated from Stanford University last year, is a storyteller who is amazing on the acoustic guitar. He said a friend described his music "as if Justin Timberlake wrote campfire songs."
Joining Herrero on stage will be fellow alum Lilan Kane. She'll be playing with her guitarist, James Harman.
Kane, 33, is looking forward to singing jazz and R & B influenced pop tunes.  Kane, a graduate of Novato High and the Berklee College of Music in Boston, credits 'Til Dawn with helping to set her on the path to performing.
"The community that it gave me … came at a time in my life that really saved me," she said.
Being in the troupe also made her want to teach. Many of her former students, she said, are now 'Til Dawn members.
'Til Dawn made up of local high school students in Marin County. They are led by renowned director Austin Willacy. Both current `Til Dawn high school troupe members and alum called "Still Dawn" will perform Thursday.
The show starts at 8 p.m. at the Osher Marin JCC in San Rafael. Tables are $250; Adults are $35 and youth are $25. Tickets can be purchased here.
Master storyteller Diane Ferlatte, accompanied by musician Erik Pearson on the banjo, performed for hundreds of K-8 students at Dance Palace in Point Reyes this Fall. Diane believes that story telling enables us to understand each other better, and many of the stories she shared with students emphasized empathy, tolerance, respect for others, the importance of working hard, and the value of our environment. From the adventures of the clever Brer Rabbit to the history of slavery in the United States, Diane's tales engaged with social studies standards for middle school students through folk traditions, song, percussion, and American Sign Language.
Students and teachers listen to the story of Brer Rabbit's Dance. Ferlatte uses ASL, intonation, music, and body language to engage students.
Following the Assembly, Diane and Erik held a workshop with 5th grade students. Students engaged in a discussion about what makes a story successful, and how to utilize performative tools to share their stories with others.
A special thank you to the Dance Palace and the California Arts Council for their support of this program!
Mentor Artist Stephanie Bastos worked with every student at Laurel Dell Elementary School this Spring. Here are her thoughts:
I believe every child deserves quality arts education and schools like Laurel Dell Elementary strive to make it happen. My instruction there included Movement arts focusing on Brazilian Music and Dance that provided a rich experience for a community of mostly immigrant families. As a trilingual teaching artist having spent a lot of time in Brazil and throughout South America, I related to the kids and families by simply sharing my culture. I also have a disability that I do a presentation about for the learners so that they can see that every body can move and create.
The learners experienced a traditional dance class that includes a warm- up, skill building, and performance/ improvisation in small groups or individually. They also got to play drums and sing songs in Portuguese.
Laurel Dell celebrates their community every Spring with the Fiesta Del Sol: families and friends meet for a fun and music-filled day of dance and food. For the culminating event, students presented Samba Reggae choreography, Maculelé folklore- a traditional warrior dance and the beloved Capoeira- a game of movement, acrobatics, and song.  I had the honor of entering a community full of love and simplicity that taught me a lot about the possibilities of what quality education looks like for all!
Thanks to the generosity of the Laurel Dell PTA, and the California Arts Council, Stephanie will be returning to Laurel Dell this year. 
By YIA Mentor Artist Hannah Gavagan
The 6th-8th grade students at SRCS were amazing. They were able to discuss the issues in the world with a determination to create change. They exuded power by telling their stories. In short, they had something to say.
One group especially had something to say. And they worked harder than any group I have ever taught in my entire teaching career. That is a bold statement, I know. But these four 8th grade girls would pop their heads into the theatre at lunch, recess, and every break they had to ask me, "Is it ok if we rehearse on the stage?" OF COURSE was always my answer. The short play they devised was constantly growing and shifting. Every practice was an opportunity for them to make their message stronger. They knew they had something to say. The issue they chose to tackle was consent.
I am not writing about these girls because the play they performed was so well executed (it was), or because they were some of the most talented actors I have had the pleasure of teaching (they were), but because of their collaboration and determination to make there voices heard in the most creative, powerful ways possible.
The class before their final performance, they asked if it was alright if they wore shirts they made. OF COURSE was my answer. They showed up to their performance donning white shirts with black lettering across the front that said "You are not alone." I loved them! However, they still surprised me. During the final moment of their play, one of the girls who dealt with someone who did not respect her lack of consent spoke to the audience. She said she felt so alone and did not understand why this happened to her. She turned her back on the audience and knelt, defeated. As she turned around, I saw the back of her shirt. It read,
#MeToo
I burst into tears. That moment was emanating with power. Then the three other girls in the cast came onstage and physically helped her up. All their shirts also read #MeToo on the back. Once they all stood with locked arms, they faced the audience and reminded us that no one is alone in dealing with our traumas.
These girls used every opportunity to strengthen their message. And the hundreds in the theater heard them loud and clear.  I was one proud director. But more importantly, they were incredibly proud of themselves.
Second graders at Cornell Elementary School in Albany had the opportunity to learn about Persian dance, music and culture. Each class learned a different style of dance from Iran. There were four 2nd-grade classes, 92 diverse students who participated in this residency.
These students had nine sessions of Persian dance and culture class with Shahrzad Khorsandi, director of Shahrzad Dance Academy and author of The Art of Persian Dance. The nine-week session included a group choreography, culminating in a student performance.
In addition to the choreography, the students learned about the geography of Iran, the different regional dances, cultural traditions such as the Persian New Year fire-jumping celebration, and even learned how to do the special (and loud) two-handed Persian snap! When asked what their favorite part of the experience was, many said it was when they worked in small groups to create their own movement patterns in the dance style they were learning.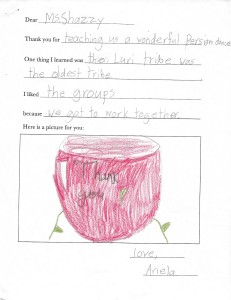 Youth in Arts Mentor Artist Katie Issel Pitre reports on her experience at Harding Elementary School in El Cerrito
I'm happy to report a job well done by all my students and their teachers at Harding Elementary School.  We have just finished a huge endeavor–10 classes performing original songs in one evening!!!  We pulled it off with the help of amazing PTA support and parent volunteers, help from former students at the theater at El Cerrito High, from Principal Takimoto of Harding Elementary School…and of course from students and teachers!
Through Youth in Arts 'Arts Unite Us' program, I was able to work with Harding students for 24 weeks leading up to our big performance. 'Arts Unite Us' aims to bring children of all abilities together through shared creative arts experiences.
The first half of the year, we developed our ensemble, learning about music, rhythm, working together, and rhythm notation and instruments.  The second half of the year we selected a favorite song, used its melody to create original lyrics, and then went through the editing and revision process to create our own song.  For most students this was their first exposure to song writing!  We utilized the support of composer Aaron Pike, who created beautiful piano tracks to accompany our original songs.  We rehearsed in our classrooms to prepare for our show.  Here are two examples of what our in-classroom rehearsals sounded like:
Teacher Helen's Kindergarten class rehearsal of "Mrs. Wishy Washy"
Mrs. Silkworth's 3rd Grade class rehearsal of  "America walk with the rest of the world"
After our performance I visited once more for an in-school sharing session, giving students one last chance to see and appreciate each others work.  We reflected on our work and created songs that summarized our experience in music class.  Here is one of my favorite songs created on our reflection day from Mrs. Tamura's 2nd Grade class:
I thank Youth In Arts of the opportunity they gave me to grow and develop as an artist and an educator, to work with this special school and make sweet music with these intelligent students  A big nod to you all.
With respect,
Ms. Katie
April is Autism Awareness Month.  Youth in Arts is the only arts education provider to special day and severely handicapped classrooms in Marin. We also provide arts programming at Oak Hill School which is focused on students with autism from 5-22 years old.
Check out this CD C'mon Everybody! which was produced with support from FirstFive Marin as part of a special workshop for families with children on the autistic spectrum.
C'mon Everybody! features original music composed by Youth in Arts Mentor Artist Miguel Martinez and featuring performances by additional YIA Mentor Artists Nydia Gonzalez and Hannah Dworkin. Songs encouraging response to direction, social behavior and language acquisition. It is fun and accessible for developmentally typical PreK children, as well as children with cognitive or developmental delays.
Come into our YIA shop on 917 C Street to buy the CD, or you can get a free download of a couple of the songs here Good Morning My Love, and  King of the Beat.
Thank you to the Buck Family Fund of the MCF for supporting our programs reaching children of all abilities.
Capoeira Mentor Artist Daniel Mattar and his International Capoeira Angola Foundation (ICAF) troupe have been very busy putting on assemblies for us!
Their first back-to-back performances were last week at Marin Country Day School in Corte Madera.  Daniel brought five Capoeira artists to perform with him.  They played music on their Berimbaus (similar to guitars, made of a gourd and one string) and Pandeiros (tambourines) while demonstrating the beautiful art of Capoeira Angola for two large groups of K-4th grade students.  After their demonstration, they brought several kids up on stage to practice Capoeira while doing call and response songs with the audience in Portuguese.  They were lively and fun performances.
Educator Alina said, "The performers were wonderful!  I loved how they went into the audience as kids were coming in to show them the instruments etc. – nice touch.  I received positive feedback from teachers too!"
Yesterday, they put on two more assemblies at Dance Palace in Point Reyes for a huge group of students from several elementary schools in West Marin.  Daniel brought six Capoeira artists from ICAF and the reviews were outstanding!
Dance Palace Executive Director Margarita raved, "Daniel and his ICAF troupe were absolutely wonderful! The music was great and the kids just LOVED them! Everyone was singing and dancing. They even got a reluctant teacher up and dancing. What a great recommendation from Youth in Arts!"
Book your assembly today!  Visit our website at youthinarts.org to see all the available options, or call Morgan Schauffler to book (415) 457-4878 x160
Mentor Artist Thomas Arndt reports on his theater residency this Spring at Cornell Elementary in Albany.
Youth in Arts new program at Cornell Elementary resulted in 8 story adaptions performed by 2nd and 3rd Grade students in just 8 weeks!
Weekly classes with the 2nd and 3rd Graders covered the basics of acting skills and then quickly plugged those skills into fun and challenging plays put on by the whole class.  We worked on creating Stage Pictures, showing emotion with the body, movement and most of all STRONG, CLEAR VOICES!  All of the students really loved the Vocal Resonator warm-up, which I learned from my teaching artist friend Mariah Castle a couple of years ago, which was a great way to balance big, wild expression with complete focus.  I watched as the groups got stronger each week as ensembles and as every single individual grew as a performer.
In the 2nd Grade, we had "The Little Monkey and the Garbanzo Bean" from Cuba, "Anansi and the Strange Moss-Covered Rock" from West Africa,  "Zomo the Rabbit" from Nigeria, and "NO DINNER!" from Southeast Asia.  The 2nd Graders really impressed me with remembering where to be at all times and by staying in their characters throughout each performance.
The 3rd Graders had the challenge of doing curriculum-based Civil Rights plays which dealt with serious matters.  They did an excellent job of enjoying the process while bringing maturity to the hardships that African-Americans faced in these stories.  We performed "Martin's Big Words," "Ruby Bridges," "I Am Rosa Parks," and "Richard Wright and the Library Card."  These were all adapted from children's books.
After each performance, we had a "Talk-Back" session with the audience (each show had family members and another Cornell class visiting us).  The audience gave appreciations, and in every single session we hear how impressed they were by the loud, clear voices on-stage.  I believe that whether or not these students go on to be actors, learning to speak in front of a crowd with confidence is an incredibly important skill.  They also spoke to learning a lot of history from the shows and many audience members said that they were able to feel what it was like for people in the Civil Rights Era.  We talked about this being the power of theater- that it's not just facts, it is emotions.  Many of the actors reported feeling nervous before the show and proud and happy after the show, especially upon hearing the responses from the audience.  One actor said she felt it was "respectful" to hear such praise.
We are so excited to be at Cornell, creating a new, powerful theater program that we hope will continue for many years!  Thank you to the amazing teachers, parents, families and kids!
This year, in the Arts Unite Us After-School Playwriting and Performance Group, we created an immensely powerful show about the need to celebrate diversity.  The story and themes were built over 15-weeks together of 2-hour sessions with a 38 member cast at Harding Elementary.  Once we had picked a topic and a frame (Time Travel and the Future), the students created short skits, which we used as fodder for our playwriting.
Starting in the bleak future, where it's the law that your favorite color is GRAY, "The Futuristas" soon find themselves chased by robot enforcers for admitting that they love BLUE.  They are saved in the nick
of time by "The Time Traveling Triplets," (played, ironically, NOT by the actual triplets who are in the class), and soon find themselves traveling through time (and space?) to learn their forgotten history.   Dinosaurs teach them lessons of bio-diversity, with the Spirits of the Really Past reminding The Futuristas "YOUR survival depends on YOUR diversity."  Then they are swept into an era of Social Justice Heroes, from Martin Luther King Jr. to Rosa Parks to Audre Lorde to I. King Jordan (the first deaf president of Gallaudet University).  For the I. King Jordan piece, we had Paul, our interpreter, work with a hearing student who
has a passion for American Sign Language.  For her piece, Paul switched from interpreting in ASL to speaking out loud, and it was a joy to see some of the non-hearing kids in the front row of the audience light up as the actors began to speak their language.  "DEAF PRESIDENT NOW!"
In the end, by celebrating diversity, the Futuristas were able to get people in the Present to commit to getting off their phones and connecting with each other in more direct ways.  When they finally returned to the future, April 1st (the day of our show) had become an international "Diversity Day!"
The process was one of community building and personal growth.  Many students in the class do not see themselves as actors or performers, but stepped up in big ways and let their voices be loud and proud.  After each performance, we had a "Talk-Back" session with the audience, inviting first the audience to give appreciations and then speak to what they learned from the show.  The actors then responded with how it felt to hear their work celebrated and it was clear that they all felt deeply proud of themselves for the work they had done.
We are excited to keep this program going, as it serves so many purposes from artistic expression to social-emotional skill building to team work.  I'm so proud of the Harding kids and wish them all a fabulous summer!
Thank you to the Thomas J Long Foundation and the Green Foundation for their continued support that makes this program possible!
Older Entries »