Youth in Arts' Mentor Artist Eddie Madril taught counter narratives to a group of Marin County teachers by sharing his experience as a member of the Native American community.
Madril is part of the Pascua Yaqui tribe of southern Arizona and northern Sonora Mexico and represents his culture as a dancer, singer, teacher, playwright and filmmaker. During his presentation, teachers experienced history differently and learned how to make a corn husk figure (not a doll). Madrid talked about how important it is to understand multiple perspectives, including how tribes historically cared for and respected the land where they lived and did not consider it something that could be bought and sold. He also explained that if there is only one student in a class who is Native, for example, that student should not be singled out or made to represent all Native American people. Teachers ended the day with a hoop dance.
"It's critical for teachers to be able to hear counter-narratives to expand their teaching to reach all learners," said Youth in Arts' Executive Director Miko Lee. "It's through these culturally responsive teaching practices that our students can learn about the world that we live in with a more balanced perspective."
Madril has taught American Indian music at San Francisco State University and was a three-year recipient of the California Arts Council Artist-In-Residence grant. As a dancer and educator, he has performed throughout the western United States, including the San Francisco Ethnic Dance Festival and World Arts West's arts education program People Like Me. He works with students to encourage the appreciation of and respect for American Indian dance, music, culture, history, art and sign language.
To review the hands-outs and suggested readings, go here.
Youth in Arts worked with the Marin County Office of Education to provide professional development courses like these. We are proud to announce a generous grant from the California Arts Council to provide for Eddie Madrill's Assembly Performance and Workshops for Title 1 schools whose teachers attended the counter narrative training. Thanks also to Marin Community Foundation for supporting our work.
'Til Dawn, Youth in Arts' award-wining a cappella group, dazzled their audience with a wide range of songs at its annual concert at the Carol Franc Buck Hall of the Arts at San Domenico School in San Anselmo. The group is the longest, year-round teen a cappella ensemble in the Bay Area.
Each of the members, mostly from Marin County high schools, performed at least one solo. The repertoire included Big Band music, Motown hits, modern pop tunes and more. 'Til Dawn is part of Youth in Arts' Intensive Arts Mentorship program (I AM).
"One of the amazing things about a cappella music is it's universally relatable to human beings because we all have voices; because it's all coming from a human voice, any number of genres that people might not otherwise listen to are accessible," said 'Til Dawn Director Austin Willacy.
Willacy has been the director for 22 years and also records and performs with his own a cappella band, The House Jacks, and as a solo artist.
"Programs like these are vital for creating a space for young artists to thrive," said Youth in Arts' Executive Director Miko Lee. "These talented young singers practiced for months and their hard work paid off. The audience was thrilled."
If you missed the concert, you're in luck. 'Til Dawn performs at the Marin County Fair in San Rafael on July 3 from 3:30 to 4 p.m.
And check out some videos here:
'Til Dawn Annual Concert 2019.
Thank you to San Domenico School for the generous gift of the hall for the concert and to the Marin Community Foundation.
Capoeira Angola with Daniel Mattar
Youth in Arts kicked off an exciting semester of school-wide events at Olive Elementary School with two amazing days of dance and culture through our assembly and workshop program. Capoeira Mentor Artist Daniel Mattar and his International Capoeira Angola Foundation (ICAF) troupe spent a day with Olive Elementary School's 3rd, 4th, and 5th grade students in early March, and Shahrzad Khorsandi and the Shahrzad Dance Ensemble led a fun and informative day of programming in April. In sharing the art of Capoeira with the students at Olive, Daniel and two additional Capoeira artists began by playing music on their hand-made Berimbaus made of gourds and one string, and a Pandeiros (tambourine) while engaging students in call and response songs in Portuguese. After their demonstration, they brought several kids up on stage to practice Capoeira while practicing their call and response songs.
Following the performance and demonstration, each 3rd-5th grade class participated in an interactive workshop led by Daniel and ICAF. We began with mastering the key movements and control necessary to take part in capoeira safely. Some of the movements that we learned were: Ginga, Aú, Balança, Macaco, and Negativa. We then put our new knowledge to use with team exercises and some games of capoeira with a partner!
Persian Dance with Shahrzad Khorsandi
During the second assembly with the Shahrzad Dance Ensemble, director Shahrzad Khorsandi and three members of the ensemble performed a special series of dances for the Persian New Year that had been choreographed and designed by Shahrzad over the last several years. Norouz ("New Day"), the Persian New Year, represents new beginnings, rebirth, and renewal. Shahrzad Dance Company's Norouz program for 2019, Symbols of Love, brought into focus the true meaning behind this celebrated event and gave students the opportunity to learn about the music, traditions, and cultural relevance of the Iranian holiday today. Throughout the performance, dancers portrayed dynamic characteristics associated with the symbols of: Sabzeh ("Sprout") which is symbolic for rebirth, Seeb ("Apple") which is a symbol of health, Samanu ("Wheat Pudding") which is a symbol of sweetness, Sekkeh ("Coins") which is a symbol of wealth and prosperity, and Norouz ("New Day").
Following the performance, participating classrooms returned for a hands-on workshop with Shahrzad. During the workshop, Sharhzad began by showing a map of the middle east in order to find Iran and talk about the geography of Iran/Persia and how this geography has affected the music and dances of each region. We then started with movements from Luristan in West Iran, followed by movements from Azerbaijan in Northwest Iran. During a brief break we learned the Beshkan, a one-handed Persian snap that creates a sound similar to snappiing your fingers but much louder! After the break, we engaged in dance from the Bandar region near the Persian Gulf in Southern Iran and a Persian urban/social dance from Tehran, the capital, using contemporary Persian pop music. The students took turns coming out in the middle of the circle, 2 or 3 at a time, and practiced what  they had learned throughout the day.
Youth in Arts is grateful for the collaboration of Principal Olynik, Olive Elementary's exemplary 3rd-5th grade teachers, and the PTA for making these programs possible!
Kumu Hula Shawna Alapa'i and Halau Hula Na Pua O Ka La'akea performed for students from the Bolinas-Stinson Union School District at the Dance Palace Community & Cultural Center in Point Reyes. Spanning traditional Kahiko (ancient) hula to modern ('auana) hula, students experienced Hawai'ian story-telling through melody, hand-crafted instruments, dress, and dance traditions.
The assembly concluded with a fun hands-on workshop where students learned parts of a Haka, a traditional warrior's dance originating with the Maori people and adopted into Hawai'ian culture. Kumu Hula Shawna incorporated aspects of the Haka into a hula danced to the music from Moana as a way to engage students and connect culturally based on common knowledges.
A special thank you to the Dance Palace Community & Cultural Center and the California Arts Council for their support of this program!
'Til Dawn alumni Matt Herrero is one of the featured performers at Youth In Arts' spectacular Sing Out! event on Thursday — and he's busy polishing several original songs.
Herrero, 23, a multi-instrumentalist composer, creator and performer who spent four years with Youth In Arts' wonderful 'Til Dawn a cappella troupe, now performs professionally. He credits 'Til Dawn with helping to get it all started.
"It was the most musically rigorous group I'd ever been a part of," he said. "It gave me a family outside of high school that I bonded to way more than with anyone else. They taught me how to make music with people."
Herrero, who attended Marin Academy and graduated from Stanford University last year, is a storyteller who is amazing on the acoustic guitar. He said a friend described his music "as if Justin Timberlake wrote campfire songs."
Joining Herrero on stage will be fellow alum Lilan Kane. She'll be playing with her guitarist, James Harman.
Kane, 33, is looking forward to singing jazz and R & B influenced pop tunes.  Kane, a graduate of Novato High and the Berklee College of Music in Boston, credits 'Til Dawn with helping to set her on the path to performing.
"The community that it gave me … came at a time in my life that really saved me," she said.
Being in the troupe also made her want to teach. Many of her former students, she said, are now 'Til Dawn members.
'Til Dawn made up of local high school students in Marin County. They are led by renowned director Austin Willacy. Both current `Til Dawn high school troupe members and alum called "Still Dawn" will perform Thursday.
The show starts at 8 p.m. at the Osher Marin JCC in San Rafael. Tables are $250; Adults are $35 and youth are $25. Tickets can be purchased here.
Master storyteller Diane Ferlatte, accompanied by musician Erik Pearson on the banjo, performed for hundreds of K-8 students at Dance Palace in Point Reyes this Fall. Diane believes that story telling enables us to understand each other better, and many of the stories she shared with students emphasized empathy, tolerance, respect for others, the importance of working hard, and the value of our environment. From the adventures of the clever Brer Rabbit to the history of slavery in the United States, Diane's tales engaged with social studies standards for middle school students through folk traditions, song, percussion, and American Sign Language.
Students and teachers listen to the story of Brer Rabbit's Dance. Ferlatte uses ASL, intonation, music, and body language to engage students.
Following the Assembly, Diane and Erik held a workshop with 5th grade students. Students engaged in a discussion about what makes a story successful, and how to utilize performative tools to share their stories with others.
A special thank you to the Dance Palace and the California Arts Council for their support of this program!
Mentor Artist Stephanie Bastos worked with every student at Laurel Dell Elementary School this Spring. Here are her thoughts:
I believe every child deserves quality arts education and schools like Laurel Dell Elementary strive to make it happen. My instruction there included Movement arts focusing on Brazilian Music and Dance that provided a rich experience for a community of mostly immigrant families. As a trilingual teaching artist having spent a lot of time in Brazil and throughout South America, I related to the kids and families by simply sharing my culture. I also have a disability that I do a presentation about for the learners so that they can see that every body can move and create.
The learners experienced a traditional dance class that includes a warm- up, skill building, and performance/ improvisation in small groups or individually. They also got to play drums and sing songs in Portuguese.
Laurel Dell celebrates their community every Spring with the Fiesta Del Sol: families and friends meet for a fun and music-filled day of dance and food. For the culminating event, students presented Samba Reggae choreography, Maculelé folklore- a traditional warrior dance and the beloved Capoeira- a game of movement, acrobatics, and song.  I had the honor of entering a community full of love and simplicity that taught me a lot about the possibilities of what quality education looks like for all!
Thanks to the generosity of the Laurel Dell PTA, and the California Arts Council, Stephanie will be returning to Laurel Dell this year. 
By YIA Mentor Artist Hannah Gavagan
The 6th-8th grade students at SRCS were amazing. They were able to discuss the issues in the world with a determination to create change. They exuded power by telling their stories. In short, they had something to say.
One group especially had something to say. And they worked harder than any group I have ever taught in my entire teaching career. That is a bold statement, I know. But these four 8th grade girls would pop their heads into the theatre at lunch, recess, and every break they had to ask me, "Is it ok if we rehearse on the stage?" OF COURSE was always my answer. The short play they devised was constantly growing and shifting. Every practice was an opportunity for them to make their message stronger. They knew they had something to say. The issue they chose to tackle was consent.
I am not writing about these girls because the play they performed was so well executed (it was), or because they were some of the most talented actors I have had the pleasure of teaching (they were), but because of their collaboration and determination to make there voices heard in the most creative, powerful ways possible.
The class before their final performance, they asked if it was alright if they wore shirts they made. OF COURSE was my answer. They showed up to their performance donning white shirts with black lettering across the front that said "You are not alone." I loved them! However, they still surprised me. During the final moment of their play, one of the girls who dealt with someone who did not respect her lack of consent spoke to the audience. She said she felt so alone and did not understand why this happened to her. She turned her back on the audience and knelt, defeated. As she turned around, I saw the back of her shirt. It read,
#MeToo
I burst into tears. That moment was emanating with power. Then the three other girls in the cast came onstage and physically helped her up. All their shirts also read #MeToo on the back. Once they all stood with locked arms, they faced the audience and reminded us that no one is alone in dealing with our traumas.
These girls used every opportunity to strengthen their message. And the hundreds in the theater heard them loud and clear.  I was one proud director. But more importantly, they were incredibly proud of themselves.
Second graders at Cornell Elementary School in Albany had the opportunity to learn about Persian dance, music and culture. Each class learned a different style of dance from Iran. There were four 2nd-grade classes, 92 diverse students who participated in this residency.
These students had nine sessions of Persian dance and culture class with Shahrzad Khorsandi, director of Shahrzad Dance Academy and author of The Art of Persian Dance. The nine-week session included a group choreography, culminating in a student performance.
In addition to the choreography, the students learned about the geography of Iran, the different regional dances, cultural traditions such as the Persian New Year fire-jumping celebration, and even learned how to do the special (and loud) two-handed Persian snap! When asked what their favorite part of the experience was, many said it was when they worked in small groups to create their own movement patterns in the dance style they were learning.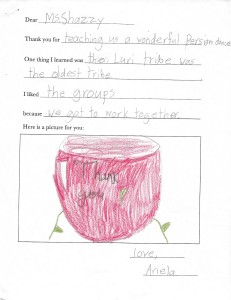 Youth in Arts Mentor Artist Katie Issel Pitre reports on her experience at Harding Elementary School in El Cerrito
I'm happy to report a job well done by all my students and their teachers at Harding Elementary School.  We have just finished a huge endeavor–10 classes performing original songs in one evening!!!  We pulled it off with the help of amazing PTA support and parent volunteers, help from former students at the theater at El Cerrito High, from Principal Takimoto of Harding Elementary School…and of course from students and teachers!
Through Youth in Arts 'Arts Unite Us' program, I was able to work with Harding students for 24 weeks leading up to our big performance. 'Arts Unite Us' aims to bring children of all abilities together through shared creative arts experiences.
The first half of the year, we developed our ensemble, learning about music, rhythm, working together, and rhythm notation and instruments.  The second half of the year we selected a favorite song, used its melody to create original lyrics, and then went through the editing and revision process to create our own song.  For most students this was their first exposure to song writing!  We utilized the support of composer Aaron Pike, who created beautiful piano tracks to accompany our original songs.  We rehearsed in our classrooms to prepare for our show.  Here are two examples of what our in-classroom rehearsals sounded like:
Teacher Helen's Kindergarten class rehearsal of "Mrs. Wishy Washy"
Mrs. Silkworth's 3rd Grade class rehearsal of  "America walk with the rest of the world"
After our performance I visited once more for an in-school sharing session, giving students one last chance to see and appreciate each others work.  We reflected on our work and created songs that summarized our experience in music class.  Here is one of my favorite songs created on our reflection day from Mrs. Tamura's 2nd Grade class:
I thank Youth In Arts of the opportunity they gave me to grow and develop as an artist and an educator, to work with this special school and make sweet music with these intelligent students  A big nod to you all.
With respect,
Ms. Katie
Older Entries »