Youth in Arts was excited to offer two assemblies supported by funding from the California Arts Council to Davidson Middle School this Spring, tying into core learning goals for 6th – 8th grade Social Studies with arts integration techniques. For this program the Shahrzad Dance Ensemble, Director Shahrzad Khorsandi and four members of the ensemble, performed a special series of dances for the Persian New Year that had been choreographed and designed by Shahrzad over the last several years. Norouz ("New Day"), the Persian New Year, represents new beginnings, rebirth, and renewal. Shahrzad Dance Company's Norouz program for 2019, Symbols of Love, brought into focus the true meaning behind this celebrated event and gave students the opportunity to learn about the music, traditions, and cultural relevance of the Iranian holiday today. The performance began with students learning several Persian Dance movements, such as Shokufeh (Blossom), where the dancer starts out with their arms at their sides, and then brings them up over head and back out to side palms up (like a blossom).
Students were also invited to participate in a modified rendition of the fire jumping tradition which is part of the Norouz celebration. Shahrzad explained that traditionally we will jump over fires, saying in Persian " I give my yellow to you, you give your red to me". This indicates a throwing away of sorrow, pain , suffering, anger and illnesses into the fire (yellow), in order to burn it and receive positive energy (red) from the fire.
Throughout the performance, dancers portrayed dynamic characteristics associated with the symbols of: Sabzeh ("Sprout") which is symbolic for rebirth, Seeb ("Apple") which is a symbol of health, Samanu ("Wheat Pudding") which is a symbol of sweetness, Sekkeh ("Coins") which is a symbol of wealth and prosperity, and Norouz ("New Day").
These assemblies followed a three day cultural immersion series led by Shahrzad with participating classrooms in Fall 2018. During these workshops, Sharhzad sharing the geographical significance of the many regions in Iran/Persia, and how where each region is located within the country and what they are bordered by has affected the music and dance which can be found there. Students also learned about other types of Persian culture, such as the food, holidays, and traditions that are important to people across the country.
Youth in Arts would like to provide a special thank you to the California Arts Council for their support of this program!
Youth in Arts Mentor Artist Shahrzad Khorsandi worked with 2nd grade students at Cornell Elementary School in Albany for the 3rd year in a row through Youth in Arts' Artists in Schools program, introducing students to Persian culture through the music and dance of regions across Iran.
We began with a discussion on the geography of the Middle East and Iran, introducing students to each area with a sample of different folk dances from the various regions of the country.  The first class ended with everyone learning how to do the two-handed Persian snap (always a favorite and a challenge both for the students and teachers), which we could use throughout the residency to cheer for our peers.
Throughout the eight-week residency, each of the 4 classes learned a dance specific to a region of Iran. In the process, we learned about rhythm and patterns of movement, linking our sessions to and shape-making and understanding lines through our bodies. We then turned these shapes and lines into spatial patterns on the dance floor. Each class also worked in small groups to create their own movement patterns that they would do in a section of the choreography. This process gave the kids the opportunity to do problem solving and work on social skills, and allowed for the development of their own creative expression.
The residency ended in a culminating student performance with costumes/accessories. The parents were invited and all four classes got a chance to see each other perform, with almost 200 family members and supporters of all ages participating as audience members. During the culminating student performance, Shahrzad shares: "We worked for weeks on traditional dance moves from across Persia. Today you will see mix of some of those traditional moves and also some contemporary moves that the students created all on their own. This mix of old and new is part of the show today. In traditional Persian dance all the females would be in long skirts, in today's show everybody dresses in any way they want and everyone is celebrated. They learned to dance in groups and to collaborate."
Shahrzad describes working with kids as a job that is rewarding and fulfilling. She remembers one particularly special moment at the end of this residency when a student who had been crying and frustrated the day before the performance because he thought the performance was going to be a "failure", ran to her after the show and hugged her, smiling, saying, "We did a great job!" Later, as Shahrzad was reading the colorful Thank-you notes/drawings from the kids, she saw the drawing from that same student and cried. Below is the drawing.
Second graders at Cornell Elementary School in Albany had the opportunity to learn about Persian dance, music and culture. Each class learned a different style of dance from Iran. There were four 2nd-grade classes, 92 diverse students who participated in this residency.
These students had nine sessions of Persian dance and culture class with Shahrzad Khorsandi, director of Shahrzad Dance Academy and author of The Art of Persian Dance. The nine-week session included a group choreography, culminating in a student performance.
In addition to the choreography, the students learned about the geography of Iran, the different regional dances, cultural traditions such as the Persian New Year fire-jumping celebration, and even learned how to do the special (and loud) two-handed Persian snap! When asked what their favorite part of the experience was, many said it was when they worked in small groups to create their own movement patterns in the dance style they were learning.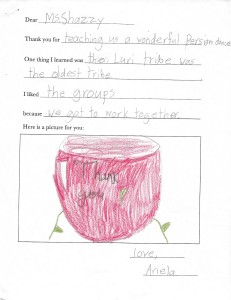 Shahrzad Khorsandi and her troupe of dancers brought two back-to-back Persian Dance assembly/workshop programs to a full house of West Marin County students at the Dance Palace on November 14th.  Shahrzad and her dancers Kim Ganassin, and Sabine Tucker, began by introducing the audience to some basic movements of Persian Dance.  They then asked a few students to join them on stage.  The eager volunteers were visibly enjoying practicing their dance moves, as they followed the performers around the stage.  Once the students were re-seated, the dancers began their beautiful performance of Shahrzad's original piece entitled, Rainbow.  The performance focuses on world peace and is comprised of six short dances connected together through audio narration.  After the show, Shahrzad took questions from the audience.
The workshop portion of the morning, took place immediately following the performance.  Shahrzad gathered the students in a large circle and passed out worksheets with a map of Iran, and a brief history of Persian Dance.  She then guided the students through the different provinces of Iran, by showing a dance move specific to that area.  While she danced she told the students more about the history of the region.  Once she had shown them the various dances, she then invited the entire audience up to "dance around the country." At the conclusion of the event she sat them down for one last lesson in the very complicated, two-handed "Persian Snap."  Though few were able to master the challenging move, the audience was in awe of her ability, and everyone was ready to practice at home.
A special thank you to the California Arts Council for their generous support of this program!
Shahrzad Dance Company performed their beautiful new piece entitled, Rainbow, in two back-to-back performances for the students at Santa Rosa Charter School for the Arts on Monday, May 22nd.
Rainbow is comprised of 6 short dances that are connected together through audio narration.  The performance is all about world peace. There is an interactive part of the program at the beginning where the audience had a chance to learn some key Persian Dance movements.

Shahrzad Khorsandi and her dancers Kim Ganassin and Marta Serra then asked for volunteers from the audience to come up and demonstrate what they'd learned.
There was wonderful participation from students and teachers alike!  Once the audience was familiarized with the basics of Persian Dance, Sharhzad, Kim and Marta performed Rainbow. At the conclusion of the show, the volunteer students returned to the stage and joined in on the dance.  A fantastic time was had by all!
Recently, families from Harding Elementary School in El Cerrito joined Youth in Arts Mentor Artists in a Passport Art Event.  Participants received a paper "passport" and traveled to various countries and exploring their art forms during this evening event.
Outside the Multipurpose room we danced to the beats of Brazilian Samba Reggae with YIA Mentor Artist Stephanie Bastos.  Stephanie has been teaching dance in the K-3 classrooms throughout the school year and during this event students, parents and siblings got the opportunity to dance together with her.
There were many moments of dance solos that were not to be missed! Inside, we swayed to the melodies and rhythms of Persian Classical Dance with YIA Mentor Artist Shahrzad Khorsandi.  Dancers got to use beautifully decorated scarves to highlight the dance movements.  We also learned about the instrumentation with live music provided by Pourya Khademi.
Utilizing special rice paper and bamboo brushes, YIA Mentor Artists Julia James and Miko Lee led participants in Chinese Brush Painting techniques to create beautiful paintings of bamboo.  Artists also learned how to make their special "chop" or, signature in the corner of their painting.
We also created tin medallions representing our Mayan Nahual or, birth sign.  Using the Mayan Calendar, each person calculates their Nahual, which indicates the "essence" of their spirit according to Mayan beliefs.  We used wooden stylus to etch in the outline of our Nahual and colored them with markers.
Youth in Arts is thankful to all of the families staff and friends who showed up
and traveled the world with us!  We look forward to continuing our day-time programs in K-6th grades which will culminate in sharing events later this month.  YIA Mentor Artist Thomas Arndt is teaching theater classes during school as well as in a special after school group dedicated to writing, producing and performing an original theater piece that addresses issues of acceptance, friendship, appreciating differences and being true to yourself.  Stay tuned for a performance date!
Thank you to the Thomas J. Long Foundation for making this program possible!  With their support, we are able to provide financial aid for year-long arts programming at Harding Elementary and celebrate our diversity and expression in many forms!
To find out how you can bring this to your community, click here.