Suzanne Joyal and Nydia Gonzalez travelled to Castro Valley to offer a hands-on workshop to parents of the Castro Valley Parents Cooperative Preschool. The one-hour workshop introduced parents to a multitude of strategies to introduce preschoolers to art.

We asked the question "How do we use our senses when we create?" and then explored first-hand techniques to help children experiment and explore this fundamental question.
Parents were able to create Sticky Texture Collages using contact paper, many different shapes and textures of fabric, special crayons to draw on all different textures, and magic gold.
We created a Word Wall of all of the wonderful ideas we explored: sticky, smooth, shiny, furry, scratchy, etc. Nydia introduced music and movement when she asked "How does Scratchy SOUND?" "How do we does bumpy look when we move?"
Teachers enjoy a great collaborative painting session.
Teachers enjoy a creative painting project giving them tools and skills for future classroom beautification projects. Teachers were grouped by grade levels asked to come up with a phrase or slogan, brainstorm & sketch ideas, then given materials and a basic banner.sign and painting lesson. Great upful positive energy!
The arts are not something to add to the plate.
The arts ARE the plate.
The key to student engagement.
And communicating what student know and can do.
– Dr. Milton Chen, Edutopia
Recently the Youth in Arts Mentor Artists came together for our yearly September orientation and dinner. It was an evening filled with passionate discussions about why arts education matters and the impact it can have on students, schools, and communities.
These professional artists represent a wide array of backgrounds, talents, and disciplines. During the orientation the artists go to know each other through hands-on experiences that incorporated music, dance, theater, and visual arts. As a group they discussed strategies for building multiple learning modalities into their school residencies. They also investigated the language of state standards and considered how the arts overlap all content areas. To get to know our Mentor Artists, please browse the Youth in Arts website.
Youth in Arts is embarking on
a school-wide Mural Project at Laurel Dell and Short School in San Rafael.  YIA Mentor Artist Angela Baker will be working with students and teachers to create two school murals with the theme of "Our World".  In preparation for this project, teachers came together with YIA Mentor Artists Nydia Gonzalez and Angela Baker to explore the theme of the project and how it can connect with daily classroom curricula.
Working from YIA's "I Am From…" lesson plan, the group of educators explored identity, culture, community and core values, culminating in a group project.  Using tracings of their hands, words, images, symbols and some glue, each group created a visual representation of their values and goals as a community of educators.
Now, it's the kids' turn!  Students will work with their teachers and Angela to conceptualize, design and create their school mural.  We all look forward to seeing their work!
Ballet Folklorico at Laurel Dell
With help of a generous grant from the California Arts Council and the Laurel Dell PTA, the students of Laurel Dell and Hamilton Elementary were treated to a unique opportunity this Spring.
The multi-part program in Ballet Folklorico was inaugurated with an assembly performances by the Ballet Folklorico Netzahualcoyotl at Laurel Dell, and Ensembles Ballet Folklorico at Hamilton. The troupes performed dances from several regions of Mexico including La Danza de Los Viejitos, which is an allegory for respecting your elders, and Las Amarillas, which shows the beautiful movement of birds. Students learned about each dance and joined along in movements and song!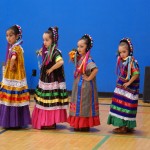 At Laurel Dell School, Maestro Netza chose to teach the students dances from the Son Jarocho because working with each grade level, he was able to help students share and learn about the diversity of Spanish, Mexican and African Rhythms in Mexico. Netza explained how Africans brought to Mexico as slaves contributed to the styles and rhythms of Son Jarocho. The Jarocho genre evolved from a combination of influences: European, Indigenous and African; making it a Mestizo art form.
The students of Laurel Dell shared the stories of their ancestors from all over the Americas, and through the dances of Son Jorocho, were able to learn more about their own family backgrounds. During their time with Maestro Netza, each grade level learned one of these traditional Sones Jarochos:
Kindergarten: Maria Cirila, About a girl who makes Chocolate
1st Grade: La Guacamaya, about the Macaw bird
2nd and 3rd Grades: La Iguana, Mimicking the movements of the Iguana
4th Grade: El Colas, About a popular boy named Nicolas
5th Grade: La Bamba, The traditional version of the popular song.
The teachers at Laurel Dell also received professional development sessions with Mentor Artist Nydia Gonzalez in which they learned the historical and cultural context of the dances; dance steps; and, how to sing and play instruments to accompany the student performers. This enabled teachers to continue practice when the artist was not there, as well as further integrate the content into academic lessons.
At Hamilton School, YIA Mentor Artist Zenon Barron focused his dance program on the Flowers and Fauna of Southern Mexico, specifically the states of Tabasc, Oaxaca, Veracruz, Puebla and Guerrero. One of the goals of this program was to emphasis the importance of preserving our natural habitats and earth's animals that are celebrated through traditional dances: Los Quetzales (Colorful Birds), El Zopilote (The Buzzard), La Iguana (The Iguana), Pajaros Azules (Blue Birds), and El Patito (The Little Duck). This process inspired students to explore the imagery and imagine how these animals would move to the rhythms as they learned the steps to the traditional dances.
Each of the students took part in making their own costumes by creating
a design sketch and applying their color choices depending on the animal they were depicting in the dance. Each of them transferred the idea to material, creating their costume. This was a theatrical approach, allowing students to further explore the animal movements and attributes.
Students learned to breathe deep, and stretch and strengthen their muscles through some Yoga techniques. A few children commented to Maestro Zenon that they liked learning how to stretch and breathe. One student said that he felt like his heart beat better afterwards. Through dance techniques and floor exercises, students learned to follow choreography creating squares, circles and triangles as a group, and how to move within the limits of the stage space. They also learned how to create the intricate percussive rhythms with their feet, which play a large part in the Folkloric dances of Mexico.
Students at both schools (and some of their teachers!) performed their dance at their school-wide Fiestas, where students were able to compare and contrast the stories, styles, and music of each dance performed, and community members enjoyed the colors and sounds of their festive dances!
Thank you to the California Arts Council for helping us to provide this wonderful program to our community!!
First Graders in Ms. Duran and Ms. Jackson's class at Willow Creek Academy studied the rainforest all year using a project-based learning approach. The culminating performance consisted of large murals, shadow puppets, and a rainforest musical!
Working with YIA Mentor Artist Brooke Toczylowski in art class the artists learned about plants and trees from the rainforest and created large murals that highlighted their discoveries about science and color mixing. See the previous blog post entitled How Can I Be a Scientist AND an Artist? to check out the process.
After an INSPIRING Teacher Professional Development with Daniel Barash,  a shadow puppet master and the Director of the Shadow Puppet Workshop, the rainforest musical took on a shadow puppet form. Kids created shadow puppets out of simple materials and got excited about practicing their performance. For a packed house they sang songs and bounced their shadow puppets across the three stages.
"Coming together is a beginning; keeping together is progress; working together is success."
– Henry Ford
Today was the last middle school visual arts PD in SMCSD.
Building a community of learners takes time and dedication.
The visual arts program in SMCSD has built strong collaborators, reflective minds, and thoughtful educators.
Today the teachers were asked to reflect on 4 questions. Using watercolor paper and many different materials, teachers were asked to respond to the questions. The art work was then placed in an envelope that was addressed to the specific artist, and the envelope will be mailed at the beginning of the 2011-2012 school year.
Each teacher approached the reflection differently:
Some worked with paint.
Some responded with words.
Some stood to do their work.
Then everyone was asked to pull one word out from their reflection book that was then painted on paper.
These words will be added to the MLK studio word wall.
THANK YOU SMCSD teachers for all of your amazing work and support!
There was a steady "hum" emanating from the MLK art studio this past Wednesday afternoon.
Students had all gone home, and all of the SMCSD Middle School teachers had gathered for their monthly Visual Arts Profressional Development session.
"Art is therapy for the mind." Said one teacher.
"I immediately felt like an artist when I put this apron on and got to work." Said another teacher.
Mr. KDub has been working on an identity project with his students, asking them to wonder "Who Am I?"  The project began with tracing the different artists' forms on wood panels.
"How does how you carry yourself show the world who you are?"
The artists are then filling their sillhouettes with elements that define who they are. The forms will then be cut out from the wood panels, and installed against the fence on the periphery of the MLK garden.
Stunning.
So the teachers were asked to experience the same process.
« Newer Entries
Older Entries »