This past Wednesday, December 8th, all of the Elementary teachers in the Sausalito Marin City School District came together for their monthly arts PD session.  As the rain was coming down hard outside, the teachers were inside reflecting, creating, collaborating, and experimenting.
To begin, each teacher drew one SHOM word from a bag to think about and work with.
http://www.pz.harvard.edu/research/StudioThink/StudioThinkEight.htm
The teachers were then asked to think about how they utilize that practice in their own teaching, or perhaps they have observed Ms.Brooke using it within her teaching, or perhaps they dream of using it in a certain way in the future.
The teachers then pulled out an aspect or aspects of their reflection that could then be visualized using materials:
Chalk, watercolor, Sharpie, graphite pencil, collage matierals.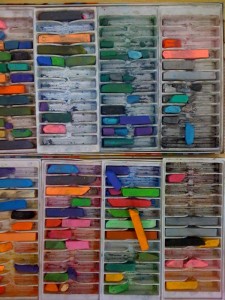 The classroom space was filled with a buzz as materials were chosen, layered, blended.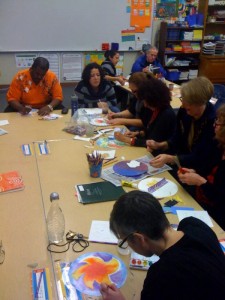 At the end of the session, the orb-formed pieces were stretch out across a table for reflection.
What do you notice?
What do you think?
What do you wonder?
The responses were positive, and the willingness to look and listen and explore was inspiring.
In the Sausalito Marin City School District we are flying into our second year of the Arts Demonstration grant, generously funded by the Marin Community Foundation. The SMCSD community recognizes that Professional Development is vital for supporting the arts and developing strong integration practices. Some goals we have are:
Teachers in the SMCSD are provided with consistent professional development sessions that encourage and inspire team building.
Through professional development sessions, teacher leaders will be distinguished, and they will be vital resources and advocates for the arts.
By the end of the 2010-2011 school year, teachers will be implementing aspects of the professional development meetings into their daily teaching practices.
Through the professional development sessions, teachers will be exposed to multiple approaches to teaching and learning art.  Teachers will also learn about different arts education pedagogy, and ways of engaging students in the curriculum through arts integration.
Through the professional development sessions, teachers will begin to recognize the vitality and importance of the arts supporting all areas of the curriculum.
Through the professional development sessions, teachers will build a stronger sense of community; sharing best practices, brainstorming with one another, and developing unified relationships and partnerships.
Last week was the first Middle School PD. These teachers from MLK and Willow Creek meet on the 4th Wednesday of every month to explore, share, collaborate, and develop ideas.
Mr. K-Dub opened up his studio space for us, and the collective looked at an article about the 8 Studio Habits of Mind, the teachers experimented with drawing materials (charcoal, Sharpie, graphite, and colored pencils), and then K-Dub led the teachers through a value lesson that he has been working on with his 6th, 7th, and 8th grade students.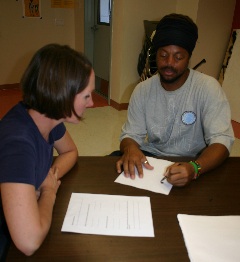 « Newer Entries