Have you ever made a frame from cardboard? Or painted on matboard? Or built a tower from wood scraps? Or played in a maze built out of furniture boxes?
We have.
At Youth in Arts, we repurpose and reuse as many materials as we can, both to keep items out of the waste stream and teach young artists that art can be made from anything. That way when we have to buy materials like paint and pastels, we can afford to choose durable, high quality products. This is also because of the generous support of our favorite art store around the corner, RileyStreet Art Supply. Using buttery pastels or highly pigmented paint makes for a sensory rich experience. In other words, it feels good!
RileyStreet is one of several local businesses that support Youth in Arts with discounted materials. From Lo Forti Fine Prints in San Anselmo, we get matboard scraps that are cherished by teaching artists working with young artists experiencing disabilities. Artists like the sensory response of working on a firm surface that isn't soft and flexible like canvas. We also get foam core pieces from Lo Forti that we cut into tiny shapes for sculptures.
"For me, it's about seeing people in the community and making connections," said Youth in Arts' Visual Arts Director Suzanne Joyal. "That happens through the making of art and the sharing of materials."
From AC Graphics and Blue Dot Picture Framing in San Rafael, we get wood scraps that are used to make Towers of Power in our Architects in Schools Program. Sunrise Home in San Rafael, whose warehouse shares our parking lot, gives us large pieces of cardboard. Thin pieces are used as frames for children's self portraits. Children love to draw on the cardboard and share their stories. Large boxes that once held sofas and chairs become giant play structures for our YIA Gallery. Both the self portraits and the cardboard play structures will be on display this spring as part of Imagining Friendship, our annual Walker Rezaian Creative HeArts Exhibition.
The exhibit, which opens April 10, features lively and engaging self portraits from kindergarteners and first graders at Laurel Dell Elementary School in San Rafael. The work was created last fall during a Youth in Arts' residency with Mentor Artist Cathy Bowman.
If you are a local business interested in making a donation to our nonprofit, please give us a call at (415) 457-4878 or stop by at 917 C St. in San Rafael. Regular hours are 11 a.m. to 4 p.m., Monday to Friday.
On Friday night, teaching artists gathered together at Youth in Arts and created recycled insects. Visual Arts Director Suzanne Joyal and Executive Director Miko Lee led a hands on experience in utilizing recycled materials to teach about insects and create original works of arts.
Lesson plans were provided for teachers to replicate at their school sites. Ten different schools were represented at this evening of creation and learning.
A table of recycled materials including corks, wire, plastic bottles, candy wrappers, buttons, straws and records were arrayed for the teaching artists to sort through. Through laughter and even bug songs, each teacher made a creature to bring back as a sample to their classroom.
Teaching artists were encouraged to link science curriculum with recycled materials to create art pieces with students to enter into Spring's PaperSeed Recycled Art Competition.  YIA Teaching Artist Nao Kobayashi created an amazing lifecycle on an album with a puppet caterpillar. Check out the video here.
An Insect World PDF/Powerpoint and Insect Adapation lesson plan was provided for the teachers to share in their classrooms.  Thank you to PaperSeed Foundation and California Arts Council for making this evening possible.
Youth in Arts is open late for 2nd Friday San Rafael Art Walk Downtown this Friday, January 11, from 5-8 p.m.


Come see our latest gallery exhibit, "Re-Generation: Teaching Recycled Art," before it closes January 25. Help create a recycled "rag rug" or collect take-away cards to inspire your own recycled art projects at home.
"Re-Generation" features work from recycled and found materials by master artists, as well as recycled art works by their students and protégés.
Come explore the many reasons artists may choose to use alternative materials in their work and how they pass along these ideas to a new generation of young artists.
And don't miss our new store layout with all kinds of artist-made items for sale, including creative recycled gift items by professional and youth artists!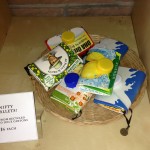 Recently we hosted our first free gallery tour of "Regeneration – Teaching Recycled Art" with a group of students from Oak Hill School.  Six students from Oak Hill ages 13-19, all on the Autism Spectrum, enjoyed the sights, sounds and textures of our gallery and workshop.
We started in the gallery, observing the artwork that has been made by everyday "garbage" or items that would be trashed or recycled after use, such as material, plastic bags, old toys, sticks and paper scraps.  Then, Musician Nydia Gonzalez helped the youngsters explore the sounds that we could make re-using materials such as food containers and boxes by turning them into drums and guitars!  Finally, students worked with visual artist Suzanne Joyal and created 3-D sculptural art using scraps of foam core and matt board, connecting them, gluing them and covering them with vibrant colors.
The "Regeneration" show will be up until January 25th, so please stop by to check it out, or make an appointment for a free group tour for students. yia@youthinarts.org
Artists and volunteers with Youth in Arts provided five days of hands-on projects at the Marin County Fair this year. In keeping with the Fair's theme, "Made in Marin" a celebration of our agricultural heritage, all of the projects honored the art and skills of our settler ancestors. We made rag dolls from rags and fabric scraps, wove bracelets using leftover yarn on a loom made from recycled mat board, and hooked a beautiful, soft rug with only feed sacks and old t-shirt scraps.
Every day at the Fair was a beautiful one, thanks to the tremendous help of our 30 volunteers and the creative energy of our thousands of artist visitors!
Read more…
Mentor Artist Suzanne Joyal worked with young artists at Marinwood summer camp to make a series of wonderful mini-books. We started by making hard covers: we learned the book making technique of covering a piece of stiff mat board with paper (plain and fancy). Artists could then learn a variety of techniques to build the inside of their books. Read more…
Youth in Arts is partnering with Alameda County Arts Commission to provide a series of free workshops at your school site in developing a Community Quilt.  To celebrate Arts Education Month Youth in Arts professional artists will come to your Parent and/or Teacher meeting in March to lead a one-hour training in a community paper quilt technique which can be displayed on the school site. The paper quilt is made out of recycled materials and created on site.
The theme is "Creating A Better Future Together" and then can be geared toward the unique goals of each site.  Information about follow up activities will be provided. To arrange your workshop email yia@youthinarts.org or phone us at 415-457-4878.
We will also be creating a collaborative quilt collage in our Gallery in downtown San Rafael as part of our new exhibit "Where We Are," which opens March 9 and features landscape watercolors by local students. Visit with your family  Monday – Friday from 10am – 4pm or make an appointment for a free docent-led visit with your class or youth group.
VSA arts Festival, 2010 – Celebrating Inclusion, Accessibility and Artists of All Abilities!
Later this month, Youth in Arts will hold our annual VSA arts Festival at Hamilton School in Novato, recognizing the fabulous artwork students have created through the Youth in Arts, VSA arts program this year.
Students participating in the Festival will experience:
•    Student Art Gallery featuring the work of Hamilton Elementary Special Day Classes, under the mentorship of YIA Mentor Artist Nadine Gay
•    Interactive art booths where students will learn about and create art
•    ASL infused theater performance of "The Silent Lotus", a Cambodian Folktale about a young deaf dancer.
Youth in Arts provides VSA arts programming in and around
the North Bay, making high quality arts programming accessible to people of all abilities.  Our experienced Mentor Artists also provide trainings for parents and teachers in Arts Integration, and addressing different learning modalities through the arts.
This event is open to the Hamilton School community.  For more information, call 415-457-4878.
Youth in Arts Mentor Artist Nadine Gay worked with students from Hamilton Elementary's Special Day Classes for 10 weeks doing 2-D and 3-D visual arts projects.
Students in Ms. Johnson's class first created 2-D Paper Masks utilizing simple geometric shapes, then made Tissue Paper Mosaics, incorporating lessons on color, contrast, balance and composition.
Students in Ms. Kelly's class created Japanese Paper Landscapes, studying the basic principles of perspective.  They also created colorful 3-D Paper Masks, exploring the vocabulary associated with paper exploration, including: fold, cut, tear, glue, zig-zag, straight, curvy and a multitude of shapes.
Both classes then went on to create fascinating Animal Sculptures made from recycled water bottles. Each student learned how to make the armature of the sculpture using a water bottle, paper and tape. Once they had formed the basic shape of their animal, students then covered them with two layers of plaster gauze bandages.