Dozens of young artists and their families celebrated at the Artists Awards Reception for RISING STARS, the annual Youth in Arts exhibit that showcases the best of public, private and alternative high school art.
Sir Francis Drake High School student Annabelle Sulprizio won Best of Show for her pair of beautifully carved vases. Other award winners included Alessandra Sutton for Best Painting, Helen Kun for Best Photograph, Keira Engler for Best Sculpture, Lily Gates for Best Drawing, and Ina Kim for Best Mixed Media. The full list of winners can be found HERE.
Nearly 300 people turned out in the bright sunshine and rotated through the show at a private reception on Sunday. The show features painting, drawing, sculpture, mixed media, photography, printmaking and digital media.
Annabelle said Geometric/Repeat Pattern Vase Set was inspired by videos she watched showing master carvers from Japan and China. Sulprizio takes honor ceramics with teacher Beth Cederstrom. "I call her my at school mom," Annabelle said. "She make the ceramics room a space where you can feel comfortable and like you are at at home."
"What really stood out about this piece was the intricate detail. It was the only work that the judges unanimously chose as the winner of a category," said Morgan Schauffler, development associate at Youth in Arts who organized the show and manages the gallery.
The group artwork from TeamWorks program at Loma Alta School, an art education program that supports students involved in the juvenile justice system, won the new Rezaian Family Award given by Youth in Arts' board president Naomi Tamura and her family. TeamWorks director Katya McCulloch said the work, titled C.H.O.I.C.E., is a mixed media piece that features many different keys; the "O" holds the keyhole. The title stands for Creating Healthy Choices In Challenging Environments. "I loved it," Katya said. "I feel like we've touched on the soul of what TeamWorks is about. The choice is the key – making healthy choices."
Dylan, an artist at Compass Academy who studies with Youth in Arts' Mentor Artist Marty Meade, won an award from AC Graphics for her untitled digital painting of a saber-toothed cyclops lynx. "I absolutely love cyclops," Dylan shared.
College of Marin also awarded six scholarships to best of show and best in category winners, giving them a semester of tuition-free classes.
The show runs through March 27. The opening reception will be held Feb. 14 from 5 to 8 p.m., which coincides with the 2nd Friday Art Walk in San Rafael. 
The exhibition was blindly adjudicated.This year's judges included painter Kay Carlson from Marin Open Studios; sculptor and fine arts instructor Patricia Hulin from College of Marin; photographer and creative consultant Melissa McArdle; and Lynn Sondag, chair of Dominican University's Department of Art, Art History, Media and Design. Thank you to our sponsors AC Graphics, College of Marin, Il Davide, Marin Open Studios, Perry's Art Supplies & Framing, the Walker Rezaian family, RileyStreet Art Supply and the San Anselmo Arts Commission.
Artist Susan Diglioni founded Rising Stars in 1991, believing that young artists should be recognized for their talents.The exhibit travels to the Marin Center in April, where it will be on display in the Bartolini Gallery April 9 – May 31.
The YIA Gallery is one of the few in the nation devoted to showcasing children's art. Regular gallery hours are Monday to Friday, 11 a.m. to 4 p.m.
Welcome to the`Til Dawn 2019-20 company.
The new singers attend schools throughout Marin, from Larkspur to Novato and bring a variety of expertise and interests.
"I sing when I wake up and I sing until I go to sleep," said new member Leah Nemerovski. "I don't find passion in anything else."
Current 'Til Dawn members are already practicing and putting their musical experience to use. Nemerovski plays the trombone, piano, drums, ukelele and enjoys musical theater. She became interested in 'Til Dawn when she saw them perform  at her middle school. She was surprised how easily she connected with other members of the group.
Nemerovski, and Alisa Costello, both 14, attend San Marin High School in Novato. One of the things they enjoy is the closeness of the group.
"It's like a family," Costello said.
For the newest members, music runs in the family. Costello's uncle was an opera singer who performed at Carnegie Hall; Nemerovski is learning how to play the drums from her dad. Will Ferris's mom is a singer, and Jacquie Kizer has two uncles who are musicians. Emma Orrick's father is a music producer.
Kizer, 15, goes to Redwood High School. Kizer moved to Marin from New York last year and previously sung in a similar group. Being in the group, she said, provides a safe space and an environment in which to have fun.
"It's honestly been amazing," she said.
Orrick, 14, is also at Redwood. and plays the piano and does theater. She was surprised by how quickly the group learns the songs.
"It's always my highlight of the week," she said. "It doesn't feel like a chore."
Ferris, 15, is a sophomore at Drake High School. He didn't think he'd get into the group, he said, because he couldn't figure out what to sing. He chose his winning song –"Fly Me To The Moon" – on the day of the audition.
Ferris said he enjoys performing all of the songs, although some are difficult because they are beyond his tenor range. The songs that are performed are chosen by the ensemble.
"I think it's great," he said. "I think it's really healthy for the group."
`Til Dawn is an advanced vocal music program that celebrates the value of the arts, encourages positive messages about meaningful social issues and inspires children of all ages. The 15-member ensemble is part of Youth in Arts' I AM mentorship program and the longest-running, year-round teen a cappella ensemble in the Bay Area. It's directed by Austin Willacy, who performs as a solo artist and also with his own a cappella group, The House Jacks. While Willacy is on sabbatical this fall,  the group has been taught by singer Lilan Kane. a 'Til Dawn alumnus, and others.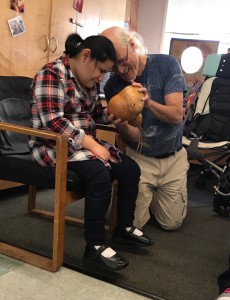 Mentor Artist Ian Dogole has been making music with the students in Kim Cochrane's and Katie Peter's classes at Redwood High School.
Ian Dogole's Thoughts:
"These have been profound and unforgettable experiences. One lasting impression will be the heroic commitment that the educators, nurses and aids make to each one of these students and the exuberance and joy that accompany each positive outcome.
In Kim Cochrane's class, the students have very limited mobility. I had some trepidation prior to my first class as to whether I could have a positive impact with them. After 7 classes, my perspective has undergone a complete transformation! I feel deely connected to these students and when a breakthrough occurs … even at the most subtle level … there is a celebratory feeling in the classroom and I feel so uplifted. Kim and all of the nurses and aids have been unbelievably supportive and appreciative and I am deeply grateful. From my perspective, they are all heroes for their devotion to these students and for their consistently positive attitude.
Katie Peter's class presents a different type of challenge — her students are mobile and capable of holding and playing percussion instruments to varying degrees. The goal for me is to attempt to keep them engaged and look for ways to raise the bar for them in the most supportive and fun way that I can. Like Kim's class, Katie and her support staff have been quite helpful in this endeavor. We did experience mini-breakthroughs with a few students this past week using repeated spoken words to convey specific rhythms. Quite powerful.
Many thanks to Youth In Arts for offering me this opportunity. It has been revelatory."
Thanks to the Buck Family Fund of MCF and Marin Charitable for making this program possible.
Mentor Artist Sophie Cooper posted about her "Arts Unite Us" residencies at Redwood High School and College of Marin.
Merging visual art and music, the special day classes of Redwood High and College of Marin made gourd rattles. Each student decorated their own gourd, learned a series of simple songs and performed for the other classes. We had so much fun in this project and and the combining of music and visual art gave students a variety of ways of engaging with the creative process!
Big thanks to the wonderful folks at The Caning Shop in Berkeley, the most amazing resource for gourde art of all kinds!!
Arts Unite Us is Youth in Arts program tailored for students in school with special needs. Youth in Arts is the only consistent provider of arts for special education programs in Marin.
Thank you to Kennedy Center VSA and Buck Family Fund of the Marin Community Foundation for supporting this program.
Youth in Arts is currently hosting "Rising Stars," the 24th Annual Marin County High School Art Show at our gallery at 917 Street in downtown San Rafael. The opening reception for artists and their families on Sunday, March 8, attracted over one hundred young artists and gallery visitors.
Check out photos from the March 8 opening reception here! 
Speaking to the assembled crowd of teens and their families, Youth in Arts Executive Director Miko Lee expressed her gratitude to all the exhibiting students.  "Thank you for sharing your beautiful work with us," Lee said. "You inspire us all with your creativity."
Lee presented students with awards and honorable mentions selected by a panel of local arts professionals, Kay Carlson, Jay Daniels and Katie Rice Jones, from among over 150 student works selected by Marin art teachers at 16 schools to represent their programs.
The Best of Show award went to Ben Lyons, a student at Marin Academy in San Rafael, for his work "Industrial Revolution," a high-concept ceramic tea set. Two other Marin Academy students also received major awards: Melanie Blue for Best Drawing and Seiichiro Nakai for Best Decorative Arts. Other major award-winners were Jenna Tooley of San Marin High School (Best Painting); Sophia Schwartz-Cutler of Marin School of the Arts (Best Sculpture); Abby Tarantino of Marin Catholic (Best Photo); Hagen Wehde from Redwood High School (Best Altered Image); and Cali Hetfield from The Marin School (Best Mixed Media).
Thirty additional students received Merit Awards, Honorable Mentions or Juror or Sponsor Awards. A full-list of winners is included below
The exhibit will be open to the public through March 27, with regular hours Monday-Friday from 10 am to 4 pm. "Rising Stars" is sponsored by Perry's Art Supplies & Framing in San Anselmo, the San Anselmo Arts Commission, Marin Open Studios, Uchiwa Ramen and Il Davide Restaurant in San Rafael.
Best of Show – Industrial Revolution – Ben Lyons – Marin Academy
Best Painting – Introspection – Jenna Tooley – San Marin HS
Best Drawing – Self Portrait – Melanie Blue – Marin Academy
Best Decorative Arts – Tee Time – Seiichiro Nakai – Marin Academy
Best Sculpture – Treasurer – Sophia Schwartz-Cutler – Marin School of the Arts
Best Photo – Best Friends – Abby Tarantino – Marin Catholic
Best Altered Image – Untitled – Hagen Wehde – Redwood HS
Best Mixed Media – Untitled – Cali Hetfield – The Marin School
Merit Awards
Reflective Objects – Raissa Boysen – Marin School of the Arts
Awe – Tara Henry – Marin Catholic
Birds in a Tree – TeamWorks Art Mentoring Program (Treyvonn, Mario, Adam, Angela, Javier, Oliver, Alyssa) – Loma Alta School
Flying Buttresses – Gabriel Hamilton – Sir Francis Drake HS
Chained For Five Rupees – Leigh Pomerantz – Marin Academy
Geometry in Color – Kasha LaRoche – Sir Francis Drake HS
Hobo Botanical Garden – Emily Villavicencio – San Rafael HS
Pour – Max Sigerman – The Branson School
Raven Inkwood – Yezi Li – San Marin HS
Self Portrait – Ciara Post – Marin Academy
Toadstool – Olivia Harvell – San Domenico School
Untitled – Tara Sola – San Domenico School
Untitled – Holly Parkin – Tamalpais HS
Honorable Mentions
Children of the Moon – Alia Anderson May – Marin Catholic
Distortion – Dominic DiPaola – San Andreas HS
Drakes Beach – Andres Gomez – Tomales HS
Husky – Caeli Gallagher – San Rafael HS
Jean Jacket – Anna Taylor – Sir Francis Drake HS
Learning Equals Education – TeamWorks Art Mentoring Program
Light at the End of the Tunnel – Zoe Carrell
Mel Goes Bananas – Kate Claman – Marin Academy
Porcelain Head – John Iwaszewicz – Oak Hill School
Painting Silver Lining – Blake Patterson – The Branson School
Self-Portrait – Willow Jones – The Marin School
Untitled – Merryta Liu – San Domenico School
Untitled – Angela Chen – San Domenico School
Young Sanity – Alondra Vazquez – Terra Linda HS
Black Cat Prizes
Digital Art – Makai: Towards the Sea – Jana Viets – Marin Catholic
Manipulated photography – Untitled – Hagen Wehde – Redwood HS
Unmanipulated Photography – Untitled – Olivia Runnfeldt – Redwood HS
Perry's Awards
Untitled – Anna-Sofie Whalen – Tamalpais HS
Wings to Fly – TeamWorks Art Mentoring Program – Loma Alta
Exhibiting Students
Loma Alta School/TeamWorks Art Mentoring: Teacher Katya McCulloch
Treyvonn, Mario, Adam, Angela, Javier, Oliver, Alyssa
Marin Academy: Teacher Anne Maurice, Katharine Boyd & Jenny Rosenberg
Seiichiro Nakai, Melanie Blue, Ben Lyons, Kate Claman, Ciara Post, Leigh Pomerantz, Rebecca Strull, Erika Page, Luke Raddue, Anjali Bodony, Lindsay Levine
Marin Catholic: Teachers Laurie Reemsnyder & Mark Jaeger
Abby Tarantino, Jana Viets, Alia Anderson May, Tara Henry, Juliette Hvistendahl, Meghan Rooney, Jack Burnham, Kristen Rolstad, Dino Kalfos
Marin School of the Arts: Teachers Sabrina Kalleen & Mary Grehan
Sophia Schwartz-Cutler, Raissa Boysen, Ciel Pierlot, Jensen Neff, Emely Lemus
Oak Hill School: Teachers Michelle Barbera & Sophie Cooper
John Iwaszewicz, Hannah Sherwood, Ben Willbrand, Ryan Heller, Harrison Mahler, Megan Busby, Luke Meng, Matthew Seiberling, Braden O'Connell, Strider Barker, Katie Tysinger
Redwood High School: Teachers Susanne Maxwell & Karen Meadows
Hagen Wehde, Olivia Runnfeldt, Kenzie Johnson, Megan Wilford, Ryan Stiles, Haley Turner, Bridget Wait
San Andreas High School: Teacher Gray Douglas
Dominic DiPaola, Patrick Cook, Meryl Fe Klein, Altimont Bolton, Samantha McEvoy
San Domenico School: Teachers Logan Wood, Jill Hoefgen & Carina Ybarra
Merryta Liu, Angela Chen, Tara Sola, Olivia Harvell, Erika Johnson, Bella Gosman, Kathryn Volovski, Ellen Zhu, Vicky Lin, Camille Ayanruoh, Mia Ma, Moment Li
San Marin High School: Teachers Mariah Fisher & Denise Mozzetti
Jenna Tooley, Yezi Li, Olivia Lamont, Liam Gavin, Lauren Frank, Yezi Li
San Rafael High School: Teachers Johanna Herrera & Trenton Smith
Zoe Carrell, Caeli Gallagher, Emily Villavicencio, Roxana Velasquez, Daylor Giron, Kailey Brown, Marissa Mullins, Duriel Meisner, Sonia Sondheim, Kien Lam, Brenda Arellano, Julia Jackson-Clark
Sir Francis Drake High School: Teachers Martha Cederstrom & Beth Cederstrom
Anna Taylor, Gabriel Hamilton, Kasha LaRoche, Ashmoore, Sarah McAmis, Michael Kest, Matt Richman, Annika Williams
Tamalpais High School: Teachers Zach Gilmour, Lisa Ouse Hicks & Mary Krawczyk
Holly Parkin, Scarlett Costello, Anna-Sofie Whalen, Natanya Glatt, Ryan Turner, Jordan Sherman, Anna Baldwin, Hannah Saltonstall, Jessica Hudson, Izzy Parlamis, Nicole Cochary, Genevieve Tremblay
Terra Linda High School: Teachers Katy Bernheim, Elizabeth Galbreath & Allison Oropallo
Alondra Vazquez, Cielo de la Rosa, Marcus Perkins, Daniel Swanson, Brisia Reales, Annabelle Vinokur, Tifani Sosa, Majken Hanson, Taren Bouwman, Jasmin Salgado, Chris Perani
The Branson School: Teachers Eric Oldmixon & Allyson Seal
Blake Patterson, Max Sigerman, Zoe Moynihan, Grace Roberts Burbank, Frankie Gerraty, Sam Reinertsen, Megan Gillfillan, Bix Hirigoyen, Sophie Rosenbaum-Jones, Jack Verhille, Hunt Wyman
The Marin School: Teacher Alison Murray
Cali Hetfield, Willow Jones, KC Seligman, Moiya Morgan, Jeffrey Kolthoff, Michelle Chan, Crash DesRosiers, Tess Hecht, Cali Hetfield, Jacob Weber
Tomales High School: Teacher Rachel Somerville
Andres Gomez, Clara Wright, Mario Passantino, Abrielle Spaletta, Ashley Weir, Litia Bowater
by YIA Mentor Artist Suraya Keating
As I entered Ms. Peter's class for the first time, I am struck by the friendliness of the staff, the relaxed atmosphere of the classroom, the authenticity of the students.  Each of Ms. Peter's six students at Redwood High has a special need of some sort, as well as many special gifts.  It is my role, as a teaching artist with these students, to bring out their special gifts – to identify and nourish whatever talent, potentials and joys each student possesses.  Whether working in a mainstream classroom or a special need classroom, this is no easy task.  I take this challenge quite seriously , and with hope in my heart that in the time we have allotted to work together, each student will be able recognized for his/her gifts and contributions.
While I have been hired to teach a theater residency, classroom teacher Ms. Peter is very flexible, and gives me space to teach in whatever way most creates a bridge with the students.  As the first few weeks go by, I notice that 4 or the 6 students are mostly non-verbal.  While they seem to enjoy simple theater warm-ups, my repertoire of activities that I often use in special needs classes is not landing in the way I am accustomed to.  Knowing that flexibility is key to effective teaching, I realize it is time to change direction.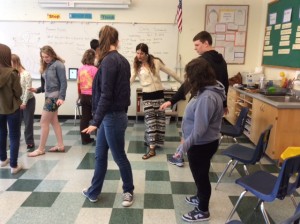 I have noticed that ALL 6 of the 6 students share one thing in common: a love of music and movement.  Whenever I use music in our warm-ups, smiles arise on their faces, and I realize something important has happened: I have found a bridge.  About a month into the residency, with the support of the classroom teacher, I shift from focusing on theater to focusing on dance and movement.   As we explore dance for the next few months, I see each student come alive in different ways.  "Sara" gets her groove on with upbeat music, and adores being the leader in pairs' mirror dances.  "Calvin" loves shouting out and practicing whatever dance principles we are working on during a particular day, such as "big vs. small movements," "sustained vs. staccato movements" or "straight vs. twisted shapes."
As is the case with VSA residencies this year, at some point a group of about 10 mainstream students (this time from Mr. Berkowitz's drama class) join the dance program.  Integrating the mainstream students into class seems to inspire everyone: the students with special needs and the mainstream students get to explore various dance principles in duos, in small groups, and in the large group.  When the music comes on and students are invited to explore moving in straight or zig zag lines, or with slow or fast tempos, and in many other ways, I see smiles come to their faces as they explore how their own bodies move, as well as how they move in connection to others.  Students are mutually supporting one another, acknowledging each others' strengths, and supporting one another when there is a challenge.  I feel grateful to work among students who at a young age seem already so capable of doing with one another what I aspire to do with each of them: to bring out and celebrate each other's gifts.