How can you turn a colorful collage into a painting of blacks, whites and grays?
Students in Kelsey Olson's class at San Ramon Elementary School used their collages from a previous class as inspiration for paintings that explored tints and shades.
Working with Mentor Artist Cathy Bowman, the young artists started with a plastic slide (view finder) to choose a tiny detail of their collage that they wanted to enlarge and turn into another painting.
After making a quick sketch, they worked with white and black paints on mat board. Some students made sure to keep the light areas light by using a little bit of white pastel, too.
In making the paintings, we had to look carefully. Which part is the darkest? Which part is the lightest? How do we mix white and black together to show a range of tints and shades?
"I wasn't sure if they would find black and white paint boring, but they all liked it," Cathy said. "It's amazing what a variety of tints and shades students created."
Class ended with students looking at the ways their own work connected to that of their classmates. It was good practice to talk about what we "see" instead of what we "like" and the value of giving precise, neutral feedback to each other.
Youth in Arts' award-winning a cappella group, 'Til Dawn, sang to an enthusiastic crowd on the opening day of the Marin County Fair this summer. The group is the longest running year-round teen ensemble in the Bay Area. It was the last public performance for the group's outgoing seniors (Kathryn Hasson, Angel Gregorian, Maud Utstein and Will Noyce) as well as 'Til Dawn member Lara Burgert, who is moving. The ensemble is directed by singer-songwriter Austin Willacy, who performs as a solo artist and also with his own a cappella band, The House Jacks.
Four collaborative works created during Youth in Arts' residencies this spring took home top ribbons. The mixed media work, inspired by artist Jasper Johns, was created during a 10-week Arts Unite Us program with Youth in Arts Mentor Artist Cathy Bowman.
Student projects from San Ramon Elementary School and Willow Creek Academy won blue ribbons in their age division. Novato High School and Sinaloa Middle School classes each won second place in their age divisions. The San Ramon piece also won the Anne Davis award for best of class (collage) in the 9-12 year-old group.
"Each class created richly layered works that were different from each other," Bowman said. "It was a privilege to work with such dedicated artists."
Bowman also won the Charles M. Schulz award for a pig cartoon and a blue ribbon for a second cartoon.
The prize-winning student art will be on display at Youth In Arts as part of "Outside the Lines: Collaborative Art in Special Day Classrooms." The exhibit opens July 31.
Through the California Department of Education's Student Support and Academic Enrichment (SSAE) grant that the Marin County Office of Education received, Youth in Arts was in multiple Special Day Classes this spring.
San Ramon Elementary School, "Arts Unite Us"
Spring 2013
Youth-in-Arts
Teaching Artist: Suraya Keating
How can we create a world where we learn to enjoy our similarities and our differences?  Where we can use imagination to work out conflicts and different ways of being?  These are the questions that catalyzed my residency experience at San Ramon Elementary School, where students from three 4th grade mainstream classes joined forces with students from Mrs. Lake's 3-5th grade special needs class to learn skills of drama, and to put on a mini-performance of their work together.   In 7 action-packed drama classes, students worked collaboratively as they developed skills of acting and ensemble work, including: group pantomimes, creating tableaus, and using their voices and bodies in expressive ways to communicate a story.  They then combined these skills to act out three different modified versions of a traditional African folktale, "The Laughing River."
At its core, "The Laughing River" is folktale which invites us to contemplate how to live in the world with all of our differences in such a way that we can all not only get along, but THRIVE.  It also invited the students to contemplate the question:  how can we effectively resolve conflict when we have differing preferences and needs?  In watching the students in the three groups that I directed at San Ramon School, I loved observing how the students in each group used their imagination to come up with a multitude of ways to solve the particular conflict in their version of the story.  For example, in one version of "The Laughing River," one group of people became upset because another group was cutting down too many trees to make wooden drums.  How can this conflict be solved?  Students came up with a variety of imaginative and peaceful ways to resolve this.  Below is an excerpt of what they said:
How about if the people who want to make drums only cut down dead trees?
How about if we get half the trees and you get half the trees?
How about if the people who make drums find a different material to make their drums so that the trees can live?
Listening to students come up with their own ideas about how to solve conflict made my heart smile.  What also made me smile was to observe how the students listened to one another – taking in each other's ideas and considering them rather than throwing them away.  In our short time together, it felt to me that students truly became an ENSEMBLE, with everyone wanting the best for everyone else.
Thanks to the students and teachers at San Ramon Elementary for their wonderful work! And thanks to the generous contributions that support the Arts Unite Us program from The Lester Foundation, The Green Foundation, The Marin Community Foundation and Marin Charitable.
Mentor Artist Angela Baker facilitated a clay residency with 1st graders at San Ramon Elementary in Novato. The teachers suggested a theme of animals and habitats to connect with grade level curriculum and link to a field trip to the California Academy of Sciences.
Students first explored various clay techniques such as squeezing, rolling, pinching, and smoothing with an air dry clay. Students could create anything they wanted but were encourage to pay close attention to how to make their piece strong. What happens if pieces are too thin? Some solutions for strengthening pieces were demonstrated.
After practicing with the air dry clay, students created animals in a beautiful terra cotta kiln fire clay. For these pieces students also learned how to use clay tools such as a wooden pencil and a metal scratching tool. They practiced the "scratch and attach" technique; a method for attaching two pieces of clay together.
While the clay was in the kiln for the glaze fire students were shown some paper folding techniques and made mini collages. These were great practice for creating a 3-dimensional structure and helped with the construction of the final dioramas of animal habitats.
At the end of the last class together, the animals were placed in their dioramas and the class did a gallery walk. Many students had created habitats so rich in color and detail that the animals were camouflaged.
Angela asked "What do you see?" One girl answered, "Details." She then asked if they thought details were important in art and if so, why. Here are some answers: "Details make it look more like the real world." "Details make it beautiful." "Details give you more information."
First Graders at San Ramon Elementary School  worked with Mentor Artist Julia James to experience the myriad ways we can use paper to help us create and express ourselves.
Children practiced cutting, folding,color, bending, overlapping, and glueing.
After learning the fundamentals of paper techniques, students created pop-ups from flat sheets of paper.
When making masks, students learned that one cut can make a flat piece of paper three- dimensional.
In creating landscapes by tearing bits of paper, students were able to explore multi-colored papers from Asia that are made from plants. Tearing paper to create a landscape is more challenging when papers are made of longer plant fibers.
Students noticed that "The paper is soft and has a nice feel to it."
"The paper feels so different."
"There are many different textures in the papers."
"I love the sound the papers make.
"
"I like overlapping and seeing the colors change."
Finally, students learned to imagine a dragon. By drawing in pencil, adding sharpie, and finally learning to overlap colored papers to create texture on our dragons, students created truly unique and spectacular dragons to celebrate the Chinese New Year.
Projects always culminated with reflecting and sharing, and classroom extensions often included the addition of writing to help students articulate their decisions and vision.
Mentor Artist Eliot Fintushel filed this report on the flying second graders of San Ramon Elementary School in Novato:
How to fly anywhere in or out of this world and at once
How to make any household object into anything else, big or small
How to become a group photograph of events past, present, or future, near or far
How to go up and down on elevators flights of stairs that aren't there
How to do pushups with (a) one hand (b) one pinky (c) no hands, nothing at all
How to make a statue of a friend or to to become clay and be made a statue
How to weave fantastic stories out of thin air
Many other extremely practical things
We used techniques of pantomime, including illusions and figurations of the body. We explored narrative improvisation. We played many theatre games and did lots of exercises for concentration, coordination, agility–and. let's confess, the fun of it.
Roman Charioteers
In under five seconds, these children have BECOME a photograph of Roman charioteers, through our magical camera
Unfortunately, a number of the children, it must be reported, were observed flying over remote areas of the Antarctic, which, as we learned, WERE NOT IN MARIN COUNTY (which is where everybody was very clearly instructed to confine their flights!) Some had to be shipped back to Novato in crates, as we found out in our storytelling exercises.
Angry!
The children were asked to sit, at a hand clap, with a particular feeling imbuing every bone and cell.
I implore teachers, parents, and Youth In Arts staff to help remind the children of the dangers of solo interstellar flight.  We are still negotiating with the Rock Dwellers of Neptune for the return of several of our 2nd Graders who flew there over the weekend, using the mime technique of string causality.
ASCEND!
2nd Graders are beginning to take flight, using the mime technique of string causality. WARNING: Stay over Marin County and do NOT wave to people in airplanes.
More . . .
Take, Double Take
In this game, the children learn stage presence through the use of masks. The power of the TAKE, of simply looking or looking away is dramatically conveyed and immediately understood.
 . . . also . . .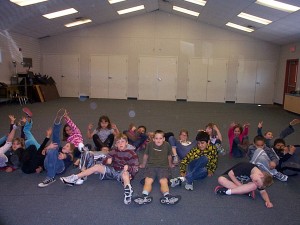 Experiment in Sitzfleisch
Physical Theatre is all about learning to think with one's whole body. In this game, the children are creating–in an instant–entirely new ways of sitting!
  . . . not to mention . . .

Beloved Renegade
In this exercise in leaning, one of the students has decided, unasked, to vary it by standing and leaning on one leg only. Hurray! Unlike many lessons in school, the lessons in theatre classes are as well served by the renegades as by the conformist. It's a fine line and a delicate call, to be sure, since discipline is, of course, what make experimentation possible, but, ah, the joy of an occasional . . . DISCOVERY!
San Ramon Elementary 4th Graders all enjoyed their Drama course with Mentor Artist Melissa Briggs this Spring!  Teachers Ms. Ainsworth, Ms. Dick and Ms. Logue requested a "general theatre and improv" class. This introductory course is designed to teach basic theatre and improvisation technique through collaborative play.
Students learn respect for their instrument (their body & voice), through a series of fun warm ups every day.  The lessons are structured in a rehearsal format with a check-in and warm-up preceding content-filled theatre games.  Every class is spent actively up on our feet, so the elements of movement – size, weight, tempo, tension, focus, direction – is an early lesson to give young actors a vocabulary with which to work for the rest of the course.
Some other concepts the young actors learn include the essentials of theatre – from stage directions to the many roles in dramatic production.  The 4th Graders also practice the acting basics: objective, action & obstacle; and Stanislavski's 'Magic If' exercises are an imaginative highlight.
In the spirit of improvisers everywhere we celebrate every mistake or happy accident with hands thrown in the air and a "Whoohoo!"  Kids love this take on 'failure' and it seems to propel them fearlessly into the lessons on improvisation where they further learn to be present, focused, enthusiastic young theatre artists.