Students at Oak Hill students explored themselves by making different lines.
Working with Mentor Artist Cathy Bowman, they used black and white pastels on a beautiful brown paper. We looked at thick lines and thin lines, curvy lines and bumpy lines. Some artists worked precisely and methodically and made only straight lines; others used only curves and made spontaneous marks everywhere.
When we finished, we laid the work on a table and talked about connections.
At the next session, we looked at the portraits and then made different portraits using water soluble Lyra graphic crayons and white pastels. Students made more lines and shapes, then activated the pencil lines by tracing them with a paintbrush dipped in water. It was fun to look at the two portraits together.
"This is another example of how we scaffold," Cathy said. "It builds confidence in artists when they can practice a familiar subject with new materials."
Cathy is at Oak Hill as part of Youth in Arts' Arts Unite Us program, which supports students experiencing disabilities.
At Youth in Arts, our goal is to build creativity, confidence and compassion in all learners. But how do we do that?
A self-portrait is the perfect place start.
The Walker Rezaian Creative HeArts program focuses on Social and Emotional Learning through the arts. Students develop friendship skills and empathy as they learn to look closely and reflect on their world.  Kindergarteners and first graders explore making different expressions, then look in the mirror at their own faces to draw what they see. After several weeks of skill building, students have practiced looking closely, and the self portraits they create are amazingly accurate.
Over and over again, we see students using art as a safe space for risk taking. Art gives them a chance to try things they might not try anywhere else and also use those new skills in other areas.
One first grader, who is in her second year of the scaffolded, sequential program, had this to say about her Youth in Arts' experience.
"I felt happy, because people tell me I'm not pretty, so I don't look in the mirror," she said. "I looked in the mirror to draw myself, and I see that people are lying. I love the way I look."
Teaching artist Suzanne Joyal is working again with Susan Wilkinson's early intervention pre-K class at Marindale (It's been seven years!) This time students are studying Emotions, using materials developed by YIA and perfect for young learners. Students looked at cards featuring children showing an emotion, and then practiced making those faces in mirrors. They learned to look closely to notice what happens to their face when they show different emotions (mouths go down when you're sad, up when you're happy, eyebrows go down when you're angry and up when you're surprised).
Students then drew their own faces on matching paper, and painted a treasure box to carry everything home in, where they can play a matching game with their family. When art time was over, Susan continued the lesson with songs and movements and more opportunities for young students to practice looking at faces and sharing emotions.
Thank you to the Buck Family Fund of the Marin Community Foundation for supporting this program.
Visual Arts Specialist, Ascha Drake, and Bayside Elementary 5th grade teacher, Mr. Mitchell , worked together to develop a unit on leadership.
"What are the characteristics of a great leader?"
"How are you a leader?"
The students looked at African American leaders in history, and listened to, and read many of their writings and speeches.
Then the students began to think of other leaders in the world they admire. And then the students started to consider how they, themselves, are leaders.
"How can I make the world a better place?"
As artists, the 5th graders looked at different ways people portray themselves to the world.
Students then began imagining how they would present themselves to the world, using a contour line drawing technique.
They began making drafts:
And then the students incised their lines into Syrofoam, that became the plate that they then printed using gold, silver, and white ink on black paper.
Each student made an edition of 5 prints.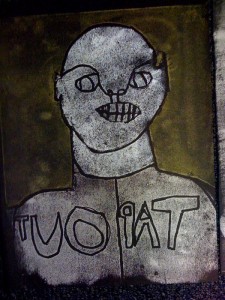 Students then wrote about what they dream about as leaders, and a bulletin board was created in the Bayside office titled,
"Leaders are Dreamers"