Families are the compass that guide us.
They are the inspiration to reach great heights, and our comfort when we occasionally falter.
– Brad Henry
Last night Ms. Brooke and Tenisha Tate, opened the Parent Center to the families of the Sausalito Marin City School District.
Visitors were welcomed by family member portraits created by the young artists at Bayside School.
The artists had used watercolors, colored pencils, pastels, and Sharpies to create the works of art.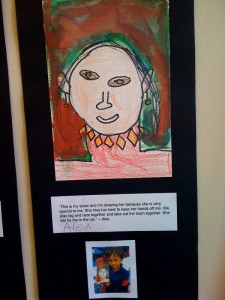 Each artist wrote a description of the loved one, and Ms. Brooke also included a photo of the artist with their art work.
People were also welcomed by an important question:
And the Studio Habits of Mind were also posted as important reminders:
There was a buzz in the Parent Center as people gathered and looked and celebrated being together.
And a photo studio was set up, where Ms. Brooke took family portraits.
Beautiful work!
Congratulations to the visual arts specialists in the SMCSD!
The arts program has been awarded a 2011 Golden Bell Award for an exemplary program that is committed to collaboration, integration, and strong partnerships in the arts.
The Golden Bell Awards will take place at Dominican University in San Rafael on Thursday, May 26th at 4:30 pm.
http://www.csba.org/TrainingAndEvents/Events/GoldenBell.aspx
In the sphere of arts education, Making Learning Visible is a "buzz" phrase.
What kind of organization is needed to make it manageable?
How can I take the ideas behind MLV and make them my own?
All of these questions came up earlier this week at the Wednesday Arts PD for the middle school teachers in the SMCSD.
Visual documentation of a chosen unit is a vital way for the students to recognize how they traveled from one end of a project to another.
Documentation is a terrific form of assessment for a teacher; allowing him/her to step back and reflect on what really happened.
Visual documentation is also a catalyst to inspire excitement about learning within the school community.
Ascha Drake and Arlene Shmaeff showed the teachers several possible ways to visually show a unit unfolding.
What was the essential question?
What were some curricular goals? What were some artistic goals?
Get into the rhythm of photographing students working and exploring and experimenting.
Archive written reflections and save any process work.
Making Learning Visible is essentially telling a story, and leading the viewer along the footprints of thinking and learning.
In our PD sessions, teachers shared work and ideas.
They visited one another's classrooms, and explored ways to make the process of documenting manageable.
And they continue to reinforce a sense of community and respect as colleagues and educators.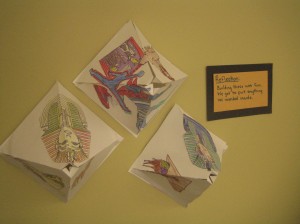 As the year continues we will continue the conversation, and teachers have talked about being inspired to make the learning in the classrooms come alive through documentation panels.