by Mentor Artist Katie Issel Pitre
Greetings and welcome to an update
on the exciting partnership between Davidson Middle School in San Rafael and Youth in Arts!
As part of the new Strategic Vision of Youth in Arts to create model arts education programs K-8th grade, Mentor Artists Sophie Cooper and Katie Issel Pitre have been teaching New Media and Theatre Arts to 180 Davidson middle school students daily.
Beginning in late August Sophie and Katie have been working with 10 classes, grades 6th – 8th to provide arts enrichment for a student population that until this year had not received any elective classes. This year, Principal Bob Marcucci wanted to change this, partnering with Youth in Arts these students are half way through the first year of this pilot program and are getting in the swing of art making.
The project that the students have been working on has been cumulative – we've been building skills, teamwork, discussing and activating themes through play writing, college making, reflecting on values, watching many films – critiquing them and learning more about the way to use film to send a message.
In Ms Cooper's New Media class students worked towards a photography project taking portraits of hands and also of eyes.  In Ms. Katie's Theatre Arts class students composed collaborative poetry using the anaphora "With these hands we can…" and " People think that I… But if they really knew me…"
Pairing these two projects we used the photography from Ms. Cooper's class, and recorded the audio from Ms. Katie's classes and created two differently themed collections of films.  One collection pairs the photography of hands with the poetry "With these hands we can…".  The other collection of films pairs photography of the eyes and the poetry "People think that I… but if they really knew me…".
The final for their first semester was a film screening of both of these film collections.  Students observed all of the films, and then reflected on the process, the messages, considered what was missing and then brainstormed about what they want to make their next films about.  Some topics that were mentioned were making films about their lives, about kids who choose to be sober, about their friendships, about their immigrations stories, and more.
For students who have never had an arts residency like this Sophie and I are proud of what they were able to accomplish.  Their artistry has increased, as has their teamwork, self confidence, perspectives, and
Fir
Since Youth in Arts completed our new strategic plan this spring, we wanted to properly introduce our Mentor Artists to our more in-depth model, and to each other.  Our artists work directly in the classrooms, so they rarely have a chance to interact.  We hosted an "all artist meeting" in August, and it was wonderful to see them talk to, listen to, and learn from one another.  Our icebreaker activity was a worksheet that asked the artists to identify a problem in the world today, and how they would use their art form to solve it (using words and/or pictures).  The prompt was WITH MY ART I CAN…
Here is Mentor Artist Sophie Cooper's thoughtful response and accompanying artwork:

"A problem I see in the world today is xenophobia.  With my art I can…help people see the world through someone else's eyes.  A film can draw you into an experience of understanding that is registered through many senses simultaneously – sight, sound, emotions.  This allows people to get a sense of how another person experiences the world.  So often the fear of the unknown occurs by observing another's experience and not being able to see beyond our own subjective viewpoint."
Sophie Cooper's teaches New Media, Media Literacy, Digital Storytelling, and Visual Art.  She has been working with Youth in Arts since 2010.
BIO: Sophie's undergraduate studies were interrupted in 1999 when she joined her brother working as a volunteer for a small organization in Kosovo called Balkan Sunflowers. Arriving only 3 months after Kosovo's one million refugees returned to their destroyed homes, she began organizing cultural activities with the community's youth.  In 2001, together with a network of artists from Kosovo, she participated in the formation of the Crossing Bridges Collective to organize and annual trans-Balkan music and arts festival. Inspired to document these vibrant cultural events, Sophie began working as a video artist and then went on to refine her skills at the Film Academy of Prague, Czech Republic (FAMU). She then received a dynamic degree at the University of California at Berkeley combining both visual arts and critical social theory. Sophie's work as an artist has developed hand and hand with her work as a community organizer. She has found that her favorite form of activism is that of visually celebrating the beauty of nature and the beauty of culture.
Mentor Artist Sophie Cooper writes about the culmination of the Walker Rezaian Creative HeArts Kindergarten Art Program at Venetia Valley Elementary
As the culmination of a 12-week program, K and TK students at Venetia Valley Elementary integrated their newly acquired techniques as visual artists through the creation of unique and expressive self-portraits. To prepare for this final project, students completed a number of activities exploring line, shape, color and pattern. Then it was time to explore emotion. Students were given mirrors and are asked to draw four quick sketches of their own faces with different emotions: happy, sad, surprised and angry. We discussed how the lines of the mouth, eyes and eyebrows changed with each emotional expression.
Ready to embark upon their final portraits, students began with a pencil drawing using the mirrors and the emotional expression of their choosing. The next step was to trace their lines with oil pastels, then bring their portraits to life using vibrant watercolors. Students were encouraged to use colors to further convey emotions. The final works were astoundingly unique portraits that captured the students' sense of pride, courage and creative identity.
Learning to identify and communicate emotions is no small task, no matter how old we are. In addition, when it comes to emotions, words often fall short.  For children in the early stages of developing an awareness of their emotions and relational skills, creative outlets enable students new ways of understanding and expressing themselves and those around them. We all know that emotions give rise to wonderful art, yet what I learned from the young artists at Venetia Valley, is that the art we create can actually teach us about our emotions.
Thank you to the Walker Rezaian Creative HeArts Fund and to our Youth in Arts donors for supporting this program.
Youth in Arts organized two wonderful multigenerational art events with the Canal Alliance's University Prep students on March 24th and April 21st.  The students, their parents and siblings worked together on collaging large puzzle pieces that when put together created the letters U and P (University Prep's acronym).  The letters are on a banner that will eventually hang at UP!.
Everyone wrote their goals for the future on the background of the banner in black sharpie, so that the large letters stand out against a black and white background.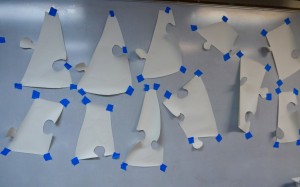 All of the participants worked together at the end of the evening to put the puzzle pieces back together.
We had a great time with the UP! students, their families, the staff, and YIA mentor artists Sophie Cooper and Sofie Siegmann.
Mentor Artist Sophie Cooper posted about her "Arts Unite Us" residencies at Redwood High School and College of Marin.
Merging visual art and music, the special day classes of Redwood High and College of Marin made gourd rattles. Each student decorated their own gourd, learned a series of simple songs and performed for the other classes. We had so much fun in this project and and the combining of music and visual art gave students a variety of ways of engaging with the creative process!
Big thanks to the wonderful folks at The Caning Shop in Berkeley, the most amazing resource for gourde art of all kinds!!
Arts Unite Us is Youth in Arts program tailored for students in school with special needs. Youth in Arts is the only consistent provider of arts for special education programs in Marin.
Thank you to Kennedy Center VSA and Buck Family Fund of the Marin Community Foundation for supporting this program.
Mentor Artist Sophie Cooper worked with preschool students at Marindale this Spring
Mentor Artist Sophie Cooper shares work from Oak Hill School this Spring
We spent the spring exploring color, texture and the art of circles…
In May, we started getting ready for the final group project. Each student painted both sides of a square mat-board canvas. One side was painted in warm colors and the other in cool colors. Salt mixed with liquid watercolors to create amazing texture designs.
On May 26, the school's final project was placed on exhibit, the interactive, 3-dimensional "World of Color," along with selected artwork created during the semester-long residency. Students delighted in sharing their artwork with one another as well as staff  and parents.
Thank you to the Students and Staff of Oak Hill for a beautiful spring!!!!
Mentor Artist Sophie Cooper writes about working with students at Harding Elementary in El Cerrito
From climate change to wildlife protection and the eternal quandary of the cuteness of cats, students at Harding Elementary share their ideas with their classmates as they present these visual stories as short "films."  Developed over the course of an 8-week workshop, students learn the basics of visual storytelling, collect images from the internet and learn to compile the images into short films using highly-accessible computer software. The process walks students through the basics of film editing, introduces them to the workflow of the editing interface and empowers them with the primary tools of animating and adding text. Yet, beyond the technical skills, students lean to look critically at how the prevalence of  images around us are inserting meaning into our lives on a daily basis.  They learn to break down the story behind an images (such as an advertisement) and choose whether or not they agree with this story. Most importantly, the project got the students thinking about what are the stories they would like to be contributing to the conversation and empowered them with the tools to bring those stories to life.
One of the teachers from Harding wrote to me after the workshop and told me that she had overheard some of the students saying that they were going to try this again on their own over the summer. She wrote: "Perhaps you have inspired a new generation?"
Thank you to Harding 5th Grade teachers Karen Fisher and Kimberly Souza for outstanding collaboration!
By YIA Mentor Artist Sophie Cooper
by Mentor Artist Sophie Cooper
How long does it take for one to become an author, rather than a consumer, of images and stories? For 5th and 6th graders at Harding Elementary, it only took 8 weeks! Students started out learning how images communicate, and recognizing that the images surrounding us on a daily basis are telling us stories and infusing meaning into our lives. We spoke about being aware of how images communicate stories, and that we can choose to agree or disagree with the values embedded within these  stories. Brainstorming as a class, we then created a treasure chest of values: things most precious to the students that they want to protect.
It was very inspiring to observe the students actively declaring what was most important to them and arriving at the jewel that would be the themes of their personal stories! Once they had decided on a theme, students were guided through a process of story development using traditional components of storytelling.
Equipped with their new tools of media literacy (understanding how images communicate) and outlines of stories they wanted to tell, students began searching for images on the Internet and assembling their stories using a basic video editing program. Students did a phenomenal job navigating the editing software, and many students quickly found their own way, adding effects and transitions!! Even students who had not had extensive computer experience prior to the project were able to follow the simple steps and assemble found images into a short video.
As we screened the completed projects for the classes, I observed the excitement dancing in students' eyes while watching the stories their classmates had created. It is the same dancing excitement with which they watch a TV commercial or a video clip on the internet: the innocent curiosity of what is next, the enchantment of flickering light that lures us all to cinemas. The only difference now was that rather than absorbing a message put in place by a large corporation or production studio, they were attentively watching messages created by their peers. They were discovering a new way to communicate, a new way to listen to one another.
Older Entries »