At Willow Creek Academy and Short Elementary School, Mentor Artist Cathy Bowman worked with students to make wonderful collages using textures of different shapes and colors. Many students in special day classrooms experience sensory defensiveness, so Visual Arts Director Suzanne Joyal developed this as one technique to address this issue. Joyal explains, "For kids with special needs there is so much beyond their control that can be frightening and art is a safe way to take risks. Using textures in art provides children with a safe and fun way to confront potential anxiety around new experiences."
Cathy describes the process, "Instead of glue, we used self-stick paper to hold down our shapes. We had to use at least five different shapes and colors. We felt each piece carefully before we placed it on our collage. Some shapes were rough and bumpy, while others were smooth or shiny. The soft feathers were especially fun! After pressing down our shapes we drew around them or on top of them with oil pastels. It felt unfamiliar to draw directly on the sticky paper. The final step was rubbing on the magic gold foil. It was hard to wait for the shiny foil but we did. We finished with a group discussion reflecting on the choices we made. It was a good chance to practice our speaking and listening skills"
The program was part of Youth in Arts' Arts Unite Us program, which serves students in special day and severely handicapped classes throughout Marin County. Thank you to the contract from the Kennedy Center and the funders who helped to make this happen:
by YIA Mentor Artist Cynthia Pepper
What a wonderful day we had with the Terra Linda Special Day Classes led by Rachel and Abby. We had 9 adults assisting the 12 students on the final sharing day of my residency last week. I thought it would be nice to start our day off with a warm up to Bob Marley. The man! He cuts to the chase with his lyrics of "Is it love?". It must be love because everyone was smiling while we moved all our bodies in unison to get ready for the big dance called KUKU. It is from Guinea West Africa and it involves fishing with nets, sharing our catch, becoming fishes and having a full on party at the end. The African based cultural dance day eased in with our sharing of energy around the room both in clockwise and counter clockwise directions. We cleaned up the day with Keb Mo and Michael Jackson and my all time favorite get funky dance song "Green Onions" by Booker T. and The M.G.'s. It just takes it away. The paras and the aides all danced a solo in the middle of the room which they all accomplished with flair. Each wheelchair got a pirouette opportunity and the students crushed it with smiles. I love sharing with so many students the joy of movement and music. It seems like it keeps getting better the more we do it. Each time feels better than the next.
Thank you Abby and Rachel for always being so ready to rock. And thank you to our very generous supporters: 
By Mentor Artist Cathy Bowman
Students at the College of Marin have been working with clay, beads, buttons and paper foil to create beautiful mosaics inspired by the work of Iranian artist Monir Shahroudy Farmanfarmaian.  Farmanfarmaian forms 3-dimensional works using pieces of mirror cut into geometric shapes.
Using a Kennedy Center lesson titled "Looking in the Mirror," Mentor Artist Cathy Bowman discussed the use of mosaics in art and showed students a short film about Farmanfarmaian's work. Students in the special day class started with lumps of white Model Magic, a nonsticky, nontoxic clay. They learned how to roll, twist and manipulate the clay, and how it softens the more you work with it. Some artists made abstract forms, while others enthusiastically used thumbs and fingers to form bowls, baskets and other objects. Students were encouraged to consider how they felt about making art and what they wanted to say. If their bowls were "wishing bowls," for example, what were their dreams? The class also talked about how mirrors reflect and how the word "reflection" can refer to a physical image as well as deep contemplation.
One artist spoke about about kindness and joy. Others saw their art as gifts. A woman made a bowl for her father "because he is kind to me;" a man made a tiny basket for his aunt expecting a baby.
Instead of mirrors, artists used silver Origami paper, gold foil and other brightly colored paper that was cut into geometric shapes. Artists also used recycled beads and buttons. They were encouraged to think about making patterns in their work, considering both the negative and positive space. It was interesting to consider how different art feels when a single color and material is used v.s. when multiple colors, textures and shapes are used.
This VSA program is provided in 2017-2018 under a contract with the John F. Kennedy Center for the Performing Arts.
Students at the Short School in San Rafael experimented with paint, paper and various materials as part of a grant from the Kennedy Center. Using a lesson plan titled "Motivated to Create … HARMONY," Mentor Artist Cathy Bowman helped students translate jazz into paint.
The purpose of the lesson was to give students the experience of drawing on the inspiration of sounds as a foundation for their art. Working individually and in pairs, they listened to excerpts from "West Side Story" by composer and conductor Leonard Bernstein. Key vocabulary artists reviewed included "harmony," "tone" and "abstract."  Using tempera paint, paper and canvas they listened, and painted what they heard. We considered how sound affects our feelings. Students were given an array of materials to use, including toothbrushes, corks, rollers, plastic packing material and forks. They practiced making marks, covering marks and making more marks. Working together was a good lesson in collaboration and respect … Is it ok to cover another artists' marks?
Working in pairs allowed students to create multiple layers of color.
In the final session artists were given an 18 by 24 inch canvas. They tore up their smaller works on paper and reassembled the pieces into a collage on the canvas. They applied more paint and color while listening to music. Working outside for the final painting freed the young artists to move in ways that can't happen in a carpeted classroom. 
The last artist to work on the painting added a tiny touch of black, noting that she was thinking about her favorite fruit – blackberries. Can you find her mark?
This VSA program is provided in 2017-2018 under a contract with the John F. Kennedy Center for the Performing Arts. This program is also supported by the Buck Family Foundation and Marin Charitable.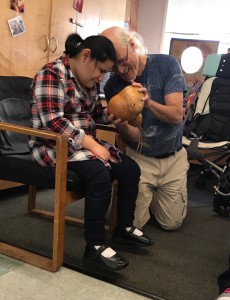 Mentor Artist Ian Dogole has been making music with the students in Kim Cochrane's and Katie Peter's classes at Redwood High School.
Ian Dogole's Thoughts:
"These have been profound and unforgettable experiences. One lasting impression will be the heroic commitment that the educators, nurses and aids make to each one of these students and the exuberance and joy that accompany each positive outcome.
In Kim Cochrane's class, the students have very limited mobility. I had some trepidation prior to my first class as to whether I could have a positive impact with them. After 7 classes, my perspective has undergone a complete transformation! I feel deely connected to these students and when a breakthrough occurs … even at the most subtle level … there is a celebratory feeling in the classroom and I feel so uplifted. Kim and all of the nurses and aids have been unbelievably supportive and appreciative and I am deeply grateful. From my perspective, they are all heroes for their devotion to these students and for their consistently positive attitude.
Katie Peter's class presents a different type of challenge — her students are mobile and capable of holding and playing percussion instruments to varying degrees. The goal for me is to attempt to keep them engaged and look for ways to raise the bar for them in the most supportive and fun way that I can. Like Kim's class, Katie and her support staff have been quite helpful in this endeavor. We did experience mini-breakthroughs with a few students this past week using repeated spoken words to convey specific rhythms. Quite powerful.
Many thanks to Youth In Arts for offering me this opportunity. It has been revelatory."
Thanks to the Buck Family Fund of MCF and Marin Charitable for making this program possible.
Mentor Artist Cynthia Pepper taught dance in Mimi Schalich's Special Day class at Edna McGuire Elementary School. She brought fun, energetic music and tons of cool stuff to her classes.
"We prepared for our performance date by practicing using scarves respectfully, we danced on the dots in all sorts of ways, we did helicopter, we did hand holding dances, we created shapes, we hopped and moved our legs in new ways. We did stretching and sort of a yoga thing! Parents joined us on our final day, and danced with their children. My work with this population has been an experience that I will forever hold dear in my life."
Thank you to the Buck Family Fund of the Marin Community Foundation for supporting this program.
The recent storms left Nature's bounty all over the College of Marin parking lot. Maple leaves the size of dinner plates were strewn everywhere! Mentor Artist Cathy Bowman was inspired by this harvest of leaves. She worked with students in the Special Day Classroom at College of Marin to collect the leaves. Then using pastels in a variety of colors, students traced the leaves, overlapping them in some instances. Using small bottles filled with watercolor, they applied paint quickly and freely. The results were beautiful. The same project was tried later at a different school with smaller leaves (and colored paper), but somehow the big ones worked best. The larger leaves seemed to inspire students to work more freely and made the blank paper less daunting. The thick white paper also proved to be the ideal canvas to showcase the beauty and transparency of watercolors.
The idea was to explore color and composition using the "resist" method, with the pastel lines acting as a barrier to the paint. It was interesting to watch how the leaves inspired the artists' work. Some drew the leaves quite realistically, while others used them as a departure point for more abstract compositions.
Written by Mentor Artist Hannah Dworkin
I look forward to working with Jessica Leaper's Marindale preschool class of students with language delays every year because her kids have so much enthusiasm for music.  Every visit begins with the students yelling, "Hannah!!!!" as I enter the room.
They memorized my daily agenda by the second week, and they cheered at each transition.  One area that was especially successful was the teaching of musicianship.  About half the students could read basic rhythm by the end of the residency, quite a feat for preschoolers!
Their favorite song by far was "Goin' on a Bear Hunt" where we marched around the room looking for a bear to take a picture of, and then we ran yelling back to our seats when we finally found him.  They also really enjoyed playing with a parachute.  We started every week sitting on the parachute identifying colors and singing about them in English and Spanish. Then all the children would jump under it while the adults pretended we could not find them.
I feel so fortunate to have had the opportunity to work with such a great group of kids and teaching team!
2013/2014
VSA Mentor Artist:  Marty Meade
Children with Developmental Delays
After several years of working with the special day class at Mill Valley Middle School, I love the connection that  is made, usually after the second week.
We had fun playing with a form of block printing using foam core for the design, rolling ink with brayers and then using another brayer to apply the print. I was pleased when a boy who was difficult to reach asked for more paper and different colors.
Watercolor landscapes were created from photographs from my personal photo library.  Students used Q-tips to apply paint in the pointilist style.  It was interesting to see students carefully studying their photo, and then painting what they observed.
Glass fusing continues to be fun, and we were able to do spend several days on this medium.
We also practiced with acrylic painting, watercolors, oil pastels, tissue collages, plastic laminate paper, and Shrinky Dinks'.
Last year I wrote a blog suggesting that students' behaviors should whenever possible be seen as an attempt to communicate. I encouraged my fellow teaching artists to:
1. Find the hidden messages in "behaviors" or "breakdowns"
Those of us that work with special needs students are very familiar with behaviors or breakdowns.  Initially the crying, repetitive gestures and outbursts from these students may seem random, but they rarely are.  These students have no way of saying "I don't like this song," or "The volume is too high." Ask yourself:
What activity preceded the outburst?
Has this happened before?
What did you or the classroom staff do that calmed the student?
When does this student seem most content?
Sometimes there are even messages in the sounds and words said while in the midst of a tantrum.  One of my students "J" threw a tantrum in one of my classes, and after close listening, I realized that he was yelling, "e-i-e-i-o." He wanted to sing Old MacDonald but didn't have the vocabulary to express it.  So we sang Old MacDonald and he was immediately calmed.
 2. "Read" your audience.
A  great many skills we develop as performers are transferable to teaching special needs students.  One such skill is being able to "read" your audience.  After a while we instinctively know when to slow down, speed up or drop a section completely.  The same goes for working with students.
If you find your students engaged in a song, repeat it.  This populations thrives on repetition, and those with language processing delays will have an opportunity to learn your material.  On the other hand, if the class is losing focus or individuals are starting to show behaviors, find a quick stopping place and move on.  It takes patience and flexibility to work with special needs kids, and sometimes no matter how wonderful your lesson plan is, you may have to make a quick change.
3. Your greatest resource: The classroom teacher
The special day class teachers are an amazing group of individuals who know their students extremely well. Ask them for advice and listen to them when they make suggestions.
This year I have been considering the difficult situation when I realize what a student is trying to communicate and I have to decide to honor the request or continue with the class.  For instance, if a student breaks down in the middle of a song, is it best to stop the song or continue in the hopes that ignoring the behavior will not reinforce it.  The simplest answer I have come up with is to look to the classroom teacher for advice, but I am realizing that being a teaching artist with the same children over several years and sometimes through several classrooms can help in this situation.  We are in the unique situation of knowing students on a very deep level and can plan and react accordingly sometimes even surprising the classroom teachers. There was a specific instance where we were singing a song, and one fo the students was obviously not enjoying the experience. The classroom teacher and I looked at each other considering what to do.  I shared that in the past if I get to the next verse, this child usually calmed down.  We tried it, and it worked!
YIA Mentor Artist Hannah Dworkin
Older Entries »