By Mentor Artist Cathy Bowman
For the past year, Oak Hill students have been exploring painting and sculpture. We ended the year with a student exhibit that featured several exciting projects. The display featured masks, paintings, drawings and two collaborative works based on the number paintings of artist Jasper Johns. It was important for students to get a chance to survey their own work as well as the art made by their friends. It was hard not to touch the art!
One of the projects the students liked best was using tape to separate space on pieces of canvas. The artists applied oil pastels and paint; once dry, they removed the tape. Some students enjoyed pulling off the tape more than painting! There were surprises of color and lines everywhere, and decisions to be made about whether to leave parts of the canvas bare. We finished off the project by using letter stencils. The artists were very creative and used the stencils randomly, rather than spelling out recognizable words or names.
Another popular project was making sculptures based on the work of Alberto Giacometti. Students began by making wire forms and then covering them with foil and clay. Once the clay dried, the sculptures were painted. Some students made human forms while others created animals.
Written by Mentor Artist Cathy Bowman
This spring, students in two special day classes at Venetia Valley Elementary School explored different tools and materials. Artists experimented with a variety of adaptive tools for making marks: wide handled brushes, sea sponges, rollers, balls and soft toys. These tools were easier to grip than a thin paintbrush or pencil and allowed students a lot of control in how they painted. For many projects, they also worked on heavy mat board instead of paper. We also explored texture, using sticky contact paper as a canvas on which to apply various papers and materials. Using black paper, color and white paint students practiced layering colors.
The last two weeks of the class focused on making collages inspired by the work of artist Louise Nevelson. Students spent one class choosing and gluing down various forms and shapes that included Lincoln Logs, CDs, bottle caps, slides and other materials. Next, they added paint, which posed a new set of challenges as students turned and moved their artworks to paint various surfaces and angles. Once the objects were painted, the meaning behind them changed. Slides became obscured; CDs less shiny. Lincoln log pieces became exciting sculptural elements!
Once again our fabulous cast of Youth in Arts Mentor Artists created art, community and opportunities for students in the Bay Area.  Students in 25 Special Day Classes, Pre-K to Post-Secondary, explored techniques in Visual Art, Music, Dance and Theater and shared their talents with the community through culminating events.
The Arts Unite Us program aims to make high quality arts opportunities accessible to students of all abilities and to build understanding and acceptance in our communities.  This year students from Redwood High School, Harding Elementary and Mount Tamalpais High School participated in collaborative residencies in which students from Special Day Classes and General Education classes worked together to create art.
Teachers in the Special Day Classes we serve value the program and what YIA Mentor Artists bring to their classroom:
"I am always so blown away and impressed with all the skills learned by our students during the YIA sessions, but am especially impressed with the leadership skills, creative thinking, self-expression and artistic expression that our students learn. The YIA artists and lessons bring out skills in my students that I don't always have the opportunity to bring out. Without the professional artists coming into our classes, we do not have the access to adults with these skills at our schools. Mainstream classes can be too impacted, and general education teachers are not always equipped to handle the needs of students with special needs in their classes. Having art activities that are tailored to meet our students needs enables all students to access curriculum and experiences that their general education peers receive." SDC Teacher Rachel Hughes, Terra Linda High School
Under the guidance of YIA Mentor Artist William Rossel, students from Katie Peter's Special Day class worked with students from the Band program and opened the music concert at Redwood High School with a percussion piece.  YIA Mentor Artist Melissa Briggs worked with Tam High's Julianna Rees to lead students from Michael Lovejoy's Special Day Class and Advanced Theater students in writing and performing an original play.  At Harding Elementary, YIA Mentor Artist Thomas Arndt lead a group of 40 students in writing, directing and performing a play that incorporated American Sign Language and featured students from Harding's HOH (Hard of Hearing) program.
ASL Translator Paul says this about the program at Harding:
"I have truly enjoyed being a part of The Arts Unite Us program and watching HOH students as well as other students in the classroom where I work grow in confidence in their class room participation. Maya, the primary HOH student I work with rarely spoke up in class. This changed dramatically after she started participating in the program and after taking on a significant speaking part in the play. It is amazing to see how her and other students confidence begin to soar so quickly!"
Each of these experiences have left a lasting impact on the students involved.  Many students from Special Day Classes and HOH programs performed in front of their peers for the first time.  Many of the General Education students had their first experience interacting with their peers who have abilities that are different than their own, gaining understanding and empathy.
This is what a few General Education students had to say about that experience:
"I loved participating in this project.  I thought it was a great way for me to learn about people who have different abilities.  I learned that they have the ability to create great things."

"It was really fun to meet and interact with the Special Ed class. They were so sweet and friendly. I learned that some things that are easy to me are difficult to other people."

"I had fun! I really enjoyed spending time with the [Special Ed] kids and would do it again.  I learned they often have interesting ways of thinking about things. It was interesting to hear their perspectives."

"I learned that everyone is unique in their own way. Not everyone does the same moves or talks frequently.  I feel like I've learned so much about interacting with other people."
As the creator and director of the Arts Unite Us program, I am so proud of the work we have done over the years and I have witnessed first hand the impacts that this program has had on students, teachers, artists and families.  This program has served as a catalyst for progress, acceptance, understanding and art making that will last a lifetime.
This year, as I step down as Program Director, I pass the torch over to my colleagues at Youth in Arts so that they may continue to promote accessible programming for everyone in our community.  I would like to thank every artist, teacher, administrator and student who has participated in this program.  And, thank you to those who have provided much needed funding for this program, including Thomas J Long Foundation, The Green Foundation, Marin Community Foundation, Green Foundation, Marin Charitable, and Italian Street Painting Marin.
By YIA Mentor Artist Sophie Cooper
By YIA Mentor Artist Sophie Cooper
I walked into the special day class classroom I have visited for years, and "L" was having a fit.  Yelling, rolling on the floor and spreading general unhappiness.  The teachers and I tried numerous interventions, but nothing worked until we decided to pull out one of the "magic scarves." This simple, oversized scarf works miracles in my classes.  Once the scarf was over "L," she immediately calmed down and even participated in that day's music lesson.
This is just one of many times this scarf has come in handy.  It is hard to say what makes it so engaging.  Students of varying abilities find it fascinating.  They follow it with their gaze, dance with it and will generally follow any direction as long as they get to interact with it.
There are a few specific ways I use this scarf.  First, I use it to encourage eye tracking or to bring focus to an area of the room.  It also helps to remind students to change levels in a dance and encourages a specific quality of movement, I also have students hold one end of the scarf while I move the other end.  Using this technique, almost every student will match my movements.
Though I am not sure of the reason for my students' fascination with my scarves, I am grateful for its effectiveness, and I plan to continue to use it in years to come.
If you walk down the halls of Terra Linda High school on a Tuesday morning, you may just hear the sounds of a Tabla, Doumbek, shakers and tamborines playing joyful beats accompanied by the gleeful cheers of students in Rachel Hughes Special Day Class.  YIA Mentor Artists William Rossel and Nydia Gonzalez have been working with students for 10 weeks, practicing a variety of basic rhythms and swaying movements which they will present for attending family and friends in a few weeks.
Every student in this class has enjoyed the activities, finding the one that brings them the most joy:
Gihea rocks out to the beat with her upbeat movements, waving her scarves and showing off her moves.
Brian loves to dance with the "friend of the day" (usually a soft stuffy that Nydia brings in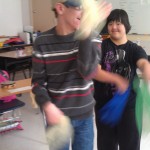 to assist with engagement and focus), and his twin brother Neil loves to play percussion instruments on the peripheral of the classroom.
Maria eagerly awaits the moment in which she can sway her hips to the rhythms in a fluid movement while waving the scarves and smiling.
Demelza always insists she is too shy to do her "solo", but ends up breaking out her special choreography that usually includes some serious hip shaking and the "genie" move, named by a classmate from last year.
Savannah loves to play along to the beat and when she does her solo dance, she smiles and giggles with contagious joy.
Graham, has limited fine motor skills, but always waves his arms in rhythm and shares the biggest smile when it is his turn to shine.
Alessandra absolutely LOVES to help us keep count of the rhythms and her signature dance move is a spin.
Needless to say, we have a blast playing music and dancing with this talented and enthusiastic group of students.  Thank you to the teacher Rachel Hughes and all of the para-educators and aides who are so loving, supportive and willing to get down with our groves at Terra Linda High School!!
[nggallery id=19]