How do you learn how to mix color? By dipping your brush in different paints over and over. Why should we teach students to mix colors? This is the beginning of STEAM for students: they practice the Engineering Design Cycle when they learn to mix colors: Ask, Imagine, Plan, Create, Improve (which means repeat).
Students in Katie Kelly's class at Olive Elementary School in Novato practiced color mixing while making paintings of sculptures they had already created. The students are working with Mentor Artist Cathy Bowman through our Arts Unite Us (AUU) program. Through AUU, YIA is the only provider of arts education programming to many students experiencing disabilities in Marin County.
It was fun to look at the black and white sculptures and transform them into vibrant, colorful paintings. We made beautiful secondary colors and learned that if we mixed everything together, we ended up with a muddy brown!
Color mixing is something you can only learn by doing. We practiced the basics –  red and yellow make orange, blue and yellow make green, and red and blue make purple. But through experimentation we learned that we could make myriad shades of oranges, greens and purples by adjusting how much red, yellow, or blue we used.
Students looked carefully at the shapes they had used in their sculptures and repeated them in their paintings. On some, the shapes were quite clear, while on others, the shapes were hiding under more freeform lines.
At the end of class we put our work together and talked about what connections we could see in the shapes, colors and lines that we used. It was interesting to see that even though we used the same paint, the way we made our marks was unique.
We love to connect with students in the Youth in Arts Gallery! The YIA Gallery is one of the few in the nation devoted solely to showcasing art by children.
Olive Elementary School kindergarten and first grade students visited the YIA Gallery recently for a field trip that explored shapes, systems and machines. Their teacher Emma Donovan had participated in this summer's STEAM institute with Youth in Arts, the Marin County Office of Education and other experts. She wanted her students to have an experience connected to what she learned in the STEAM Institute.
"Our free field trips are a wonderful opportunity to tie classroom curriculum to arts learning," said Youth in Arts' Development Director Kelsey Rieger. "This experience was focused on STEAM with embodied learning teaching."
Kelsey was joined by Visual Arts Director Suzanne Joyal and Mentor Artist Cathy Bowman. We took the students on a gallery walk to look at the child-created works in the gallery, followed by the Brain Dance to warm up. We talked about circles we could make sitting down, and circles we could see in the art. We made circles with our elbows and noses. In the YIA Studio, we sat in a big circle and learned about systems and machines, first by pushing a giant purple ball back and forth at different speeds. We noticed that a ball can't move by itself. While holding hands, we also sent energy around the room with a silent squeeze. It took concentration and practice to not lose the squeeze.
The final exercise was a fun way to talk about machines. Students were proud to show what they knew about different kinds of machines, and what those machines could do. Suzanne started the exercise by making a machine motion and sound.  As she continued, the next volunteer joined her to make a sound and motion that connected to hers. More students joined in, each making a different sound and motion. In the end, we had a large human-made machine with noises and motions working together.
We talked about where our machines lived and what they could do. One group made a machine that made snowflakes and lived in the ocean; another imaginary machine  handled climate change in the desert.  We concluded the field trip by creating a machine which included everyone and was made of familiar sounds and motions: a train.
Field trips are 45 minutes and always feature an age-appropriate hands-on arts activity. Children also learn techniques for looking at and talking about art. For more information, contact Youth in Arts' Program Director, Kelsey Rieger: kelsey@youthinarts.org or at (415) 457-4878 x110.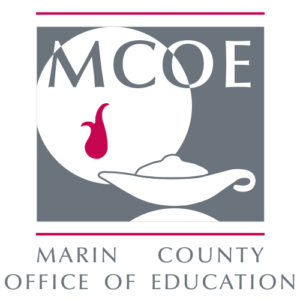 Exploring the local creek and designing their own natural playgrounds, creating songs about protecting the world, discovering the details in individual leaves and creating posters, learning vocabulary through dance games, using sculptures to explore science. These are some of the new experiences that teachers led summer school students through at the University Prep Summer School.
Teachers attended the Marin County Office of Education and Youth in Arts' recent STEAM workshop and put their learning into practice to make their own art-infused program at Lu Sutton Elementary School in Novato.
Earlier this month, Youth in Arts joined the Marin County Office of Education and a team of educators and experts to conduct a workshop on STEAM learning.  K-12 teachers were asked to rethink how they could teach the California Environmental Principles and Concepts.
Lisa Heslip, principal of the summer school program at Lu Sutton,  said students were happy, well behaved and engaged. Students made a giant "Making Learning Visible" paper wall documenting their learning that was posted in the courtyard of the school. The 1st through 5th grade students focused on the environment, looking at everything from how animals and people interact to their own carbon footprint.
Among other things, students considered the eyeball of a cow, putting the contents in a plastic bag, labeling the optic nerve, cornea and other parts, and taping the ball to the wall. "I wonder where tears come from?" pondered a student. Lower grade levels looked at creating sustainable playgrounds.
Heslip took photos and posted them on the wall, and students added their own drawings and Post It notes with questions and observations.
"They stop at it all the time," Heslip said. "It represents them. It's not teacher created at all."
Summer schools teachers also had intensive coaching by members of Agency By Design Oakland, who helped them with curriculum planning and were present during classroom teaching, Heslip said.
"When you think of English Language (Learners), it's getting them to talk and express their ideas … giving them the opportunity to use academic language," Heslip said. "What better way to do it than with a hands on activity?"
Preliminary research shows an increase in student summer school attendance (100% this year!) Teachers say they felt "inspired" and "reinvigorated" to go back into the classroom with these new tools.
Thank you to the California Department of Education's Student Support and Academic Enrichment (SSAE) grant, Marin County Office of Education and Marin Community Foundation for helping to make this work possible.

Activating learning through arts, making, and engineering activities:
by Crystal Barr, Agency by Design Oakland
During my time as the arts-integration mentor at ATLAS Davidson summer program, youth engaged in a myriad of making and arts activities to deepen their access and resonance with the content they were exploring. In the sixth grade classes, young makers explored the importance of watersheds and movement of water by observing how water moves within a flow table and then making a plaster cast of the table as a microcosm of how water flows over valleys and hills.
Seventh grade youth used their learning about water pollution to educate and advocate for access to clean water, creating original zines with drawings and text about how to create and use water filters to clean water and why we must act now to save our water sources.
The eighth graders took it another step further and asked themselves how they could reduce their dependence on plastics as consumers, and then made their original products such as lip balm, toothpaste, soda, and beeswax wrap and reused a glass container to place their new product in. Youth were asked to create a logo or ad for their product as well as a zine* that would describe the process of making their product and how this process is sustainable for the environment. I was excited to see youth creatively engaged in issues of water conservation and pollution, and seeing their ideas for collective change.
*Zines, short for magazine, are small, hand made, informational booklets that are accessible to make.
Thank you to the California Department of Education, Marin County Office of Education and the Marin Community Foundation for helping to make this program happen.
Youth in Arts joined the Marin County Office of Education and a team of STEM educators and experts to conduct a week-long professional development workshop on STEAM learning for more than 60 teachers in Novato, CA. The program was dedicated to considering how the environment impacts people and how people impact the environment, asking K-12 teachers from across Marin County to rethink how they might teach the California Environmental Principles and Concepts to their students in innovative and interdisciplinary ways.
Utilizing a culturally responsive framework to consider the diverse ways in which our students learn, we considered how to address global issues such as climate change through a local lens using place-based inquiry and problem solving. The week-long training event began with participants experiencing STEAM as learners, taking part in a Phenomena Walk that involved finding and drawing an intersection between nature and something human-made and employing discussion-based reflection frameworks like Visual Thinking Strategies to break down the meaning of the Environmental Principles and Concepts.
We then examined sea level rise and ways to make meaningful change through a case study of the Canal in San Rafael, and used the Engineering Design Cycle to plan out how to take this case study and apply it. Building on this process, we used resources from the Davidson Middle School's Makerspace to think creatively and prototype solutions to issues such as reducing plastic consumption and designing structures for desalinization. Throughout the institute, participants learned ways to use art collaboratively in the classroom, from techniques such as theatre-based presentations to a Making Learning Visible wall that showed how to document the process of learning through photographs, words and art.
Participants were encouraged to create a cross-disciplinary framework meant to empower students to ask questions and become advocates in their communities. If teachers support students in becoming leaders, they in turn can design solutions to care for the environment. "The impact of humans on the environment is something we can't ignore, and young people are already leading the way toward finding solutions," said Executive Director Miko Lee. "This was an important collaboration to help teachers reach all learners through multiple methods."
Lee was one of the keynote speakers of day one focused on Cultural Responsive Teaching.   On the second day students from the Sunrise Movement spoke about getting the Green New Deal passed in Marin. On day three, artist and activist Favianna Rodriguez, who talked about the importance of looking for stories that allow students to create a future of possibility. She also showed a map of the Bay Area and noted how poorer areas bear the brunt of pollution. Encourage students to examine their own community, she said, and document what is represented – and what is not. On day four former Youth in Arts Director Nydia Algazzali Gonzalez spoke about the importance of interdisciplinary learning. To watch the keynote speeches, please visit the Marin County Office of Education.
The final two days included time for curriculum planning. A cohort of 18 teachers returned on Sunday to gear up for Summer School. Those summer school teachers, will receive mentoring from Agency By Design whose Executive Director is Brooke Toczylowski, former YIA staff artist.
Thank you to the California Department of Education and the Marin Community Foundation for helping to make this event happen.
On January 24, the Marin IJ published an article written by fifth graders working with Shirl Buss, YIA Mentor Architect and educator with UC Berkeley's Y-PLAN.
On Thursday night, Laurel Dell hosted a Family Art Night for second and third-graders. Families were able to visit the gallery of works created over the Fall, and to participate in a hands-on art-making experience.
YIA Mentor Artists Cathy Bowman and Suzanne Joyal asked students and families to respond the IJ story: What do YOU want for San Rafael's future? What important words can you read? Circle them. Now, choose the MOST important word, and turn it into a piece of art that fills your whole page.
Each student and family member found a word in the article that was important to them, and turned it into one of the mini-artworks you find here.
Lastly, we glued all of the pieces together into this one cohesive collage.
The students ranged in age from TK (PATHS), to third grade (ELECTRIC from a kid who says he doesn't feel safe walking in his neighborhood at night). We saw parents translating for each other, children reading to their parents, and even tiny little pre-readers able to pick out letters and begin their journey to reading.
Here is a link to a member of the community in Fairfax who wrote a letter to the MarinIJ entitled:  "Inspired by Youngsters ideas on Sea-Level Rise".
Thank you California Arts Council for your generous support!
Architect Shirl Buss describes our model program at Laurel Dell for this school year:
Laurel Dell's 5th grade students have been invited to participate in the 2040 San Rafael General Plan planning process. The General Plan expresses the community's vision of how and where our city will grow and change in the future. It's an official document and covers topics such as housing, transportation, open space, arts and culture, natural resources, community design, public services, and safety. The intent of the General Plan is to envision how growth will be managed to protect the quality of life and make San Rafael more accessible, equitable, and vibrant for residents, businesses, and visitors.
The Plan is an opportunity for residents and leaders to think about and speak out about what we wish to preserve and what we wish to change. We will be adding youth voices to this process. The Plan will address issues that impact us all—including traffic, jobs, housing affordability, environmental quality, resilience, disaster preparedness, sea level rise, and public services.  Once the General Plan is adopted, City Council, local commissions, and city staff use it to make day-to-day decisions about our future.
For the "Real World Challenge" portion of their architectural residency, students will work collaboratively in hands-on in-class studios with architects and planners from Youth in Arts and UC Berkeley's Y-PLAN. We will build upon the work we did last year for the Resilient by Design Challenge. We will research and make proposals about San Rafael's future—from a youthful, but informed perspective, with a special focus on selected areas of the city (downtown, canals, open space, etc.) We will incorporate the academic focus on earth systems and apply this research to our recommendations.  The students will have an opportunity to present to the General Plan committee members.
Graphing Garbage
A STEAM workshop: Science, Technology, Engineering, ARTS, Math
Youth in Arts staff Suzanne Joyal and Miko Lee in collaboration with the Marin County Office of Education  led a cohort of classroom teachers through a workshop teaching about the environmental pollution and ways to transform garbage into art while also teaching about graphing.
Teachers watched this video about the Pacific Trash "Island" and learned about the immense amount of plastic that has been impacting the planet. They watched the presentation (available below) about the impact of pollution on animals and saw how professional adult artists and kid artists could make powerful art from trash to tell a story.
Suzanne described the Graphing Garbage arts integration project that she created at Willow Creek Academy. Lesson plan (available below). She showed how graphing can be showed in a various artistic formats. Teachers then went through trash collected by YIA. They sorted the trash by items that had the most dangerous impact on animals. Working in teams they showcased this by featuring three sizes of fish and a jellyfish on an ocean backdrop. After reflecting on this process, teachers discussed potential math and literacy extensions.
Teachers then created individualized animals that they could bring back to their classrooms to replicate the process.
For help with sorting and weighing garbage in all Marin Schools (except Novato), contact Casey Poldino at CPoldino@marincounty.org and check out this website http://zerowastemarin.org/schools/.  For Novato schools, contact Dee Johnson at Novato Sanitary or Recology https://www.recology.com/recology-sonoma-marin/community-education-programs/
To make the recycled art more successful, Suzanne suggested purchasing Extra Tacky Glue and Tempera Cakes from RileyStreet Art Supply.
PaperSeed Foundation currently has a Recycled Art contest. Teachers and students win prizes. Click here for more info.
A Graphing Garbage Integration Lesson and Graphing GarbagePPT was provided for the teachers to share in their classrooms.
Thank you to Christina Lunde for making the dinner and helping with logistics and to Eileen Smith for her assistance. Thank you PaperSeed Foundation and the California Arts Council for making this evening possible.
By Shirl Buss
After viewing some of the more interesting skyscrapers from around the world, each student created a thumbnail sketch of their favorite. Then they each identified 5 adjectives describing their own strengths, skills and talents.
It was a great kick-off for our 10-week Youth in Arts / Y-PLAN residency.I am really looking forward to working collaboratively with Mr. B and this group over the next few months. The students are strong, creative, and articulate.