It was a wonderful celebration of souls and sound when nearly 50 current and former`Til Dawn members took to the stage for the SING OUT! concert, raising over $5,000 for the group's scholarship program, through ticket, raffle, food and beverage sales. The goal was to reach $2,020 at the event to celebrate the New Year, and the event far exceeded expectations!
The award-winning teen a cappella group performed at Osher Marin JCC in San Rafael on Dec. 29. More than 150 people attended the event to celebrate the current ensemble as well as `Still Dawn, comprised of former members.
Headliners Stevie Greenwell and Erin Honeywell started off the evening. The two sisters are both `Til Dawn alumni, and Stevie taught last spring in Youth in Arts' Arts Unite Us program.
Stevie Greenwell performs with the Thrive Choir and the Jazz Mafia Choral Syndicate. She is the founder and director of the Thrive Community Choir and the artistic director of the Diablo Women's Chorale, and on the faculties of Stanford Jazz Camp and Own the Mic.
Erin Honeywell is an award-winning Bay Area vocalist and songwriter. She plans to release a full album collaboration with her soul band OTIS, as well as more of her original music. She also teaches private voice and chorus at San Domenico school and co-founded Own the Mic, a camp for middle and high school students.
"The SING OUT! offers such a wonderfully unique experience," shares Development Associate, Morgan Schauffler who organized the event. "You get to marvel at the talent of our current 'Til Dawn-ers, and hear them harmonize with former group members, many of whom have gone on to become professional musicians. This year's headliners brought such beautiful honesty and soul to the concert. What a great night!"
The SING OUT! is more than just a scholarship fundraiser – It truly is a family event. Past and present members came from across the country to attend, and most had family members in tow.
Renowned musician Austin Willacy is the longtime director of the group. He performs as a solo artist as well as with his own a cappella group,  The House Jacks.
Thank you to our food and beverage sponsors: Trader Joe's San Rafael and Iron Springs Pub & Brewery , as well as our raffle prize donors: Bananas At Large, Salon Ciera, Johnny's Doughnuts, and State Room Brewery.
Finally, thank you to our wonderful volunteer photographer Garrett Low!
A cappella music filled the Osher Marin JCC on December 27th as 17 current 'Til Dawn members and more than 40 alumni (Still Dawn) took the stage to perform for 140 guests at this year's SING OUT! Alums Matt Herrero and Lilan Kane headlined this year's concert, which raised over $6,000 for 'Til Dawn Scholarships, our biggest most successful SING OUT to date! The event started at 8pm, and 'Til Dawn & Still Dawn were still singing songs from their repertoire at 10:30. What a fun evening!
We were also excited that our generous audience helped us "make to to 2019″ by donating or pledging $2019 in honor of the new year–thank you so much to all who made this possible.
This year, 'Til Dawn alum James Barton designed a "Fillmore-style" concert poster to sell at the event. Thanks to our generous poster sponsors, The Herrero Family and Black Cat Studio for helping us raise more scholarship funds.
Drinks, dessert and raffle proceeds also went to support scholarships. Thank you to our wonderful food and beverage sponsors:
Sophie James Winery
Lagunitas Brewery
YIA Board Treasurer, Tim Distler
Montagne Russe Wines
Marin Kombucha
Trader Joe's
Johnny's Doughnuts
Arizmendi Bakery
United Market
Youth in Arts is able to offer up to 100% scholarship aid to any student who passes the audition process, thanks to generous donors like these. You can still DONATE to support the scholarship fund or text SING to 41444.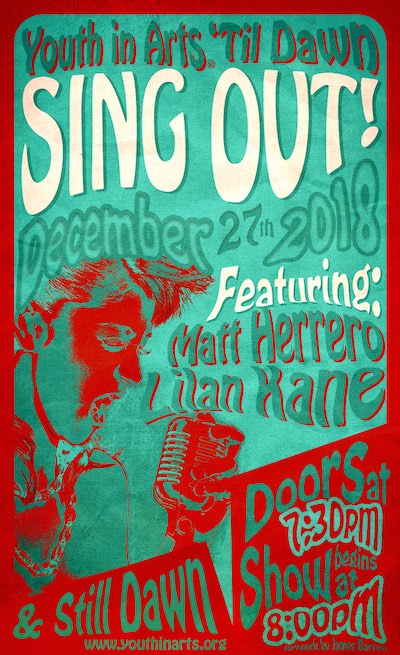 'Til Dawn alum James Barton designed this year's Sing Out! Poster, which will is still available for sale at Youth in Arts! It was unveiled at the 'Til Dawn performance Thursday at the Osher Marin JCC.
Barton, 21, is now a junior at UCLA. He said he created the poster, in shades of turquoise and reds, in the Fillmore style of art, using Photoshop.
"I sort of just went with that style," he said.
Barton was in 'Til Dawn for three years while a high school student at Marin Catholic High School. He now studies molecular biology.
Art "really provides an outlet for creative expression," he said. "Graphic design is definitely one of my passions."
Barton has fond memories of being a part of 'Til Dawn and was happy to help out. The poster was sponsored by the Herrero family and Black Cat Studio.
"I don't think I would have had the high school experience that I had without 'Til Dawn," he said. "It was such a support system."
Current and former 'Til Dawn members performed Thursday at Youth In Arts' Sing Out! at the Osher Marin JCC in San Rafael.
'Til Dawn alumni Matt Herrero is one of the featured performers at Youth In Arts' spectacular Sing Out! event on Thursday — and he's busy polishing several original songs.
Herrero, 23, a multi-instrumentalist composer, creator and performer who spent four years with Youth In Arts' wonderful 'Til Dawn a cappella troupe, now performs professionally. He credits 'Til Dawn with helping to get it all started.
"It was the most musically rigorous group I'd ever been a part of," he said. "It gave me a family outside of high school that I bonded to way more than with anyone else. They taught me how to make music with people."
Herrero, who attended Marin Academy and graduated from Stanford University last year, is a storyteller who is amazing on the acoustic guitar. He said a friend described his music "as if Justin Timberlake wrote campfire songs."
Joining Herrero on stage will be fellow alum Lilan Kane. She'll be playing with her guitarist, James Harman.
Kane, 33, is looking forward to singing jazz and R & B influenced pop tunes.  Kane, a graduate of Novato High and the Berklee College of Music in Boston, credits 'Til Dawn with helping to set her on the path to performing.
"The community that it gave me … came at a time in my life that really saved me," she said.
Being in the troupe also made her want to teach. Many of her former students, she said, are now 'Til Dawn members.
'Til Dawn made up of local high school students in Marin County. They are led by renowned director Austin Willacy. Both current `Til Dawn high school troupe members and alum called "Still Dawn" will perform Thursday.
The show starts at 8 p.m. at the Osher Marin JCC in San Rafael. Tables are $250; Adults are $35 and youth are $25. Tickets can be purchased here.
We had another terrific installment of the `Til Dawn SING OUT! our annual alumni concert and fundraiser at the renowned Sweetwater Music Hall in Mill Valley. Nearly 200 audience members enjoyed two great sets from Happnstance, featuring `Til Dawn alums Sean Simerly and Maria Pougiales-Posey with Danielle Bezalel.
We also had great performances from this year's current `Til Dawn ensemble along with "Still Dawn" our chorus of alumni home for the holidays, singing hits from the `Til Dawn repertoire. All 50+ alumni, including Happnstance, donated their performances, helping us to raise $5,700, even more than we did at last year's event! Thank you! Several alums, including Emily Kibbe, James Barton and our current Student Board Member Rose Myers also spoke from the stage about how much the valued the `Til Dawn experience and Austin Willacy's mentorship.
We were also excited that our generous audience helped us "make to to 2018" by donating or pledging $2018 in honor of the new year–thank you so much to all who made this possible!
We would especially like to thank Entelo for their sponsorship and our `Til Dawn Scholarship Campaign Leadership Circle–David and Janine Simerly, Rick and Suzanne Herrero and Linda Sudduth and Buck Smith.
Youth in Arts is able to offer up to 100% scholarship aid to any student who passes the audition process, thanks to generous donors like these.  If you'd like to make a donation to `Til Dawn to support our scholarship fund and our program in general, you can do that here.
Thanks again to all who made it to this year's event–we look forward to seeing you again soon!
Meanwhile, enjoy this video of alum Sean Simerly and `Til Dawn member Will Salaverry singing "Steal My Kisses" with "Still Dawn" (Thanks, Linda Sudduth for the video!) You can find a few more on our Youth in Arts YouTube channel here.
Our first ever `Til Dawn Sing Out at the Fenix on Sunday, December 29 in San Rafael was a great success, with two performances featuring smiles, laughter and an extraordinary array of vocal talent. The event and related alumni fundraising campaign also brought in nearly $4,000 to benefit Youth in Arts programs for teen artists.
The Sing Out was inspired by Mentor Artist Austin Willacy's experience with The Dartmouth Aires as an undergraduate. Austin wanted to create an annual event that convenes the community of current members and alumni in a way that allows them to connect (or reconnect) with each other and make music.
'Til Dawn's first Sing Out brought together current `Til Dawn students and almost 40 alumni, many of whom are working artists, in town for the winter holidays.
New York-based musical theater composer Drew Gasparini and L.A. vocalist Lily Elise performed sets at both shows. Drew shared an impromptu mix of original compositions and familiar medleys, accompanying himself on guitar and chatting amicably with the audience. As he prepared to launch into one tune with "Here is something you all know…" a young fan in the front row shouted out "The ABC Song!" causing Drew to lead the audience in a sing-along of the alphabetical classic.
Lily performed with accompaniment on guitar by Sean Simerly, another `Til Dawn alum. Demonstrating the powerful vocals and heartfelt style that took her to the finals of NBC's The Voice, she shared beautiful original songs inspired by personal challenges and triumphs.
In addition to donating their performances, alumni artists also helped raise funds for `Til Dawn scholarships and other Youth in Arts teen programs with an online fundraiser leading up to the Sing Out event throughout December and repeated pitches for donations during the show. Speaking of how they had benefitted from `Til Dawn themselves and especially of the value to teens of an amazing mentor like Austin, the group encouraged audiences to support current students with their contributions. The event raised a combined total of $3,900 for Youth in Arts.
Even more impressive, "Still Dawn" was able to perform with only minimal rehearsal hours—testimony to the fact that many `Til Dawn alum are still working artists who sing professionally on a regular basis. Rehearsal was a fun part of the experience, lasting late into the evening with many of the performers seeing each other for the first time in years.
We thank our fabulous alumni artists and current students for all their work in creating the Sing Out and raising funds to support the arts. We look forward to next year!
Scroll down for a gallery of photos by Peter Rodgers from the "Still Dawn" reunion/rehearsal at Youth in Arts.
Click here for video from the Fenix of the Sing Out performances
Click links here for more information about `Til Dawn alumni or the `Til Dawn a cappella program