Concluding an Arts Unite Us residency at Magnolia Park School, Youth in Arts Mentor Artist Julia James and her students used their last day together to finish a collaborative painting they had been working on for over six weeks. The project began early on in the residency as students experimented with various tools and materials. Over the ten-week program, oil pastels, tempera paint, watercolors, rollers and different tools were used to make new textures and colors.
The first few layers of the painting demonstrated some of the early skill-building that students participated in. As we learned more about what materials were available and how to use them, we built upon our initial work using adaptive mark-making tools. Each week we practiced fine a gross-motor movement and built fine arts skills in color mixing, paint application, and decision-making.
On the last day of class, we gathered together to reflect on the artwork and come up with a title based on what we saw in our painting. We discussed the colors we had chosen, and thought collectively about what our artwork made us think about, and how it made us feel. During our conversation and throughout the residency, we worked on building our social emotional core competencies by exercising our sharing, listening, decision-making and collaboration skills.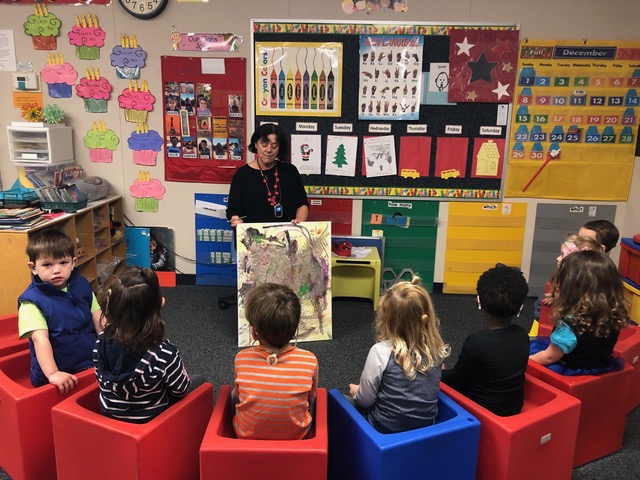 Together, we decided that our classroom painting would be called, "The Story of the Leaf". Can you see it too?
This program was made possible thanks to the generous support of our partners.
Youth in Art's Mentor Artist, Risa Dye lead creative movement with the students at the Early Childhood Intervention Center at Marindale School in a ten week residency as part of the Arts Unite Us Program.
In this residency, we started with the basic structure of the brain dance created by Anne Green Gilbert through songs and movement. As Risa got more familiar with the children, she adapted her program to fit their needs and applied her creative and theatrical touches.  Risa loosely explored dance concepts such as speed, levels and size through playful movement guiding songs. As the ten weeks progressed, the students became more and more familiar with her structure and expectations. They gained more ownership over the movement and everyone became more able to play within the structure of the songs.
Students at Novato High School and Sinaloa Middle School explored issues of identity and representation through mask making during 10-week residencies with Mentor Artist Cathy Bowman.
We began by painting glue onto a plastic mold taped to a piece of mat board, being careful to work to the edges. Then we chose scraps of tissue paper is colors that spoke to us. Some students chose a single color, while others preferred to use several colors. Every piece of tissue paper we touched, we had to tear.
We pressed the tissue paper onto the masks and added another layer of glue then let them dry. The following week we used metallic Sharpies. For this lesson we referred back to a project we did at the beginning, where we transformed five words about ourselves into different lines.  We used those lines as inspiration, repeating them on the masks.
By Mentor Artist Cathy Bowman
For the past year, Oak Hill students have been exploring painting and sculpture. We ended the year with a student exhibit that featured several exciting projects. The display featured masks, paintings, drawings and two collaborative works based on the number paintings of artist Jasper Johns. It was important for students to get a chance to survey their own work as well as the art made by their friends. It was hard not to touch the art!
One of the projects the students liked best was using tape to separate space on pieces of canvas. The artists applied oil pastels and paint; once dry, they removed the tape. Some students enjoyed pulling off the tape more than painting! There were surprises of color and lines everywhere, and decisions to be made about whether to leave parts of the canvas bare. We finished off the project by using letter stencils. The artists were very creative and used the stencils randomly, rather than spelling out recognizable words or names.
Another popular project was making sculptures based on the work of Alberto Giacometti. Students began by making wire forms and then covering them with foil and clay. Once the clay dried, the sculptures were painted. Some students made human forms while others created animals.
by Mentor Artist Cathy Bowman
During a 10-week residency at Rancho Elementary School, third graders wrote and illustrated their own comic books. Students started by developing two characters and drawing them from different angles. What were the characters' strengths and challenges? What did they like to eat? We talked a lot about how artists need to understand what makes their characters tick. The students used their characters to develop short stories, revising at least once (not popular, but an important step!) We explored how comic book artists have to decide what to draw as well as what not to draw, and how to show movement, emotion and action. They also learned the importance of making speech bubbles clear and legible. Students practiced drawing far away shots to set a scene, and closeups to show emotions. Along the way, there were a lot of good questions: How do you draw a donut sideways?  How do you make characters look each other in the eye when they are talking? Why do cartoon characters only have four fingers?
Once the comic books were drawn, students used Micron pens to do the final inking – deciding which lines to keep and which ones to erase. The Micron pens were fun to use because students could experiment with using heavy lines for the foreground, and lighter lines for the background. For the final event, students went on a gallery walk, offering feedback to their classmates on post-it notes.
by YIA Mentor Artist Cynthia Pepper
What a wonderful day we had with the Terra Linda Special Day Classes led by Rachel and Abby. We had 9 adults assisting the 12 students on the final sharing day of my residency last week. I thought it would be nice to start our day off with a warm up to Bob Marley. The man! He cuts to the chase with his lyrics of "Is it love?". It must be love because everyone was smiling while we moved all our bodies in unison to get ready for the big dance called KUKU. It is from Guinea West Africa and it involves fishing with nets, sharing our catch, becoming fishes and having a full on party at the end. The African based cultural dance day eased in with our sharing of energy around the room both in clockwise and counter clockwise directions. We cleaned up the day with Keb Mo and Michael Jackson and my all time favorite get funky dance song "Green Onions" by Booker T. and The M.G.'s. It just takes it away. The paras and the aides all danced a solo in the middle of the room which they all accomplished with flair. Each wheelchair got a pirouette opportunity and the students crushed it with smiles. I love sharing with so many students the joy of movement and music. It seems like it keeps getting better the more we do it. Each time feels better than the next.
Thank you Abby and Rachel for always being so ready to rock. And thank you to our very generous supporters: 
Students at the Short School in San Rafael experimented with paint, paper and various materials as part of a grant from the Kennedy Center. Using a lesson plan titled "Motivated to Create … HARMONY," Mentor Artist Cathy Bowman helped students translate jazz into paint.
The purpose of the lesson was to give students the experience of drawing on the inspiration of sounds as a foundation for their art. Working individually and in pairs, they listened to excerpts from "West Side Story" by composer and conductor Leonard Bernstein. Key vocabulary artists reviewed included "harmony," "tone" and "abstract."  Using tempera paint, paper and canvas they listened, and painted what they heard. We considered how sound affects our feelings. Students were given an array of materials to use, including toothbrushes, corks, rollers, plastic packing material and forks. They practiced making marks, covering marks and making more marks. Working together was a good lesson in collaboration and respect … Is it ok to cover another artists' marks?
Working in pairs allowed students to create multiple layers of color.
In the final session artists were given an 18 by 24 inch canvas. They tore up their smaller works on paper and reassembled the pieces into a collage on the canvas. They applied more paint and color while listening to music. Working outside for the final painting freed the young artists to move in ways that can't happen in a carpeted classroom. 
The last artist to work on the painting added a tiny touch of black, noting that she was thinking about her favorite fruit – blackberries. Can you find her mark?
This VSA program is provided in 2017-2018 under a contract with the John F. Kennedy Center for the Performing Arts. This program is also supported by the Buck Family Foundation and Marin Charitable.
Inspired by the paintings of artist Jasper Johns, students at Oak Hill school created their own numerical works of art. Using large stencils made by Mentor Artist Cathy Bowman, they traced numbers 0 through 9. Nearly 30 students worked on the collaborative project. Some created a single number, while others made several. In the end there were 70 numbers – 7 sets of 0 through 9.
Students enjoyed working with a familiar subject matter, and the straight and curved sides of the stencils gave them a solid framework for drawing. Once the numbers were stenciled onto watercolor paper, they used oil pastels and watercolors to explore pattern, color and shape. They were encouraged to look at the entire page and decide where to apply the pastel, knowing that the pastel would "resist" the watercolor that came later. Some students worked entirely with pastels, giving their numbers bright, bold lines and shapes. Others used mostly paint, preferring to create numbers with soft edges. The project was a wonderful opportunity for young artists to experiment with unfamiliar materials, including water-soluble graphite. For some, it was a chance to practice touching and using pastels that were freed long ago from their paper sleeves. The pebbled surface of the heavy watercolor paper was a satisfying  and sturdy surface on which to create. The project was also a chance for artists to practice thoughtful watercolor techniques and gentle brush motion.
When the paintings were finished, we looked at the stencils. After being handled, touched and scribbled on by numerous students, the stencils had become works of art. With each mark and splotch of paint that remained, the numbers told a story far beyond what ended up on paper.
Thank you to the following for helping to make this program happen:
(By Paris Dowd, intern. This was her first attempt at designing an art lesson for the classrooms. It was a huge success!)
"This week we introduced the TK and kindergarteners at Laurel Dell to oil pastels. The kids worked together in groups, sharing the paper and the materials (including the pastels, baby oil and sponges for blending and sticks for scratching a drawing on the surface of the color). The goal was to color the large pieces of paper covering the tables while learning to blend and experiment using the new medium. Students were given shades of green, yellow, blue and white pastels to work with and asked to create as many new colors as possible.
After working in this way with the pastels, I observed a few of the kids switching to using colored pencils to draw and scribble with overlapping lines in their personal art journals.  It seemed that the kids were excited to continue exploring blending techniques across a range of mediums."
(Paris is an intern working with the students at Laurel Dell to create process books using the Making Learning Visible (MLV) technique out of Harvard School of Education's Project Zero. Each week Paris shows students pictures of themselves at work, and asks them to reflect on their art: what they learned, how they helped others, what was challenging, and more. MLV makes reflecting, writing, speaking, and collaborating so easy for even the youngest learners.)
We created the paths for our playgrounds, we created our clients, now it's time to build! Transitional K and kindergarteners are learning to take paper from 2 dimensions to three as they imagine and create beautiful playgrounds using strips of paper, scissors and glue.
We finished the day by combining playgrounds so that students and their tiny friends could play together and share their creations. Students also continued to share their thoughts with Paris, who added them to our process books–Making Learning Visible.
Older Entries »