by YIA Mentor Artist Suraya Keating
As I entered Ms. Peter's class for the first time, I am struck by the friendliness of the staff, the relaxed atmosphere of the classroom, the authenticity of the students.  Each of Ms. Peter's six students at Redwood High has a special need of some sort, as well as many special gifts.  It is my role, as a teaching artist with these students, to bring out their special gifts – to identify and nourish whatever talent, potentials and joys each student possesses.  Whether working in a mainstream classroom or a special need classroom, this is no easy task.  I take this challenge quite seriously , and with hope in my heart that in the time we have allotted to work together, each student will be able recognized for his/her gifts and contributions.
While I have been hired to teach a theater residency, classroom teacher Ms. Peter is very flexible, and gives me space to teach in whatever way most creates a bridge with the students.  As the first few weeks go by, I notice that 4 or the 6 students are mostly non-verbal.  While they seem to enjoy simple theater warm-ups, my repertoire of activities that I often use in special needs classes is not landing in the way I am accustomed to.  Knowing that flexibility is key to effective teaching, I realize it is time to change direction.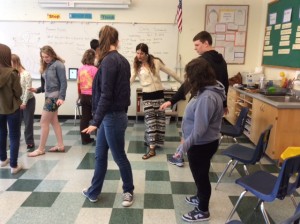 I have noticed that ALL 6 of the 6 students share one thing in common: a love of music and movement.  Whenever I use music in our warm-ups, smiles arise on their faces, and I realize something important has happened: I have found a bridge.  About a month into the residency, with the support of the classroom teacher, I shift from focusing on theater to focusing on dance and movement.   As we explore dance for the next few months, I see each student come alive in different ways.  "Sara" gets her groove on with upbeat music, and adores being the leader in pairs' mirror dances.  "Calvin" loves shouting out and practicing whatever dance principles we are working on during a particular day, such as "big vs. small movements," "sustained vs. staccato movements" or "straight vs. twisted shapes."
As is the case with VSA residencies this year, at some point a group of about 10 mainstream students (this time from Mr. Berkowitz's drama class) join the dance program.  Integrating the mainstream students into class seems to inspire everyone: the students with special needs and the mainstream students get to explore various dance principles in duos, in small groups, and in the large group.  When the music comes on and students are invited to explore moving in straight or zig zag lines, or with slow or fast tempos, and in many other ways, I see smiles come to their faces as they explore how their own bodies move, as well as how they move in connection to others.  Students are mutually supporting one another, acknowledging each others' strengths, and supporting one another when there is a challenge.  I feel grateful to work among students who at a young age seem already so capable of doing with one another what I aspire to do with each of them: to bring out and celebrate each other's gifts.
by YIA Mentor Artist Suraya Keating
"By My Side." The original show created by students in Mr. Lovejoy's class at Tam High feels appropriately titled.  The show is about several characters taking a journey – a journey that is taken both alone and together.    I am reminded that the creation of this show itself has been a journey – a journey that has been unique to each individual in our group, and at the same time a shared experience.  Who we have had "by our sides" in this journey has fundamentally shaped our experience the journey itself.  If you have ever gone on a road trip with someone whom you didn't know very well, then you may know what I am talking about when I say that who you have by your side can completely change your experience!
In working as one of the drama facilitators, along with Melissa Briggs, at Tam High this year, I am grateful to share that the amount of support and encouragement given to each of the students in Mr. Lovejoy's Special Day Class has been outstanding, AND the students themselves have consistently showed up for each other in a way that has supported each other's experience.  It is no small task – the act of creating a show from nothing – with students of varying special needs as well as mainstream students working together – while co-facilitating the drama program with another instructor.  And yet, the atmosphere of support, trust and absolute belief in one another made the experience at Tam High one which flowed almost effortlessly.
The lesson that I take from this is an important one:  when we surround ourselves with people who believe in us, who positively support and encourage us – when we choose to have those people "by our side" – anything is possible.  My wish is that all young children, teens and people of all ages receive this kind of support in their lives!
 by YIA Mentor Artist Suraya Keating
"Who is this story about?" I ask the students in my theater arts class for youth with special needs at the College of Marin.
"A unicorn," shouts out one student eagerly.
"How does the unicorn feel when the story begins?"  I add this prompt question, engaging the students in a story gathering approach.
"Sad.  The unicorn feels sad," another student from the group pronounces.
"And why does the unicorn feel sad?" I ask.
"The unicorn is sad because she's dying," another student adds.
"So, our story is about a unicorn who is dying, and who feels sad at the start of the story.  What does the unicorn want most of all as this story begins?"  I prompt the students with yet another question.
"The unicorn wants to be with her friends. She wants her friends around her when she dies," shares a different student.
I continue in this way, asking question after question to this group of 15 young adults, being mindful to gather and integrate the responses of all of them.  After 30 or so more questions, we finally have our first sketch of a group-created story.  The group chooses the following title for their collaborative story: "The Last Unicorn."  We then add in characters and refine plots points as needed, and everyone states their preferences as to which roles they would like to play.  There is room for everyone: actors, dancers, singers, visual artists, etc., with each student getting to choose her/his preferred method of participating.
I am struck by the existential themes of the story these young adults have created: life and death, the importance of surrounding ourselves with those we love, friendship and supporting one another through good times and bad.  After all roles have been cast (with students selecting their parts), we rehearse the show for the remainder of the residency. During each session, the students reflect on how they brought their best to the rehearsal process, how they faced any challenges, and how they supported one another.   The rehearsing of the show itself, as well as the final product, was ultimately about friendship and support and doing our best.
On the day of the performance, I sense the buzz and excitement in the air.  Family and friends gather to watch these young adults perform their story, woven together by the spirit of friendship and collaboration.  And as the "last unicorn" walks through a magic door and into a land full of her unicorn friends, I can't help but think of all of these students walking through a metaphorical magic door into a place where they are supported to grow and thrive.  I then realize that I too, in working with these heartfelt and talented young adults, have walked through my own magic door, and into a land where I feel supported – where I have gotten to really be myself and thrive.  And I can't help but smiling as I take away with me this unexpected gift.
Spring is bouncing into summer and hundreds of young artists around the North Bay are finishing class projects and creating exhibits, performances and other artful events for family and friends with Youth in Arts.
Recent posts have highlighted Spring projects by K-Dub Williams' students at Marina Middle School and Angela Baker's students at Harding Elementary, in addition to the amazing work created by Suzanne Joyal's kindergarteners at Loma Verde as part of the Walker Rezaian Creative HeArts program. Youth in Arts also produced a special "Passport Art Event" at Harding, and Nydia Gonzalez and Shawna Alapa'i concluding performing arts residencies at Ocean View Elementary in Albany and Sonoma Mountain Elementary.
In late May, Arts Unite Us "collaborative residency" projects at Harding and at Tam High School in Mill Valley wrapped up with terrific performances by all the students. Collaborative residencies bring together special education and general education students for shared arts experiences. At Harding, students wrote, directed and performed an original play "Lydia and the Land of Gee-Jo" around themes of Pollution, Bullying, Self Acceptance, New Beauty Standards and Taking Care of Each Other.  At Tam High , the original pilot site for the collaborative residency program, students from the Special Day Class and advanced Conservatory Theatre Ensemble worked with Mentor Artists Suraya Keating and Melissa Briggs to write and perform their original play, "By my Side," which opened the school's popular One Acts Festival.
Tommy Shepherd's students at Wade Thomas put an exclamation mark on their rap and beatboxing residency with a performance of their original rap for their peers at school, and Kaitlin McGaw's kindergarteners at Bahia Vista will soon perform a vocal music and hip hop show for their fourth grade buddies.
At Laurel Dell in San Rafael, Djenane Saint-Juste has been teaching students Caribbean dance around the theme of Kanaval (Carnivale), using costume pieces the students created this Fall with visual artist Gabby Gamboa. The students will perform in a grand parade with family and friends at the school's big Fiesta del Sol event this weekend. And at Mary Silveira, Mentor Artist Julia James finished a successful year with a big art show featuring work by all her K-4 students in the program.
Youth in Arts award-winning `Til Dawn a cappella ensemble performed their annual Spring Concert at San
Domenico Hall of the Arts this past weekend–a big congratulations to all the performers for a wonderful show and a special shout out to our graduating seniors. We will miss you!
Also at San Domenico, Youth in Arts workshopped a new performance of "Goodnight Gorilla" on May 23 with music by Dee Spencer performed by a terrific band of Bay Area music educators and musicians who are working with us to develop the work into an educational performance piece for youth jazz bands.
You can see it's been a very busy Spring, full of fabulous art and fabulous young artists. Watch this blog for more detailed reports on many of these projects in the weeks ahead and get ready to celebrate summer with Youth in Arts! Come see `Til Dawn at Youth in Arts night with the Pacifics, visit our Everything Under the Sun YIA Gallery exhibit, sign up for a unique summer camp program, check out the Mountain Play and benefit Youth in Arts with your ticket purchase, or join us for our gala Summer Solstice celebration at Studio 333 on June 21. We'd love to see you in person and share our work with you. Happy summer!
San Ramon Elementary School, "Arts Unite Us"
Spring 2013
Youth-in-Arts
Teaching Artist: Suraya Keating
How can we create a world where we learn to enjoy our similarities and our differences?  Where we can use imagination to work out conflicts and different ways of being?  These are the questions that catalyzed my residency experience at San Ramon Elementary School, where students from three 4th grade mainstream classes joined forces with students from Mrs. Lake's 3-5th grade special needs class to learn skills of drama, and to put on a mini-performance of their work together.   In 7 action-packed drama classes, students worked collaboratively as they developed skills of acting and ensemble work, including: group pantomimes, creating tableaus, and using their voices and bodies in expressive ways to communicate a story.  They then combined these skills to act out three different modified versions of a traditional African folktale, "The Laughing River."
At its core, "The Laughing River" is folktale which invites us to contemplate how to live in the world with all of our differences in such a way that we can all not only get along, but THRIVE.  It also invited the students to contemplate the question:  how can we effectively resolve conflict when we have differing preferences and needs?  In watching the students in the three groups that I directed at San Ramon School, I loved observing how the students in each group used their imagination to come up with a multitude of ways to solve the particular conflict in their version of the story.  For example, in one version of "The Laughing River," one group of people became upset because another group was cutting down too many trees to make wooden drums.  How can this conflict be solved?  Students came up with a variety of imaginative and peaceful ways to resolve this.  Below is an excerpt of what they said:
How about if the people who want to make drums only cut down dead trees?
How about if we get half the trees and you get half the trees?
How about if the people who make drums find a different material to make their drums so that the trees can live?
Listening to students come up with their own ideas about how to solve conflict made my heart smile.  What also made me smile was to observe how the students listened to one another – taking in each other's ideas and considering them rather than throwing them away.  In our short time together, it felt to me that students truly became an ENSEMBLE, with everyone wanting the best for everyone else.
Thanks to the students and teachers at San Ramon Elementary for their wonderful work! And thanks to the generous contributions that support the Arts Unite Us program from The Lester Foundation, The Green Foundation, The Marin Community Foundation and Marin Charitable.
The students in Ms. Stuart's class f
or 3-5th grade students with special needs have something in common: they love to play.  What is it about play that makes it such a powerful learning tool for youth? In my theatre residency at Vallecito, they have exercised their ability to play well while cultivating imagination, focus skills, body and vocal expressiveness, and the ability to work together as a team.
At the start of our 10 week residency, Ms. Stuart's students were very enthusiasti
c about drama, and eagerly "played" with each other using theatre games such as move and freeze, pantomime and the group mirror game.  Students moved as their favorite animals, portraying cats, dolphins, birds, elephants and others, and then told and acted out stories about these animals.  They told stories of animals who wanted to make friends, animals who needed help, animals who were happy, and animals who loved their families.
By the middle of the residency, after students had some practice with storytelling, we chose puppetry as a way to deepen their storytelling and story enactment skills.  Each of the youth created his/her own puppet that embodied an animal or a hero/heroine that he/she wanted to portray.  Puppet interviews followed, and during these interviews we learned lots about these puppet characters!  For example, one student, Carl, created a puppet with a magic eye that could see into the minds of all creatures.  Another student, Amber, created a bird puppet with many wings that could fly animals who were hurt to any hospital in the world so that they could get help.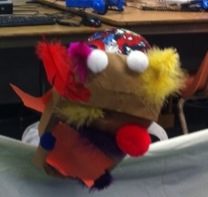 In the end of the residency, students playfully enacted scenes with their puppets.  As so often happens, these scenes were full of real-life themes and lessons.  In one of those scenes, an elephant puppet named Ray was sad that his friends had left town, and asked for help from a monkey puppet named Chris.  The monkey puppet offered to help cheer Ray up by sharing his snack and inviting him to play a game of catch.  In the puppet world, as in the human world, the power of play to help us solve problems is an invaluable tool.  It is certainly a tool used and cherished by the youth I worked with at Vallecito, and a tool whose value will continue with every new child born on our planet.  Thanks to the youth who remind us about the power of play!
YIA Mentor Artist: Suraya Keating
Theatre Arts Residency Spring 2013