More than 70 teachers, students, parents, and community members came out to celebrate the opening of the INSPIRE teaching artists exhibition at the YIA gallery on Friday, December 14th. The event, held as part of Downtown San Rafael's Second Fridays Art Walk, celebrated artwork from 25 teaching artists throughout Marin County. The reception offered a rare opportunity for the featured artists to catch-up and share tricks of the trade. Their lively conversation, and vibrant artwork certainly brightened up the rainy evening. Thank you teaching artists for all you do!
FEATURED ARTISTS
Barry Beach, Marin Academy
Deb Bennett, 
Jessica's Haven
Katy Bernheim, 
Terra Linda High School
Cathy Bowman, 
Laurel Dell Elementary 
Beth Cederstrom, 
Sir Francis Drake High School
Martha Cederstrom, 
Sir Francis Drake High School
Gray Douglas, 
Tamalpais High School
Tracy Eastman, 
Cascade Canyon
Zach Gilmour, 
Tamalpais High School
Jill Hoefgen, 
DrawBridge
Julia James, 
Coleman Elementary
 &
 Cascade Canyon
Suzanne Joyal, 
Laurel Dell Elementary
Jackie La Lanne, 
Mill Valley School District
Liz Lauter, 
Redwood High School
Barbara Libby-Steinmann, 
Bacich Elementary
Jennifer Lipson, 
Saint Patrick School
 & 
Saint Anselm School
Taylor Mancini, 
Marin School for the Arts
Katya McCulloch, 
Marin Oaks 
&
 Loma Alta
Marty Meade, 
Compass Academy
Michele Montgomery, 
Kent Middle School
El Moody [Louis Murillo], 
Loma Alta
Cynthia Pepper, 
San Francisco Ballet
Josh Powell, 
James B. Davidson Middle School
Laurie Reemsnyder, 
Marin Catholic High School
Carina Ybarra, 
San Domenico School
Last year I wrote a blog suggesting that students' behaviors should whenever possible be seen as an attempt to communicate. I encouraged my fellow teaching artists to:
1. Find the hidden messages in "behaviors" or "breakdowns"
Those of us that work with special needs students are very familiar with behaviors or breakdowns.  Initially the crying, repetitive gestures and outbursts from these students may seem random, but they rarely are.  These students have no way of saying "I don't like this song," or "The volume is too high." Ask yourself:
What activity preceded the outburst?
Has this happened before?
What did you or the classroom staff do that calmed the student?
When does this student seem most content?
Sometimes there are even messages in the sounds and words said while in the midst of a tantrum.  One of my students "J" threw a tantrum in one of my classes, and after close listening, I realized that he was yelling, "e-i-e-i-o." He wanted to sing Old MacDonald but didn't have the vocabulary to express it.  So we sang Old MacDonald and he was immediately calmed.
 2. "Read" your audience.
A  great many skills we develop as performers are transferable to teaching special needs students.  One such skill is being able to "read" your audience.  After a while we instinctively know when to slow down, speed up or drop a section completely.  The same goes for working with students.
If you find your students engaged in a song, repeat it.  This populations thrives on repetition, and those with language processing delays will have an opportunity to learn your material.  On the other hand, if the class is losing focus or individuals are starting to show behaviors, find a quick stopping place and move on.  It takes patience and flexibility to work with special needs kids, and sometimes no matter how wonderful your lesson plan is, you may have to make a quick change.
3. Your greatest resource: The classroom teacher
The special day class teachers are an amazing group of individuals who know their students extremely well. Ask them for advice and listen to them when they make suggestions.
This year I have been considering the difficult situation when I realize what a student is trying to communicate and I have to decide to honor the request or continue with the class.  For instance, if a student breaks down in the middle of a song, is it best to stop the song or continue in the hopes that ignoring the behavior will not reinforce it.  The simplest answer I have come up with is to look to the classroom teacher for advice, but I am realizing that being a teaching artist with the same children over several years and sometimes through several classrooms can help in this situation.  We are in the unique situation of knowing students on a very deep level and can plan and react accordingly sometimes even surprising the classroom teachers. There was a specific instance where we were singing a song, and one fo the students was obviously not enjoying the experience. The classroom teacher and I looked at each other considering what to do.  I shared that in the past if I get to the next verse, this child usually calmed down.  We tried it, and it worked!
YIA Mentor Artist Hannah Dworkin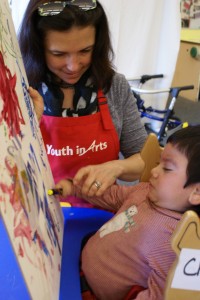 Youth in Arts is offering three professional-level apprenticeships for young artists who would like to gain experience as a teaching artist and work as an apprentice.  Apprentices must be enrolled in college or an equivalent educational program, have a documented disability and be of ages 18-25.
Apprentices will assist Mentor Artists (some of whom are also individuals with disabilities) in teaching dance, theater or visual art through "Arts Unite Us," an innovative project at Harding Elementary in El Cerrito, California,  that brings K-5 students with and without disabilities together to create original art side-by-side.
"Arts Unite Us" Apprentices will have a unique opportunity to acquire direct experience teaching the arts, while also serving as role models for children participating in the Harding project.  Apprentices will also attend workshops in classroom management, arts teaching techniques, working with learners of all abilities, documenting student learning in the arts and developing a professional portfolio.
The project will take place from February to August of 2012.
We are offering 3 apprenticeship positions in Dance and Theater.  These apprenticeships are offered by Youth in Arts through the Rosemary Kennedy Internship Initiative. A stipend will be provided for each apprentice selected for the program.
Application Deadline: April 5th, 2012
Qualifications:
Performing artists, active in the arts field.
Enrolled in college or an equivalent educational program; or an artistic training program.
Have a documented disability.
18-25 years of age.
Available to attend professional development workshops and teach during some school days.
If you would like to apply for this apprenticeship, you may do so by filling out our online form.
Contact: Nydia Gonzalez at ngonzalez@youthinarts.org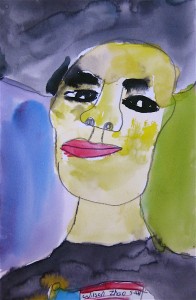 Please click on the link below to listen to Eric Booth, the Nation's leading thought leader on teaching artistry……
This year in the Sausalito Marin City School District the arts specialists have been thinking about their roles, and what their goals are in the classroom.
Below are some important connections the teaching artists in the District are nurturing in the classrooms:
1. Artists make spontaneous and deliberate (planned out) decisions.
2. Artists learn and develop their work by addressing challenges as they arise.
3. Artists develop works of art through meaningful experiences with materials.
4. Artists thrive in a community that accepts risks and values multiple approaches.
5. Artists work responsively, not necessarily efficiently, often working on a project over a long period of time.
6. Artists use ideas as material.
7. Artists look at art and listen to music.
Reflection is an important time to look, learn, and discuss
Crafting strong Essential Questions is important to the teaching practice
Students are given t i m e to explore & experiment with materials
Creating an environment of wonderment is key