"Arts Unite Us" is a special initiative at Youth in Arts t
hat brings students from Special Day classrooms and their General Ed peers to learn and create art together.  "Arts Unite Us" was first envisioned in 2008 by VSA Director Nydia Gonzalez, as a way to bridge gaps in understanding and interaction between students of different abilities and combat the isolation that many of them feel on their school campuses.  Youth in Arts has been developing the idea ever since, creating pilot projects that provide amazing opportunities for young people to learn about each other and work together like never before!
This year, "Arts Unite Us" classes are in full gear at Tam High, Terra Linda High,
Redwood High and San Ramon Elementary.  Students from Special Day Classrooms are working together with their peers from General Education classrooms, learning art and performing together.  The first culminating event from this year's classes will be held at Tam High School, where students from Mr. Lovejoy's Special Day Class and Ben Cleaveland's Conservatory Theater Ensemble have been working with YIA Mentor Artist Melissa Briggs in Theater. They will be performing their original play "Camping Out in Nature with Friends and Family and Animals" on Friday, May 17th and Saturday, May 18th as part of the Spring One Act Festival.
Students at Terra Linda High have been learning Samba Reggae with Mentor Artists Stephanie Bastos and Nydia Gonzalez and will hold a celebratory presentation dance/party during lunch time on June 4th.  At Redwood High School, students working with YIA Mentor Artist William Rossell will perform their original percussive composition, opening for the Advanced Performance Workshop Concert on May 29th at 7PM.  At San Ramon Elementary, students from Gen Ed and SDC classrooms have been working together with YIA Mentor Artist Suraya Keating, working on their interpretation of a folktale, "The Laughing River", focusing on Community and Inclusion.
Youth in Arts has raised the funds to provide these programs in our community from a mix of institutional and individual donors.  We thank the Green Foundation, Marin Community Foundation, Kenneth A. Lester Family Foundation, Macy's and Target for their generous support of this program, as well as our many individual community supporters. If you have any questions about this program, or would would like to support programs such as this one, please contact Nydia Gonzalez at ngonzalez@youthinarts.org
If you happen to be walking down the halls of Terra Linda High School on a Thursday morning, you may hear loud squeals of excitement, the beat of a cajón and a melodic song of "Eu Sou Samba Reggae!".  These are the sounds emitting from Rachel Hughes' MCOE Special Day Class at Terra Linda High School, where YIA Mentor Artists Stephanie Bastos and I, Nydia Gonzalez are teaching a Latin Dance class.
Students have been working on gross motor skills and collaboration through moving in unison, learning choreography, improvising, leading and many other exercises.  During a typical class students go through a series of warm-up activities including the Brain Dance (Anne Green Gilbert, 2000); each individual creates a name pose for themselves; we review learned steps and choreography; learn new material; and then improvise in a Samba Reggae carnival type procession!
The focus of our dancing has been on Brazilian Folk dances including Samba and Samba Reggae, and students are very eager to show off their knowledge of the geography, language and dances of Brazil!  YIA Mentor Artist Stephanie Bastos has extensive dance training,
studying with Masters of Brazilian Dance and Folklore in The Bay Area and in Brazil, and holds her BFA in Dance from University of Florida. She teaches youth a variety of dance forms including Afro-Brazilian, Hip-Hop and Contemporary dance.
Stephanie speaks English, Spanish and Portuguese, and despite having lost a limb in a car accident, she has performed with highly recognized dance companies in Florida and the Bay Area, inspiring people of all abilities.
I have trained in various forms of  Dance and Music, and have been providing live percussive music (cajón) during sessions.  I am so excited and feel privileged to continue to work with this fun, energetic and loving class; a continuation of teaching them Latin Dance in 2011, co-teaching with William Rossell to teach Middle Eastern Music and Dance in 2012, and now co-teaching with Stephanie in 2013.
"I particularly love watching my students creativity flow and develop. When the music comes on, I see a whole different side to my students. They are able to break out of their shells and just dance! Stephanie and Nydia bring a positive and energetic energy into the classroom. Learning a new dance and language expands my students knowledge of themselves and the world!"

MCOE Special Day Class Teacher, Rachel Hughes
This year, our neighboring classroom will not only bounce to the beats that they hear through the walls, but, they are joining our Arts Unite Us program, which means that after a few more weeks of working in the Special Day Class, we will be inviting the whole class of mainstream peers from Peggy Koorhan's Spanish class next door to join us.  We are all very excited to learn together!  Stay tuned for an update in a few months!
YIA Program Director, and Mentor Artist, Nydia Algazzali Gonzalez
If you walk down the halls of Terra Linda High school on a Tuesday morning, you may just hear the sounds of a Tabla, Doumbek, shakers and tamborines playing joyful beats accompanied by the gleeful cheers of students in Rachel Hughes Special Day Class.  YIA Mentor Artists William Rossel and Nydia Gonzalez have been working with students for 10 weeks, practicing a variety of basic rhythms and swaying movements which they will present for attending family and friends in a few weeks.
Every student in this class has enjoyed the activities, finding the one that brings them the most joy:
Gihea rocks out to the beat with her upbeat movements, waving her scarves and showing off her moves.
Brian loves to dance with the "friend of the day" (usually a soft stuffy that Nydia brings in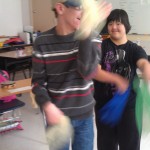 to assist with engagement and focus), and his twin brother Neil loves to play percussion instruments on the peripheral of the classroom.
Maria eagerly awaits the moment in which she can sway her hips to the rhythms in a fluid movement while waving the scarves and smiling.
Demelza always insists she is too shy to do her "solo", but ends up breaking out her special choreography that usually includes some serious hip shaking and the "genie" move, named by a classmate from last year.
Savannah loves to play along to the beat and when she does her solo dance, she smiles and giggles with contagious joy.
Graham, has limited fine motor skills, but always waves his arms in rhythm and shares the biggest smile when it is his turn to shine.
Alessandra absolutely LOVES to help us keep count of the rhythms and her signature dance move is a spin.
Needless to say, we have a blast playing music and dancing with this talented and enthusiastic group of students.  Thank you to the teacher Rachel Hughes and all of the para-educators and aides who are so loving, supportive and willing to get down with our groves at Terra Linda High School!!
[nggallery id=19]