By Mentor Artist Margaret Hee
Attending Davidson Middle was not easy for me. I moved to CA at age twelve after my parent's divorce and became caught up with a rebellious crowd. The summer after my 7th grade year my mother stuck me in theatre camp and it quite literally saved me. This past year (a good 17 years later) when Youth in Arts reached out to me about teaching theatre at Davidson I jumped on the opportunity. I hoped that if theatre helped me in my pre teen years, certainly it could help some other young creative minds at Davidson Middle School.
A lot has changed since I attended Davidson: it is a much safer environment with a plethora of resources. I had the opportunity to teach 180 ELD students across 5 classes 3 days a week and what I came to realize is that students really want to be heard. My initial approach was to teach theatre in the way I know best: with warm up, games, generative theatre exercises and rehearsal. Within a week it became clear that the students were not remotely interested in what I was offering. Given that they did not know me and I did not know them, I began having group conversations focused on their interests and concerns. Many of the students felt a lot of pressure in their academic classes and relished the opportunity to simply "free draw" or voice their opinions about what was happening in the world.
Instead of forcing self conscious students  to act in from of one another, we created stories and utilized shadow puppets as a mode of performance. They all responded to visual art, so with the help of Suzanne Joyal the students created their own individual Italian Street Paintings inspired by the prompt "We Dream of a World". As noted before I led several group discussions and from these I compiled a group narrative monologue and then taught the students how to do voice-over recording to document the piece.
The highlight of the semester was when I brought a group of students from Redwood High School to present a production I had directed them in. Following the performance the Redwood students played games with the Davidson students and taught them movement exercises and stage combat.
This was ultimately the most challenging teaching experience I have had, but rewarding on many levels. Upon reflection at the end of the semester the students commented the following:
What brought us joy
I enjoyed everything we did. Love you Ms. Margaret!
I enjoyed the Italian Street Painting
I enjoyed the Redwood High School students and the teachers
The movies we watched
The theatre games!
Taking pictures with the cameras
Using shadow puppets
Having some freedom!
Making a poster using magazines
Working on projects with friends
Meeting new people
What we learned
Art can make you happy
How to tell stories through creativity
How to not be shy
I learned how to be responsible, respectful and most importantly to laugh!
I learned about foreshadowing
How to take photos and how to edit
How to create shadow puppets. That was fun!
Picture is texture
I learned how to communicate with others
I learned cooperation, friendship and being respectful
How to take pictures from different angles
I learned about balance in pictures
I learned that we should all have equal rights
I learned about different light and shade in pictures
Art!
To be creative
How to play the game BANG
This year I learned that you should treat others the way you want to be treated because it does not feel good when people say bad things to you
Since Youth in Arts completed our new strategic plan this spring, we wanted to properly introduce our Mentor Artists to our more in-depth model, and to each other.  Our artists work directly in the classrooms, so they rarely have a chance to interact.  We hosted an "all artist meeting" in August, and it was wonderful to see them talk to, listen to, and learn from one another.  Our icebreaker activity was a worksheet that asked the artists to identify a problem in the world today, and how they would use their art form to solve it (using words and/or pictures).  The prompt was WITH MY ART I CAN…
Here is theater artist Hannah Gavagan's thoughtful response and accompanying artwork:
"A problem I see in the world today is a cycle of hate spurred by fear of difference.  With my art I can…bring youth together from different backgrounds to share their experiences and stories.  I can create theatre with youth that teaches an adult audience how to step outside of their comfort zone to stop oppression.

I can create worlds where sexism and racism do not exist, and show what our world can look like with equity.  I can teach youth about oppression and how to be "upstanders" in their community."

Hannah is doing wonderful work in two Youth in Arts residencies this fall: Devised Theater for an after school program at Canal Alliance, and Theater for Social Change at Santa Rosa Charter School for the Arts.  She will return to Cornell Elementary to teach her Civil Rights Storytelling & Theater residency this spring.
BIO: Hannah Gavagan is an actress, teacher, and mentor whose heart lies in social justice. She is passionate about devising issue-based theatre with youth so they may gain personal awareness and understanding of the issues in our world today. This awareness leads to students creating a positive impact through performances and social-action. Through her skills-based drama classes, she works to help unlock students' personal power so that they may learn, grow, and thrive. Building trust with students, helping them trust each other, and practicing social-emotional skills through play are the foundation of her classes. She earned a BFA in theatre performance at the University of the Arts in Philadelphia. She is inspired by the teachings of Sanford Meisner and Michael Chekhov. She acts in plays and films, directs student-devised plays, creates films with a social-justice lens, and stars in a YouTube series called the Go-To Go Girl! which aims to inspire girls to be the change they wish to see in the world.

Since Youth in Arts completed our new strategic plan this spring, we wanted to properly introduce our Mentor Artists to our more in-depth model, and to each other.  Our artists work directly in the classrooms, so they rarely have a chance to interact.  We hosted an "all artist meeting" in August, and it was wonderful to see them talk to, listen to, and learn from one another.  Our icebreaker activity was a worksheet that asked the artists to identify a problem in the world today, and how they would use their art form to solve it (using words and/or pictures).  The prompt was WITH MY ART I CAN…
Here is Mentor Artist, Katie Issel Pitre's response and accompanying artwork:
"A problem I see in the world today, is many people being uncomfortable with their own emotions – escaping/avoiding difficult feelings, reactive disempowered people lacking a deep knowledge of self.  With my art I can…create a space to explore the self, face, dimensions of human experience and emotion, and gain confidence and compassion to build community.  I model moving through emotion using all my actor's tools.  I craft experiences that ask students to step into others shoes, as actors for each other (classroom) and for communities (family)."
Katie teaches various forms of theater and creative movement for Youth in Arts, both in our Arts Unite Us and Artist in Schools programs.  She is currently teaching Devised Theater at Davidson Middle School, and at the Canal Alliance's after school program.  
BIO: Katie Issel Pitre is a Berkeley native who recently returned to the Bay Area after 11 years based in Brooklyn.  There she worked as a teaching artist in spoken word, devised theatre, mural arts and playwriting throughout the boroughs of New York and New Jersey for Urban Word, Community Word Project, New Victory Theatre, BAM, and New Jersey Performing Arts Center.  Katie expresses her artistry as a facilitator as she works to bridge the gap between personal and cultural experiences by creating community-building opportunities via the creative process.  Her background in dance, voice, theatre and poetry shape her focus as an artist and educator.
Most recently she starred in two short films written and directed by Christopher Wells of Kaleidoscope Pictures called Cynthia and My Fondest which can be found on YouTube.  She also participated in an online writing course for women facilitated by Caits Meisner where she produced several new works of poetry.  Her writing was featured in a site-specific play series Play/Date, produced by Blake McCarty. As a devising actor she worked with the Trusty Sidekick company, and on two interview theatre pieces, The Class Project, directed by Joe Salvatore, and Layer Cake(actor and writer) performed at the Looking Glass theatre.  As a singer in Shell, she wrote and produced an EP.  Katie has also performed in multidisciplinary projects featuring her dance training.  She designs jewelry for City Seed.  Katie holds a MA in Educational Theatre in Colleges and Communities from NYU Steinhardt.
Youth in Arts mentor artist, Graham Hackett, shares his experience at San Jose Middle School in Novato. Performance Poetry, or "spoken-word," is a fusion of literature and theatre where the author is the performer. As such, young people choose to deploy it as a powerful form of citizens' journalism.
So when San Jose Middle School in Novato made the bold choice to lead students through a unit on immigration and resilience, the diverse array of students approached the topic from various perspectives. Some reflected on the lives of their favorite sports heroes that were immigrants. Others explored their heritage and the legacy they built. Several even described their own first hand experience as immigrants themselves.
Whatever approach they took, students thoughtfully used literary devices and public speaking techniques to share their stories in nuanced, dynamic, and often powerful ways to address some of the most relevant, hot-button issues we face today in America.
Once again our fabulous cast of Youth in Arts Mentor Artists created art, community and opportunities for students in the Bay Area.  Students in 25 Special Day Classes, Pre-K to Post-Secondary, explored techniques in Visual Art, Music, Dance and Theater and shared their talents with the community through culminating events.
The Arts Unite Us program aims to make high quality arts opportunities accessible to students of all abilities and to build understanding and acceptance in our communities.  This year students from Redwood High School, Harding Elementary and Mount Tamalpais High School participated in collaborative residencies in which students from Special Day Classes and General Education classes worked together to create art.
Teachers in the Special Day Classes we serve value the program and what YIA Mentor Artists bring to their classroom:
"I am always so blown away and impressed with all the skills learned by our students during the YIA sessions, but am especially impressed with the leadership skills, creative thinking, self-expression and artistic expression that our students learn. The YIA artists and lessons bring out skills in my students that I don't always have the opportunity to bring out. Without the professional artists coming into our classes, we do not have the access to adults with these skills at our schools. Mainstream classes can be too impacted, and general education teachers are not always equipped to handle the needs of students with special needs in their classes. Having art activities that are tailored to meet our students needs enables all students to access curriculum and experiences that their general education peers receive." SDC Teacher Rachel Hughes, Terra Linda High School
Under the guidance of YIA Mentor Artist William Rossel, students from Katie Peter's Special Day class worked with students from the Band program and opened the music concert at Redwood High School with a percussion piece.  YIA Mentor Artist Melissa Briggs worked with Tam High's Julianna Rees to lead students from Michael Lovejoy's Special Day Class and Advanced Theater students in writing and performing an original play.  At Harding Elementary, YIA Mentor Artist Thomas Arndt lead a group of 40 students in writing, directing and performing a play that incorporated American Sign Language and featured students from Harding's HOH (Hard of Hearing) program.
ASL Translator Paul says this about the program at Harding:
"I have truly enjoyed being a part of The Arts Unite Us program and watching HOH students as well as other students in the classroom where I work grow in confidence in their class room participation. Maya, the primary HOH student I work with rarely spoke up in class. This changed dramatically after she started participating in the program and after taking on a significant speaking part in the play. It is amazing to see how her and other students confidence begin to soar so quickly!"
Each of these experiences have left a lasting impact on the students involved.  Many students from Special Day Classes and HOH programs performed in front of their peers for the first time.  Many of the General Education students had their first experience interacting with their peers who have abilities that are different than their own, gaining understanding and empathy.
This is what a few General Education students had to say about that experience:
"I loved participating in this project.  I thought it was a great way for me to learn about people who have different abilities.  I learned that they have the ability to create great things."

"It was really fun to meet and interact with the Special Ed class. They were so sweet and friendly. I learned that some things that are easy to me are difficult to other people."

"I had fun! I really enjoyed spending time with the [Special Ed] kids and would do it again.  I learned they often have interesting ways of thinking about things. It was interesting to hear their perspectives."

"I learned that everyone is unique in their own way. Not everyone does the same moves or talks frequently.  I feel like I've learned so much about interacting with other people."
As the creator and director of the Arts Unite Us program, I am so proud of the work we have done over the years and I have witnessed first hand the impacts that this program has had on students, teachers, artists and families.  This program has served as a catalyst for progress, acceptance, understanding and art making that will last a lifetime.
This year, as I step down as Program Director, I pass the torch over to my colleagues at Youth in Arts so that they may continue to promote accessible programming for everyone in our community.  I would like to thank every artist, teacher, administrator and student who has participated in this program.  And, thank you to those who have provided much needed funding for this program, including Thomas J Long Foundation, The Green Foundation, Marin Community Foundation, Green Foundation, Marin Charitable, and Italian Street Painting Marin.
Mentor Artist Thomas Arndt reports on his theater residency this Spring at Cornell Elementary in Albany.
Youth in Arts new program at Cornell Elementary resulted in 8 story adaptions performed by 2nd and 3rd Grade students in just 8 weeks!
Weekly classes with the 2nd and 3rd Graders covered the basics of acting skills and then quickly plugged those skills into fun and challenging plays put on by the whole class.  We worked on creating Stage Pictures, showing emotion with the body, movement and most of all STRONG, CLEAR VOICES!  All of the students really loved the Vocal Resonator warm-up, which I learned from my teaching artist friend Mariah Castle a couple of years ago, which was a great way to balance big, wild expression with complete focus.  I watched as the groups got stronger each week as ensembles and as every single individual grew as a performer.
In the 2nd Grade, we had "The Little Monkey and the Garbanzo Bean" from Cuba, "Anansi and the Strange Moss-Covered Rock" from West Africa,  "Zomo the Rabbit" from Nigeria, and "NO DINNER!" from Southeast Asia.  The 2nd Graders really impressed me with remembering where to be at all times and by staying in their characters throughout each performance.
The 3rd Graders had the challenge of doing curriculum-based Civil Rights plays which dealt with serious matters.  They did an excellent job of enjoying the process while bringing maturity to the hardships that African-Americans faced in these stories.  We performed "Martin's Big Words," "Ruby Bridges," "I Am Rosa Parks," and "Richard Wright and the Library Card."  These were all adapted from children's books.
After each performance, we had a "Talk-Back" session with the audience (each show had family members and another Cornell class visiting us).  The audience gave appreciations, and in every single session we hear how impressed they were by the loud, clear voices on-stage.  I believe that whether or not these students go on to be actors, learning to speak in front of a crowd with confidence is an incredibly important skill.  They also spoke to learning a lot of history from the shows and many audience members said that they were able to feel what it was like for people in the Civil Rights Era.  We talked about this being the power of theater- that it's not just facts, it is emotions.  Many of the actors reported feeling nervous before the show and proud and happy after the show, especially upon hearing the responses from the audience.  One actor said she felt it was "respectful" to hear such praise.
We are so excited to be at Cornell, creating a new, powerful theater program that we hope will continue for many years!  Thank you to the amazing teachers, parents, families and kids!
By YIA Mentor Artist Thomas Arndt
"I'm BORED.  BORED, BORED, BORED!!!" exclaimed the king, slouched in his throne with his chin on his fist.  And what a grumpy face he had!  The other actors worked very hard to fool him, and finally it was the little girl who saved the day!  "Fooling the King" was one of many new short plays that my two Harding classes worked with for the past several weeks, and they did a wonderful job.
In the first weeks, we built trust and basic acting skills – especially focusing on using strong, clear voices and using one's body to express emotion.  We also declared our classes a "Judgment-Free Zone" and had some great discussions about what is so scary in 6th Grade about performing in front of others.  Once we had that discussion, we were able to check in every day with how the class was doing at supporting each other.  We had a great day with "Building a Machine," in which we eventually built a machine full of noise and movement using every single person in the room.  In this case, no one had to worry about being watched because they were all busy acting.
My goal for each class is always to have each student grow in some way at their own level.  Especially in the last 3 weeks while we worked on our short plays, I saw each kid finding more strength in their voice and more expression in their character.  One student had the most stage fright I've ever seen.  We got him to take small steps.  First, he decided to be the Stage Manager.  Then, he rehearsed but didn't perform.  And finally, he performed off stage, using a microphone as the Narrator.  I think it was a huge success.  I also saw many students who struggled with reading growing stronger as they did the same short play 3 weeks in a row- once they knew their lines, they really opened up!
And overall, we just had a great time performing Fooling the King, My Teacher Ate My Homework, Wayne the Stegosaurus, Sometimes Arthur Is Choosy, Hershele Gets a Meal, and I Call First!
This year, in the Arts Unite Us After-School Playwriting and Performance Group, we created an immensely powerful show about the need to celebrate diversity.  The story and themes were built over 15-weeks together of 2-hour sessions with a 38 member cast at Harding Elementary.  Once we had picked a topic and a frame (Time Travel and the Future), the students created short skits, which we used as fodder for our playwriting.
Starting in the bleak future, where it's the law that your favorite color is GRAY, "The Futuristas" soon find themselves chased by robot enforcers for admitting that they love BLUE.  They are saved in the nick
of time by "The Time Traveling Triplets," (played, ironically, NOT by the actual triplets who are in the class), and soon find themselves traveling through time (and space?) to learn their forgotten history.   Dinosaurs teach them lessons of bio-diversity, with the Spirits of the Really Past reminding The Futuristas "YOUR survival depends on YOUR diversity."  Then they are swept into an era of Social Justice Heroes, from Martin Luther King Jr. to Rosa Parks to Audre Lorde to I. King Jordan (the first deaf president of Gallaudet University).  For the I. King Jordan piece, we had Paul, our interpreter, work with a hearing student who
has a passion for American Sign Language.  For her piece, Paul switched from interpreting in ASL to speaking out loud, and it was a joy to see some of the non-hearing kids in the front row of the audience light up as the actors began to speak their language.  "DEAF PRESIDENT NOW!"
In the end, by celebrating diversity, the Futuristas were able to get people in the Present to commit to getting off their phones and connecting with each other in more direct ways.  When they finally returned to the future, April 1st (the day of our show) had become an international "Diversity Day!"
The process was one of community building and personal growth.  Many students in the class do not see themselves as actors or performers, but stepped up in big ways and let their voices be loud and proud.  After each performance, we had a "Talk-Back" session with the audience, inviting first the audience to give appreciations and then speak to what they learned from the show.  The actors then responded with how it felt to hear their work celebrated and it was clear that they all felt deeply proud of themselves for the work they had done.
We are excited to keep this program going, as it serves so many purposes from artistic expression to social-emotional skill building to team work.  I'm so proud of the Harding kids and wish them all a fabulous summer!
Thank you to the Thomas J Long Foundation and the Green Foundation for their continued support that makes this program possible!
Check out a few of our newest program offerings–available to book for your school or community site now!
Visual Storytelling with Sophie Cooper (Artist Residency)
Twenty-first century art skills are on tap as students learn how media producers communicate through images, while also becoming creators of their own visual stories. Students de-code familiar visual media and develop a vocabulary for visual communication, and then create their own work on the theme of personal and cultural identity using found images. Looking to help students make more substantive use of your computer lab? This residency with Mentor Artist Sophie Cooper could be for you.
The Amazing Science Whiz Show (Assembly Performance)
Benny Bendini's Magic Circus explores explores laws of physics, earth science, green environmental education and color perception. Students discover curious and amazing scientific phenomena from air pressure and centrifugal force to color perception and optical illusions, plus learn about famous scientists like Archimedes, Isaac Newton and Albert Einstein. Guaranteed to be a fun-filled learning experience with plenty of enthusiastic audience participation.
The Alphabet Rockers (Assembly Performances)
In two new shows, the Alphabet Rockers engage young audiences with contemporary choreography, catchy melodies and beatboxing. Performances are age appropriate and aligned to Common Core Standards in math, literacy, and science.
This bullying prevention "hip hop theater" assembly explores how teasing and being left out makes people feel, and how friends can stand up for themselves and each other.
Alphabet Rockers mix fun with food in their hip hop music and theater show about nutrition. Students brainstorm food choices to help the Alphabet Rockers stay strong and in rockstar shape!
Looking for something else? Check out all our program offerings here and use the checkbox filters on the left of the page to find just the program you want.
by YIA Mentor Artist Suraya Keating
As I entered Ms. Peter's class for the first time, I am struck by the friendliness of the staff, the relaxed atmosphere of the classroom, the authenticity of the students.  Each of Ms. Peter's six students at Redwood High has a special need of some sort, as well as many special gifts.  It is my role, as a teaching artist with these students, to bring out their special gifts – to identify and nourish whatever talent, potentials and joys each student possesses.  Whether working in a mainstream classroom or a special need classroom, this is no easy task.  I take this challenge quite seriously , and with hope in my heart that in the time we have allotted to work together, each student will be able recognized for his/her gifts and contributions.
While I have been hired to teach a theater residency, classroom teacher Ms. Peter is very flexible, and gives me space to teach in whatever way most creates a bridge with the students.  As the first few weeks go by, I notice that 4 or the 6 students are mostly non-verbal.  While they seem to enjoy simple theater warm-ups, my repertoire of activities that I often use in special needs classes is not landing in the way I am accustomed to.  Knowing that flexibility is key to effective teaching, I realize it is time to change direction.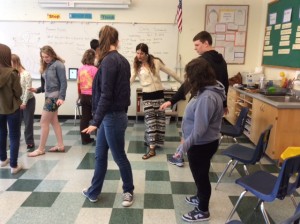 I have noticed that ALL 6 of the 6 students share one thing in common: a love of music and movement.  Whenever I use music in our warm-ups, smiles arise on their faces, and I realize something important has happened: I have found a bridge.  About a month into the residency, with the support of the classroom teacher, I shift from focusing on theater to focusing on dance and movement.   As we explore dance for the next few months, I see each student come alive in different ways.  "Sara" gets her groove on with upbeat music, and adores being the leader in pairs' mirror dances.  "Calvin" loves shouting out and practicing whatever dance principles we are working on during a particular day, such as "big vs. small movements," "sustained vs. staccato movements" or "straight vs. twisted shapes."
As is the case with VSA residencies this year, at some point a group of about 10 mainstream students (this time from Mr. Berkowitz's drama class) join the dance program.  Integrating the mainstream students into class seems to inspire everyone: the students with special needs and the mainstream students get to explore various dance principles in duos, in small groups, and in the large group.  When the music comes on and students are invited to explore moving in straight or zig zag lines, or with slow or fast tempos, and in many other ways, I see smiles come to their faces as they explore how their own bodies move, as well as how they move in connection to others.  Students are mutually supporting one another, acknowledging each others' strengths, and supporting one another when there is a challenge.  I feel grateful to work among students who at a young age seem already so capable of doing with one another what I aspire to do with each of them: to bring out and celebrate each other's gifts.
Older Entries »