In response to recent events, we at Youth in Arts recommit to lifting up the voices of the unheard and underrepresented. Access to creativity empowers youth to share their voices and ask difficult questions of themselves and of the world.
Equity is at the center of our work. Starting this week, we are launching YIACr8tes Conversation, looking at race, identity and racism. Teaching artists presenting these free digital lessons include Jessica Recinos of Rising Rhythm SF, Youth in Arts' Program Director Kelsey Rieger and other Mentor Artists from the YIA roster. Each lesson will end with guiding questions for parents and educators to ask children. The lessons will air on Facebook, Instagram and YouTube at 1 p.m. PDT today (June 8), Wednesday, June 10, and Friday, June 12.
"We will continue to facilitate art and put creativity in the hands of those often left out of critical dialogue," said Youth in Arts Executive Director Kristen Jacobson. "We will drive discussion of implicit bias, policies that support equity and unobstructed access with educators, administrators and parents. We will not shy away from pushing the conversation surround privilege and power, especially in our community. We will continue to build a network of advocates that look to arts education as a vehicle for social change."
As many schools look at slashing the arts because of budget shortfalls in light of the pandemic, we urge them to look for free and affordable resources and partners. Along with shifting to online learning, many students are trying to find their paths amid trauma, economic uncertainty, isolation and the chaos of world events. Access to art and creativty is more important than ever for offering ways to support mental and emotional health. Creativity can be also be used as a catalyst for discussions about anti-racist parenting and classrooms.
"Covid-19 pushed educators and parents to find innovative ways to engage creative exploration through digital/virtual means – Youth in Arts was ready and present with online learning.  Now, as the trauma of Covid-19 is compounded by intensity of racial justice protests, Youth in Arts is again ready to join parents, educators and schools to inspire conversation and dialgoue on critical issues," Kristen said. "Youth in Arts' work has long centered on equity and we feel empowered to step forward as a leader and resource for our community."
We urge you to join Create CA's statewide effort to promote the Declaration of the Rights of All Students to Equity in Arts Learning. This resolution outlines students' rights to a high-quality public arts education, regardless of background, culture, language or where they live.  Youth in Arts has already signed on. In the coming weeks, we will be looking at more ways to create digital programs to address racial and social justice.
In the meantime, here are some resources:
From the New York Times, books that help explain racism to kids
From National Public Radio, Raising White Kids: How White Parents Can Talk About Race
Also from The Times: 26 short films for exploring race, bias and identity
For book recommendations: The Conscious Kid and The Brown Bookshelf.
We are grateful to be able to do the work that we do at this important time. Please join us and please reach out with any suggestions or resources for continuing racial justice work through the lens of arts programming.
How should a dancer teach online? How does clown perform without a live audience? How can a metal artist heat up materials without her studio?
More than 50 teaching artists from around the Bay Area joined a Zoom call recently to explore how to continue working with their students, now that schools and businesses are closed due to the coronavirus pandemic. Youth in Arts held a similar call the same day with its own teaching artists.
The Bay Area wide event was supported by Arts Education Alliance of the Bay Area and Oakland Unified Arts Partners. It was facilitated by Mika Lemoine, a mentor artist who teaches hip hop and street dance with Destiny Arts Center in Oakland, and Rachel-Anne Palacios, a multicultural artist and activist who works in the Oakland schools.
Participants began by coming up with a word to describe how they were feeling. The answers were telling: Hopeful. Weary. Isolated. Groovy. Challenged. Excited. Unwashed.
With work inside schools halted, teaching artists discussed ways to engage with their students online. Several expressed their concern about how to reach kids who don't have access to a computer, and how hard it is to be creative when you feel anxious.
"I realize how much social connection feeds me and motivates me," said one dance teacher. "Not being able to fully move is hindering my well being."
Teaching artists also talked about the strain of trying to figure out how to survive financially. Can they file for unemployment? Which is the best online platform to use to reach the widest audience? When will they be able to earn a living working in classrooms again?
Youth in Arts Executive Director Kristen Jacobson held a similar Zoom call with Youth in Arts' teaching artists and staff. Kristen shared that Youth in Arts is talking to funders, donors and school partners to find ways to continue programming and support teaching artists.
"Reaching all kids with meaningful arts activities and supporting teaching artists is crucial during these challenging times," Kristen said. "We are working as hard as we can to make this work."
Youth in Art's Mentor Artist, Risa Dye lead creative movement with the students at the Early Childhood Intervention Center at Marindale School in a ten week residency as part of the Arts Unite Us Program.
In this residency, we started with the basic structure of the brain dance created by Anne Green Gilbert through songs and movement. As Risa got more familiar with the children, she adapted her program to fit their needs and applied her creative and theatrical touches.  Risa loosely explored dance concepts such as speed, levels and size through playful movement guiding songs. As the ten weeks progressed, the students became more and more familiar with her structure and expectations. They gained more ownership over the movement and everyone became more able to play within the structure of the songs.
By YIA Staff
'Til Dawn member Kathryn Hasson has just wrapped up a successful performance in Marin Academy's "Our Town." Hasson played Emily Webb, one of the key characters.
"There was a wide range of emotions and ages I had to play," Hasson said, noting her character ages more than 10 years. "The play is all about slowing down and living your daily life and paying attention to it, even when things seem boring."
The 18-year-old senior said it was fun to play a different kind of character. Often typecast as the mother, this time she played the love interest.
Hassan, who serves as the student representative on the Youth in Arts board, said her three years with 'Til Dawn has been excellent training. The Marin Academy senior has applied to 16 colleges and universities and plans to pursue a career in musical theater and acting.
"Without a creative outlet, it's so hard to focus in any other aspect of life," she said. "Being able to use the arts to express myself makes me more able to focus academically."
Hassan also praised 'Til Dawn director Austin Wilacy, whom she called "an incredible teacher." Austin is a professional singer and songwriter who performs and records as a solo artist and with Tommy Boy/Warner Bros. The House Jacks.
"I can't even put into words how having him as a mentor has changed me and changed my life," she said.
I love teaching the 3rd graders of Cornell Elementary about the stories of Civil Rights Leaders. The students build empathy by imagining what it would be like to live during that time.  It seems like such a long time ago to them. But it wasn't. And many students express that racism is a thing of the past. But it isn't.  Sometimes students think that protests and marches were things people did a long time ago to create change. But they are happening today.
The students of Cornell Elementary participated in a school-wide walk out and I was full of gratitude to be able to participate with them. When I walked into the school that morning, it was a sea of orange to honor the students of Parkland, Florida. They held signs that said "Schools Should be Safe" and "Students Stand United Against Hate."
Students ran up to me expressing how it made them feel powerful to take a stand and make their voices heard. They realized they were change makers. That their voice matters. I was moved to tears as I witnessed lessons sink in and expand their personal power.
By YIA Mentor Artist Hannah Gavagan
The 6th-8th grade students at SRCS were amazing. They were able to discuss the issues in the world with a determination to create change. They exuded power by telling their stories. In short, they had something to say.
One group especially had something to say. And they worked harder than any group I have ever taught in my entire teaching career. That is a bold statement, I know. But these four 8th grade girls would pop their heads into the theatre at lunch, recess, and every break they had to ask me, "Is it ok if we rehearse on the stage?" OF COURSE was always my answer. The short play they devised was constantly growing and shifting. Every practice was an opportunity for them to make their message stronger. They knew they had something to say. The issue they chose to tackle was consent.
I am not writing about these girls because the play they performed was so well executed (it was), or because they were some of the most talented actors I have had the pleasure of teaching (they were), but because of their collaboration and determination to make there voices heard in the most creative, powerful ways possible.
The class before their final performance, they asked if it was alright if they wore shirts they made. OF COURSE was my answer. They showed up to their performance donning white shirts with black lettering across the front that said "You are not alone." I loved them! However, they still surprised me. During the final moment of their play, one of the girls who dealt with someone who did not respect her lack of consent spoke to the audience. She said she felt so alone and did not understand why this happened to her. She turned her back on the audience and knelt, defeated. As she turned around, I saw the back of her shirt. It read,
#MeToo
I burst into tears. That moment was emanating with power. Then the three other girls in the cast came onstage and physically helped her up. All their shirts also read #MeToo on the back. Once they all stood with locked arms, they faced the audience and reminded us that no one is alone in dealing with our traumas.
These girls used every opportunity to strengthen their message. And the hundreds in the theater heard them loud and clear.  I was one proud director. But more importantly, they were incredibly proud of themselves.
by Mentor Artist Hannah Gavagan
On my first day at Canal Alliance, I introduced myself and Devised Theatre – to the 8th grade students.  A few hands shot up with fear consuming their faces. "Wait. We HAVE to perform?" I assured the class that by the time the 10 week residency was completed, they would feel ready and excited to perform. I could see in their faces they were uncertain. None of the students had ever performed live or had any experience with theatre. They were terrified at the thought of having to perform.
The students excelled at "table work." Anytime we were writing or having discussions about issues or social justice, they were engaged.
I created a plan to best support my students where they are at. Instead of creating an issues-based live performance, we created short films. The films showcase each student performing a monologue on an issue. Students selected images to go with their monologue. This format gave students  the freedom to express themselves and create art, while still operating in a safe space. Their films turned out beautifully and they were so proud of what they created.
We were able to show the finished film to friends, family and fellow students at the Canal Alliance's Winter Potluck on December 15th.  It was wonderful to showcase what the students had learned, and contributed to in our 10 week residency.
These kids taught me that flexibility is an asset. Rigidity breeds rigidity.  I chose to listen to my students, recalibrate, and create something beautiful with them.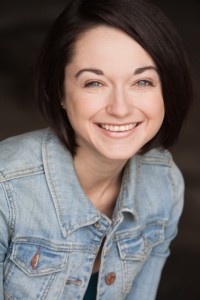 Davidson Middle School students will soon welcome Mentor Artist, Margaret Hee into their classrooms for a semester-long theatre residency. A Marin County native, Margaret brings a unique perspective to her residency, as she was once a Davidson student.  In addition to her numerous acting and directing credits, Margaret has taught theatre all over the country, including recent projects at Redwood High School (Larkspur), Mills College (Oakland) and Olinda Elementary (Richmond).
In order to get to know Margaret a bit better, we asked her to identify a problem in the world today, and to tell us how she would use her art form to solve it.  Here is Margaret's thoughtful response: "Every human being on our planet is made of DNA, skin, bones, organs, brains, and blood. Our physical construct though different on the surface, is made up of the same stuff, but somehow throughout history certain groups of individuals have been forced to the margins, their narratives being pre determined by some intangible set of guidelines. Theatre is a tool that can redefine narratives. Through my art I aim to ignite possibility in others."
BIO: Margaret Grace Hee is a theatre artist and teacher focused on developing new plays and devised work that influence tangible positive change in the world. Margaret received her BFA in Acting from the Santa Fe Institute of Art and Design and her MFA in Directing New School of Performing Arts School of Drama. She is the founding Artistic Director of Baby Crow Productions for which she played the role of Austin in True West and has directed Whore: a kids play (Edinburgh Fringe Festival '17) , Sapien Sapien Sapien, Cowboy Mouth, Cowboys #2, Cast of Characters, "Live" from the Bullet Stopper, and Enter Your Sleep, among others. As a freelance director, Margaret has worked with Ugly Rhino, Wide Eyed Productions, Dream Theatre, The Midtown Int. Play Festival, Colorado Shakespeare Festival and Fringe NYC. Selected assistant directing credits include: Everything You Touch, dir. Jessica Kubzansky (Rattlestick Playwrights Theatre); Henry VI P.I , dir. Vanessa Morocco & The Tempest, dir. Geoffrey Kent (Colorado Shakespeare Festival); Seawife, dir. Liz Carlson (Cape Cod Theatre Project); The Boys Room, dir. Sandy Shinner (Victory Gardens); Naked Radio Live, dir. Laura Savia (Naked Angels); 24 Hour Musicals, dir. Kathy Najimy (24 Hour Plays). As an actress she and has worked with Victory Gardens, Eclipse Theater, Adventure Stage, Berkshire Theatre Festival, Soft Cage Films, The Agency, and New School for Drama.
Since Youth in Arts completed our new strategic plan this spring, we wanted to properly introduce our Mentor Artists to our more in-depth model, and to each other.  Our artists work directly in the classrooms, so they rarely have a chance to interact.  We hosted an "all artist meeting" in August, and it was wonderful to see them talk to, listen to, and learn from one another.  Our icebreaker activity was a worksheet that asked the artists to identify a problem in the world today, and how they would use their art form to solve it (using words and/or pictures).  The prompt was WITH MY ART I CAN…
Here is theater artist Hannah Gavagan's thoughtful response and accompanying artwork:
"A problem I see in the world today is a cycle of hate spurred by fear of difference.  With my art I can…bring youth together from different backgrounds to share their experiences and stories.  I can create theatre with youth that teaches an adult audience how to step outside of their comfort zone to stop oppression.

I can create worlds where sexism and racism do not exist, and show what our world can look like with equity.  I can teach youth about oppression and how to be "upstanders" in their community."

Hannah is doing wonderful work in two Youth in Arts residencies this fall: Devised Theater for an after school program at Canal Alliance, and Theater for Social Change at Santa Rosa Charter School for the Arts.  She will return to Cornell Elementary to teach her Civil Rights Storytelling & Theater residency this spring.
BIO: Hannah Gavagan is an actress, teacher, and mentor whose heart lies in social justice. She is passionate about devising issue-based theatre with youth so they may gain personal awareness and understanding of the issues in our world today. This awareness leads to students creating a positive impact through performances and social-action. Through her skills-based drama classes, she works to help unlock students' personal power so that they may learn, grow, and thrive. Building trust with students, helping them trust each other, and practicing social-emotional skills through play are the foundation of her classes. She earned a BFA in theatre performance at the University of the Arts in Philadelphia. She is inspired by the teachings of Sanford Meisner and Michael Chekhov. She acts in plays and films, directs student-devised plays, creates films with a social-justice lens, and stars in a YouTube series called the Go-To Go Girl! which aims to inspire girls to be the change they wish to see in the world.
Youth in Arts mentor artist, Graham Hackett, shares his experience at San Jose Middle School in Novato. Performance Poetry, or "spoken-word," is a fusion of literature and theatre where the author is the performer. As such, young people choose to deploy it as a powerful form of citizens' journalism.
So when San Jose Middle School in Novato made the bold choice to lead students through a unit on immigration and resilience, the diverse array of students approached the topic from various perspectives. Some reflected on the lives of their favorite sports heroes that were immigrants. Others explored their heritage and the legacy they built. Several even described their own first hand experience as immigrants themselves.
Whatever approach they took, students thoughtfully used literary devices and public speaking techniques to share their stories in nuanced, dynamic, and often powerful ways to address some of the most relevant, hot-button issues we face today in America.
Older Entries »