Mentor Artist Tracy Eastman says of her Arts Unite Us Residency at San Jose Middle School: "The students explored art in very creative ways!"
"Texture Collage Boards" —  Our first class project was all about textures. Each student was given contact paper with the adhesive side up (secured to white foam board) and choices of textured materials to add. We discussed what the materials felt like and described the feeling it gave, (i.e. soft, bumpy, rough, smooth, noisy/crunchy, hard, etc.). We then took oil pastels and drew across many of the textures. As the last step, we covered the remaining sticky areas with magic gold transfer foil. Some of the classes removed the white foam board from the back of the artwork and displayed them in the window, while others left them with the white background and hung them on the wall.
Our second class project was making stained glass window kites, which focused on creating shapes, working within borders and cutting with scissors. The students were given the same set up of contact paper placed on a white foam board, but with different instructions. Each student was given four strips of black construction paper to create a diamond shape on their contact paper and were given additional strips to add anywhere within the diamond's borders. Within the spaces of the black strips, the students placed square pieces of colored and patterned tissue paper to further decorate their kites. The students then smoothed on a top layer of contact paper to seal the pieces in place and then cut them out, staying on the outside of the black diamond borders. Most students needed assistance and/or adaptive scissors, which were provided by the classroom teachers. Lastly, the students taped a yarn tail with a tissue paper bow to complete their kites. All of the students held up their kites and pretended to fly them around the room before they were hung in the windows.
During this residency program, we also focused on creating various marks on watercolor paper with tempera watercolor cakes and an array of adaptive tools. The tools ranged from paint brushes with variously shaped handles, sponges, roller sponges, silicone stamps, etc. Prior to adding paint with the adaptive tools, the students drew on their paper with oil pastels to create resistance artwork. Together, we talked about oil and water resist each other and how the oil will fight with the watercolor to show through. The students improvised on making marks with different parts of each tool. One student even used the foam roller as a hammer and made small circles on his page. We used these skills to work on three-dimensional and two-dimensional projects throughout the residency.
These programs were made possible with support from the following sources:
First Graders were able to practice lots of vocabulary with this painting project, including their shapes, colors, and counting. Tracing is a surprisingly challenging task for some first graders, and is a valuable writing tool as they have to use both hands, hold an object steady, and work their writing hand all the way around it. I feel that this is a safe and entertaining way for them to practice what can be a frustrating skill.
In terms of sharing colors, working with one set of paints for an entire table again gives students a safe way to practice making choices, listening to peers, and problem solving: what happens when your friend mixes the colors? How do you solve the problem?
Cascade Canyon School families gathered earlier this Fall to make family flags as part of a Youth in Arts visual arts residency. Working with Mentor Artist Cathy Bowman and Program Director Morgan Schauffler, families participated in a lively discussion about the meaning of symbols and what shapes best represented each family. The artists began by tracing their images on scratch paper, then transferring onto recycled canvas panels. They decided which lines and shapes to keep, and traced over those with a black pen. Artists then used black Sharpie pens, oil pastels and watercolors to complete their pieces. Artists were encouraged to think beyond familiar symbols such as a heart or peace sign and consider using shapes that had no name or familiar form. The event was a great chance for parents and their children to collaborate artistically.  Thank you Cascade Canyon!
Two Rock Union Elementary School in Petaluma, organized their inaugural art showcase on November 7th.  The event, hosted from 5:00–7:00pm, gave parents a chance to see their student's artwork from the nine week visual art residency with Youth in Arts Mentor Artist, Julia James.  Examples of projects from the seven K–6th grade classrooms we're on view, thanks to the hard work of PTA President Brandy Campbell, Julia James, and a number of helpful volunteers.  Students' work highlighted their understanding of observational drawing, patterns in nature, bookmaking, color theory, printmaking and so on.  What a great event, and what beautiful artwork.  Thank you Two Rock!
Since Youth in Arts completed our new strategic plan this spring, we wanted to properly introduce our Mentor Artists to our more in-depth model, and to each other.  Our artists work directly in the classrooms, so they rarely have a chance to interact.  We hosted an "all artist meeting" in August, and it was wonderful to see them talk to, listen to, and learn from one another.  Our icebreaker activity was a worksheet that asked the artists to identify a problem in the world today, and how they would use their art form to solve it (using words and/or pictures).  The prompt was WITH MY ART I CAN…
Here is Mentor Artist Sophie Cooper's thoughtful response and accompanying artwork:

"A problem I see in the world today is xenophobia.  With my art I can…help people see the world through someone else's eyes.  A film can draw you into an experience of understanding that is registered through many senses simultaneously – sight, sound, emotions.  This allows people to get a sense of how another person experiences the world.  So often the fear of the unknown occurs by observing another's experience and not being able to see beyond our own subjective viewpoint."
Sophie Cooper's teaches New Media, Media Literacy, Digital Storytelling, and Visual Art.  She has been working with Youth in Arts since 2010.
BIO: Sophie's undergraduate studies were interrupted in 1999 when she joined her brother working as a volunteer for a small organization in Kosovo called Balkan Sunflowers. Arriving only 3 months after Kosovo's one million refugees returned to their destroyed homes, she began organizing cultural activities with the community's youth.  In 2001, together with a network of artists from Kosovo, she participated in the formation of the Crossing Bridges Collective to organize and annual trans-Balkan music and arts festival. Inspired to document these vibrant cultural events, Sophie began working as a video artist and then went on to refine her skills at the Film Academy of Prague, Czech Republic (FAMU). She then received a dynamic degree at the University of California at Berkeley combining both visual arts and critical social theory. Sophie's work as an artist has developed hand and hand with her work as a community organizer. She has found that her favorite form of activism is that of visually celebrating the beauty of nature and the beauty of culture.
YIA Mentor Artist Ernesto Olmos shares his experience with students at University Prep at the Canal Alliance–
We had a very successful visual art program at Canal Alliance.  The students learned about several different art techniques. They learned basic concepts of drawing including: point, line, and composition.  They learned how to draw comics as well.  The students also used hard pastel crayons and oil pastels, to create wonderful landscapes.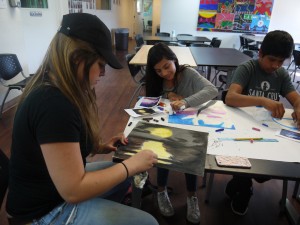 For the painting section of the residency, the students had the opportunity to experiment.  They created ancient prehistoric cave art using natural pigments made from soil, carbon, limestone and hard pastels.
For the last part of the residency, the students learned contemporary acrylic techniques. I shared how to use the acrylic medium to create different textures.  The students used pictures of animals and landscapes for reference.  They created wonderful, imaginative artwork.
I loved working with these talented youth.  It was a pleasure to share my art techniques with them.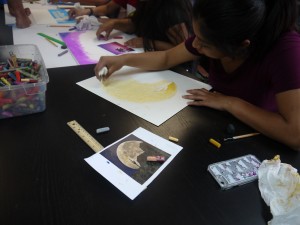 Youth in Arts organized two wonderful multigenerational art events with the Canal Alliance's University Prep students on March 24th and April 21st.  The students, their parents and siblings worked together on collaging large puzzle pieces that when put together created the letters U and P (University Prep's acronym).  The letters are on a banner that will eventually hang at UP!.
Everyone wrote their goals for the future on the background of the banner in black sharpie, so that the large letters stand out against a black and white background.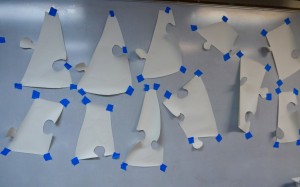 All of the participants worked together at the end of the evening to put the puzzle pieces back together.
We had a great time with the UP! students, their families, the staff, and YIA mentor artists Sophie Cooper and Sofie Siegmann.
On Thursday, April 27, Laurel Dell teachers, students, staff and families came together at Youth in Arts to celebrate artwork on exhibit created by Laurel Dell kindergarteners in the Walker Rezaian Creative HeArts Kindergarten Art Program.
Created by Youth in Arts and Walker's family to celebrate Walker's life and love for the arts, the Walker Rezaian Creative HeArts Kindergarten Arts Program combines visual arts classes led by professional artist and educators with "Family Art Nights" that bring the school community together.
All Walker Rezaian Creative HeArts activities center on a theme of friendship–this is both a celebration of Walker, who was gregarious and loved making new friends, and a perfect developmental link for kindergarteners who are learning to be a part of a school community.
The culmination of the project is the annual "Imagining Friendship" gallery exhibit of student work on view at YIA Gallery in downtown San Rafael through May.
The exhibit also includes work from kindergarteners at Venetia Valley, who will celebrate together this week on May 4, and hands-on art activities for visitors. We are open to the public weekdays 11-4, as well as this weekend May 6-7 from noon to 4 pm for Marin Open Studios and on Friday, May 12 from 5 to 8 pm for 2nd Fridays Art Walk Downtown.
Colorful self-portraits created by the students are displayed alongside artist-created cardboard play spaces that show children you can create "something from nothing".
Laurel Dell staff, teachers and families created a beautiful tote for Naomi Tamura and Ali Rezaian who started the Creative HeArts Fund to honor their son, Walker, and who helped Youth in Arts design the program to have a lasting impact on children. Naomi has since also become Youth in Arts Board President, leading the organization in reaching more Marin children with our creative programs.
To learn more about Creative HeArts, check out our video below. For more about the gallery exhibit, click here. To donate to support this opportunity for young artists, visit our online donation page.

Youth in Arts thanks the Creative HeArts Fund and the Tamura and Rezaian families for their ongoing support for this program.
This activity is supported in part by the California Arts Council, a state agency.
Middle school artists at Bayside MLK Academy in Marin City have worked on a variety of creative projects this year, from creating posters to making mandalas.
With so much going on in the world, students use words as well as images to express what matters to them. In class we examined protest posters from the 1960s up to the present, discussing how images are created and used. We looked at various fonts and talked about the importance of size and shape of words when conveying messages. Students were thoughtful and reflective in considering whether to use a few words or no words at all to accompany their art.
Using stencils, stamp pads, poster board and markers, students created  incredible posters. Faced with the limitations of the large letter stamps available, the artists were quick to free themselves of traditional ways of writing words. Some artists stamped letters on top of each other, using watercolor paintings made during a previous class.
For the mandalas, students used gold and silver pens on black paper. We discussed the role of mandalas in history and the use of symbols to represent peace and unity. Students were asked to begin with one of five shapes:  a square, circle, cross, spiral or triangle. Each artist put thje chosen shape in the center of the page. Although the artists learned how to create mandalas using rulers and the principles of geometry, most found it more enjoyable to use the power of their own creativity to complete the process. They traced circles using Mason jar lids, bowls and paper plates. The results were stunning.
Youth in Arts Mentor Artist Cathy Bowman is an award-winning cartoonist and writer who draws for print and online publications. She is the author and illustrator of the mini-comic, "The Old Cat and the Sea." She reports below on her work at Harding Elementary School in El Cerrito.
Teens interested in learning to create their own original comics with Cathy this October should click HERE to check out our C Street Project "Walkable Comics" workshop this October!
This past Spring, Harding Elementary School students learned to write and illustrate their own comics. Comics are part of a rich tradition of storytelling, and Harding's 4th, 5th and 6th grade students were excited to learn about this time honored art form.
Some students wrote short mysteries, starring protagonists that ranged from a talking donut to a n'er-do-well pencil. Others chose familiar storylines–friends on a basketball court, at a park or at school. Some drew their families. One 4th grade girl wrote about the adventures of leukocytes in the human body. Along the way they learned about facial expressions, body positions and how to create drama and action from panel to panel.
One of the biggest challenges was deciding which parts of a story to tell visually and which parts to tell with words. Students learned about speech bubbles, thought bubbles, action words and more. It was exciting to see students learn to draw 3-D objects like couches and chairs while creating images of home or school.
At the end of the session, students learned about lettering and cover art. Using a few colors, they created eye-catching covers.
Older Entries »