Art has the power to engage and inspire students of all abilities. Whether it is the visual arts, theater, dance, music, or new media, creative exploration has been known to help students reach learning and behavioral objectives in productive and innovative ways. In early October, Youth in Arts Staff Miko Lee and Kelsey Rieger travelled to the Quartz Mountain in Oklahoma to lead a 17-hour professional development with teachers from across the state through the Oklahoma Arts Institute. Together, we explored arts integration strategies and techniques for addressing Social Emotional Learning (SEL) goals with students informed by student-centered frameworks such as Culturally Responsive Teaching and Universal Design. Over the course of three days through visual arts, dance, music, and theatre, educators learned about the five competencies of SEL framed by the following asset-based questions:
Self Awareness: Who Am I?
Social Awareness: Who am I in relation to the world around me?
Self Management: How do I fit in to the world around me?
Relationship Skills: How do I connect, listen and communicate with diverse people?
Responsible Decision-Making: How do I make informed choices while considering how this will affect me and those around me?
Participants began by thinking about our personal identities and how they are informed by our experiences and our chosen and inherited family values. Following our daily warm-up and introduction, we created accordion culture books to give us a baseline for thinking about self awareness, and continued working on these books throughout the workshop. In order to take time to appreciate the process of learning and consider our work so far, we participated in a group gallery walk and reflection.
During our unit on Social Awareness, we performed our oral family histories through storytelling and embroidered mapping. After ruminating on the ways in which our divergent and personal stories gathered together at our point of contact – Oklahoma – teachers choreographed their collective family stories and performed them for the rest of the group. It became clear during reflection that building a culture of community becomes possible through the sharing and receiving of stories, and that we learn how to connect in the process of realizing what makes us different and what makes us similar. Additional theatre and movement-based activities were utilized throughout the workshop in order to offer kinesthetic and embodied ways to reflect on and engage in the core competencies of SEL.
Over the course of our sessions on self management, relationship skills, and responsible decision making, we explored multiple techniques for self portraiture using methods such as recycled collagraph prints, transparency portraits using lines that make our faces unique, and empathy portraits on vellum. To help build our visual arts skills, we practiced observational drawing techniques and considered the ways in which visual signals like lines could be characterized using all of the senses. At the end of the workshop, we layered our portraits in different mediums together to create a cover for our culture books.
On the final day of the workshop, participants reflected once again on the characteristic of storytelling utilizing graphic novels and Visual Thinking Strategies, as well as theatre activities such as The Moment Before. We then participated in a large-group Circle Story, pulling vocabulary from value words and personal characteristics that we had shared previously in the workshop. We added depth and meaning to the story by re-telling our narrative and introducing colors and emotions. We completed the workshop with an experimental painting activity in which participating educators were asked to create abstract, mixed-media artworks by following a series of instructions without knowing the expectations for the project's end result. Following the activity, we reflected on what the process had felt like by discussing how decision-making is impacted by circumstances, and how we can help to empower and prepare our students to make impactful decisions knowing that they will not always know where those decisions may lead.
We closed the activities with a final group performance, utilizing performance-based techniques and strategies learned throughout the institute in order to communicate their closing thoughts and experiences. The process of learning and engaging was captured by facilitators and participants collaboratively through a Learning Wall, Youth in Art's adaptation of the Making Learning Visible (MLV) process. Participants left the institute with access to arts-based resources created to help engage educators in practical skills for developing and fostering communication and collaboration, thereby creating more opportunities to empower student voice and identity in any classroom. 
Resources
TK Students at Short Elementary School spent a lively morning painting their shape sculptures with Youth in Arts' Mentor Artist Cathy Bowman and teacher Maggie Dawes.
During the previous week, the young artists practiced naming their shapes and building sculptures out of circles, squares, rectangles and triangles cut from foam core. When the sculptures were dry, they chose two primary colors to investigate what would happen when they mixed them.
There were "oohs" and "ahhs" around the room as students discovered red and blue make purple and blue and yellow make green. Using flat brushes, students worked hard to get paint in all the corners to cover everything.
As the sculptures dried, we talked about how many different purples and greens we saw. The lesson provided good opportunities for reflection and for looking at art through a math problem: blue + yellow = ?
For students who did not attend preschool, it was the first time they had ever painted. Large brushes with long handles created good opportunities for fine motor skills practice. The children who were absent will use the third primary combination next week, combining red and yellow to make orange.
Reaching all students through the arts was the focus of a professional development workshop taught by Youth in Arts' mentor artists Suzanne Joyal and Cathy Bowman. San Rafael teachers who attended learned how arts can facilitate a richer experience for students and support skill building in social emotional learning.
"Social and emotional learning (SEL) is the process through which children and adults understand and manage emotions, set and achieve positive goals, feel and show empathy for others, establish and maintain positive relationships, and make responsible decisions." (CASEL, 2019).
There are five core competencies associated with SEL including self-management, social awareness, relationship skills and responsible decision making. The workshop focused on self-awareness. Self awareness is the ability to accurately recognize one's own emotions, thoughts, and values and how they influence behavior; and the ability to accurately assess one's strengths and limitations, with a well-grounded sense of confidence, optimism, and a "growth mindset." At Youth in Arts, we frame this core competency with the question: "Who Am I?"
We began with the Brain Dance, a way to warm up our bodies, fire synapses, and get students ready to learn.
Observational drawing teaches students to look closely and to record what they SEE, not what they remember or think. We start by drawing familiar objects, then move into self portraits. Observational Drawing also applies to projects in science (recording experiments), math, social studies and language arts (descriptive writing)
Self portraits can be realistic or abstract: we drew lines that represented adjectives describing us, and then experimented with mirrors and Emotions Cards: what happens to our eyebrows when we are excited? Our mouths when we are sad? What do we do when we see these expressions on our friends? What can we do to change them if needed? We used the Emotions Art Cards and Booklet to help us imagine emotions we could show.
We also introduced teachers to the Student Strengths Assessment: a tool we designed to help teachers, parents and students find their best ways of learning.
Youth in Arts has also produced a Digital Toolkit, which includes six videos on inclusive teaching practices for artists, classroom teachers and parents. We have also developed a free ARTS Bank. The database, believed to be the first of its kind in the nation, allows educators, parents and students to type in an IEP goal or grade level and find an arts activity that matches.
This workshop was made possible through the California Department of Education's Student Support and Academic Enrichment (SSAE) grant that the Marin County Office of Education received.
Nearly 100 arts supporters turned out to celebrate the importance of art education and to honor Youth in Arts' wonderful Executive Director Miko Lee on Sept. 13 at the YIA Gallery in the Downtown San Rafael Arts District.
Lee has been a tenacious advocate for ensuring that all children – not just those at Marin's wealthier schools – have equal access to the arts. She is leaving Youth in Arts after 13 years at the helm.
"We know we have a big equity gap in Marin, " Lee told the enthusiastic crowd at the State of the Arts event. "We feel that as part of the ARTS NOW Marin (California Alliance for Arts Education) community, arts education makes a difference. "
In reviewing the year's accomplishments, Lee highlighted the passage of Marin's first ever Arts Education Plan a year ago, which was folded into the larger county arts plan. With that strong foundation, Marin County Office of Education and Youth in Arts were able to get $500,000 in additional funding for arts education so that more students of color and students with disabilities were reached.
Youth in Arts also partnered with other experts in the field to train nearly 100 educators at a STEAM workshop this summer.
"One hundred percent of those teachers said they could feel confident integrating arts into their curriculum," Lee said. "They saw that this is a way to reach our students who are not being listened to and not being heard."
Youth in Arts has also produced a Digital Toolkit, six videos on inclusive teaching practices for artists, classroom teachers and parents. In addition, Youth in Arts has developed a free ARTS Bank. The database, believed to be the first of its kind in the nation, allows educators, parents and students to plug in an IEP goal or grade level and get an arts activity that matches.
Youth in Arts' award-wining youth a cappella group, 'Til Dawn, also performed.  This past year, those students received 350 hours of arts learning and performing. The event also coincided with San Rafael's  2nd Friday Art Walk .
Board member Melissa Jones-Briggs served as the MC. Speakers at the event included Mary Jane Burke, Marin County superintendent of schools; Gabriella Calicchio, director of cultural services for Marin County; Pepe Gonzalez, principal of Laurel Dell and Short Elementary schools; Danielle O'Leary, economic development director for San Rafael, Naomi Tamura, Youth in Arts' board president; and Dr. Tom Peters, president and CEO of the Marin Community Foundation.
Gonzalez spoke passionately about the difference Lee has made through her vision, passion and energy. He pointed to photographs in the YIA gallery of young artists with special needs and said he wasn't surprised to see them there.
"If it wasn't for Miko and the programs she's brought in, they wouldn't be up there right now," he said.
Gonzalez also pointed to the photo of a third grader at Laurel Dell who had been through Youth in Arts programs.
The young artist has been in the U.S. only two years. Her academic grades only tell part of her story, he said, noting the joy on her face while making art.
"When you give kids access to something that finds that inner voice, that right there is exactly what we want our kids to be like," Gonzalez said. "Those smiles are real. The programs, the vision, everything that (Miko) believes in … that smile says it all."
Please consider a donation in honor of Miko Lee's incredible legacy, and to support the important work that we do.
Thanks to photographers Kathleen Gaines/MarinArts, Lynn Noyce, Kim Wilson and Youth in Arts staff.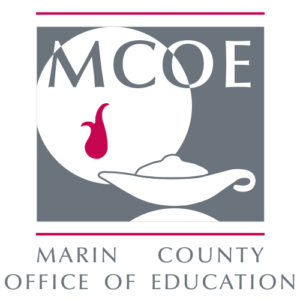 Exploring the local creek and designing their own natural playgrounds, creating songs about protecting the world, discovering the details in individual leaves and creating posters, learning vocabulary through dance games, using sculptures to explore science. These are some of the new experiences that teachers led summer school students through at the University Prep Summer School.
Teachers attended the Marin County Office of Education and Youth in Arts' recent STEAM workshop and put their learning into practice to make their own art-infused program at Lu Sutton Elementary School in Novato.
Earlier this month, Youth in Arts joined the Marin County Office of Education and a team of educators and experts to conduct a workshop on STEAM learning.  K-12 teachers were asked to rethink how they could teach the California Environmental Principles and Concepts.
Lisa Heslip, principal of the summer school program at Lu Sutton,  said students were happy, well behaved and engaged. Students made a giant "Making Learning Visible" paper wall documenting their learning that was posted in the courtyard of the school. The 1st through 5th grade students focused on the environment, looking at everything from how animals and people interact to their own carbon footprint.
Among other things, students considered the eyeball of a cow, putting the contents in a plastic bag, labeling the optic nerve, cornea and other parts, and taping the ball to the wall. "I wonder where tears come from?" pondered a student. Lower grade levels looked at creating sustainable playgrounds.
Heslip took photos and posted them on the wall, and students added their own drawings and Post It notes with questions and observations.
"They stop at it all the time," Heslip said. "It represents them. It's not teacher created at all."
Summer schools teachers also had intensive coaching by members of Agency By Design Oakland, who helped them with curriculum planning and were present during classroom teaching, Heslip said.
"When you think of English Language (Learners), it's getting them to talk and express their ideas … giving them the opportunity to use academic language," Heslip said. "What better way to do it than with a hands on activity?"
Preliminary research shows an increase in student summer school attendance (100% this year!) Teachers say they felt "inspired" and "reinvigorated" to go back into the classroom with these new tools.
Thank you to the California Department of Education's Student Support and Academic Enrichment (SSAE) grant, Marin County Office of Education and Marin Community Foundation for helping to make this work possible.

Patterns were the focus of art with a 3rd through 5th grade class at Lynwood Elementary School during a residency with Mentor Artist Cathy Bowman. We began with texture quilts, using shapes and gold foil. Then we made numbers 0 to 9 using large stencils, oil pastels and watercolor. This was a collaborative project inspired by artist Jasper Johns' number paintings.
With clay, we practiced patterns using beads. Then we explored tints (adding white to a color) and shades (adding black to a color). We made cityscapes, starting with red or blue paint and using the San Francisco skyline as our inspiration. Some of us included shapes from cities we have visited around the world.
Observational drawing is key. We practiced looking closely to record what we see, using animal toys as models. We made self portraits using metallic Sharpies. We chose five adjectives to describe ourselves, then turned each word into a different line. Our final weeks were spent practicing print making and color mixing, again exploring pattern.
Each end-of-class reflection was an opportunity to practice talking in front of the class and listening closely when our friends talked. Students came up with thoughtful observations to share and asked excellent questions.
At Youth in Arts, scaffolding is important. With each lesson, we build on previously learned skills to foster creativity, compassion and confidence in all learners.
Through the California Department of Education's Student Support and Academic Enrichment (SSAE) grant that the Marin County Office of Education received, Youth in Arts was in multiple Special Day Classes this spring.
At Olive and San Ramon elementary schools, Mentor Artist Cathy Bowman taught gesture drawing to 3rd through 5th graders.
We started by standing up and drawing in the air with our finger and discussed how it felt to work "big." Demonstrating with a student as a model, Ms. Bowman demonstrated how to capture the essence of the figure in a 30-second pose. Every student with an interest in selecting a pose got a turn, while the rest of the class worked quickly to capture their efforts. Models were able to explore what makes an interesting pose by choosing how to extend their arms and legs. As artists we learned to work fast, letting our intuition take charge. We practiced drawing the shapes, forms and lines of the body.
Gesture drawing was a great follow up to blind contour drawing and working small. It was hard at first to use the whole paper and resist the temptation to add details like eyes, ears and glasses but we did. When we finished, we had a thoughtful discussion about the process.
Through the California Department of Education's Student Support and Academic Enrichment (SSAE) Grant that Marin County Office of Education received, Youth in Arts was in multiple Special Day Classrooms this spring.
Students at Sinaloa Middle School in Novato practiced drawing each other during a recent residency with Mentor Artist Cathy Bowman.
The drawing exercise continued building skills from the previous week, where students made blind contour drawings of animal toys.  On this day, students split off in partners and practiced drawing each other without looking at their pens.
It's always tempting to look! To help, students used a paper plate with a hole in the middle to hide their pens. After drawing each other, we looked at all of the work and discussed the process. Reflecting on our work was an important part of understanding what we did. For the artists, the exercise was good practice in not judging a final drawing as good or bad but instead, appreciating the journey. It made everyone think about focusing on practice, not result.
Through the California Department of Education's Student Support and Academic Enrichment (SSAE) grant that the Marin County Office of Education received, Youth in Arts was in multiple Special Day Classes this spring.
Free field trips are one of the many programs that Youth in Arts offers! Recently, Short School students from Ms. Katie Marek's class visited us to see Architects in Schools: Designing Community, the exhibition on display at the YIA Gallery through July 26. The show features the work of Laurel Dell 4th and 5th graders and their response to climate change, housing shortages and other critical issues San Rafael faces now and in the future.
Short School students studied the towers and models that Laurel Dell students made, paying close attention to the detailed bridges they built. We then built our own towers out of foam core board scraps, starting with three words that describe us. We came up with several words, such as smart, funny, careful and goodness. We wrote each word on a circle and then used special glue and toothpicks to build our towers. It was tricky to get them to balance and stand up but we persevered. One artist made a piece inspired by the San Francisco skyline, and another built a unicorn.
Ms. Marek's class was part of Youth in Arts' Arts Unite Us program. This spring, her students explored visual art through a 10-week residency program with Mentor Artist Cathy Bowman.
Through the California Department of Education's Student Support and Academic Enrichment (SSAE) grant that the Marin County Office of Education received, Youth in Arts was in multiple Special Day Classes this spring.
Lisa Summers, a teaching poet and artist, worked with two special day classes at San Marin High School through our Arts Unite Us program to create work representing "spirit animals." In Brian Khoury's class, students practiced observational drawing skills including gestural drawings, calligraphic imagery using handmade bamboo pens and inks, and learned to make patterns. After sewing lessons, students cut out spirit animals in felt, sewed and stuffed them, then displayed sketches, patterns, and sewn animals in the front office of the school.
Lisa explored the idea of a spirit animal with Steve Lamott's class while they were reading Bless Me, Ultima by Rudolfo Anaya. In the novel, the curandera Ultima arrives with her spirit animal, the owl. Students considered what their protective spirit animal might be through lessons that ranged from gestural drawing to pen and ink to a group portrait project. In the second half of the residency, students prepared sketches for a triptych that displayed their spirit animal and elements of their "interior world" including landscapes, colors, and symbols that hold meaning for each of them. Students prepared and mixed colors, used collage techniques, and learned to transfer elements of their original sketches to the panels.
Lisa says, "I learned so much from working with Brian and Steve's students about process, and the relationship between creative exploration and identity development. Brian's students especially loved sharing their work with teachers and other San Marin students." Selected works will be on display at Youth In Arts during the July exhibition.
Through the California Department of Education's Student Support and Academic Enrichment (SSAE) grant that the Marin County Office of Education received, Youth in Arts was in multiple Special Day Classes this spring.
« Newer Entries
Older Entries »