Students at Oak Hill students explored themselves by making different lines.
Working with Mentor Artist Cathy Bowman, they used black and white pastels on a beautiful brown paper. We looked at thick lines and thin lines, curvy lines and bumpy lines. Some artists worked precisely and methodically and made only straight lines; others used only curves and made spontaneous marks everywhere.
When we finished, we laid the work on a table and talked about connections.
At the next session, we looked at the portraits and then made different portraits using water soluble Lyra graphic crayons and white pastels. Students made more lines and shapes, then activated the pencil lines by tracing them with a paintbrush dipped in water. It was fun to look at the two portraits together.
"This is another example of how we scaffold," Cathy said. "It builds confidence in artists when they can practice a familiar subject with new materials."
Cathy is at Oak Hill as part of Youth in Arts' Arts Unite Us program, which supports students experiencing disabilities.
Students at Olive Elementary School found an interesting way to make prints. They used their hands.
Working with Youth in Arts Mentor Artist Cathy Bowman, students in Joe Smith's class began by creating small collages using at least five torn pieces of colorful paper. They arranged the composition first, then glued them flat onto mat board.
That's when the real the fun began. Using black printer's ink, students took turns rolling out the ink, listening for the "sticky" or "tacky" sound that indicated it was ready. Using the sides of their palms, their fingertips and other parts, they created self portraits.
Cathy likes to show students that a self portrait doesn't have to be a realistic image of your face. Just as Van Gogh painted his shoes, young artists can show themselves through a painting of an object or image – or choosing what part of their hands to use for a print tool.
Cathy taught the same class at San Ramon Elementary School with Kelsey Olson. This project engaged many important skills, from rolling out the paint to tearing the collage papers into manageable pieces. For young artists in our Arts Unite Us program, which supports artists experiencing disabilities, these can be crucial skills to master.
While rolling out the thick black ink, one student sighed happily.
"I could do this all day," she said.
How can you turn a colorful collage into a painting of blacks, whites and grays?
Students in Kelsey Olson's class at San Ramon Elementary School used their collages from a previous class as inspiration for paintings that explored tints and shades.
Working with Mentor Artist Cathy Bowman, the young artists started with a plastic slide (view finder) to choose a tiny detail of their collage that they wanted to enlarge and turn into another painting.
After making a quick sketch, they worked with white and black paints on mat board. Some students made sure to keep the light areas light by using a little bit of white pastel, too.
In making the paintings, we had to look carefully. Which part is the darkest? Which part is the lightest? How do we mix white and black together to show a range of tints and shades?
"I wasn't sure if they would find black and white paint boring, but they all liked it," Cathy said. "It's amazing what a variety of tints and shades students created."
Class ended with students looking at the ways their own work connected to that of their classmates. It was good practice to talk about what we "see" instead of what we "like" and the value of giving precise, neutral feedback to each other.
Art making can happen many ways. Whenever possible, Youth in Arts visual art teachers like to work in small groups to give young artists more time and attention. Sometimes the rest of the class is doing academic work, on worksheets or an iPad. Occasionally we run an informal art center, where students can freely explore materials they will be using later in class with their Youth in Arts teaching artist.
Mentor Artist Cathy Bowman worked recently with several students at Oak Hill School in San Anselmo through our Arts Unite Us program, which supports students experiencing disabilities. As she started with a few students, teacher Nicole Albert asked if the rest of the class could make some collaborative art. Nicole covered the table with white butcher paper, and Cathy set out some of the pastels she would be using for her lesson a few minutes later.
Students were encouraged to explore making all kinds of marks, and each picture told a story. Some students got to practice their fine motor skills by cutting out cats, human-like figures and other shapes they had drawn.
After a quick hand wash, students visited Cathy at a different table. They made textured quilts on mat boards, pressing different colored shapes and textures onto a sheet of sticky shelf paper. They used the pastels to trace around each shape, practicing hand-eye coordination. Finally they applied magic gold foil they left a shiny imprint on their art when they pulled it off. All the pressing, rubbing, scratching and lifting helps strengthen the hand muscles that are needed for writing, cutting and other duties. And using pastels twice made the artists more confident. Scaffolding lessons is built into our lessons so students can build on skills learned from week to week. Even an art center can be linked to a lesson so that it supports the lesson being taught that day.
You can see art created by these very talented students this summer at our annual "Outside the Lines" art exhibit at the Youth in Arts Gallery.
Circles come in all colors and sizes. We can find them everywhere.
Students in Kathleen Haulot's class at San Ramon Elementary School used Mason jar lids, tape rolls, tiny dishes and an empty yogurt container to make circles on black paper. Inspired by the work of Kandinsky, these young artists explored making circles big and small, loose and tight, thick and thin.
The students are working with Mentor Artist Cathy Bowman as part of a 10-week residency at Olive Elementary School in Novato. This is the second year she has worked with Kathleen, whose students range in age from kindergarten to second grade. She taught the same project at Olive Elementary School with Joe Smith.
The artists used thick, creamy tempera crayons that are easy to hold and use for students experiencing disabilities. Instead of working on white paper, they drew on black. The stark contrast created visual interest, and students had to think about what happens when yellow is applied to black paper (more green) than white paper (more yellow).
"I want my students to know the joy of making art with anything, and working on black paper produces exciting, dramatic art," Cathy said. "This is a great way for students to practice fine motor skills because they have to hold the lid with one hand and trace with the other."
Cathy likes Mason jar lids because they are sturdy and easy to hold. Artists had fun using different objects to make different circles. When we finished, we put them together on a table and talked about how each piece connected with the others. Reflection on art making is a key part of our Youth in Arts' programs, and it's wonderful to witness the many ways students share their voices.
Youth in Arts is the only provider of arts classes (visual, dance or music) to nearly 40 self-contained classrooms of students experiencing disabilities in Marin County. You can see art created by these very talented students this summer at our annual "Outside the Lines" art exhibit at the Youth in Arts Gallery.
Concluding an Arts Unite Us residency at Magnolia Park School, Youth in Arts Mentor Artist Julia James and her students used their last day together to finish a collaborative painting they had been working on for over six weeks. The project began early on in the residency as students experimented with various tools and materials. Over the ten-week program, oil pastels, tempera paint, watercolors, rollers and different tools were used to make new textures and colors.
The first few layers of the painting demonstrated some of the early skill-building that students participated in. As we learned more about what materials were available and how to use them, we built upon our initial work using adaptive mark-making tools. Each week we practiced fine a gross-motor movement and built fine arts skills in color mixing, paint application, and decision-making.
On the last day of class, we gathered together to reflect on the artwork and come up with a title based on what we saw in our painting. We discussed the colors we had chosen, and thought collectively about what our artwork made us think about, and how it made us feel. During our conversation and throughout the residency, we worked on building our social emotional core competencies by exercising our sharing, listening, decision-making and collaboration skills.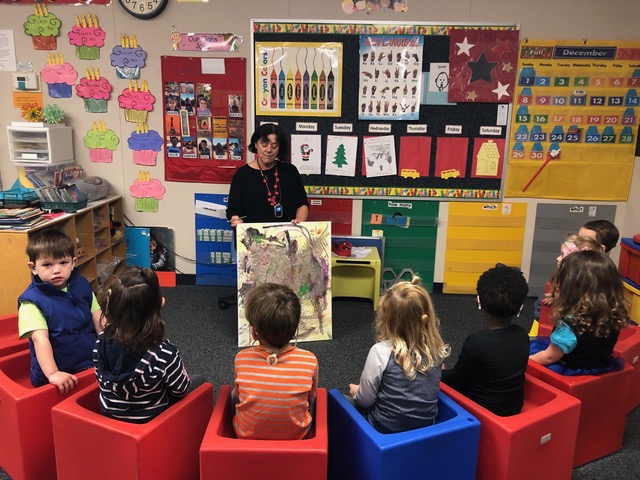 Together, we decided that our classroom painting would be called, "The Story of the Leaf". Can you see it too?
This program was made possible thanks to the generous support of our partners.
Which visual arts lessons will help you communicate with a student who is on the autism spectrum? How can dance include someone using a wheelchair? How do you teach collaboration in your 5th grade classroom?
Youth in Arts' new ARTS Bank (Art Resources for Teachers and Students) offers answers. The ARTS Bank is a first of its kind free database to find and contribute arts activities to reach all types of learners.  
Visual Arts Director Suzanne Joyal and former Executive Director Miko Lee presented a beta version of the online resource recently at VSA Intersections: Arts and Special Education Conference in Irvine, CA. VSA is an international organization on arts, education and disability that was founded in 1974 by former U.S. Ambassador Jean Kennedy Smith and is headquartered in Washington, D.C.
"The ARTS bank is an exciting tool," Joyal said. "With a click of a button, teachers, parents or caregivers can plug in an Individualized Education Program (IEP) goal or grade level or a key word and find an arts lesson designed to strengthen those specific skills."
Lee said the goal is to provide a tool so people can build on each other's work.
"We have intentionally made it a free resource to encourage people to use it, contribute and collaborate," Lee said. "You get the best solutions for the communities you are working with from those communities themselves. Those are the practitioners that best understand what works."
The ARTS Bank is part of Youth in Arts' Digital Toolkit, which includes six videos on inclusive teaching practices for artists, classroom teachers and parents. The ARTS Bank was developed pro bono through Salesforce under the leadership of Derek Schauffler. Funding for the video portion was provided through the state Department of Education's Student Support and Academic Enrichment grant that the Marin County Office of Education received.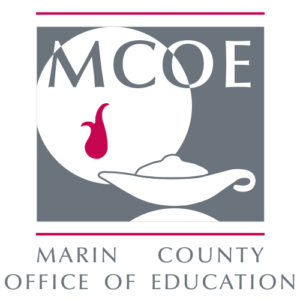 This summer, Youth in Arts' Director of Visual Arts Suzanne Joyal began her study toward a Master of Arts in Arts Education with a focus on special populations from Moore College of Art and Design in Philadelphia, PA. The only program of its kind in the country, the program was founded by Lynn Horoschak, a pioneer in the field of arts education for special populations. For the students of Moore, and arts educators at Youth in Arts, "special populations" means anyone who does not thrive in the linear, neurotypical classroom. This could mean students experiencing disabilities, newcomer and english language learners, students experiencing the effect of trauma, or anyone with an IEP (Individual Education Plan).
"I decided to pursue the Moore Masters program after attending several workshops led by Lauren Stichter, the graduate program director at Moore. I have been working with students with special needs for 11 years at Youth in Arts, and after listening to Lauren, I knew I could do more. I know that what we are doing at Youth in Arts is necessary and needed and the right thing for all students. We all need to be able to express ourselves with confidence, and for many people (myself included), it's through the arts that this is possible. For students experiencing disabilities, every day can be painful or scary or exhausting, and infusing the arts into learning is what can help them thrive. We want every student to want to come to school and to feel proud of their accomplishments, and I have witnessed how the arts helps many students get there."
Suzanne spent six weeks this summer participating in the intensive program, is working remotely for the school year, and will return to Philadelphia next summer to complete and present her thesis.
Patterns were the focus of art with a 3rd through 5th grade class at Lynwood Elementary School during a residency with Mentor Artist Cathy Bowman. We began with texture quilts, using shapes and gold foil. Then we made numbers 0 to 9 using large stencils, oil pastels and watercolor. This was a collaborative project inspired by artist Jasper Johns' number paintings.
With clay, we practiced patterns using beads. Then we explored tints (adding white to a color) and shades (adding black to a color). We made cityscapes, starting with red or blue paint and using the San Francisco skyline as our inspiration. Some of us included shapes from cities we have visited around the world.
Observational drawing is key. We practiced looking closely to record what we see, using animal toys as models. We made self portraits using metallic Sharpies. We chose five adjectives to describe ourselves, then turned each word into a different line. Our final weeks were spent practicing print making and color mixing, again exploring pattern.
Each end-of-class reflection was an opportunity to practice talking in front of the class and listening closely when our friends talked. Students came up with thoughtful observations to share and asked excellent questions.
At Youth in Arts, scaffolding is important. With each lesson, we build on previously learned skills to foster creativity, compassion and confidence in all learners.
Through the California Department of Education's Student Support and Academic Enrichment (SSAE) grant that the Marin County Office of Education received, Youth in Arts was in multiple Special Day Classes this spring.
At Olive and San Ramon elementary schools, Mentor Artist Cathy Bowman taught gesture drawing to 3rd through 5th graders.
We started by standing up and drawing in the air with our finger and discussed how it felt to work "big." Demonstrating with a student as a model, Ms. Bowman demonstrated how to capture the essence of the figure in a 30-second pose. Every student with an interest in selecting a pose got a turn, while the rest of the class worked quickly to capture their efforts. Models were able to explore what makes an interesting pose by choosing how to extend their arms and legs. As artists we learned to work fast, letting our intuition take charge. We practiced drawing the shapes, forms and lines of the body.
Gesture drawing was a great follow up to blind contour drawing and working small. It was hard at first to use the whole paper and resist the temptation to add details like eyes, ears and glasses but we did. When we finished, we had a thoughtful discussion about the process.
Through the California Department of Education's Student Support and Academic Enrichment (SSAE) Grant that Marin County Office of Education received, Youth in Arts was in multiple Special Day Classrooms this spring.
Older Entries »