Why do the arts matter? Look no further than Laurel Dell School.
The San Rafael elementary school recently celebrated its reopening with a joyful ribbon-cutting ceremony that drew dozens of students, staff and members of the community. Youth in Arts was there to celebrate its Architects in Schools program and to showcase the amazing work made during residencies last Fall while the school was being rebuilt.
Youth in Arts' Visual Arts Director Suzanne Joyal presented Principal Pepe Gonzalez with the this year's Pamela Levine award for his outstanding support of arts education. It was evident how much he is loved by the thick book Suzanne made that was filled with hundreds of cards and drawings from students, teachers and specialists. There were so many cards from well wishers that the book couldn't hold them all.
Although Suzanne has never seen Pepe draw a picture, dance or sing, she considers him a kindred spirit who thinks like an artist.
"He enjoys the success that comes from solving problems as much as I do," she said. "Mr. Gonzalez understand that the arts are about so much more than the pretty object we draw. The arts offer students a safe space to explore their world, to stand up to speak out and to believe in themselves."
The day included visits to a special exhibition of work made with Youth in Arts' architects Shirl Buss and Janine Lovejoy Wilford, and Mentor Artist Cathy Bowman. Visitors were encouraged to look closely at how Youth in Arts teaches a sequential program in which skills are built upon from one year to the next. The lines and curves in a kindergarteners' self portraits, for example, leads to a third graders' colorful model of what Fourth Street in San Rafael could look like. That model gives fifth graders the skills they need to design spaces for the city's future library.
Pairs of students from each class served as docents, giving tours, answering questions and explaining their work. Practicing speaking in public supports one of Youth in Arts' goals: that students reflect upon making art and can speak confidently about their work. Third graders who worked with Shirl (creative director at UC Berkeley's Y-PLAN) will present their design and policy proposals for downtown San Rafael the city's 2040 general plan steering committee on March 11.
The daylong celebration ended with a Family Art Night with Youth in Arts. Children in after school care, as well as families and friends, stopped by to make tiny bridges for crossing the canal. It required them to find a place where they thought a bridge was needed, then to measure the spot to make sure the bridge was long enough. They used buttons, embroidery hoops, clay, bumpy paper and wood scraps to bring their models to life.
Family Art Nights are a great way to involve families in the art their children are making and are usually a part of all Youth in Arts'
Artists in Schools residencies. For more information about art nights and Youth in Arts' residencies, please contact Program Director Kelsey Rieger at (415) 457-4878 ext 110.
What do we need to play? How can we make it? How can we work together? Kindergarteners at Laurel Dell Elementary School in San Rafael spent a wonderful day building imaginary playgrounds.
Using large pieces of black foam core board at each table, students applied skills they had previously learned about shaping paper. Twisting long strips around pencils made spirals; making feet with folds allowed them to make swings. Folding accordion style made the stairs they needed to climb to a slide.
The young artists also explored pattern but using paper with patterns and creating their own patterns on plain paper with pastels. Working with Youth in Arts Mentor Artist Cathy Bowman, we talked about other patterns we saw in the classroom and what connections we could make. How could we work together? How could we connect our ideas to make one playground?
The project offered rich opportunities for Social Emotional Learning through collaboration and sharing. When one little boy wanted shiny paper, several of his classmates offered him some. In another class, a student happily translated the instructions for her table mate, an English Language Learner. Teacher Alejandra Vazquez helped students connect the project to their real world experience by pointing to the blacktop outside their temporary classroom. If you could design the playground of your dreams, she asked, what would it look like? If you needed shade from the hot sun, how would you find it?
At Youth in Arts, we work hard to scaffold projects, building each week on skills learned earlier in the residency. The project was the second time students created playgrounds. Two weeks earlier. they made smaller, individual playgrounds; the following week they drew their own and a friend's playground on paper,  figuring out how they could connect them.
At the end of class, students went on a gallery walk with their hands behind their back to look at each other's art. We had a rich discussion about similarities we saw in color, shape and line and all the ways we can make connections.
The program is part of the Walker Rezaian Creative HeArts Fund created by Youth in Arts and the Rezaian family and generously supported by the Rezaians. It celebrates Walker's life and love of the arts and is built around friendship and social emotional learning. How do we make and keep friends? What happens if we both want to build a slide in the same place? It gives children a chance to explore those and other questions in a safe, artistic place.
By Mentor Artist Cathy Bowman
This year, I decided to start all of my art classes with a Brain Dance, a series of movements developed by dance educator and author Anne Green Gilbert to wake up the brain and improve focus. Often I see students at the end or beginning of the day, when they are restless or tired.  My five-minute version of the Brain Dance helps reinvigorate them while focusing on re-mapping of brain-body connections.
Inevitably it's the wiggly students, the ones who need it the most, who are the most resistant. As an introduction activity, the Brain Dance acts as a daily assessment tool for my students. Who is having trouble calming their body or mind? Who has trouble with cross lateral movements? Who confuses left and right? Even, how is their sense of self today? Watching them move gives me valuable information about what skills they may find challenging when it comes to art making or the level of engagement I may need to address.
The dance includes eight patterns of movement, starting and ending with the breath. Deep breathing is essential for all healthy bodies. When children are stressed, it's no coincidence that they take short, shallow breaths. Starting and ending with belly breaths means more oxygen for young brains. From breath, the Brain Dance moves through the developmental patterns of movement (the movements we take in our first year after birth) to the most integrated pattern, cross-lateral connectivity. Cross-lateral is the pattern that crosses the four quadrants of the body (upper, lower, right, left) which supports higher thinking and even eye tracking used for reading and reading-readiness.
Recently I had a kindergartener who always wore a serious expression. Adrian solemnly watched his classmates do the Brain Dance, week after week, without joining in. On the seventh week, he spontaneously started participating in the warm up with a big smile on his face. Instead of saying "good job" or "well done" (vague) I looked for something specific in Adrian's movements that I could point out, and others could follow.  He found confidence in his kinesthetic learning that day; and my acknowledgement of his effort (by name) reinforced his effort and ability. He became a positive role model for the rest of the class.
When I started doing the Brain Dance it felt uncomfortable for me, since I see myself as a visual artist rather than a dancer. But as we learn more about how children learn and absorb information in multiple ways, integrating different art forms makes sense. When Laurel Dell 2nd graders visited the YIA Gallery recently, they learned an extended version of the Brain Dance from Youth in Arts' Executive Director Kristen Jacobson. I picked up some tips as well.
The Brain Dance also helps teachers stay centered and focused.  Who doesn't need a belly breath during the day? You can learn more about the Brain Dance by viewing this video, Brain Dance, which is a part of Youth in Arts Digital Tool Kit.
Thank you to our very generous donors, sponsors and partners:
How do I make brown? How many different shades of brown can I make? Second graders at Short and Laurel Dell elementary schools practiced mixing colors using only the primaries red, yellow and blue plus white.
We worked with tempera paint, waxy black markers and mat board. First we traced our own hands and the hands of our table mates, overlapping to create interesting shapes. We mixed different browns carefully and painted in each area. It was fun to see how purple and yellow make a brown that is different from the brown that blue and orange makes. We used donated mat board instead of paper to give students a velvety and durable service on which to work. Mat board is especially helpful with children with learning differences as it offers a strong sensory response, and won't crumple with lots of paint.
Working with Youth in Arts Mentor Artist Cathy Bowman, we have been exploring identity and our role in our communities and neighborhoods. The lesson followed a multi-week project in which students created richly detailed murals using collage papers, pastels and glue. In each class, we designed and envisioned our dream neighborhood after looking at artists Romare Bearden, Faith Ringgold and others.
Thank you to Lo Forti Fine Prints in San Anselmo for the generous donation of mat board.
This summer, Youth in Arts' Director of Visual Arts Suzanne Joyal began her study toward a Master of Arts in Arts Education with a focus on special populations from Moore College of Art and Design in Philadelphia, PA. The only program of its kind in the country, the program was founded by Lynn Horoschak, a pioneer in the field of arts education for special populations. For the students of Moore, and arts educators at Youth in Arts, "special populations" means anyone who does not thrive in the linear, neurotypical classroom. This could mean students experiencing disabilities, newcomer and english language learners, students experiencing the effect of trauma, or anyone with an IEP (Individual Education Plan).
"I decided to pursue the Moore Masters program after attending several workshops led by Lauren Stichter, the graduate program director at Moore. I have been working with students with special needs for 11 years at Youth in Arts, and after listening to Lauren, I knew I could do more. I know that what we are doing at Youth in Arts is necessary and needed and the right thing for all students. We all need to be able to express ourselves with confidence, and for many people (myself included), it's through the arts that this is possible. For students experiencing disabilities, every day can be painful or scary or exhausting, and infusing the arts into learning is what can help them thrive. We want every student to want to come to school and to feel proud of their accomplishments, and I have witnessed how the arts helps many students get there."
Suzanne spent six weeks this summer participating in the intensive program, is working remotely for the school year, and will return to Philadelphia next summer to complete and present her thesis.
First graders at Laurel Dell School in San Rafael have been exploring literacy through art with Youth in Arts' Mentor Artist Cathy Bowman. Students love to look at their art. When we make art with words, we look carefully to find what we know, which means we practice reading.
Students built a colorful word mural from important words they know. Using a donated canvas splashed with graffiti, old encyclopedia pages, oil pastels and glue, they made big words and cut them into interesting shapes. The words were glued onto the canvas, which will become a living document; students will be encouraged to add to their work throughout the year.
The goal of the project was to teach the young artists that words are fun. Teacher Vanessa Nunez helped with the project by encouraging the young artists to brainstorm about words they know. She wrote the words on index cards before art class so students were ready to copy them and practice their spelling. The final step was cutting their words into interesting shapes.
"Art is a wonderful way to teach literacy since all letters are shapes," Bowman said. "Students love to engage in creative art making and show what they know."
When a large box became scrambled while students searched for their letters, Nunez created a teachable moment. Students who are English Language Learners took turns sorting the letters and then naming them before putting them in the right place.
"Working at Laurel Dell is a great experience because Principal Pepe Gonzalez and his staff are so supportive," Bowman said. "Working in partnership enables us to accomplish so much."
Nearly 100 arts supporters turned out to celebrate the importance of art education and to honor Youth in Arts' wonderful Executive Director Miko Lee on Sept. 13 at the YIA Gallery in the Downtown San Rafael Arts District.
Lee has been a tenacious advocate for ensuring that all children – not just those at Marin's wealthier schools – have equal access to the arts. She is leaving Youth in Arts after 13 years at the helm.
"We know we have a big equity gap in Marin, " Lee told the enthusiastic crowd at the State of the Arts event. "We feel that as part of the ARTS NOW Marin (California Alliance for Arts Education) community, arts education makes a difference. "
In reviewing the year's accomplishments, Lee highlighted the passage of Marin's first ever Arts Education Plan a year ago, which was folded into the larger county arts plan. With that strong foundation, Marin County Office of Education and Youth in Arts were able to get $500,000 in additional funding for arts education so that more students of color and students with disabilities were reached.
Youth in Arts also partnered with other experts in the field to train nearly 100 educators at a STEAM workshop this summer.
"One hundred percent of those teachers said they could feel confident integrating arts into their curriculum," Lee said. "They saw that this is a way to reach our students who are not being listened to and not being heard."
Youth in Arts has also produced a Digital Toolkit, six videos on inclusive teaching practices for artists, classroom teachers and parents. In addition, Youth in Arts has developed a free ARTS Bank. The database, believed to be the first of its kind in the nation, allows educators, parents and students to plug in an IEP goal or grade level and get an arts activity that matches.
Youth in Arts' award-wining youth a cappella group, 'Til Dawn, also performed.  This past year, those students received 350 hours of arts learning and performing. The event also coincided with San Rafael's  2nd Friday Art Walk .
Board member Melissa Jones-Briggs served as the MC. Speakers at the event included Mary Jane Burke, Marin County superintendent of schools; Gabriella Calicchio, director of cultural services for Marin County; Pepe Gonzalez, principal of Laurel Dell and Short Elementary schools; Danielle O'Leary, economic development director for San Rafael, Naomi Tamura, Youth in Arts' board president; and Dr. Tom Peters, president and CEO of the Marin Community Foundation.
Gonzalez spoke passionately about the difference Lee has made through her vision, passion and energy. He pointed to photographs in the YIA gallery of young artists with special needs and said he wasn't surprised to see them there.
"If it wasn't for Miko and the programs she's brought in, they wouldn't be up there right now," he said.
Gonzalez also pointed to the photo of a third grader at Laurel Dell who had been through Youth in Arts programs.
The young artist has been in the U.S. only two years. Her academic grades only tell part of her story, he said, noting the joy on her face while making art.
"When you give kids access to something that finds that inner voice, that right there is exactly what we want our kids to be like," Gonzalez said. "Those smiles are real. The programs, the vision, everything that (Miko) believes in … that smile says it all."
Please consider a donation in honor of Miko Lee's incredible legacy, and to support the important work that we do.
Thanks to photographers Kathleen Gaines/MarinArts, Lynn Noyce, Kim Wilson and Youth in Arts staff.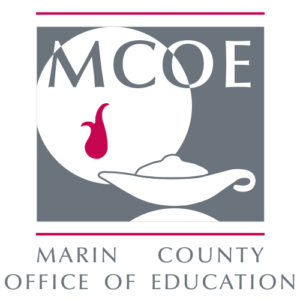 Friends come in all shapes and sizes!
"Imagining Friendship" is at the YIA Gallery in San Rafael through May 24. The show features the colorful self portraits by kindergarteners and first graders at Laurel Dell Elementary School. The work was part of a residency this Fall with Youth in Arts' mentor artists Suzanne Joyal and Cathy Bowman.
The Walker Rezaian Creative HeArts exhibition is now in its fifth year. The show celebrates the life of 5-year-old Walker Rezaian and his love of the arts. The show is part of a program funded by the Rezaian family.
"This is an exciting show that celebrates friendship in all its forms," said Youth in Arts' Executive Director Miko Lee. "The exhibition also features a wonderful cardboard for exploring. The exhibit shows families that art can be made from anything."
As a backdrop for the show, Joyal and Bowman built a kid-sized, interactive cardboard world with tunnels to crawl through and doors to open. There are windows to look in and out of and a cardboard word game to encourage visitors to read and write. The show also features a giant word tower made from cardboard boxes inspired by the work of artist Corita Kent. The cardboard was generously donated by Sunrise Home.
Youth in Arts is also excited to announce the opening of its new ART LAB, housed in the YIA store. The ART LAB is open during regular Youth in Arts' hours, Monday through Friday from 11 a.m. to 4 p.m.
Laurel Dell fourth graders embarked on a 12-week journey exploring bridges to make connections between art and architecture. The course ended with tiny bridges that were built in a box. This project was another approach to a self portrait. Where are we now? Where to we want to go in our lives? The goal of this project was to bridge our current and future selves and dreams.
We began with a discussion of symbols and what images we would use to show our present and future selves. We sketched a design in our sketchbooks to work out what our bridges would look like. This was a crucial step in working out the details. Then we used watercolor to paint the backgrounds, carefully adding details with colored pencils. It was hard to wait for the paintings to dry! The paper was pre-cut so it would fit into 6 by 6-inch wooden boxes.
The final class was devoted to building tiny bridges made from thick white paper, string, buttons and glue. We used Q-tips to carefully apply the glue to small places. It was challenging to work small, but good practice using scissors and hole punches.  Some students used traditional bridge designs while others got quite creative! One student built a lily pad bridge using clay. Several students said this was their favorite project.
Second graders at Laurel  Dell Elementary School made their own murals by studying the great collage artists. We looked at art by Romare Bearden and other well known collage artists, looking at how they used textures, shapes and colors to layer their work. We began with a lively discussion of what a healthy neighborhood contains. What do we need besides a home, a school, a library, a hospital, a fire station and a police station? We divided up into teams to make the buildings, trees and parks that we needed. First we sketched in our sketchbooks. Then we turned the sketches into collages. We glued down the roads to provide a framework. Homes included apartment buildings and houses. One student made a motorcycle airplane; another student created a moon house!  The art will be displayed in the hallway at school and added to throughout the year.  
Older Entries »