This summer, Youth in Arts' Director of Visual Arts Suzanne Joyal began her study toward a Master of Arts in Arts Education with a focus on special populations from Moore College of Art and Design in Philadelphia, PA. The only program of its kind in the country, the program was founded by Lynn Horoschak, a pioneer in the field of arts education for special populations. For the students of Moore, and arts educators at Youth in Arts, "special populations" means anyone who does not thrive in the linear, neurotypical classroom. This could mean students experiencing disabilities, newcomer and english language learners, students experiencing the effect of trauma, or anyone with an IEP (Individual Education Plan).
"I decided to pursue the Moore Masters program after attending several workshops led by Lauren Stichter, the graduate program director at Moore. I have been working with students with special needs for 11 years at Youth in Arts, and after listening to Lauren, I knew I could do more. I know that what we are doing at Youth in Arts is necessary and needed and the right thing for all students. We all need to be able to express ourselves with confidence, and for many people (myself included), it's through the arts that this is possible. For students experiencing disabilities, every day can be painful or scary or exhausting, and infusing the arts into learning is what can help them thrive. We want every student to want to come to school and to feel proud of their accomplishments, and I have witnessed how the arts helps many students get there."
Suzanne spent six weeks this summer participating in the intensive program, is working remotely for the school year, and will return to Philadelphia next summer to complete and present her thesis.
First graders at Laurel Dell School in San Rafael have been exploring literacy through art with Youth in Arts' Mentor Artist Cathy Bowman. Students love to look at their art. When we make art with words, we look carefully to find what we know, which means we practice reading.
Students built a colorful word mural from important words they know. Using a donated canvas splashed with graffiti, old encyclopedia pages, oil pastels and glue, they made big words and cut them into interesting shapes. The words were glued onto the canvas, which will become a living document; students will be encouraged to add to their work throughout the year.
The goal of the project was to teach the young artists that words are fun. Teacher Vanessa Nunez helped with the project by encouraging the young artists to brainstorm about words they know. She wrote the words on index cards before art class so students were ready to copy them and practice their spelling. The final step was cutting their words into interesting shapes.
"Art is a wonderful way to teach literacy since all letters are shapes," Bowman said. "Students love to engage in creative art making and show what they know."
When a large box became scrambled while students searched for their letters, Nunez created a teachable moment. Students who are English Language Learners took turns sorting the letters and then naming them before putting them in the right place.
"Working at Laurel Dell is a great experience because Principal Pepe Gonzalez and his staff are so supportive," Bowman said. "Working in partnership enables us to accomplish so much."
Nearly 100 arts supporters turned out to celebrate the importance of art education and to honor Youth in Arts' wonderful Executive Director Miko Lee on Sept. 13 at the YIA Gallery in the Downtown San Rafael Arts District.
Lee has been a tenacious advocate for ensuring that all children – not just those at Marin's wealthier schools – have equal access to the arts. She is leaving Youth in Arts after 13 years at the helm.
"We know we have a big equity gap in Marin, " Lee told the enthusiastic crowd at the State of the Arts event. "We feel that as part of the ARTS NOW Marin (California Alliance for Arts Education) community, arts education makes a difference. "
In reviewing the year's accomplishments, Lee highlighted the passage of Marin's first ever Arts Education Plan a year ago, which was folded into the larger county arts plan. With that strong foundation, Marin County Office of Education and Youth in Arts were able to get $500,000 in additional funding for arts education so that more students of color and students with disabilities were reached.
Youth in Arts also partnered with other experts in the field to train nearly 100 educators at a STEAM workshop this summer.
"One hundred percent of those teachers said they could feel confident integrating arts into their curriculum," Lee said. "They saw that this is a way to reach our students who are not being listened to and not being heard."
Youth in Arts has also produced a Digital Toolkit, six videos on inclusive teaching practices for artists, classroom teachers and parents. In addition, Youth in Arts has developed a free ARTS Bank. The database, believed to be the first of its kind in the nation, allows educators, parents and students to plug in an IEP goal or grade level and get an arts activity that matches.
Youth in Arts' award-wining youth a cappella group, 'Til Dawn, also performed.  This past year, those students received 350 hours of arts learning and performing. The event also coincided with San Rafael's  2nd Friday Art Walk .
Board member Melissa Jones-Briggs served as the MC. Speakers at the event included Mary Jane Burke, Marin County superintendent of schools; Gabriella Calicchio, director of cultural services for Marin County; Pepe Gonzalez, principal of Laurel Dell and Short Elementary schools; Danielle O'Leary, economic development director for San Rafael, Naomi Tamura, Youth in Arts' board president; and Dr. Tom Peters, president and CEO of the Marin Community Foundation.
Gonzalez spoke passionately about the difference Lee has made through her vision, passion and energy. He pointed to photographs in the YIA gallery of young artists with special needs and said he wasn't surprised to see them there.
"If it wasn't for Miko and the programs she's brought in, they wouldn't be up there right now," he said.
Gonzalez also pointed to the photo of a third grader at Laurel Dell who had been through Youth in Arts programs.
The young artist has been in the U.S. only two years. Her academic grades only tell part of her story, he said, noting the joy on her face while making art.
"When you give kids access to something that finds that inner voice, that right there is exactly what we want our kids to be like," Gonzalez said. "Those smiles are real. The programs, the vision, everything that (Miko) believes in … that smile says it all."
Please consider a donation in honor of Miko Lee's incredible legacy, and to support the important work that we do.
Thanks to photographers Kathleen Gaines/MarinArts, Lynn Noyce, Kim Wilson and Youth in Arts staff.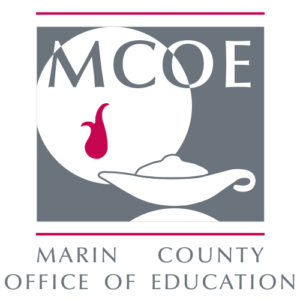 Friends come in all shapes and sizes!
"Imagining Friendship" is at the YIA Gallery in San Rafael through May 24. The show features the colorful self portraits by kindergarteners and first graders at Laurel Dell Elementary School. The work was part of a residency this Fall with Youth in Arts' mentor artists Suzanne Joyal and Cathy Bowman.
The Walker Rezaian Creative HeArts exhibition is now in its fifth year. The show celebrates the life of 5-year-old Walker Rezaian and his love of the arts. The show is part of a program funded by the Rezaian family.
"This is an exciting show that celebrates friendship in all its forms," said Youth in Arts' Executive Director Miko Lee. "The exhibition also features a wonderful cardboard for exploring. The exhibit shows families that art can be made from anything."
As a backdrop for the show, Joyal and Bowman built a kid-sized, interactive cardboard world with tunnels to crawl through and doors to open. There are windows to look in and out of and a cardboard word game to encourage visitors to read and write. The show also features a giant word tower made from cardboard boxes inspired by the work of artist Corita Kent. The cardboard was generously donated by Sunrise Home.
Youth in Arts is also excited to announce the opening of its new ART LAB, housed in the YIA store. The ART LAB is open during regular Youth in Arts' hours, Monday through Friday from 11 a.m. to 4 p.m.
Laurel Dell fourth graders embarked on a 12-week journey exploring bridges to make connections between art and architecture. The course ended with tiny bridges that were built in a box. This project was another approach to a self portrait. Where are we now? Where to we want to go in our lives? The goal of this project was to bridge our current and future selves and dreams.
We began with a discussion of symbols and what images we would use to show our present and future selves. We sketched a design in our sketchbooks to work out what our bridges would look like. This was a crucial step in working out the details. Then we used watercolor to paint the backgrounds, carefully adding details with colored pencils. It was hard to wait for the paintings to dry! The paper was pre-cut so it would fit into 6 by 6-inch wooden boxes.
The final class was devoted to building tiny bridges made from thick white paper, string, buttons and glue. We used Q-tips to carefully apply the glue to small places. It was challenging to work small, but good practice using scissors and hole punches.  Some students used traditional bridge designs while others got quite creative! One student built a lily pad bridge using clay. Several students said this was their favorite project.
Second graders at Laurel  Dell Elementary School made their own murals by studying the great collage artists. We looked at art by Romare Bearden and other well known collage artists, looking at how they used textures, shapes and colors to layer their work. We began with a lively discussion of what a healthy neighborhood contains. What do we need besides a home, a school, a library, a hospital, a fire station and a police station? We divided up into teams to make the buildings, trees and parks that we needed. First we sketched in our sketchbooks. Then we turned the sketches into collages. We glued down the roads to provide a framework. Homes included apartment buildings and houses. One student made a motorcycle airplane; another student created a moon house!  The art will be displayed in the hallway at school and added to throughout the year.  
For our final project at Laurel Dell Elementary School, kindergarteners and first graders played with clay. Working with Sculpey builds strong fine motor skills, since the hard clay has to be softened by warm hands. Students used a maquette, a small model made of pipe cleaners as a structure, then built their clay creatures around it. We then tested beads for size, choosing the ones that fit to slide onto arms and legs. It was a challenge to squeeze the clay tightly around the form. Many students got quite creative with their people! We baked the clay to make it hard and more permanent.
Third Graders at Laurel Dell Elementary School spent three afternoons making comics!  They based their stories on super heroes they designed and created. Each superhero had a special power they used to address a problem in their community. One wolf character breathed fire to light up dark places; another had special hands to help pick up trash. They learned about making speech bubbles, thought bubbles, and background, foreground and middle ground. They also practiced drawing characters in profile so they faced each other while talking. One challenge was drawing characters in profile instead of facing forward. This was a great exercise in practicing that a story has a beginning, middle and end. And something exciting happens! We used a worksheet with question prompt to help the process along.
After making their rough sketches, students copied their best lines onto Bristol board – popular for its smooth, shiny, durable surface. They used special cartooning pens for the final inking. Finally those who had time and interest added color using colored pencils.
What do we look like? What do you see? These are some of the questions that kindergarteners and first graders pondered at Laurel Dell Elementary School.
Looking into mirrors, we touched our faces. Where are our eyes, noses and ears? What color is our skin? How do we show emotion with our expressions? Students started with a sketch, encouraged to draw themselves big enough to use the whole page. We drew faces, necks and the tops of shoulders. Once the sketches were done, students copied their best lines in Sharpie markers. At the following class, we added watercolor. It was important to know when to stop and how to use watercolors carefully so we didn't make mud! Kindergarteners then decorated cardboard frames, using black and white pastels. First graders used white pencils on black frames. We told a story in the pictures and words we used. The results were wonderful. The portraits will be part of a spring show at the YIA gallery. Stay tuned!
First Graders were able to practice lots of vocabulary with this painting project, including their shapes, colors, and counting. Tracing is a surprisingly challenging task for some first graders, and is a valuable writing tool as they have to use both hands, hold an object steady, and work their writing hand all the way around it. I feel that this is a safe and entertaining way for them to practice what can be a frustrating skill.
In terms of sharing colors, working with one set of paints for an entire table again gives students a safe way to practice making choices, listening to peers, and problem solving: what happens when your friend mixes the colors? How do you solve the problem?
« Newer Entries
Older Entries »