By Mentor Artist William Rossel
At Venetia Valley I worked with students in Erica Wheeler, Emily Derecat, and Chelsea Fitzsimmon's classrooms. We used music and percussion as learning tools, counting beats, playing echo/call-and-response games, creating patterns using long and short notes, improvising and jamming! We learned about levels of volume (soft, medium, and loud) and speed (slow, medium, and fast) in music, and in Ms. Wheeler's class we even learned about more complex musical concepts, like polyrhythms (more than one rhythm at the same time), and conducting (using a bouncy ball to cue the musicians in the class). We learned and sang lots of songs (Sunny Side of the Street, What a Wonderful World, All Together Now, Siyahamba, and more) and played different kinds of drums. We had lots of fun!
Here's a short classroom video of students jamming!

Additionally, the entirety of my time together with the three classrooms at Venetia Valley was documented as part of a study, conducted by Dominican University, to begin to measure and quantify the benefits of music and arts education for student populations with special needs. It was an honor to be a part of the study.
Arts Unite Us is Youth in Arts program tailored for students in school with special needs. Youth in Arts is the only consistent provider of arts for special education programs in Marin.
Thank you to the Buck Family Fund of the Marin Community Foundation for supporting this program.
Once again our fabulous cast of Youth in Arts Mentor Artists created art, community and opportunities for students in the Bay Area.  Students in 25 Special Day Classes, Pre-K to Post-Secondary, explored techniques in Visual Art, Music, Dance and Theater and shared their talents with the community through culminating events.
The Arts Unite Us program aims to make high quality arts opportunities accessible to students of all abilities and to build understanding and acceptance in our communities.  This year students from Redwood High School, Harding Elementary and Mount Tamalpais High School participated in collaborative residencies in which students from Special Day Classes and General Education classes worked together to create art.
Teachers in the Special Day Classes we serve value the program and what YIA Mentor Artists bring to their classroom:
"I am always so blown away and impressed with all the skills learned by our students during the YIA sessions, but am especially impressed with the leadership skills, creative thinking, self-expression and artistic expression that our students learn. The YIA artists and lessons bring out skills in my students that I don't always have the opportunity to bring out. Without the professional artists coming into our classes, we do not have the access to adults with these skills at our schools. Mainstream classes can be too impacted, and general education teachers are not always equipped to handle the needs of students with special needs in their classes. Having art activities that are tailored to meet our students needs enables all students to access curriculum and experiences that their general education peers receive." SDC Teacher Rachel Hughes, Terra Linda High School
Under the guidance of YIA Mentor Artist William Rossel, students from Katie Peter's Special Day class worked with students from the Band program and opened the music concert at Redwood High School with a percussion piece.  YIA Mentor Artist Melissa Briggs worked with Tam High's Julianna Rees to lead students from Michael Lovejoy's Special Day Class and Advanced Theater students in writing and performing an original play.  At Harding Elementary, YIA Mentor Artist Thomas Arndt lead a group of 40 students in writing, directing and performing a play that incorporated American Sign Language and featured students from Harding's HOH (Hard of Hearing) program.
ASL Translator Paul says this about the program at Harding:
"I have truly enjoyed being a part of The Arts Unite Us program and watching HOH students as well as other students in the classroom where I work grow in confidence in their class room participation. Maya, the primary HOH student I work with rarely spoke up in class. This changed dramatically after she started participating in the program and after taking on a significant speaking part in the play. It is amazing to see how her and other students confidence begin to soar so quickly!"
Each of these experiences have left a lasting impact on the students involved.  Many students from Special Day Classes and HOH programs performed in front of their peers for the first time.  Many of the General Education students had their first experience interacting with their peers who have abilities that are different than their own, gaining understanding and empathy.
This is what a few General Education students had to say about that experience:
"I loved participating in this project.  I thought it was a great way for me to learn about people who have different abilities.  I learned that they have the ability to create great things."

"It was really fun to meet and interact with the Special Ed class. They were so sweet and friendly. I learned that some things that are easy to me are difficult to other people."

"I had fun! I really enjoyed spending time with the [Special Ed] kids and would do it again.  I learned they often have interesting ways of thinking about things. It was interesting to hear their perspectives."

"I learned that everyone is unique in their own way. Not everyone does the same moves or talks frequently.  I feel like I've learned so much about interacting with other people."
As the creator and director of the Arts Unite Us program, I am so proud of the work we have done over the years and I have witnessed first hand the impacts that this program has had on students, teachers, artists and families.  This program has served as a catalyst for progress, acceptance, understanding and art making that will last a lifetime.
This year, as I step down as Program Director, I pass the torch over to my colleagues at Youth in Arts so that they may continue to promote accessible programming for everyone in our community.  I would like to thank every artist, teacher, administrator and student who has participated in this program.  And, thank you to those who have provided much needed funding for this program, including Thomas J Long Foundation, The Green Foundation, Marin Community Foundation, Green Foundation, Marin Charitable, and Italian Street Painting Marin.
Last week, the students and faculty of Ross School joined Youth in Arts Mentor Artists on a colorful world journey through the performing arts!  We "traveled" through North America, Asia, South America and Europe, participating in art forms from each region. The school was set up with a "station" for each region and students traveled from place to place in their class groups.
In North America, Eddie Madril and Sara Moncada shared traditions and dances of the Plains Indians.  Sara performed a Fancy Shawl dance for women and Eddie shared the Hoop Dance and even gave students a chance to work a little with the Hoop themselves!  The program was a unique opportunity to learn about the cultural contexts in which these dances are performed and the significance of Plains Indian ceremonial practices and intricately made regalia.
During our time in Asia, William Rossel and Jim Santi Owen gave a stunning demonstration of Indian tablas and how the rhythms are connected to language. Students learned about the special way that tablas are made, in order to produce multiple tones, but also discovered that most drums can produce a "high" or "low" tone.  They then had an opportunity to play a variety of drums, learning traditional rhythmic patterns.
Arriving in Europe, students were introduced to traditional characters from Italian Commedia dell'Arte. Theater artists Keiko Shimosato Carreiro and Ed Holmes took on the roles of Columbina, the clever kitchen maid; Arlecchino, the comic clown; Pulcinella, the gluttonous dullard; and Capitano, the cowardly braggart, as they demonstrated Commedia elements such as a lazzi (a comic "bit" that a company would build into all its shows) or the slapstick (a noisemaker used in mock fights and the origin of the term "slapstick comedy"). Students practiced becoming characters like the know-it-all Dottore and the treacherous Brighella.
In South America, dance artist Stephanie Bastos taught students the joyful samba reggae dance from Brazil accompanied by percussionist Jules Hilson. As a mid-day treat, Stephanie, Jules and fellow artists from Aguas da Bahia dance company transported the whole school to the streets of Brazil during Carnival with a lively assembly performance. Led by Artistic Director Tania Santiago, the group showed off swirling skirts, rhythm sticks and more as they performed maculele and other beautiful dances.  The audience was stunned by a beautiful samba dancer on stilts, and then joined in for a final samba reggae dance-along.
On behalf of Youth in Arts, we would like to thank all of our friends at Ross school for traveling the world with us.  We look forward to our next adventure!
Enjoy this blog written by YIA Mentor Artist William Rossel about his recent residency in Erin Muldoon's class at Venetia Valley Elementary School:
I have been very lucky to work with the students in Erin Muldoon's class for 3 years now. We have been using music and percussion to reach some important goals, including communication skills and fine motor control, and I am proud to say all of the students have made great gains. Some of the goals that we've been working towards have been being able to reach and touch the musical icons on a schedule, or to hold onto mallets for drum-play. Other goals include being able to verbalize wants, or when that's not possible to communicate through other means. For example, I ask each student to help me come up with a rhythm by choosing long or short notes and they have to annunciate which notes they'd like. We've made huge progress on both of these fronts (fine motor and verbal communication) with all of the students. It's been really exciting to see.
Our typical musical exercises include beat counting/playing, call-and-response (i.e. taking turns), making/playing basic long-short patterns, jamming, and playing to recorded music. This last exercise is one of the most fun. Each week, I ask one student to share with us a musical artist that they like (Erin and the staff have it all down, playlists and everything) and we play their music and accompany it with our drums. It is super fun and it gives the students a chance to try to verbalize their wants and to participate in making music with their favorite artists.
In this school we had a great culminating event where we invited parents and other students to come watch what we do. It was a huge success and I'm so grateful that one of the moms loved it so much and saw the value of what we are doing that she funded another 5 sessions herself. So cool!
I am also so grateful to Erin and all of her staff which have always been nothing less than amazing! Looking forward to more!
YIA Mentor Artist William Rossel
My name is William Rossel and I am a mentor artist for Youth in Arts.
I have been using percussion as a learning tool with special needs populations from Kindergarten to High School. I have had amazing classes at Redwood High, Terra Linda High and at Venetia Valley Elementary and I am looking forward to new classes starting up very soon at MLK Jr. Academy.
I believe strongly in the therapeutic power of music. Music is a powerful learning tool for any population and helps develop a huge range of skills that aid in cognitive development such as pattern recognition, listening, concentration, memory and communication skills. I have seen all of my students make amazing progress in these and other areas and I am very proud of all of them.
In my classes we use many kinds of percussion instruments
(frame drums, bongos, bass drums, tambourines, shakers, woodblocks, etc.) to make beautiful music. We usually start by playing a simple beat and we follow along as the beat speeds up and slows down and as it gets louder and softer.
We also incorporate numbers and counting into our playing to show how numbers and math are an integral part of music.
In addition to these tools, I dedicate a portion of each lesson to "Question and Answer" or "Call and Response" in which I play short rhythmic patterns which the class carefully listens to and then plays back to me. This tool is especially useful in developing listening, memory and concentration skills.
Also, as a method for developing individual communication skills, I give each student a chance to find their own voice by improvising any rhythm they like while the rest of the class maintains a simple groove. This empowers the students, giving them a sense of original creation.
Finally, because we want to have fun, we end our workshops with a free-form jam session which always leaves us with smiles!
I would like to give many thanks to Nydia Algazzali Gonzalez for her participation in the classes at Terra Linda High where we work together. In those classes we have incorporated movement and dance (which Nydia leads) into the music workshops and have put together a performance for parents. She is an inspiring teacher and I have been lucky to work with her.
I also want to thank all the teachers and and teacher's aides that helped out immensely during our sessions. My work has been made much easier by everyone's help and participation.
Lastly I'd like to thank Youth in Arts as an organization for giving me the opportunity to work with such great kids, teachers and schools and I look forward to future opportunities to continue this important work.
Thank you so much!
William
If you walk down the halls of Terra Linda High school on a Tuesday morning, you may just hear the sounds of a Tabla, Doumbek, shakers and tamborines playing joyful beats accompanied by the gleeful cheers of students in Rachel Hughes Special Day Class.  YIA Mentor Artists William Rossel and Nydia Gonzalez have been working with students for 10 weeks, practicing a variety of basic rhythms and swaying movements which they will present for attending family and friends in a few weeks.
Every student in this class has enjoyed the activities, finding the one that brings them the most joy:
Gihea rocks out to the beat with her upbeat movements, waving her scarves and showing off her moves.
Brian loves to dance with the "friend of the day" (usually a soft stuffy that Nydia brings in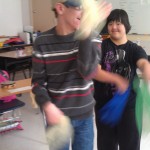 to assist with engagement and focus), and his twin brother Neil loves to play percussion instruments on the peripheral of the classroom.
Maria eagerly awaits the moment in which she can sway her hips to the rhythms in a fluid movement while waving the scarves and smiling.
Demelza always insists she is too shy to do her "solo", but ends up breaking out her special choreography that usually includes some serious hip shaking and the "genie" move, named by a classmate from last year.
Savannah loves to play along to the beat and when she does her solo dance, she smiles and giggles with contagious joy.
Graham, has limited fine motor skills, but always waves his arms in rhythm and shares the biggest smile when it is his turn to shine.
Alessandra absolutely LOVES to help us keep count of the rhythms and her signature dance move is a spin.
Needless to say, we have a blast playing music and dancing with this talented and enthusiastic group of students.  Thank you to the teacher Rachel Hughes and all of the para-educators and aides who are so loving, supportive and willing to get down with our groves at Terra Linda High School!!
[nggallery id=19]