Youth in Arts is partnering with the Marin Symphony to feature children's artwork inspired by music in the Symphony's annual Family Concert on February 10. The work will be displayed on monitors in the lobby at the performance, as well as in a projected backdrop for the concert finale.
Mentor Artists Suzanne Joyal and Julia James have worked with 350 students at four schools–Willow Creek Academy in Sausalito/Marin City and Mary Silveira, Bahia Vista and Marindale in San Rafael, teaching students new visual art techniques to help them create art inspired by the music of Hector Berlioz, which will be performed by the Symphony, along with music from the film Brave. Read more…
Youth In Arts art instructor K-Dub & his  middle school Willow Creek Academy in Sausalito students mix & create fun cultural masks. After researching traditional masks from around the world, students were instructed to create masks that includes their own "Flava".
Willow Creek students "Go Wild" with a fun project designed by Mentor art Teacher Mr. K-Dub. Students were given the task to design their name in "thingys" as their letters. They were instructed to carry a theme throughout their artwork foreground & background. Objects & thingys used were tools,fruit,sports equipment,trees, art supplies and Mr. K-Dub's favorite selection Bacon! The final watercolor & color pencil works created were very fun and flavorful like this inspired  Dr.Suess themed Lorax by a 5th grade student.

Mentor Artist K-Dub Williams has designed a year-long project with the teachers of Willow Creek Academy which will culminate in PSA's by "Elder Avatars" (unique masks created by each teacher). The first Professional Development Workshop explored answering the question "How can we use what we create to inspire Youth and Community?"
We began with theater exercises designed to engage the whole body in the creative process. Teachers were asked to think of a word that represented the superpower their own personal superhero might possess: Listening, Strength, Caring, Inspiration.
When people were warmed up, we moved on to visual arts and began to brainstorm on our "Elder Avatar". How do we design our masks to visually represent the characteristics of our personal character? First, we worked in paper. We practiced patterns, symmetry, cutting, and attaching pieces securely.
Next time, we move into cardboard and plaster.
For the Willow Creek Voices pilot program, we worked with select 5th and 6th graders in the realm of digital photography. After getting our feet wet learning how to use the camera and hands-on practice with the visual elements that go into composing your photo, we were ready to dive in the class project…visual adaptations from student generated poetry!
In the Adobe Youth Voices Curriculum, we found two great poems to model from… George Ella Lyon's "I am From" poem and Lisa Storm Frank's "I Am" poem. What's so great about these poems (which youth all over the nation have made iterations of), is that structure of the poem asks the writer to dig into sensory-based experiences and unique sweet spots to express who they are. Students plunged right in, and some even took creative liberalities with the poem structure, to include how they see the world, from their perspective.
In both the 5th and 6th grade classes, students were shown both poems and asked to select the template that spoke to them and write their own "I Am" and "I Am From" poem. After writing the poem, students selected one line from the poem and were tasked with taking a photo that would visually describe their poetic line. Students were reminded to think not only of content, but also how framing, angle, composition and color would enhance their meanings. After students took the photos, we set back to the computer lab to learn the basics of Adobe Photoshop Elements and use tools and techniques that would stylistically clean up and enhance their message.
Statement: "This picture is to represent the line, "I am from a place that is empty inside". I chose this line from my poem because I think that it is very strong statement. To depict my words, I chose to create a glow around the person in my photo – to call attention to the person in a world that is confusing and overwhelming, and it give a feeling a light to my photo…as if that person can bring light to the world. I took this picture by a baseball diamond because it gives the feeling that this place should be full of people playing. So the contrast of a single person brings out loneliness. When I was working in photoshop, I darkened the shadows to add a sad feeling and it helps me get the message out – that in this picture the world is being swallowed by the darkness. I think that we all should pay attention to the darkness that is taking over our world. Pollution is a darkness that consumes the light and we should work on stopping this before our world disappears." – 6th grade student
Many students took advantage of the ability to crop and re-frame the image once in the photoshop editor….some used the clone stamp to get rid of unwanted elements in their frame (the backpack that was distracting, the bright color on the student shirt that distracted attention from the focal point, the bright spot in the frame that needed to be dulled down). The magic wand was a tool used often, to add subtle color and levels enhancements to specific parts of the image.
Overall, students explored the process of artistic creation – from creative writing to surfacing content to capturing an image via a camera to bringing it all together in the photoshop platform. There were some students who decided upon viewing the image they took, the line from the poem needed to be revised, to match what the photo was saying…so they rewrote their poems. In this way,  active listening, to the artistic process and to the relationship between content, form and meaning was encouraged in the workshop.
When adding the text to the photo, students chose between adding the text outside of the photo or in the frame and then made decisions on how to present the text, so it fit with the image.
Although we were all doing the same basic assignment, each student took a different path and approach.  After this process students reported that they now take in color in different ways, saw in terms of framing, and were in awe of all the exciting tools photoshop offered to digitally design their image. Throughout, our intent was to use the tools in the digital design world to navigate our way in the terrain of visual language and artistic expression, and from there to share our creations with the world.
For the 2012 spring quarter, a handful of  7th graders from Willow Creek Academy were selected to participate in a pilot program, Willow Creek Voices. While 5th and 6th graders in this program explored digital photography, the 7th graders embarked upon filmmaking!
Filmmaking opens up so many rich possibilities…from expressing your inner creativity, to dancing the fine balance between teamwork and individual contributions.  And then there is all the craft that goes into making a video…from the technical side — how to operate a camera, how to edit it,  and the creative content side — what content to show, how to frame it, what angle, how close or far should the camera be.  Making a video also allows us the opportunity to get up close and personal with something we care about in the world, and do something about it! While some people may think 7th graders don't care about social issues and the culture around them past the latest fad, it's not true. The videos created in this workshop certainly stand up to this stereotype.
Throughout the workshop, we drew from process, techniques and tools detailed in the Adobe Youth Voices Create with Purpose Video Curriculum. To set the filmmaking stage and create a film common language [Media literacy], we watched several PSA's and short videos, to tease out the important elements of a successful video, and to witness how Story, Audience, Message and Style  (SAMS), each play a pivotal role in making a video successful.
Students then got into groups and brainstormed social issues they cared about and what they wanted to contribute to the conversation. From there, students selected one topic and pitched their ideas. Building from our media literacy and  critical explorations, students used the SAMS structure in relation to their own videos, coming up with a clear Story, Target Audience, Message and Style for their PSA. Students went through the process of  Inspiration/Media Literacy,  Brainstorming/Pitching, Pre Production (SAMS structure, script, storyboard, story arc), Production (filming) and Post Production (editing, using Adobe Premiere Elements).
Throughout the process, students crafted the video and made choices based in intention and creating with purpose, while leaving room for the artistic muse to provide inspiration along the way. Team work, as well as leadership and playing to our strengths was encouraged at every turn. For example, some students students took the lead finding copyright free music, while others assembled the rough cut, both working in tandem and with the final project in mind.
Making a video was eye opening at every turn. Perhaps the greatest impression left on the students is that each of us has the ability and opportunity to make a difference, to make a change. And with these videos, this is exactly what these youth hope to do!
Since March we've been working with 5th and 6th graders at Willow Creek Academy and following the Adobe Youth Voices Digital Design curriculum. In this workshop, students have been exploring various key concepts fundamental to digital design and also getting their feet wet learning how to take photos with digital cameras and edit them in  Adobe Photoshop Elements.
To set the stage, we started with media literacy, viewing a variety of visual examples to develop a common language and see, in full vibrancy,  how subject to camera distances (close up, medium shot, long shot), composition, framing, and color play pivotal roles in photography. We leaped from critical analysis to hands on practice with our first exercise — creative portrait.
While taking the portraits, students were encouraged to explore the difference between the close up and long shot, to look what it's in the frame, what's left out and connect how technical choices pair with creative meanings.
After taking photos, we reconvened and had a "crit",  to see as a group how the different technical and creative  choices we made did and did not work in relation to our intended meaning.
Throughout the process we highlighted the importance of intentional choices…of course leaving room to pay attention to what is in the frame when the photo snaps and to be present to see where the artistic process wants to take you!
Stay tuned for more news about our final projects…Visual interpretations from an "I Am" poem we wrote, plus advanced editing in Adobe photoshop!
A must see exhibition by Bayside Elementary & Willow Creek Academy students. The exhibit features fun creative works showcasing projects created by youth under the instruction of Youth in Arts Mentor Artists Ms.Marguerite Etemad & Mr. K-Dub. Exhibit opens today at The Hannah Project Gallery, 170 Donahue Street (next to Best Buy) in Marin City. Opening reception is Tuesday, April 24th 5:30-8pm. There will be a special youth performance at 6:30pm & refreshments provided by the "Growing Great" Marin City program.
Hannah Project Gallery hours  Thurs-Sat. 12:30pm-6pm, Sunday 2:30pm-4:40pm and Mon-Wed by appointment only .
Checkout a preview of "MySuperFunkyMaskTacoTruckTotemThing" project now in production at Willow Creek Academy, Sausalito. Young artist (7th grader), Art Instructor Mr. K-Dub. Works to be included in student art exhibition (details soon) –Peace.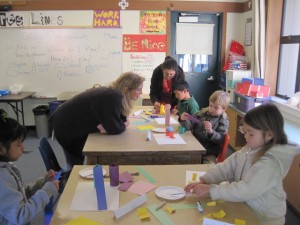 The Kindergarten Artists at Bayside Elementary and Willow Creek Academy  along with their teachers and Youth In Arts Mentor Artist Marguerite Etemad have been exploring their playgrounds. They have asked themselves: Where do I play? Who do I play with? and How do I play?
After completing our playgrounds we did observational drawings of them.
The Kindergarten artists and their teachers enjoyed exploring playgrounds.
« Newer Entries
Older Entries »