YIA teaching artists Marguerite Etemad & K-Dub lead another great spirited Professional Development workshop. This time Contour drawing was lesson. Teachers from Willow Creek Academy & Bayside Elem. participated by drawing a fun funky still-life. There was great energy all around and teachers were surprised by their creations and the work of their peers.
Contour drawing, is an artistic technique used in the field of art in which the artist sketches the contour of a subject by drawing lines that result in a drawing that is essentially an outline; the French word contour meaning, "outline." The purpose of contour drawing is to emphasize the mass and volume of the subject rather than the detail; the focus is on the outlined shape of the subject and not the minor details. However, because contour can convey a three-dimensional perspective, length and width as well as thickness and depth are important; not all contours exist along the outlines of a subject. This technique is manifested in different styles and practiced in the honor of drawing development.
The Willow Creek Academy 3rd graders, with Ms. Siskin and Youth In Arts Mentor Artist Marguerite Etemad, have been learning about the effects of plastic trash on the ocean's ecosystem. We are learning what we can do in our own lives to help conserve our resources and keep pollution from happening.
In art we are using our learning to create masks of ocean animals.
Each of the students has created a character. They are attaching plastic trash to their animal mask to show how deadly plastic trash is to sea life.
The students are in the process of creating a script. Each student has created a character and a role, victim or hero. Our villain is the plastic trash that is so deadly to sea life. They will perform their script for the entire school.
The students and teachers were inspired to begin this integrated learning project by the amazing art exhibit at the Marine Mammal Center.
The artists at Bayside Elementary and Willow Creek Academy, working with youth in arts mentor artist Marguerite Etemad, made art to music.
First we gathered feeling words, bringing to our minds all the ways that we can feel. We looked at Georgia O'Keeffe's abstract paintings for inspiration. Then the artists listened closely to the music. As they listened to the music they asked themselves the following questions. How does the music make me feel? What do I imagine?
Then they drew with oil pastels while listening to the music. Expressing their feelings and their imaginations in their work.
The artists listened to "Somewhere Over The Rainbow" by Israel Kamakawiwo'ole and "The Beat of My Drum" by Babatunde Olatunji while making their art.
2012 started off in fine style as art class was welcomed back with a fun "get back in stride" project. Students were given an option to be a interior designers or create their own banging custom taco truck. The energy was fun a upbeat as students were able to individualize their works with fun themes. This project will lead into a more in-depth interior design project-stay tuned!!-Peace Mr. K-Dub – Willow Creek Art teacher 5th-8th grades.
The first grade students in Ms. Duran and Ms. Enstice's class are learning about plants, habitats and ecosystems this year in science. Both classes are working through a project-based approach. Ms. Duran's class is learning about the rainforest and Ms. Enstice's class is learning about the forest and it's ecosystem.
As a beginning to this project both classes are learning about the different part of plants. To support and deepen this learning in art Mentor Artist Marguerite Etemad is working with these artists to learn how to observe.
OBSERVE
To help us strengthen our observation skills we took a silent sensory awareness walk. We walked around our school using all our senses and paying special attention to leaves. Noticing how many different types of leaves there are. Noticing all the different shapes and sizes. Looking closely at each side of the leaf and noticing how the two sides are different. We spent extra time in our school garden.
We learned how to do pure contour and contour drawing.
Each artist chose what materials they wanted to use to decorate their leaf.
REFLECT
We talked for about the whole process and then I asked: What did you like best? What did you notice/learn? What was easy? What was hard?
"I liked going on the nature walk. Drawing a leaf without looking (pure contour) that was hard." – Greta
" I liked coloring the leaves."  – Lily, Zebah, Collette and Diana
"I liked doing (drawing) the real leaves." – Antonio
"I liked when we went out in nature and sat down and draw." – Brianna
Teachers enjoy a great collaborative painting session.
Teachers enjoy a creative painting project giving them tools and skills for future classroom beautification projects. Teachers were grouped by grade levels asked to come up with a phrase or slogan, brainstorm & sketch ideas, then given materials and a basic banner.sign and painting lesson. Great upful positive energy!
A Group Exploration of Line, Shape, Pattern
STRETCH / EXPLORE
Mentor Artist Marguerite Etemad began her art year with Willow Creek K-4th graders with a group exploration of line, shape and pattern. We did our exploration in crayons, oil pastels, colored pencils, and markers. Artists explored line and shape with the different materials and compared the results
Children moved to their table groups and worked together, encouraging them to stand if they liked, and explored line shape and pattern.
Matteo – "Look the oil pastels are getting lighter and lighter every time."
Jason – "Look at my sun."
Matteo -"Gosh, look at my blue sun.  It's amazing."
Charlie – "It's not gonna work.  You put water on this."
Johnathan – I'm not going to make an alien.  I'm gonna make some stairs."
Luke – Some plastic could be poisonous.  It's okay if they break. Hey I got black first then you got black first. See?
Ryan – Do you want to make houses?
Dante-Me too.
EXPRESS ~ I asked them to stop, put their materials down and their hands on their heads and look at their work for a minute and asked them what do you see? and what do you wonder? What do you imagine? Does you drawing have a title, or a story? Do you want to put your name on the drawing? Where can you put your name to make it part of the drawing?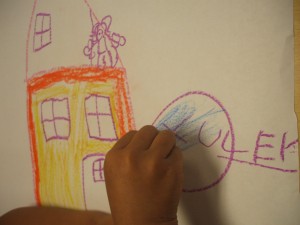 Abby – "I'm gonna draw my name on here."
Zaiden – "He made a rainbow pattern and he made three rainbow fireworks. What's always going in your body when you are quiet?"
Noel – "Your lungs. I like painting houses and making airplanes."
Madeline – "I like to draw houses and like icecreams. (Oil pastels) they are wet like paint. You can erase it with your hands."
Dante – "They're a little like paint."
We let a story emerge and added our names into our work so that our names were part of our art.
"Mine is a little heart with some things. A heart in the night when there's fireworks in July" Ellie
REFLECT ~ Then we took a gallery walk.
In Ms. Schmidt's class while sharing about this art activity, I asked;
"What did you notice while you were drawing?
How are crayons and oil pastels the same and different?
Here are some of their responses.
"Oil pastels are more oily than crayons." Zachary
"That oil pastels are more dark". Riley
"Oil pastels make a noise when you draw." Magnus
"Only when you go really fast." Riley
"One spread out one didn't." Louise
"The pastels when I was drawing slowly they didn't make even a sound and when I used the crayons they didn't make a sound."  Ithaka
"When I used the crayons they squeaked."  Tarri
"The oil pastels are the coolest thing ever."  Charlotte
"When you put pastels first and crayons then and put more oil pastels they spread."  Addie
First Grade
The first graders when asked these questions responded:
"Oil pastels are different because texture, looks like it has holes."
"Oil pastel brighter, pencil darker than crayon"
"I learned something new, (materials) are different because they have different textures."
"Oil color a lot. Feels like it's a little slippery, looks like its wet."
"Oil darker and smooth"
"Its slippery." (oil pastel)
The first grade artists spent a lot of time talking with each other about how to make their drawing and where to put things.
On September 9th Youth in Arts Gallery had its opening reception for
an exhibition of drawings from the teaching journal of YIA Mentor Artist,
Each drawing represents one school day during the 2010-11 school year, during which time Toczylowski worked as an arts specialist with Youth in Arts in the Sausalito Marin City School District.
Toczylowski taught grades K-5 at both the regular public school, Bayside Elementary, and the charter school, Willow Creek Academy, which reside on the same campus. The black-and-white ink drawings explore the personal and political experiences of a teacher working in a diverse community. From the small, inspiring moments of working directly with students to challenging situations that highlight the social and racial inequities prevalent in schools, Toczylowski gives us glimpses of the 21st century American classroom.
Student work is exhibited through process books that document the students' arts learning experiences. Using student quotes, photos, and tangible examples, these books make visible the student-centered curriculum YIA encourages in the classroom.
By displaying Mentor Artist and student work together YIA intends to show the influence that professional artists can have in K-12 education.
The exhibit is open through November 5th.
Closing: Saturday, Nov. 5, 4-7 pm
Visit the Youth in Arts Gallery Monday through Friday 11-2 or by appointment (415-457-4878).
« Newer Entries
Older Entries »