Check out these photos from the "Rising Stars" 24th Annual Marin County High School Art Show opening party on March 8, 2015. Photos by Stacey Kamp.
On Friday, April 11 the YIA Gallery opened "Imagining Friendship" the culminating exhibit to three months of work at Loma Verde Elementary School as the first recipient of the Walker Rezaian Creative HeArts Fund.
Over two hundred people experienced the hands on cardboard gallery. Children from 2 to 52 were crawling inside the giant boxes to view the art which explored the meaning of friendship through the lens of visual arts. Mentor Artist Suzanne Joyal helped show families where their kindergarten child's artwork could be found. Squeals of delight could be heard as students spotted their self portrait and then added images to the 10 foot tall recreation of a classmates depiction of friendship.
People clustered around small buttons to listen to the voices of young artists talking about their creative process. Making Learning Visible books showing photos and children's quotes during the intensive residency were also widely viewed.  Mentor Artist Suzanne said, "The take away is – the more opportunity you give children to share ideas and materials the more ingrained it becomes in them.  I loved seeing them grow over the course of the sessions."  One teacher commented, "Today is Friday the day Suzanne usually comes into the classroom, all the kids were asking, "Where is Ms. Suzanne? Luckily I could say, we will see her at the Art Opening tonight!"
A special presentation was made to the Rezaian family on behalf of the school site. Principal Eileen Smith remarked, "Friday evening was one of the most gratifying experiences of my year.  Seeing the pride on the students' faces as they stood in front of their artwork was a beautiful moment.  Parents had an opportunity to celebrate publicly with their children and the joyful emotions in the gallery created an unforgettable experience for all in attendance.  This culminating event brought our Loma Verde Community together in a celebration of art.  It was also very rewarding to observe the donors and know that their generosity is making a difference.  This grant brought families together and symbolized the importance of art within a community."
Applications for next year's Walker Rezaian Creative HeArts Fund recipient are being accepted until May 17, 2014. For more information, click here.
Special thanks to Peter Rodgers for capturing the photographs and joy of the evening.
Neil Cummins Elementary students from Ms. Suther and Ms. Marcus's class visited YIA Gallery at Youth in Arts to explore the "Imaginary Voyages" exhibit of work by Mary Silveira students with Mentor Artist Gabrielle Gamboa. The students also created their own artwork in our Studio.
Youth in Arts staff talked with students about how scientific illustrators use both their powers of observation (like all scientists and artists) and their imaginations (like all scientists and artists!) Neil Cummins students then took inspiration from Mary Silveira students' detailed "scientific" island maps, imagining what it would be like to land on each island and what kinds of creatures they might meet there.
We talked about perspective and the difference between a "Bird's Eye" view (as in the Mary Silveira maps) and a close up view. Neil Cummins students then created paintings of the creatures they had imagined in a close up view. Enjoy a gallery of their work below!
"Imaginary Voyages" was featured at YIA Gallery from December 14 through January 30. To find out more about how your students can have their work exhibited at one of the only children's art galleries in the U.S., contact Suzanne Joyal.
Our new exhibit "Carnival" featuring work by Laurel Dell students opened on February 14. Visit Monday-Friday from 10-4 or contact us about arranging a free school group tour for your class or youth group. All tours include a hands-on arts activity.
Youth in Arts is open late for 2nd Friday San Rafael Art Walk Downtown this Friday, January 11, from 5-8 p.m.


Come see our latest gallery exhibit, "Re-Generation: Teaching Recycled Art," before it closes January 25. Help create a recycled "rag rug" or collect take-away cards to inspire your own recycled art projects at home.
"Re-Generation" features work from recycled and found materials by master artists, as well as recycled art works by their students and protégés.
Come explore the many reasons artists may choose to use alternative materials in their work and how they pass along these ideas to a new generation of young artists.
And don't miss our new store layout with all kinds of artist-made items for sale, including creative recycled gift items by professional and youth artists!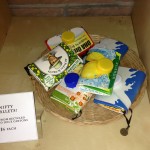 [singlepic id=477 h=290 float=left]Students and families from San Pedro Elementary School in San Rafael visited Youth in Arts on Friday for the opening of our latest exhibit Cholq'ij–Voices of Our Ancestors. The exhibit and community event were part of a special project with Mentor Artists Ernesto Olmos, Mayra Hernandez and Miguel Martinez supported by the Creative Work Fund.
The special event, which was also open to the public as part of 2nd Fridays Art Walk, included a ceremony with the artists and an opportunity for students to explore traditional instruments and ceremonial objects. Families had a chance to sample a wide range of nutritious foods and beverages based on indigenous plants, and each child received a take-home copy of a CD created by the artists to tell the story of the Cholq'ij. Visitors could also identify their own Cholq'ij day sign or nahual and create an "engraved" necklace at a hands-on activity table.
[singlepic id=492 w=260 float=left][singlepic id=514 w=260 float=right]
The Cholq'ij exhibit, which runs through November 23, includes work by San Pedro students and by Ernesto Olmos incorporating traditional iconography. The exhibit also includes a display on natural plant-based medicine and a video featuring natural medicine practitioner Marya Hernandez, along with a listening station in English and Spanish featuring the audio from the CD.
[singlepic id=504 h=240 float=left][singlepic id=479 w=360 float=right]
School and youth groups can book a FREE special tour of the exhibit, including a hands on art activity (reservations required). The gallery at 917 C Street in San Rafael is also open to the general public Monday-Friday from 10 am-4 pm. We will be open late on Friday, November 9 for 2nd Fridays Art Walk.
For more photos from this special event, click here.
« Newer Entries