We had a lovely Spring Annual Show at Carol Franc Buck Hall of the Arts at San Domenico School.
We had a send off to our Seniors: Siena Starbird who will attend CalArts, Rose Myers who will attend Cal State San Marcos and Will Salaverry who will attend Yale.
Thank you to Curtis Myers for the beautiful photographs. See gallery below. Thank you `Til Dawn Alum Harrison Moye for tech wizardy and to Cecily Stock and San Domenico staff for their support.
Here is a playlist of some of the songs.
Announcing the new members of `Til Dawn.
Aidan Bergman, Sir Francis Drake High School
Aidan sang before he could talk and has never stopped. Over the years he has played piano and sung in community talent shows, school and camp musicals and graduation ceremonies. He was a soloist in the ROCK gospel choir at Drake and also loves to play baseball. Aidan has played and sung music as long as he can remember and hopes to continue through high school and into his adult life.
Lara Burgert, Redwood High School
Lara has been singing for as long as she can remember. She loves to sing, dance, act, and perform on stage. Before doing musicals with Performing Arts Academy of Marin, she was a part of the Marin Girls Chorus. Lara has always wanted to be in an a cappella group, and is so excited to be in `Til Dawn.
Maycie Cooper, San Domenico
Maycie has been involved with music for over 8 years, and finds way to incorporate it into her life as much as possible. She sees it as a way to express herself and also to connect with others. Since living in California, she's participated in every singing program her school has to offer, including annually acting in musicals since she started attending San Domenico. She loves the social side of singing and plans to keep music in her life forever.
Paul Makuh, Sir Francis Drake High School
Paul has been singing under the direction of Susie Martone from fifth grade through eighth grade and would love to keep it going into High School. He has made new friends through singing and feels that it would be great to keep singing in his life.
Zaria Willis, Marin School of the Arts
Bio coming soon
Isadora Zucker, Sir Francis Drake High School
Isadora Belle Zucker, a student at Sir Francis Drake High School, is a multifaceted performer active in music, theater, and dance, all of which she's been studying since early childhood. Outside of the arts, Izzy enjoys mountain biking, swimming, her cat Hollywood, and spending summers traveling with her musical family, better known as the Zucker Family Band.
A big thank you to the golfers (and wine lovers) who spent a foggy Friday at the Presidio Golf & Concordia Club in San Francisco competing in the second annual Youth in Arts Golf Tournament, hosted by YIA Board Treasurer Tim Distler.
The winning lowest score foursome was comprised of Bobbe Sabella, Ken Christopher, Jeff Stephenson and Tracey Gardner.
The two closest to the pin winners were Gerard Westmiller and Rip Malloy. Lastly, the longest drive winner was JD Cafaro.
The event was sponsored by Troutman Sanders LLP with a host of amazing wineries providing wine for the event and a silent auction. In total the event netted over $5000 in support of Youth in Arts programs for children of all ages and abilities.
If you'd like to donate to support the cause, click here!
Much appreciation to Kyle Haraszthy for securing all the auction donations and for being the perfect sommelier for the guests. And thank you to all the following auction and event donors–please support businesses that support arts for kids!
THANK YOU
Blue Farm
Dunbar Vineyard
Fleury Estate Winery
Haraszthy Family Cellars
Kamen Estate Wines
Kanzler Family Vineyards
Kivelstadt Cellars
Korbin Kameron
Lasseter Family Winery
Lynmar Estate
Martinelli Winery
Mike Macomber
Ovid. Napa Valley
Robert Craig
Terence Chu
Three Sticks
Williams Selyem
Winery Sixteen600
By Youth in Arts Mentor Artist Jill Hoefgen
This semester in the Canal Alliance University Prep (UP!) advisory groups, we've been exploring media literacy and photography. In addition to learning about how to decode advertisement and identify fake news, the students have been practicing photography skills as a way to create and share media from their own perspective.
In April, I introduced the students to Brandon Stanton's Humans of New York photo project and we discussed community, photography, and human connections. Using some of Stanton's images as a jumping off point, the advisory groups of 7th and 11th graders started their final photography project last week.
As we trekked out of the classrooms and into the sunshine, the students expressed trepidations about what they "should" be photographing. I encouraged them to look for color, textures, shadows, lines, and people. Soon they were leading the way through the neighborhood, visiting shops and finding their own subjects to capture with the camera. They often stopped in pairs or individually to take a shot, and I chatted with each student about their photography as we moved along the street. Many of the students used the time to take many pictures, observe the neighborhood homes and businesses, and to explore the different angles to capture the best image.
When we returned to the classroom, they were energized and were ready to begin creating their own unique photo books, which should highlight their perspectives of the neighborhood.
~Jill Hoefgen
In honor of Leonard Bernstein's 100th anniversary and to celebrate Dominican University's Music For All program, Enriching Lives Through Music (ELM) and Youth in Arts `Til Dawn performed a joint concert at Angelico Concert Hall, Dominican University on Sunday, April 29 at 2:00 p.m.
Marin County Office of Education Superintendent Mary Jane Burke opened the concert up with praise for both intensive music programs. Youth in Arts award winning teen a capella ensemble, `Til Dawn began the concert with some Motown music, some '80's music, and some jazz standards. ELM performed a selection of classical music from Bach to Mahler. The two advanced youth groups then collaborated on the iconic Leonard Bernstein song "Somewhere" from the musical West Side Story.
"We couldn't be prouder to host this collaboration to shine a light on two exceptional youth music ensembles in Marin County, in celebration of our University wide initiative to promote inclusivity and equity"  notes June Choi Oh, Chair, Department of Music, Dance and Performing Arts, Dominican University.
A panel discussion followed featuring `Til Dawn Director Austin Willacy, ELM's Conductor Martha Stoddard, an ELM parent and student, along with YIA student board member Rose Myers and her mom Tanya Myers. Thank you to June Oh
Dominican College, Chair, Department of Music, Dance and Performing Arts for helping to make this concert possible and to ELM Founder and Pamela Levine Arts Education Awardee Jane Kramer for coming up with the collaborative approach.
Check out our Facebook page for some video of the show.
The 4th and 5th graders at SRCS created some stellar short plays on issues they were passionate about changing.
I received so many thank you's after their classes. So many questions about different issues. So many stories of how they are taking agency to create change in their lives.  They were fired up.
Then one day after a class, I received a different type of response to the work we were doing. "Can I talk to you Hannah, about something that happened to me that's about racism?" one of my 5th grade students at SRCS asked me after class.
I nodded and we sat side by side on the edge of the stage. My student shared with me that he had been the target of racist words multiple times. His voice shook as he told me story after story. I listened. When he was done I thanked him for having the courage to share those stories with me. I asked if he had shared this story with anyone else.  He replied,
"No. I didn't think it was ever OK to talk about racism until you taught us it was."
My heart broke.  Some topics are really uncomfortable to talk about. Like racism and sexism. Especially because so much shame can be linked to those topics if we have personal experiences with them. I was beyond grateful to provide this student an opportunity to share his experiences. Though it might be painful, working through our negative experiences is how we heal. Not by covering them up and pushing them down.
After a lengthy conversation I walked this student to the counselor to help him process and get support. As I walked through the muddy field to my car, I was reminded that this is why I do this work. This is why I help young people create a sense of agency and power around making change in this world. This is why I work so hard to normalize having these uncomfortable conversations. So that through a safe-space, we as a community, we as Americans, we as human beings can hear each others stories with empathy. And find inspiration in the discomfort so that we may all heal, grow, and change.
by YIA Mentor Artist Cynthia Pepper
What a wonderful day we had with the Terra Linda Special Day Classes led by Rachel and Abby. We had 9 adults assisting the 12 students on the final sharing day of my residency last week. I thought it would be nice to start our day off with a warm up to Bob Marley. The man! He cuts to the chase with his lyrics of "Is it love?". It must be love because everyone was smiling while we moved all our bodies in unison to get ready for the big dance called KUKU. It is from Guinea West Africa and it involves fishing with nets, sharing our catch, becoming fishes and having a full on party at the end. The African based cultural dance day eased in with our sharing of energy around the room both in clockwise and counter clockwise directions. We cleaned up the day with Keb Mo and Michael Jackson and my all time favorite get funky dance song "Green Onions" by Booker T. and The M.G.'s. It just takes it away. The paras and the aides all danced a solo in the middle of the room which they all accomplished with flair. Each wheelchair got a pirouette opportunity and the students crushed it with smiles. I love sharing with so many students the joy of movement and music. It seems like it keeps getting better the more we do it. Each time feels better than the next.
Thank you Abby and Rachel for always being so ready to rock. And thank you to our very generous supporters: 
Second graders at Cornell Elementary School in Albany had the opportunity to learn about Persian dance, music and culture. Each class learned a different style of dance from Iran. There were four 2nd-grade classes, 92 diverse students who participated in this residency.
These students had nine sessions of Persian dance and culture class with Shahrzad Khorsandi, director of Shahrzad Dance Academy and author of The Art of Persian Dance. The nine-week session included a group choreography, culminating in a student performance.
In addition to the choreography, the students learned about the geography of Iran, the different regional dances, cultural traditions such as the Persian New Year fire-jumping celebration, and even learned how to do the special (and loud) two-handed Persian snap! When asked what their favorite part of the experience was, many said it was when they worked in small groups to create their own movement patterns in the dance style they were learning.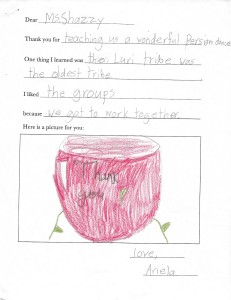 By Mentor Artist Cathy Bowman
Students at the College of Marin have been working with clay, beads, buttons and paper foil to create beautiful mosaics inspired by the work of Iranian artist Monir Shahroudy Farmanfarmaian.  Farmanfarmaian forms 3-dimensional works using pieces of mirror cut into geometric shapes.
Using a Kennedy Center lesson titled "Looking in the Mirror," Mentor Artist Cathy Bowman discussed the use of mosaics in art and showed students a short film about Farmanfarmaian's work. Students in the special day class started with lumps of white Model Magic, a nonsticky, nontoxic clay. They learned how to roll, twist and manipulate the clay, and how it softens the more you work with it. Some artists made abstract forms, while others enthusiastically used thumbs and fingers to form bowls, baskets and other objects. Students were encouraged to consider how they felt about making art and what they wanted to say. If their bowls were "wishing bowls," for example, what were their dreams? The class also talked about how mirrors reflect and how the word "reflection" can refer to a physical image as well as deep contemplation.
One artist spoke about about kindness and joy. Others saw their art as gifts. A woman made a bowl for her father "because he is kind to me;" a man made a tiny basket for his aunt expecting a baby.
Instead of mirrors, artists used silver Origami paper, gold foil and other brightly colored paper that was cut into geometric shapes. Artists also used recycled beads and buttons. They were encouraged to think about making patterns in their work, considering both the negative and positive space. It was interesting to consider how different art feels when a single color and material is used v.s. when multiple colors, textures and shapes are used.
This VSA program is provided in 2017-2018 under a contract with the John F. Kennedy Center for the Performing Arts.
Students at the Short School in San Rafael experimented with paint, paper and various materials as part of a grant from the Kennedy Center. Using a lesson plan titled "Motivated to Create … HARMONY," Mentor Artist Cathy Bowman helped students translate jazz into paint.
The purpose of the lesson was to give students the experience of drawing on the inspiration of sounds as a foundation for their art. Working individually and in pairs, they listened to excerpts from "West Side Story" by composer and conductor Leonard Bernstein. Key vocabulary artists reviewed included "harmony," "tone" and "abstract."  Using tempera paint, paper and canvas they listened, and painted what they heard. We considered how sound affects our feelings. Students were given an array of materials to use, including toothbrushes, corks, rollers, plastic packing material and forks. They practiced making marks, covering marks and making more marks. Working together was a good lesson in collaboration and respect … Is it ok to cover another artists' marks?
Working in pairs allowed students to create multiple layers of color.
In the final session artists were given an 18 by 24 inch canvas. They tore up their smaller works on paper and reassembled the pieces into a collage on the canvas. They applied more paint and color while listening to music. Working outside for the final painting freed the young artists to move in ways that can't happen in a carpeted classroom. 
The last artist to work on the painting added a tiny touch of black, noting that she was thinking about her favorite fruit – blackberries. Can you find her mark?
This VSA program is provided in 2017-2018 under a contract with the John F. Kennedy Center for the Performing Arts. This program is also supported by the Buck Family Foundation and Marin Charitable.
Magnolia Park is a small early intervention school site nestled by open space in Lucas Valley. Most of the young students were born without the sense of hearing and are now learning sounds and language with hearing implants. This is our first year working at Magnolia Park, and Mentor Artist Julia James introduced the young artists to a world of color and shapes and textures.
Over the course of ten weeks students used a variety of art tools, materials and surfaces. Highlights were working and collaborating on a large canvas for the Kennedy center. The canvas was created over four weeks using paints, stamped textures, printing with ink on rollers, bubble wrap, sponges and a variety of brushes. The beautiful canvas will become a part of the Kennedy Center's International Art Exhibit.
Students celebrated the residency with work displayed in the classroom along with an according book which illustrated their person art journey.
Thank you to following funders for helping to make this program happen:
Older Entries »