Magnolia Park is a small early intervention school site nestled by open space in Lucas Valley. Most of the young students were born without the sense of hearing and are now learning sounds and language with hearing implants. This is our first year working at Magnolia Park, and Mentor Artist Julia James introduced the young artists to a world of color and shapes and textures.
Over the course of ten weeks students used a variety of art tools, materials and surfaces. Highlights were working and collaborating on a large canvas for the Kennedy center. The canvas was created over four weeks using paints, stamped textures, printing with ink on rollers, bubble wrap, sponges and a variety of brushes. The beautiful canvas will become a part of the Kennedy Center's International Art Exhibit.
Students celebrated the residency with work displayed in the classroom along with an according book which illustrated their person art journey.
Thank you to following funders for helping to make this program happen:
Graphing Garbage
A STEAM workshop: Science, Technology, Engineering, ARTS, Math
Youth in Arts staff Suzanne Joyal and Miko Lee in collaboration with the Marin County Office of Education  led a cohort of classroom teachers through a workshop teaching about the environmental pollution and ways to transform garbage into art while also teaching about graphing.
Teachers watched this video about the Pacific Trash "Island" and learned about the immense amount of plastic that has been impacting the planet. They watched the presentation (available below) about the impact of pollution on animals and saw how professional adult artists and kid artists could make powerful art from trash to tell a story.
Suzanne described the Graphing Garbage arts integration project that she created at Willow Creek Academy. Lesson plan (available below). She showed how graphing can be showed in a various artistic formats. Teachers then went through trash collected by YIA. They sorted the trash by items that had the most dangerous impact on animals. Working in teams they showcased this by featuring three sizes of fish and a jellyfish on an ocean backdrop. After reflecting on this process, teachers discussed potential math and literacy extensions.
Teachers then created individualized animals that they could bring back to their classrooms to replicate the process.
For help with sorting and weighing garbage in all Marin Schools (except Novato), contact Casey Poldino at CPoldino@marincounty.org and check out this website http://zerowastemarin.org/schools/.  For Novato schools, contact Dee Johnson at Novato Sanitary or Recology https://www.recology.com/recology-sonoma-marin/community-education-programs/
To make the recycled art more successful, Suzanne suggested purchasing Extra Tacky Glue and Tempera Cakes from RileyStreet Art Supply.
PaperSeed Foundation currently has a Recycled Art contest. Teachers and students win prizes. Click here for more info.
A Graphing Garbage Integration Lesson and Graphing GarbagePPT was provided for the teachers to share in their classrooms.
Thank you to Christina Lunde for making the dinner and helping with logistics and to Eileen Smith for her assistance. PaperSeed Foundation to making this evening possible.
On February 20th, as a special program during the "Rising Stars: 27th Annual Marin High School Art Show," Youth in Arts hosted a panel discussion on "How to Pursue Art as a Passion and Profession." We are so grateful to our panelists for sharing their experience and professional and life lessons with students and have received their permission to share some of their presentation materials here with those of you not able to attend.
Jane Baldwin spoke of her activism through photography, documenting the lives of the people of the Omo River Valley in Ethiopia.
This is a project that has evolved for Jane over a decade and she emphasized to young artists interested in documentary work and activism that you don't need to know what your project will be when you set out to find it. She first visited the Omo River Valley to just take photographs, and returned many times in ten years to not only take her photographs, but to also record the stories of the women from the region. This as turned into work on women's rights, clean water, and international education programs. She has exhibited her photographs and the stories she recorded in Sonoma, Korea, and hopefully in Milan Italy next year. Jane says to be open to new experiences and let them take you down new and unexpected paths.
Kanna Aoki, a painter who lives with her family in the East Bay talked about different ways she had put her college art training to use over the course of her career.
Kanna showed images of her work as a commercial artist, which she did both under the direction of commercial art directors (i.e. creating a specific image for a specific product) and "on spec" (developing graphics or patterns that companies might later decide to use in their product design or promotions). After starting her family, Kanna found the deadline-centric world of commercial art was no longer a match for her life. She grew her career as a painter, developing relationships with galleries that now show and sell her works–she also works on commission, creating paintings of specific views or images for clients. Kanna suggested students keep an eye out for galleries (or restaurants or other venues that show and sell art) that seem like they would be a match for your media and creative approach. Then do your research! Look them up online, reach out via email, try to make an appointment to show them your portfolio. "It's important to remember that gallery staff are usually very busy–the gallery is where they work, meeting with clients, handling sales. You can't walk in and expect to  talk with them. You need to make an appointment."
Steven Polacco, Associate Professor, Graphic Arts, Dominican University presented on "Five Things You Must Do When Applying To Art Colleges".
Steven emphasized that students should do their research and find multiple schools to apply to that might meet their needs. The internet is great for research he noted but also urged students to "Get out there! Go visit these places and see what they are like in person." He mentioned that if you meet with faculty on your visit, it's a good idea to have some images of your work (i.e. on a phone or similar) that you can show them informally if you have a chance to do that. Not all faculty will take a look, but some will and it's a good chance to get early feedback on your portfolio. When it comes to the portfolio itself, Steven urged students to pull together work that represents you and your artistic direction. He mentioned that sometimes you will want to "tweak" your portfolio for one school or another (certainly you need to meet whatever requirements they have). But don't choose work to try to please this admissions committee or that one. Choose work that represents who you are as an artist and what you have to say. And, says Steven, "Have someone look at it!" He encouraged students to get lots of feedback before their applications are due, to make sure they are representing their work the way they want to. Finally Steven recommended looking at off-campus opportunities, programs in the community, summer programs, etc. Many art colleges have "pre-college" programs that can give you a sense of whether an art college will be a good next step for you.
Barry Beach, a teacher at Marin Academy, exhibiting sculptor and private college admissions consultant showed some "Do's and Dont's" for portfolio images you may use online or in other formats (link to examples here).
Some advice–keep the background free of distractions and as neutral as possible. Pay attention to how you crop your images to put your work front and center. Don't be afraid to use photo editing tools to create a good, crisp image–while you don't want to actually alter the underlying image, it's definitely not "cheating" to adjust digital parameters (levels, brightness, shadows, etc.) to get a clearer image of your work. Barry also advised students keep and carry a sketchbook so that you are always creating images that may evolve into pieces in your portfolio.
Jay Daniel, owner of Black Cat photography (who also generously photographed work  for students attending the workshop) spoke about  his work as a technician creating high quality images for artists and about his experience in the art field at large.
Jay laid out elements to pay attention to when photographing work (PDF here) and went over a photography set-up that he said works for "75 to 90% of any artwork you might need to photograph" (PDF here). He also talked about how working artists need to balance creativity and financial sustainability. It's a tiny percentage of artists, he noted, that can create absolute anything they want, however and whenever they want, and have that work out financially for them. You need to explore all your options and figure out what will work well for you. Will you be happy adjusting your work to an art director's requests or creating work on a deadline that absolutely can't be missed? Can you find someone who wants to buy the kind of work you like to create? He mentioned that when he was teaching a portfolio course in an art college, he  required students to also create a business plan, something many of them resisted but that he felt was essential. At the same time he asked a "very successful artist friend" he works with what her advice for students would be and she said young artists need to balance the business side of art with their creativity and keep their practice "joyful."
Finally architect, designer and educator Shirl Buss, walked students down the curving and creative pathway from a childhood love of building things with her father, to college at UCLA, to establishing a nonprofit around women in construction, to architecture school and her current work in both design and education.
Shirl talked with students about how the same ideas can come up again and again in different ways, creating new turns in the  pathway–in Shirl's case finding herself in a man's world and deciding what to do about that, first in construction and later in architecture school; her love of teaching children of all ages throughout all the phases of her career; her enthusiasm for power tools (and especially for teaching kids to build with them!) and her interest in design and how humans shape the world around us. She encouraged students to be open and to explore and find their own creative pathways forward, which she is confident they will do!
We are so grateful to all our panelists–thank you!
On a beautiful, sunny late-January day in Point Reyes, Eddie Madril put on two energetic performances of his Sewam Dance of the Plains Indians assembly, as well as a follow-up workshop for 250 PreK–8th grade students at Dance Palace.  Many local students attended, as did students who were bussed in from Bolinas-Stinson Union School District, and from all over the Shoreline Unified School District.  Eddie Madril, is a member of the Pascua Yaqui tribe of Southern Arizona and Northern Sonora Mexico, and his 50-minute performance introduced students to several Native American dances including the Grass Dance, and Hoop Dance. The origins and meanings of each song and dance were explained to the audience, as he performed.
Eddie's handmade regalia is artwork unto itself.  The colorful feathers, embroidery and beadwork bring even more life to his dances.  During the assemblies and workshop, Eddie explained the significance of what he wore in relation to the cultural history and traditions of various Native American tribes.
As always, the hoop dance was a particular highlight. Eddie put on a breathtaking performance of the very complicated dance.  Using eight hoops, Eddie transformed himself into several forms, including a bird.  The audible audience reactions clearly showed how awestruck the students were. Selected students and teachers experienced firsthand how challenging was to work with the hoops when Eddie asked them up to the stage during the workshop component of the morning.  He had them use different methods to try to pick the hoops up with their feet, to varying levels of success.  Everyone has a wonderful time!
A special thank you to the California Arts Council for their generous support of this program!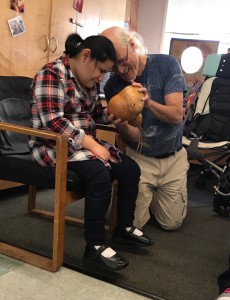 Mentor Artist Ian Dogole has been making music with the students in Kim Cochrane's and Katie Peter's classes at Redwood High School.
Ian Dogole's Thoughts:
"These have been profound and unforgettable experiences. One lasting impression will be the heroic commitment that the educators, nurses and aids make to each one of these students and the exuberance and joy that accompany each positive outcome.
In Kim Cochrane's class, the students have very limited mobility. I had some trepidation prior to my first class as to whether I could have a positive impact with them. After 7 classes, my perspective has undergone a complete transformation! I feel deely connected to these students and when a breakthrough occurs … even at the most subtle level … there is a celebratory feeling in the classroom and I feel so uplifted. Kim and all of the nurses and aids have been unbelievably supportive and appreciative and I am deeply grateful. From my perspective, they are all heroes for their devotion to these students and for their consistently positive attitude.
Katie Peter's class presents a different type of challenge — her students are mobile and capable of holding and playing percussion instruments to varying degrees. The goal for me is to attempt to keep them engaged and look for ways to raise the bar for them in the most supportive and fun way that I can. Like Kim's class, Katie and her support staff have been quite helpful in this endeavor. We did experience mini-breakthroughs with a few students this past week using repeated spoken words to convey specific rhythms. Quite powerful.
Many thanks to Youth In Arts for offering me this opportunity. It has been revelatory."
Thanks to the Buck Family Fund of MCF and Marin Charitable for making this program possible.
Inspired by the paintings of artist Jasper Johns, students at Oak Hill school created their own numerical works of art. Using large stencils made by Mentor Artist Cathy Bowman, they traced numbers 0 through 9. Nearly 30 students worked on the collaborative project. Some created a single number, while others made several. In the end there were 70 numbers – 7 sets of 0 through 9.
Students enjoyed working with a familiar subject matter, and the straight and curved sides of the stencils gave them a solid framework for drawing. Once the numbers were stenciled onto watercolor paper, they used oil pastels and watercolors to explore pattern, color and shape. They were encouraged to look at the entire page and decide where to apply the pastel, knowing that the pastel would "resist" the watercolor that came later. Some students worked entirely with pastels, giving their numbers bright, bold lines and shapes. Others used mostly paint, preferring to create numbers with soft edges. The project was a wonderful opportunity for young artists to experiment with unfamiliar materials, including water-soluble graphite. For some, it was a chance to practice touching and using pastels that were freed long ago from their paper sleeves. The pebbled surface of the heavy watercolor paper was a satisfying  and sturdy surface on which to create. The project was also a chance for artists to practice thoughtful watercolor techniques and gentle brush motion.
When the paintings were finished, we looked at the stencils. After being handled, touched and scribbled on by numerous students, the stencils had become works of art. With each mark and splotch of paint that remained, the numbers told a story far beyond what ended up on paper.
Thank you to the following for helping to make this program happen:
TOWERS OF POWER:  Snapshot of a Future I Want To Inhabit
By Shirl Buss, Ph.D.
I am an urban designer and educator.  One of the most joyful things I do is facilitate architecture and urban planning studios for elementary school children in public schools through Youth in Arts and UC Berkeley's Y-PLAN.
Like many adults today, I am asking myself how—in my professional role—can I positively contribute to the #MeToo movement for and with the children in my life? How might I, when I work with young people, respond proactively to the gender inequities and injustices that we are witnessing every day?  How can I help both boys and girls express their own power, free from the distortions and abuses of sexism and racism?
In the 30+ years I have been working in the studio or classroom with children—even very young ones—I have observed how they all crave validation for who they are as human beings. Boys and girls openly express the desire to feel that they genuinely matter—to adults, as well as to each other.  They are also eager to energetically actualize their potential as makers, doers, and leaders.  Unfortunately the messages we all learn about gender and power are ingested at a very young age. Hence, in their quest for personal potency, children often adhere to traditionally defined masculine and feminine forms of power— to the detriment of both.
Within this context, I would like to share a very popular challenge that my colleagues and I pose for children when we start our architectural residencies in their classrooms. It's called Towers of Power.
To begin, we ask each child to write down five distinctive adjectives describing his or her strengths and talents.  When they have a good list of descriptive words such as Creative, Athletic, Musical, Loyal, Friendly, Kind, Smart, they inscribe these words on colorful paper discs and put them aside. Each student then gets a 4" x 4" wooden base, a selection of recycled cabinetmaking wooden pieces, and glue.  Their mission is to build a model tower that may not exceed 20" in height nor extend beyond the perimeter of the base.  For the next hour or so, the students design and build model skyscrapers—testing structural forces, adding details, and creating their uniquely beautiful edifices. Because of the constraints on the project—especially the limit on height, and width— as the children build their towers they concentrate their energy on qualities such as elegance, strength, and balance. For a finishing touch they artfully affix the colored discs bearing their five adjectives and their name onto their tower.
When the towers are completed, we all step back and behold a stunning array of Towers of Power!  In that moment, all of us see an extraordinary "snapshot" of what an egalitarian future might look like. These beautiful structures—built by both boys and girls—stand before us adorned with proud adjectives describing each young architect. These towers stand tall, reflecting the shiny young people who so lovingly created them. They symbolize the many strengths, talents, and gifts these children have to share with the world.
At that point, we challenge the children to present their own tower to the group.  We often invite fellow architects and urban planners in to give the children feedback on their work during these presentations. One panelist, an architect, was nearly in tears while the children were sharing their towers.  She later told us, "It is so moving to see third grade children, girls in particular, stand before a crowd, and proudly proclaim, 'I am strong.  I am talented. I am creative.' What an affirming, empowering experience! I never had this opportunity when I was a girl."
As I reflect upon this project and the hundreds of children who have built their Towers of Power over the years, I am moved to share it with everyone looking for light, optimism, and a new narrative about gender relations. Amidst the stories of sexual harassment, bullying, and discrimination, this project shows that during those early years—before sexism and misogyny become inbred—we can help children define and experience power in new and different ways.
We as adults can, and should, play a role in creating a healthier culture where the pathways to power for both boys and girls are not based upon dominance and submission, but rather equity and mutuality. We can create opportunities for children to experience their personal power and agency with integrity, dignity, and respect. These beautiful children and their Towers of Power offer us all a vision of gender equity and redefined power. Together they compose an image of a future I want to inhabit — NOW!
(By Mentor Artist Marty Meade, who has been working with the students of Compass Academy, formerly Braun, for 11 years.)
Compass Academy, formally known as Braun High School, has moved to a larger campus. The new building is providing me with an area that is five times bigger than before.  It means that the students can spread out, my materials are organized for their use, and they now have storage area for their weekly projects.
Besides the move, there is also an additional group of younger students who range in age from 7 to 12 year olds.  They are here because of behavior problems in other schools.
I have given every child their own journal so that they can express their feelings, or write about their experience that day.  The new group is challenging, but with great support I have had the opportunity to give the students an opportunity to try new materials.
Students have been able to work with acrylic paints on canvas, watercolor paper, marbling, edible art (sugar skulls),  decorating masks, origami, and fused glass pieces.
I want to share a story about "Brandon"… a junior high school boy from Guatemala.  When I first met him he expressed a lot of anxiety about the possibility of his father being deported.  He became the class clown and often would get attention by inappropriate behavior (ie: sexual drawings).   I began to notice that his drawings were typical of a 4 year old child and shared this with his therapist and indicated that they could use it for reference to get the additional help that he needed.
One day, after I brought bright colored paper, I found an Origami crane on the table, and the therapist indicated that "Brandon" had made it.  I was 'blown away', and expressed how complicated this was and how could we reach him more through origami. I asked his homeroom teacher if he could find something on YouTube on "1000 cranes" and share with the class before I got there the next week.
So the next week, I came in loaded with origami paper and asked "Brandon" if he could come into the high school class and show the others how to fold cranes.   "Brandon' came in and proudly demonstrated the folding, with some of the kids giving him full attention, and others frustrated by the directions.  I was able to leave paper in the room for them to use while I was away.  Each week I would bring in more paper, and find complicated shapes filling the area.  We all watched "Brandon" change before our eyes. One teacher said that he seemed taller. I am thrilled that my hunch worked, and will never look at another crane in the same way.
I am happy that I have a year contract as it gives me a chance to really connect with these students. Thank you to the Marin County Office of Education, Buck Family Fund, and the Kennedy Center for allowing me to do this work.
by Mentor Artist Katie Issel Pitre
Greetings and welcome to an update
on the exciting partnership between Davidson Middle School in San Rafael and Youth in Arts!
As part of the new Strategic Vision of Youth in Arts to create model arts education programs K-8th grade, Mentor Artists Sophie Cooper and Katie Issel Pitre have been teaching New Media and Theatre Arts to 180 Davidson middle school students daily.
Beginning in late August Sophie and Katie have been working with 10 classes, grades 6th – 8th to provide arts enrichment for a student population that until this year had not received any elective classes. This year, Principal Bob Marcucci wanted to change this, partnering with Youth in Arts these students are half way through the first year of this pilot program and are getting in the swing of art making.
The project that the students have been working on has been cumulative – we've been building skills, teamwork, discussing and activating themes through play writing, college making, reflecting on values, watching many films – critiquing them and learning more about the way to use film to send a message.
In Ms Cooper's New Media class students worked towards a photography project taking portraits of hands and also of eyes.  In Ms. Katie's Theatre Arts class students composed collaborative poetry using the anaphora "With these hands we can…" and " People think that I… But if they really knew me…"
Pairing these two projects we used the photography from Ms. Cooper's class, and recorded the audio from Ms. Katie's classes and created two differently themed collections of films.  One collection pairs the photography of hands with the poetry "With these hands we can…".  The other collection of films pairs photography of the eyes and the poetry "People think that I… but if they really knew me…".
The final for their first semester was a film screening of both of these film collections.  Students observed all of the films, and then reflected on the process, the messages, considered what was missing and then brainstormed about what they want to make their next films about.  Some topics that were mentioned were making films about their lives, about kids who choose to be sober, about their friendships, about their immigrations stories, and more.
For students who have never had an arts residency like this Sophie and I are proud of what they were able to accomplish.  Their artistry has increased, as has their teamwork, self confidence, perspectives, and
Fir
At Laurel Dell Suzanne Joyal continues with our Visual Arts program reaching the entire school.  Our first graders use their imagination and artistry to create imaginary monsters and practice color mixing.
Creations were so unique, as students answered the same questions: How will it move? Does it need arms, legs, wings? How many? How will it see? How many eyes will it have? (More was pretty common!) Where does it live? What does it eat? Who are its friends?
What colors will you use? How will you make orange, purple, green? Can you make brown also?
We began the lesson by looking at the sky: what happens where the sky meets the land? Filling the white space between them was a big success.
Thank you to the California Arts Council for supporting this work.
Older Entries »