December 29: SING OUT! Tickets On Sale Now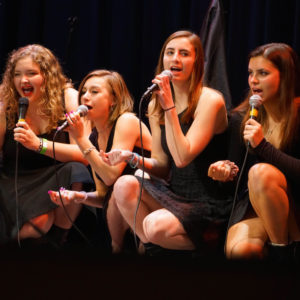 Youth in Arts presents the SING OUT! a scholarship fundraiser for our award winning a cappella troupe 'Til Dawn with featured alumni Stevie Greenwell & Erin Honeywell and Still Dawn – a chorus of 'Til Dawn alums! Sunday, December 29, 7:00pm at the Osher Marin JCC in San Rafael. GET YOUR TICKETS!
2019 SING OUT!
December 29, 7:00pm
Osher Marin JCC
200 N San Pedro Road, San Rafael
Stevie Greenwell is a musician, educator, and mentor working around the bay area. She works to connect people to their voice both musically and emotionally. Stevie performs with the Thrive Choir, Jazz Mafia Choral Syndicate, and various artists throughout the bay. Her songs are rooted in connection to each other, our ancestors and the earth. She is the founder and director of the Thrive Community Choir and is the artistic director for the Diablo Women's Chorale. She works with and clinics other choirs around the bay. During the summers, she is part of the senior voice faculty at the Marin-based singing camp Own the Mic, and is faculty at Stanford Jazz Camp.
Erin Honeywell is an award-winning Bay Area vocalist and songwriter who has entertained crowds all over the United States, East Africa, and Brazil with her rich and sultry sound. With influences including Ella Fitzgerald, Aretha Franklin, and Erykah Badu, Ms. Honeywell's voice easily flows from transfixing jazz melodies to soul-grabbing R&B. In the coming year, Erin Honeywell will be releasing a full album collaboration with her soul band  OTIS, as well as more of her original music. In addition to her rigorous performance schedule, Erin also teaches Private Voice and Chorus at San Domenico School and co-founded and directs Own the Mic, a summer singing camp for Middle and High School-aged singers.