Virtual Architects in Schools Online NOW!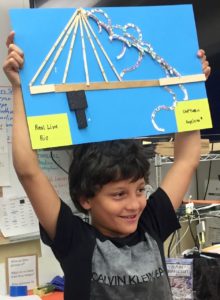 What makes a healthy community thrive?
Through Architects in Schools: Designing Community, Laurel Dell students took on this challenge.  This exhibition caps an extraordinary partnership between Youth in Arts and UC Berkeley's Y-PLAN/Center for Cities + Schools to introduce third, fourth and fifth graders to "design thinking" and explore new possibilities in their built environment. Along with learning presentation and collaboration skills, they investigated complex real-world challenges like climate change, designing community spaces, and affordable housing.  This year, the students worked with architects Shirl Buss and Janine Lovejoy Wilford, along with Youth in Arts' mentor artist Cathy Bowman.
In addition to a video tour of the astounding work of our Architects in Schools students, this virtual exhibition will include third graders' discussion of their, Design and Build Their Hopes and Dreams project with Mentor Architect, Shirl Buss.
Architects in Schools: Designing Community
Work by Laurel Dell 3rd, 4th & 5th Grade Students
Exhibition Online: May 29–August 6, 2020
4th & 5th Grade Architects in Schools Video Link
3rd Grade Architects in Schools Video Link
Learn more about our Architects in Schools Program!