8.18 Make Art for "Kids Imagine Our World!"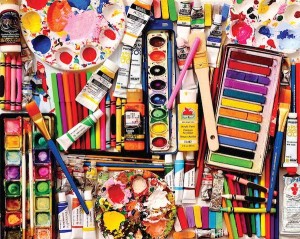 Youth in Arts is seeking kid artists for the first annual Kids Imagine Our World exhibit!

PLUS every Friday through August 17 free OPEN STUDIO at Youth in Arts (read on for more information!)

YIA Gallery in downtown San Rafael will host this new exhibit September-November 2018 and prizes will be awarded to selected artists in each age group.
Subject matter: "I Imagine a WORLD with…"
Students in grades K-8: we want to see your vision for our world. Close your eyes and imagine yourself as a grown-up. Where will you be? What will you see? Who will be with you?
Draw, paint, color or build a picture of your world: you can work at home, at school, or at Youth in Arts.
PARENTS AND TEACHERS
Need a tool to help students get a great start on their project? Click on this link.
Need Art Tips for Kids? Click this link.
HOW TO ENTER
Email entries by August 17 to yia@youthinarts.org
Include:
Student Full Name and Grade (in September 2018)

Parent or Guardian Full Name and best phone, text and/or email contact

Title of Work and measurement in inches of height, width and depth

A photo of the work!

A sentence written (or dictated) by the student artist saying something about their artwork and/or the world they imagine for themselves.
A panel of local artists will select pieces to hang in YIA Gallery in the Fall and will choose prize-winning entries in each age group. We will create an online gallery of all images (so long as content is appropriate for Youth in Arts' all-ages audience, in the judgement of YIA staff). Trouble with email? Bring your work to YIA by Friday, August 17. We'll snap a photo for you!
To be eligible for selection for the gallery show, work must not be larger than 30" in any one direction. If selected, artists' families must able to bring the student's work in person to YIA Gallery in downtown San Rafael between August 14 and September 7. We will be asking that selected 2D work be framed and wired for hanging–we have frames to lend if needed. 3D work must be able to sit flat on a pedestal without tipping. Awards will be provided for innovative use of materials, original design and overall presentation.
Awards will be presented at an opening reception on Friday, September 14th at 5 p.m.
NEED A PLACE TO CREATE YOUR WORK? NEED SUPPLIES?
Join us at YIA for Friday Open Studio: we will supply everything you need! Every Friday through August 17 free OPEN STUDIO at Youth in Arts: Come any time from 11-4 on any Friday to use all kinds of art supplies. All ages are welcome–you do NOT have to be working on an entry for this exhibit. (Open Studio will last until 7pm on Art Walk 8/10).
Important Dates:
Fridays thru August 17: Open Studio Fridays at YIA 917 C Street, San Rafael

August 17: Digital Submission Due Date (or bring work to YIA 11 am to 7 pm)

Weekdays 11-4, before August 17, drop off selected pieces at YIA

Friday, September 14: Artist's Opening Reception, Youth in Arts 917 C Street

Friday, November 30: Exhibit closes, pick-up work